Dua Lipa's Mismatched Plaid Nail Art Is the Perfect Pre-Fall Manicure

In fashion, mismatched plaid is a trend that can prove difficult to pull off. When it comes to singer Dua Lipa's nail art, the multicolored use of the textile is the perfect way to dress up your nails for Fall.
The singer revealed a plaid nail design painted in a mix of neon and cool hues. She tagged Mei Kawajiri in her Instagram Story as the artist behind the look. Lipa's manicure is a mash-up of popular nail art looks, including mismatched nails (the look that uses different nail polish colors on each nail) and neon hues (which were popular with celebrities this Summer). It also ushers in the cooler months with a pattern that is quintessentially Fall.
With the way that Lipa is wearing the look, you'll want to try it out for yourself. Check out her plaid nail art, ahead.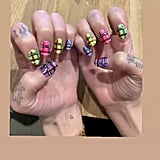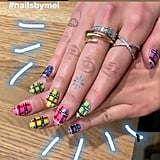 Source: Read Full Article