At this point in my life, I feel like I've seen pretty much every possible hairstyle and beauty look Kim Kardashian could ever try. From butt-length blonde waves to shoulder-skimming black lobs, (and literally a thousand styles in between), Kim has served up every ponytail, braid, and multi-colored shade in the hair world. And yet, I was still full shocked when I opened up my Insta and saw Kim with thick, blunt-cut bangs, à la Cleopatra.
Just an hour ago, Kim posted three photos of herself to Instagram to promote her new KKW Beauty lipstick lip sets that are launching on February 3rd and 5th.
"The Perfect Gifts for Valentines Day!" she captioned the pics, which showed Kim wearing incredibly thick, blunt-cut bangs. "She kinda looks like Cher now," noted one Cosmo editor (proof: Cher has the same bangs).
View this post on Instagram
The perfect gifts for Valentines Day! New Red Crème Lipsticks in Hot Sauce, Candy Apple & Cherry Pop AND our #KKWBEAUTY Best of Reds, Nudes & Pinks Lip Sets in lucite boxes launch exclusively to the Pop-Up on 02.03 & 02.05 at KKWBEAUTY.COM
A post shared by Kim Kardashian West (@kimkardashian) on
The bangs are the work of hairstylist Chris Appleton, who wrote "She BANGS 💥 What do you think to @kimkardashian with bangs?" in the caption of his Kim photos. And honestly? I'm super into them.
And yes, I know, I know—there's almost a zero percent chance that Kim's new bangs are actually real (they're almost definitely a clip-in hair piece), I'm still super into this recent hair transformation, and would very much like for her to chop her hair IRL to start a blunt-bang trend. But for now, we'll have to suffice with dreamy photos, instead.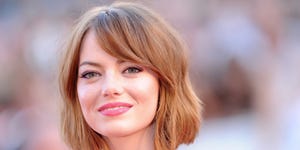 Source: Read Full Article