My skin has been acne-prone since I can remember. Over the years, puberty-induced spots turned into heightened skin sensitivity caused by PCOS, which I now mostly keep at bay by avoiding inflammatory foods. But for the times I can't help but indulge in some decadent desserts and fried food (my kryptonite), my strict skincare routine becomes even more essential.
One of the biggest culprits of my years of redness and adult acne was aggressive cleansers that over-dried my skin, stripping it of its natural oils. For years, I even tried my hand at making my own DIY cleansers, but between those and what was available on the mass market, nothing was effectively cleansing my skin without being too aggressive—till I tried Ranavat's Luminous Ceremony Cream Cleanser ($42, Detox Market).
Here's why it's the only cleanser I've ever sworn by: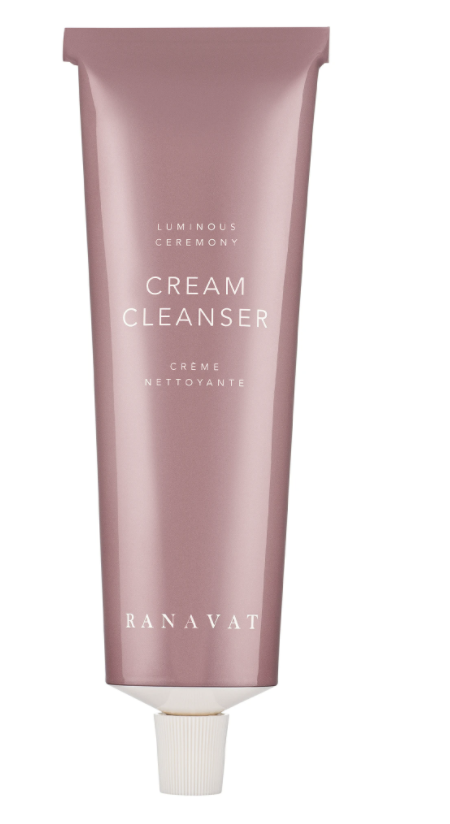 It doesn't irritate my sensitive skin.
Cleansers are notorious for being the biggest culprits of carrying drying ingredients, which is why it was always so difficult for me to find one that was effective without disrupting the natural balance of oils in my skin. Ranavat's aptly-named cleanser is super creamy to the touch and has the feel of a lotion, so when I first saw it, I figured it was just another clean cleanser on the market that didn't actually cleanse the skin. I was totally wrong. It leaves my skin feeling cleansed, yet soft and supple to the touch.
Founded by South Asian Michelle Ranavat, the brand was built upon the principles of Ayurveda, and the cleanser features Indian-loved nourishing ingredients like anti-inflammatory sesame oil and acne-clearing rose oil. Most cleansers left my skin red—it was something I had really gotten used to till I started using this one. I also have really sensitive eyes, and I can use this on them without any irritation there, too.
It removes waterproof makeup, too.
Not only is this cleanser my morning go-to, it also effectively gets off makeup. I like to pack my face with multiple layers of concealer, foundation, bronzers (yes, plural), highlighters, and several coats of waterproof mascara. So, when the founder, Michelle, told me that this would remove makeup I figured I was the exception. There was no way it could penetrate the amount of makeup I occasionally like to wear. Thankfully, I was proved to be very wrong.
I simply rub a quarter-sized amount in to my palms and rub this on to my face, starting by massaging it in to my eyes and moving to the outer edges of my face. I splash some water on my face and then do another cleanse with my wet skin to make sure everything is off before moving on to my serum and moisturizer—I'm actually a huge fan of the brand's newly-launched Bakuchi Creme ($85, Ranavat).
It's worth the price.
To be honest, I never considered spending over $10 or maybe even $20 dollars on a cleanser, but coming from someone who has wasted hundreds of dollars on cleansers that did more harm to my skin than good, I have no issue paying the $42 for this, especially because a little goes a long way with it.
I've been using this cleanser for over a year and I still have half a tube left, so it lasts longer than any of the redness and acne-causing cleansers I've used, too. It's a small price to pay for the clearer skin I've had since I've started using it.
It smells and feels luxurious.
Ranavat literally translates to "royalty" in Hindi, which is another one of the principles of the brand. Like most people, I don't enjoy cleansing my face or taking off my makeup, but this cleanser actually turns doing so in to an indulgent and luxurious experience with the super creamy texture and opulent rose fragrance (Michelle was inspired by the fact that Indian royalty used to bathe in rose water).
I'm not saying I feel like a Queen every time I use this cleanser, but this makes it a whole lot easier to close my eyes and pretend I'm basking in a rose water bath for a few minutes every day.
Source: Read Full Article