Be honest: Ever since Maddie Ziegler moved on to bigger and better things post-Dance Moms (see: being Sia's muse and starring in movies), you've been just a *teensy* bit interested in the happenings of her life.
Maddie's 17 now, and like many teens her age, she has a boyfriend. Who, you ask? Oh…just this soon-to-be-famous musician dude named Eddie Benjamin. He just turned 18, is originally from Sydney, Australia, and did I mention that he's a Capricorn? Given the amount of talent between these two, peeps are gonna ship this one HARD, so please buckle up while I spoil you with the details of their seriously cute relationship.
December 2, 2019
Maddie and Eddie hold hands while taking a casual stroll around Beverly Hills. Awww: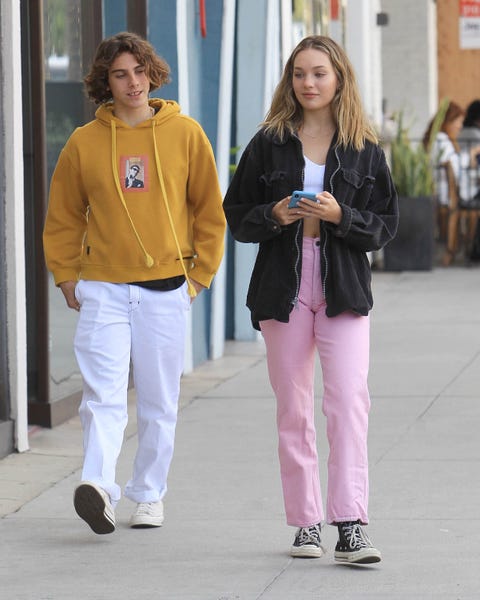 December 3, 2019
A day later, Maddie and Eddie volunteer to help out My Friend's Place, an organization based in Hollywood with a mission to end youth homelessness. We get a pic of them together at the same place and at the same time…just not together. You know, because ~privacy~.
December 6, 2019
Eddie makes his first appearance on Maddie's feed! It's not exactly relationship confirmation, but it gets the fans wondering.
March 15, 2020
Maddie *finally* makes things Instagram official and posts a sweet pic of her and Eddie laid up in bed together, sending everyone positive energy just before the pandemic hit us all like a freakin' comet.
April 2, 2020
Aaaaaand another super cute relationship confirming pic:
April 4, 2020
Looks like things are getting pretty serious between Maddie and Eddie, because they decide to foster the most adorable lil puppy together 😭.
A couple of days later on April 8, Maddie posts a video of Eddie playing with the doggie, which you can watch riiiight here.
April 11, 2020
Eddie confirms he's been quarantining with Maddie in California. I mean, when he hops on an interview with Hollywire, he literally says "I'm in Maddie Ziegler's room," so…¯\_(ツ)_/¯
May 5, 2020
Nothing says "boo'd up" quite like this pic of pool cuddling, amirite or amirite???
May 13, 2020
Maddie's set to star in an untitled film by Sia, which Eddie has the pleasure of viewing before the rest of us. Apparently Maddie's so good in it, he admits he cried while watching it. "I did [cry]. Very rare for me," he said in an interview with Interview Magazine. "When I watch a movie and I don't get emotional, I'm like, 'Can I feel emotion?'"
And that about brings us up to date! If you're obsessed with these young lovebirds, we'll continue to keep you posted on all the cute sh*t they do.
Source: Read Full Article