Bethenny Frankel may have moved on since the tragic death of her ex Dennis Shields, but he isn't forgotten.
In a preview of next week's episode of Real Housewives of New York, the Skinnygirl founder revealed that in addition to the businessman getting down on one knee to propose to her, he also gifted her daughter with a ring.
Frankel confessed about the hidden engagement in a convo with costar Dorinda Medley, showing her the engagement ring and saying:
"He proposed on April 25… I didn't tell anybody that… We had our own private engagement and our own private, like, 'Oh my God, we're going to do this.'"
And when Medley asked if the starlet's controversial ex-husband Jason Hoppy knew of the news, the entrepreneur responded by mentioning her eight-year-old daughter's new piece of jewelry:
"He bought Bryn a ring, too."
Bethenny continued:
"I loved him so much and we were a family and my daughter was close with him and I knew him for so many years."
We can only imagine their heartbreak when they found out about Dennis' suspected overdose back in August.
As we reported at the time, the 51-year-old was found dead in his apartment in Trump Tower, with it being reported he asked his assistant to administer Narcan, an emergency treatment for opioid overdose, but lost consciousness before it could take effect. EMTs arrived shortly thereafter, pronouncing him dead on the scene.
The 48-year-old reality TV star spoke about her ex-fiance's death in the premiere episode of RHONY's 11th season, saying it was "another sucker punch" to see how it affected Bryn.
She recalled her daughter wanting to text Dennis a message, writing him:
"Hi Dennis, how are you doing today? We miss you. Kiss. I and Biggie Smalls miss you as well. From, Bryn."
Shedding tears, Frankel continued:
"She said, 'I miss you. I wish you were here today.' It's so sad."
We couldn't agree more!
Following Shields' death, the starlet did take to Twitter to pen her raw emotions over the tragedy, posting:
"It's hard to breathe & I appreciate you giving me the space & support to try to do so. It's excruciating-sudden death is no closure & constant ?s & memories. Our relationship is current so it's painfully raw. Trying to stay healthy & move through it w tears & close friends. Xo"
You can see her candid tweet (below):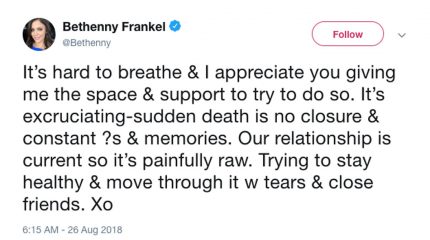 Heartbreaking.
We can only hope she has found some happiness with boyfriend Paul Bernon.
Source: Read Full Article