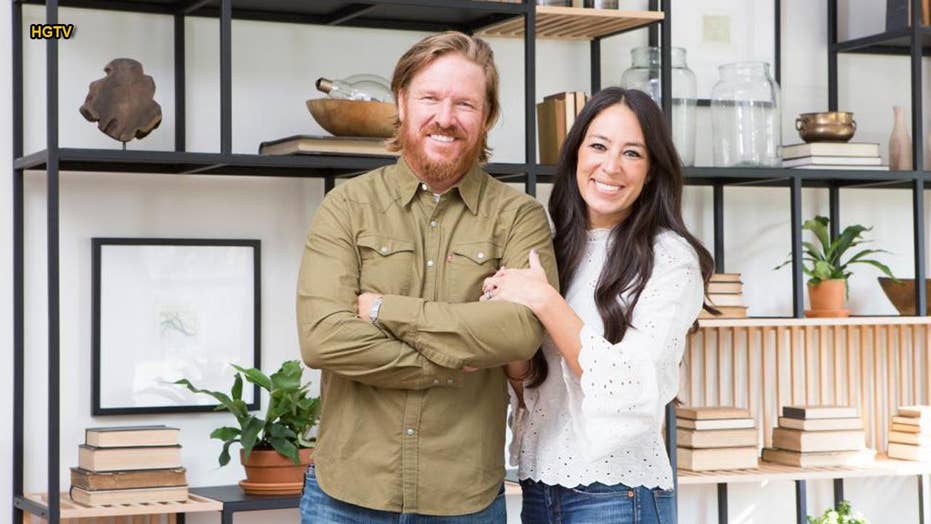 Chip and Joanna Gaines say tearful goodbye to 'Fixer Upper'
Chip and Joanna Gaines said their goodbyes to 'Fixer Upper' during the hit HGTV show's final episode, thanking viewers for their support and even reminiscing about Chip and Joanna's first date, which included a magnolia tree.
Discovery Communications stock tumbled this week when CEO David Zaslav lowered his company's estimated ad revenue – but the upcoming return of former HGTV stars Chip and Joanna Gaines offers a giant ray of hope for the network.
Discovery acquired then HGTV-parent Scripps earlier this year and the "Fixer Upper" stars had already made the decision to walk away from the highly popular show. Zaslav said it "sucked all of the air out" of him when the famous couple walked away from television – a decision that joined production issues and decreased ratings as blows to the company's estimated revenue.
"We can't forget that in the content business we're really about stories and people. That's what [viewers] tune in for. That's why, a month before we closed, when Chip and Joanna Gaines left HGTV, it sucked all the air out of my lungs," Zaslav said Monday at the 46th UBS Global Media and Communications Conference, according to TheWrap.
Once the Scripps deal closed and Zaslav was in charge of HGTV, he traveled to Waco, Texas to convince the design power couple to return to the Discovery Communications stable. But instead of HGTV, they wound up with an agreement to launch their own lifestyle-focused media network under the Discovery umbrella.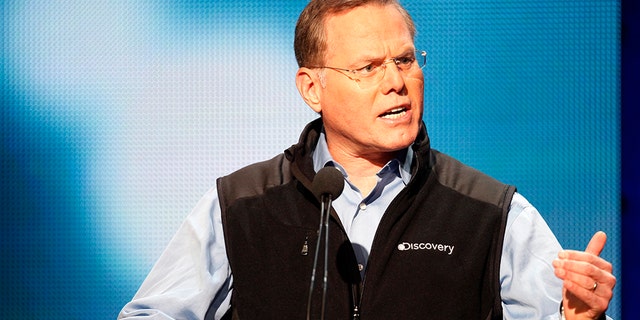 Discovery CEO David Zaslav said it "sucked all of the air out" of his lungs when Chip and Joanna Gaines left HGTV. REUTERS/Fred Prouser)
"I couldn't take my eyes off the two of them," Zaslav continued, according to TheWrap. "They're great characters, people love them, they want to watch them, they want to know how they're doing, they love their taste, they built a billion-dollar business with Magnolia."
Zaslav said he "went to Waco multiple times," and after dozens of conversations, the two sides agreed to reunite. The former HGTV stars shocked fans earlier this month during an appearance on "The Tonight Show Starring Jimmy Fallon" when they revealed the big news.
Specifics and a launch date for the new network have not been announced.
"The details remain a work in progress," a spokesperson for the Gaineses told Fox News.
The soon-to-be network will mark the couple's return to the small screen since ending "Fixer Upper," which aired its last episode in April of this year.
Zaslav's Discovery is the parent to a variety of networks, including Food Network, TLC, ID, OWN, Animal Planet and Travel Channel. Perhaps the most significant is HGTV, which finished the month of November as the seventh most-watched network in all of basic cable during primetime, behind behemoths such as ESPN, cable news networks and USA.
Chip and Joanna's "Fixer Upper" was extremely popular and helped bring a massive audience to HGTV during its five-season run, so many industry experts expect their new network to yield similar results.
While the Gaines' network could be just what the doctor ordered for Zaslav, famed reporter-turned-investment banker Porter Bibb told Fox News that "the doctor is out on Discover."
"Chip, Joanna cannot reverse the downward trend of viewership [and] revenue sending Discover shares down," Bibb said. "The concept is good. The talent is admittedly popular, but the demos are all wrong and getting wronger. Lifestyle content is not where new media is going."
While the company faces headwinds, shares of Discovery have gained 25 percent this year, outperforming the S&P 500 which is little changed.
Meanwhile, a different Discovery network could vanish, as TheWrap ratings guru Tony Maglio wrote that the new network will likely be the result of Discovery buying another existing network or rebranding one of its own.
"Logically, the latter is the most likely play here," Maglio wrote. "After acquiring Scripps earlier this year, Discovery is now the proud home of 19 cable channels."
Discovery Communications did not immediately respond to a request for comment.
The Gaines' new network will be another addition to the couple's growing Magnolia empire, as Joanna is the helm of The Magnolia Journal lifestyle magazine. The couple also owns a restaurant, has a product line at Target and created the Magnolia Market at the Silos, which transformed their town of Waco into a destination for tourists.
Fox News' Morgan Evans and Fox Business' Suzanne O'Halloran contributed to this report.
Source: Read Full Article