If you've watched HBO's Leaving Neverland documentary — or read our extensive breakdowns — you know there are some damning accusations against Michael Jackson.
For most of us, our view of the truth will be determined by how credible we find the accounts of Wade Robson and James Safechuck. But for Corey Feldman, who was also around MJ a lot, the documentary has to be weighed against his own childhood experiences with the music legend.
Video: Oprah Interviews MJ Accusers In Post Neverland Special
For some background, Corey became obsessed with the King of Pop just as he was becoming a star himself.
In his memoir Coreyography, the actor says it was Steven Spielberg who introduced them. Apparently the 13-year-old professed his love to the Gremlins producer, who set up a meeting as a surprise during the production of Goonies.
They quickly became friends and regularly spoke for hours on the phone.
As you may have guessed, he remembers things differently from the two men in the documentary.
The Ascension Millennium singer took to Twitter to give his take on the explosive doc, writing a lengthy defense of Michael Jackson:
"OK I WATCHED IT ALL I KNOW IS WHAT I EXPERIENCED, & YES EVERY EXPERIENCE WAS THE SAME….RIGHT UP 2 THE SEX PART! THAT IS WHERE IT BECOMES LALA LAND, INSTEAD OF NEVERLAND 4 ME."
He says MJ's relationship with him was completely innocent — so he can't buy that it was anything else with the others:
"WE NEVER SPOKE ABOUT SEX OTHER THAN A FEW WARNINGS ABOUT HOW SEX WAS SCARY, & DANGEROUS.
MJ NEVER ONCE SWORE IN MY PRESENCE, NEVER TOUCHED ME INAPPROPRIATELY, & NEVER EVER SUGGESTED WE SHOULD BE LOVERS IN ANY WAY! I FEEL LIKE IF PPL COULD HEAR OUR CONVOS THEY WOULD HEAR THE INNOCENCE IN THEM. NO HINT OF PERVERSION."
Corey also says he wants to prove his side with evidence — a tape of a conversation with Michael from when he was a kid:
"I HAV A TAPE, IM THINKIN ABOUT RELEASING, WHICH COULD GIV PPL A REAL LOOK @ WHAT A 30 YR OLD MAN/CHILD & A 13 YR OLD BOY WOULD DISCUSS, SO EVERY1 COULD HEAR THE INNOCENCE OF R RELATIONSHIP."
Corey's second counterpoint to Leaving Neverland?
He points out the doc doesn't provide interviews with all the children Michael didn't allegedly molest:
"AGAIN I WASNT THERE WHEN THOSE BOYS WERE. BUT I WAS THERE AROUND THE SAME TIME AS JIMMY, & I SAW MANY KIDS AROUND (GIRLS INCLUDED) WHO I AM STILL FRIENDS WITH 2 THIS DAY, & NONE OF US WERE EVER APPROACHED BY HIM IN A SEXUAL WAY AT ALL! SO AS MUCH AS THOSE 2 MEN DESERVE 2 HAV THEIR VOICES HEARD, SO DO THE THOUSANDS OF KIDS WHO HUNG AROUND HIM, THAT DONT AGREE!
MOST PEDOS R SERIAL OFFENDERS. THEY DONT HAV SELF CONTROL. SO GIVEN THE OPPORTUNITY WHICH HE CERTAINLY HAD W ME & OTHERS, BEING ALONE, W NO PARENTS AROUND, HOW DID HE CONTROL THOSE URGES SO WELL, WHILE SO BLATANTLY SEXUAL W THOSE 2 BOYS? IT DOESNT REALLY FIT THE PROFILE."
Feldman has been an advocate for victims of child sexual abuse — and has made his own accusations of sexual abuse. He claimed there is a huge pedophile ring being protected in Hollywood.
He's even talked about being attacked and silenced for speaking out about this.
So how does he reconcile his own experience as a victim with what amounts to accusing Robson and Safechuck of lying?
He says:
"BUT WHAT MOTIVE BESIDES $ DO THEY HAV? ABANDONMENT IS A STRONG 1! HOWEVER I DO TAKE ISSUE WITH THE FACT THAT THIS WHOLE THING IS 1 SIDED W NO CHANCE OF A DEFENSE FROM A DEAD MAN, & NO EVIDENCE OTHER THAN THE WORD OF 2 MEN WHO AS ADULTS DEFENDED HIM IN COURT!"
He concludes:
"BUT AS WE WILL NEVER REALLY KNOW, I ONLY HAV MY MEMORIES. AND THANK GOD 4 ME, MY MEMORIES OF MJ WERE MOSTLY FOND, ASIDE FROM R 1 & ONLY FIGHT BECAUSE HE INCORRECTLY FEARED I WOULD TURN ON HIM, & MAKE UP LIES. I NEVER DID. I NEVER WOULD! I PRAY THOSE BOYS CAN SLEEP W THAT SAME CLARITY OF CONSCIOUSNESS! LET GOD B THY JUDGE!"
That was Monday night.
After some strong reactions to his tweets, Corey clarified his comments to Page Six, saying
"What happened with me was strictly aboveboard. We'd be on the phone for hours. You're talking about someone who has spent their life in the industry, who grew up in the industry and didn't have a childhood and have friends and have sleepovers, I could relate. That was my life. We both came from abuse — abusive homes. There is not a lot of kindred minds that can connect on those levels or achieve the success he had. That was the common ground we shared."
He also wants everyone to know he's not victim blaming, and he's not calling Robson and Safechuck liars:
"I am not saying they are lying. I wasn't there. I can only go based on my experiences. Every victim's voice must be taken seriously and must be heard. In no way would I ever intimate that I would want them to be silenced.
If God forbid these things were true, then there is a completely different Michael that I knew. I guess anything in the world of pedophilia is possible. All I can say is my heart goes out to both of them — and if for any reason the things are proven true, I would be in full support of them."
HOWEVER…
Feldman then explains why we went so hard on the documentary:
"I have to give my personal experiences because it's someone who was a friend to me and treated me as such. I don't think we can go jumping on a bandwagon without evidence. That's why there are court cases and cross-examinations… when was on trial , he was cleared of all the charges … I don't think anyone can take lightly, but I also don't think we should go making a judgment on information we have that's strictly conversation without backup."
So just accusations are not enough? The evidence of witness testimony?
This is starting to sound to us like the GOP's disgusting defense of Roy Moore. It seems like people are ready to listen to victims… until it's their friend, or their hero. Then they need a smoking gun.
We have to say this. Pedophiles are convicted every day on just that much evidence. And make no mistake, witness testimony IS evidence. Juries determine which testimony they think is more credible. If security camera footage and written confessions were the standard of evidence required to convict sex offenders, 99 percent of them would walk.
We're obviously not saying thorough investigations aren't necessary, but the idea of disregarding victims if they don't have "hard evidence" to corroborate their stories is just plain wrong. In many, many legal cases a "he said, she said" case can result in a conviction if the victim's story is found to be more credible than the accused.
Here's an unrelated GIF of a Supreme Court justice.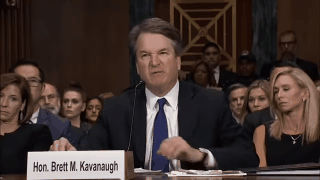 OK, back to Feldman's defense of MJ.
He maintains nothing sexual ever happened with Michael, even when he slept in a room with him on a trip to Disneyland. He says MJ slept on a cot, and it was always innocent:
"We had many conversations that night and again, there was nothing even remotely sexual that was alluded to."
The only time sex even came up? The time Michael showed him a "book of venereal diseases" he kept in his home and warned him "about being sexually active and how dangerous it is."
OK, sorry, does that not look like a big red flag to anyone? Can you imagine an adult showing you that outside a really awkward sixth grade classroom setting??
While Feldman may not be victim blaming, he doesn't seem to have a problem parent of victim blaming, saying:
"To me, the most shocking and appalling part of this whole thing are the actions and misdeeds made by the parents of both children, and the decision to allow their kids to be unaccompanied in the presence of an adult they did not know and trust."
Um. What?
Didn't he just say it was all innocent, and he spent the night with Michael and it was fine?? This is getting confusing. He continues:
"As a father, I could not ever imagine allowing my child to go off with a grown man I did not consider as close as family without any adult supervision. Not even Michael Jackson. It comes down to trading your kids out for an opportunity, and making them the focus of your financial interests, as opposed to the child's wellbeing."
We're honestly not sure if Corey is implying the parents put their children in the arms of a potential pederast or that they used their children as pawns in a scheme to falsely accuse MJ in order to get a financial settlement.
We feel bad saying Corey is confused, but his argument is certainly confusing.
What do YOU think of Feldman's description of his friendship with Michael??
Source: Read Full Article