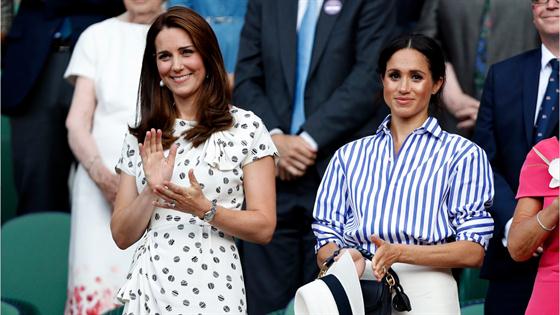 Despite the undeniably royal lineage that's been living under the roofs of both Buckingham and Kensington Palaces for decades, these days, the so-called palace intrigue out of the UK has been centered squarely on the two women who've married into one of the world's most famous families, both going from commoner to duchess overnight.
We're talking, of course, about Kate Middleton and Meghan Markle, wives of Prince William and Prince Harry, respectively.
In recent week, the women have found themselves the subject of intense media scrutiny over the nature of their relationship, with tabloid report after report alleging that some sort of rift has developed between the pair—one so strong, so the narrative goes, that it's even somehow the reason their husbands are spending less time together.
At first blush, this seems like it could be the sort of things written off as the tabloid media doing what they do best: pitting two women against each other for sport. And it appears that's how one half of this supposed feud is treating it, as a source told Vanity Fair that Markle has made a point to steer clear of the negative coverage she's been receiving ad nauseam.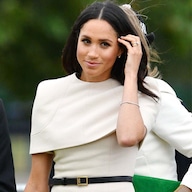 Photos
A Comprehensive Guide to Meghan Markle's Royal Style
"Meghan is a believer in karma and she doesn't want to sit there reading negative online stories and comments about herself," the source told the publication about the Duchess of Sussex's thought process, which differs from that of her husband, who reportedly often reads the papers. "She feels to a degree the British press is out to get her and while she's aware of the news and what's going on, she tries her best not to read all the stories about her."
And in a rare instance, Kensington Palace has issued a response to one of the latest reports by The Sun, which claimed that the women had an "explosive row" before Markle wed Prince Harry in May. As the paper alleged, Middleton told her soon-to-be sister-in-law not to berate members of her team, saying, "That's unacceptable, they're my staff and I speak to them." And E! News has confirmed that when asked about that specific bit of reporting, the palace shut them down, saying, "That never happened."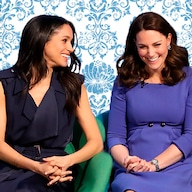 Read
Kensington Palace Breaks Silence After Kate Middleton and Meghan Markle Feud Rumors: Report
But what of all the other reports? The allegation that Middleton had been "left in tears" after Princess Charlotte's bridesmaid's dress fitting in the run-up to this summer's nuptials? Or that the Duke and Duchess of Sussex's decision to move out of the palace complex to relocate at Frogmore Cottage at Windsor Castle, the site of their wedding reception, comes as Markle is begging for some distance between her and Middleton? The Palace has told E! News that they will not be commenting on them, which, if you think about it, makes a bit of sense. Why legitimize each and every bit of fictional drama created simply to sell papers?
However, in the absence of their definitive commentary on the reports of an allegedly frayed and fractured relationship between the sisters-in-law, we're left to suss out the facts from the fiction on our own. And while that's not always entirely easy, let's take a crack at it.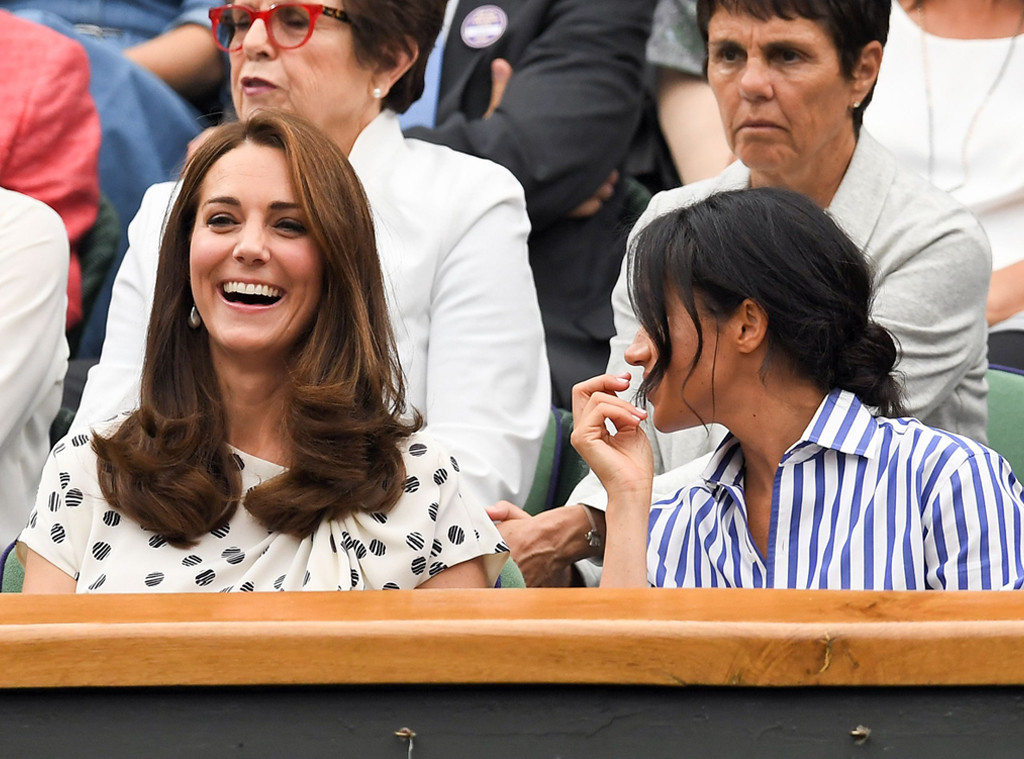 James Gourley/BPI/Shutterstock
This idea that these two women, who are admittedly quite different from one another and unlikely to ever consider the other her best friend, doesn't get along at all seems to have kicked into overdrive after Markle's pregnancy was announced and the subsequent plans to move out of Kensington were made public. But the notion that they don't get along—and haven't for such a prolonged amount of time that a move 25 miles away is necessary to alleviate the tension—seems to fly directly in the face of what we've seen from them in the second half of 2018.
There was the July outing at the Wimbledon Ladies' Single Final where the ladies cheered on Markle's pal Serena Williams without the company of their husbands, visibly laughing and chatting from the Royal Box. If the lead-up to Markle's big day truly left Middleton, who'd only just given birth to Prince Louis weeks prior to the wedding, in tears—an instance that royal aides would neither confirm nor deny actually occurred—there certainly didn't appear to be any lingering hard feelings on that summer day.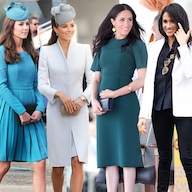 Photos
How Meghan Markle and Kate Middleton's Australia Royal Tour Fashion Compare
And while we didn't see them out in public together again until last month, when the brothers and their wives attended the annual Royal British Legion of Remembrance at the Royal Albert Hall in London, celebrated Prince Charles' 70th birthday at Buckingham Palace after posing together for new royal family portraits and then enjoyed a double date the following evening at the Royal Foundation Dinner at Victoria House in London, where they enjoyed music from British singer Tom Walker, remember that Markle and her prince did spend a good chunk of the fall on their first joint royal tour of Australia, New Zealand, Tonga and Fiji. And then there's the small matter of Markle's pregnancy, announced in mid-October, which has likely kept her from feeling too social beyond her obligations.
In recent days, Middleton has even gushed over her sister-in-law's pregnancy. As she spent time in the British city of Leicester last week, there with Prince William to honor and mourn those who died in a helicopter crash, she spoke with people gathered outside the city's university, saying she was "absolutely" excited for Markle and her new baby. "It's such a special time to have little kiddies and a cousin for George and Charlotte, as well, and Louis," she added in the video shared by Instagram user @2cool_4school_2lame_4fame. "It'll be really special."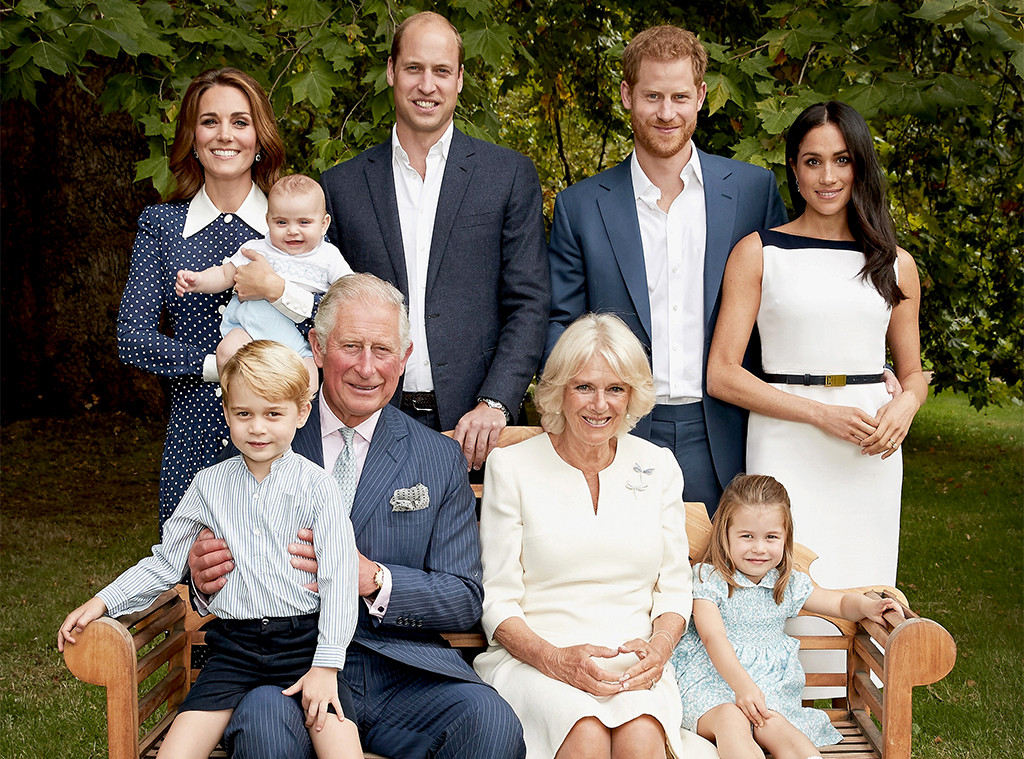 Chris Jackson / Clarence House via Getty Images
And despite rumors that the princes and their wives might be celebrating Christmas apart this year, it was revealed on Monday, Dec. 3 that both royal couples will be joining Queen Elizabeth II and other members of the family in Sandringham for the holiday celebration. Everywhere you turn, it seems the smoke is just that—smoke—with no fire to be found.
Does that mean they're best buds? No, not at all. And that's OK. Are you BFFs with your in-laws? We thought not. But it also doesn't mean that every decision made is done so because of allegedly demanding women who dislike one another.
Take the big move to Frogmore Cottage, for example. That decision was made, as one source told The Daily Mail, because Harry is eager "to escape the goldfish bowl of royal life" as he and his bride prepare for the arrival of their little one. Not only does the site of the wedding reception stand as a "very special place with their royal highnesses," as the place said in a statement—and not only will the Duke and Duchess of Sussex maintain their official office at Kensington, meaning they'll be making the 25-mile commute back towards the Duke and Duchess of Cambridge with plenty of regularity—but it's exactly the same sort of move the latter made when they welcomed their first two children. You'll recall Prince George and Princess Charlotte spent their early years at Anmer Hall in the even further village of Norfolk. "It's enabling him and Kate to raise their family in a way that's as close to ordinary as they can get," a friend told Vanity Fair back in 2016.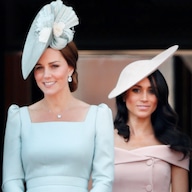 Read
Kate Middleton Gushes Over Meghan Markle's Pregnancy as Feud Rumors Wage On
Same goes for Prince Harry and bride. "This proves that Harry and Meghan really want to raise their children out of the public eye," a royal insider told Us Weekly after the big move was announced. "They never loved living in London. They enjoy their time in the country much more than the city and feel most at home there."
Will that stop the rumor mill from churning when it comes to Markle and Middleton? Probably not. But like the former, we can always choose to ignore the next tale of tension between the in-laws that arises. And we probably should.
Source: Read Full Article