Ryan Gosling and Eva Mendes are notoriously private about their relationship. The two started dating way back when in 2011 after co-starring in The Place Beyond the Pines, but since then, they've been pretty tight-lipped about their love life. With a little digging, however, you can find all sorts of adorable breadcrumbs they've left along the way. They may not be super public, but their love for each other is undeniable. Read up on it here (in timeline form, naturally), starting from day one:
September 2011
After first meeting on the set of The Place Beyond the Pines, which was filmed in Schenectady, New York, Ryan and Eva are spotted on a date at the Happiest Place on Earth: Disneyland. According to Us Weekly, there was plenty of PDA and Eva was even "skipping around like a little girl." I mean, wouldn't you, if you were on a date with Ryan Gosling? No word on whether or not Ryan busted out some classic Mickey Mouse Club dance moves or told Eva about his hometown of Cornwall, Ontario.
November 2011
Ryan and Eva spend Thanksgiving in Paris, where they are spotted holding hands at the iconic Père Lachaise Cemetery. Nothing says romance quite like tombstones, amirite?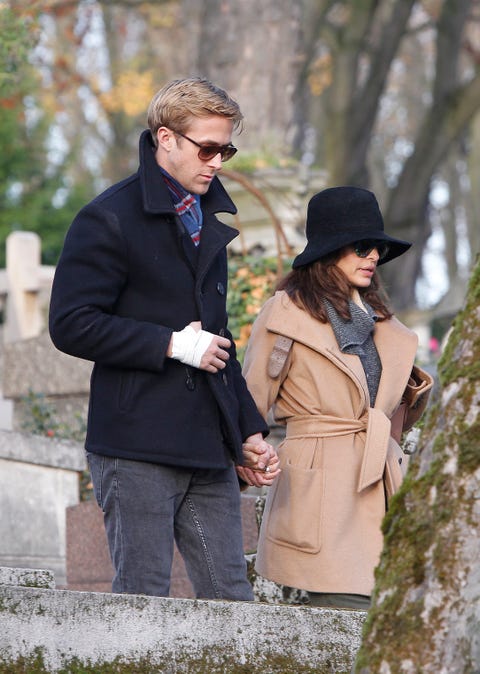 December 2011
Ryan and Eva appear in their second project together: Funny or Die's "Drunk History Christmas." And yes, that's them in bed together:
February 2012
In an interview with Marie Claire, Eva calls Ryan "your dream costar," adding, "I have never felt so creatively satisfied on a film. He's amazing." When pushed for more details about her new romance, Eva says, "Stop, just stop. I'm not gonna budge. I feel uncomfortable talking about it. It's too personal."
May 2012
After getting hit with their first major breakup rumor, Ryan and Eva are spotted holding hands in New York City.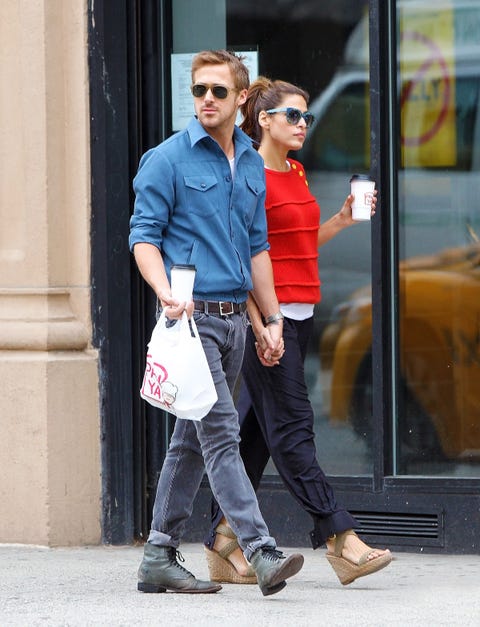 In the same month, Eva appears on The Ellen DeGeneres Show and sort of talks about Ryan in a conversation that's onesie-heavy and was filled with giggles. Just watch.
June 2012
Ryan and Eva head up north to attend his mother Donna's graduation from Brock University in Toronto. According to the Niagara Advance, Ryan told reporters, "This is my mom's day," but fellow graduates and audience members shared these observations on Twitter anyway.
Source: Read Full Article