It's been 40 years since Edmund Capon arrived in Sydney and single-handedly turned Australia's art world on its head with a mix of chutzpah and brinkmanship that blew away the stuffy cobwebs in our cultural institutions, not in the least his beloved Art Gallery of NSW.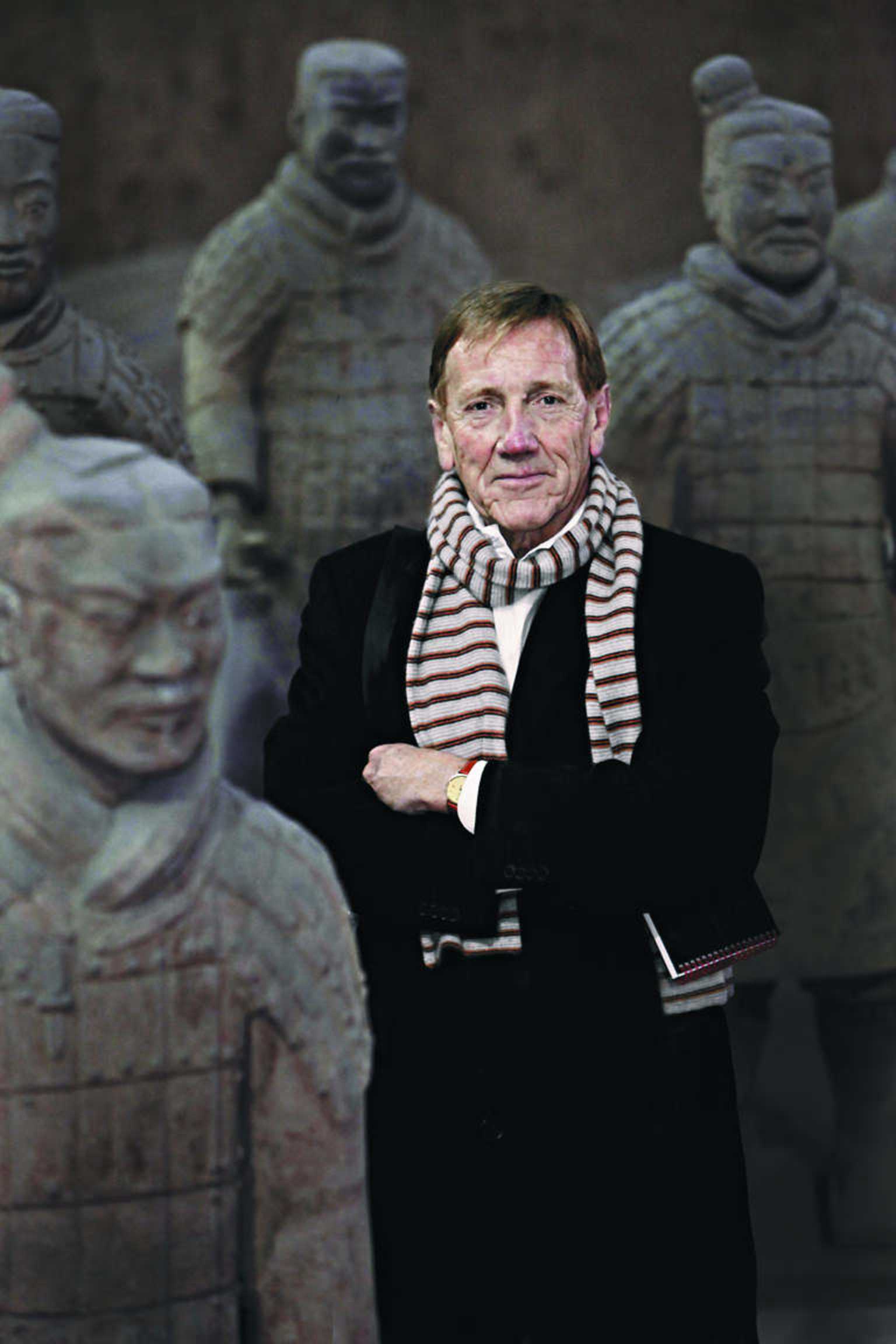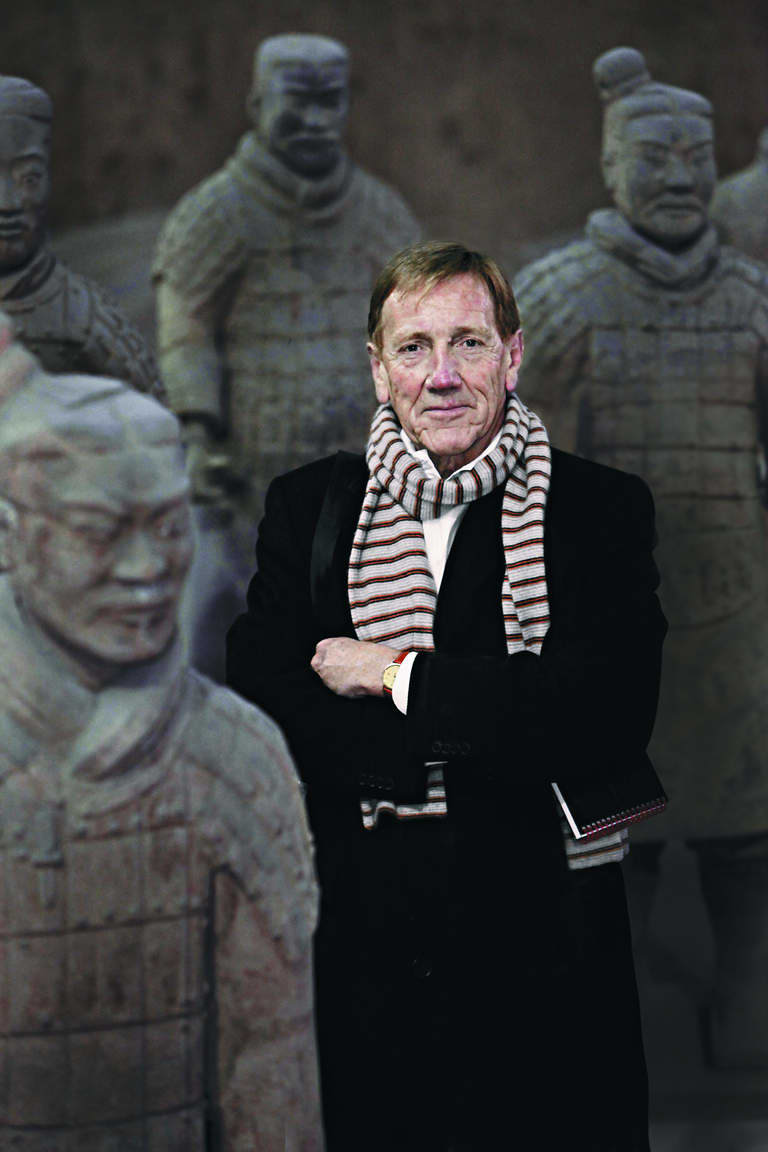 Edmund Capon became Australia's most potent and recognisable arts administrator.Credit:Kevin Lee
However, Capon's trademark showmanship has taken a back seat as the 78-year-old wages the battle of his life in London, with friends confirming he is gravely ill and unable to return to Sydney.
In recent years Capon has been open about his battles with melanoma, but as one friend told PS he "was never one to dwell on negative things".
Over the years he has regularly had skin cancers removed, all the while indulging in his love for cigars.
However, the insidious disease appears to have returned in recent months, and despite aggressive cancer treatment, Capon's air of invincibility has come unstuck.
Friends noted how unwell and gaunt he appeared in September when he was spotted at the Sydney Contemporary art fair, his frail figure a shock to many.
Capon has valiantly carried on. Since then he's led a tour to Central Asia and opened numerous exhibitions.
But, in recent weeks, his condition has deteriorated, leading to a stream of Australia's biggest art names travelling to England to pay their respects to Capon.
A much revered figure in the Australian art world, Capon embraced his adopted home after leaving the Victoria & Albert Museum in 1978 where he was assistant keeper of the Far Eastern section.
In Sydney he soon took the mantle of becoming the country's most potent and recognisable arts administrator, setting out to transform programs such as the Archibald portrait prize into the internationally acclaimed competition and crowd-puller it is today.
For more than three decades he reigned as the director of the Art Gallery of New South Wales, having harboured his own ambitions to become a painter many years before in England.
"Only ever sold one," he told The Age in 2015 of his ill-fated years as an artist, completing his story with one of the familiar news morsels he is famous for. "It was a sort of abstract construction, didn't have a title. A woman named Talitha Pol bought it. Can't remember how I met her but …" (cue drum roll) "… she married Paul Getty jnr."
Many years later he would again be greeted with headlines and controversy for his gallery's $4.5-million purchase in 2004 of three large abstracts by Cy Twombly.
And just as Jackson Pollock's Blue Poles at the National Gallery in Canberra years earlier had generated controversy, Capon's decision would also go on to be vindicated. Today Twombly's works go for 10 times what the AGNSW paid for them.
Capon has been married to his wife Joanna for more than 40 years. She remains by his side in London.
Oldfields' 13th break-up is final
They've had more break-ups than the San Andreas fault-line, but friends of Real Housewives of Sydney star Lisa Oldfield say the, ahem, kooky media personality has left her former politician husband David Oldfield "for good … this time".
Lisa and David Oldfield have been married for 17 years, but their relationship may finally be at an end.Credit:Network Ten
By PS's reckoning this is their 13th break-up in the past two years, although we could be missing a few others given they have been married for 17 years.
And in typical Oldfield style, the unhappy couple and their cronies have been calling various media representatives, including PS, to spill their side of the story. It all sounds like something out of War Of The Roses.
PS was informed by one of the Oldfield's friends: "David never really got over how popular Lisa was on I'm A Celebrity … Get Me Out Of Here! and ever since it has been downhill. He is staying in the house with the boys but Lisa has moved out and says she will not go back … ever."
When Lisa eventually came out of the jungle this year she claimed she would be "divorcing" her husband.
But only a few days later she told Who magazine: "It was a bit heat of the moment. I think I'd rather be a widow, why take 50 per cent when you can take 100?"
It certainly sounds like something out of a reality television series, speaking of which the Oldfields were crowing about plans to become Australia's new Kardashians more than a year ago, but nothing ever eventuated.
Perhaps they're still auditioning?
Landed gents curate picture of perfection
With colour co-ordinated livestock including roaming ostriches, manicured grounds and a farmhouse that would make Martha Stewart swoon, it's no wonder the locals near Orange were somewhat dubious about the new neighbours, Sydney interior stylist Steve Cordony and his partner, corporate executive Michael Booth.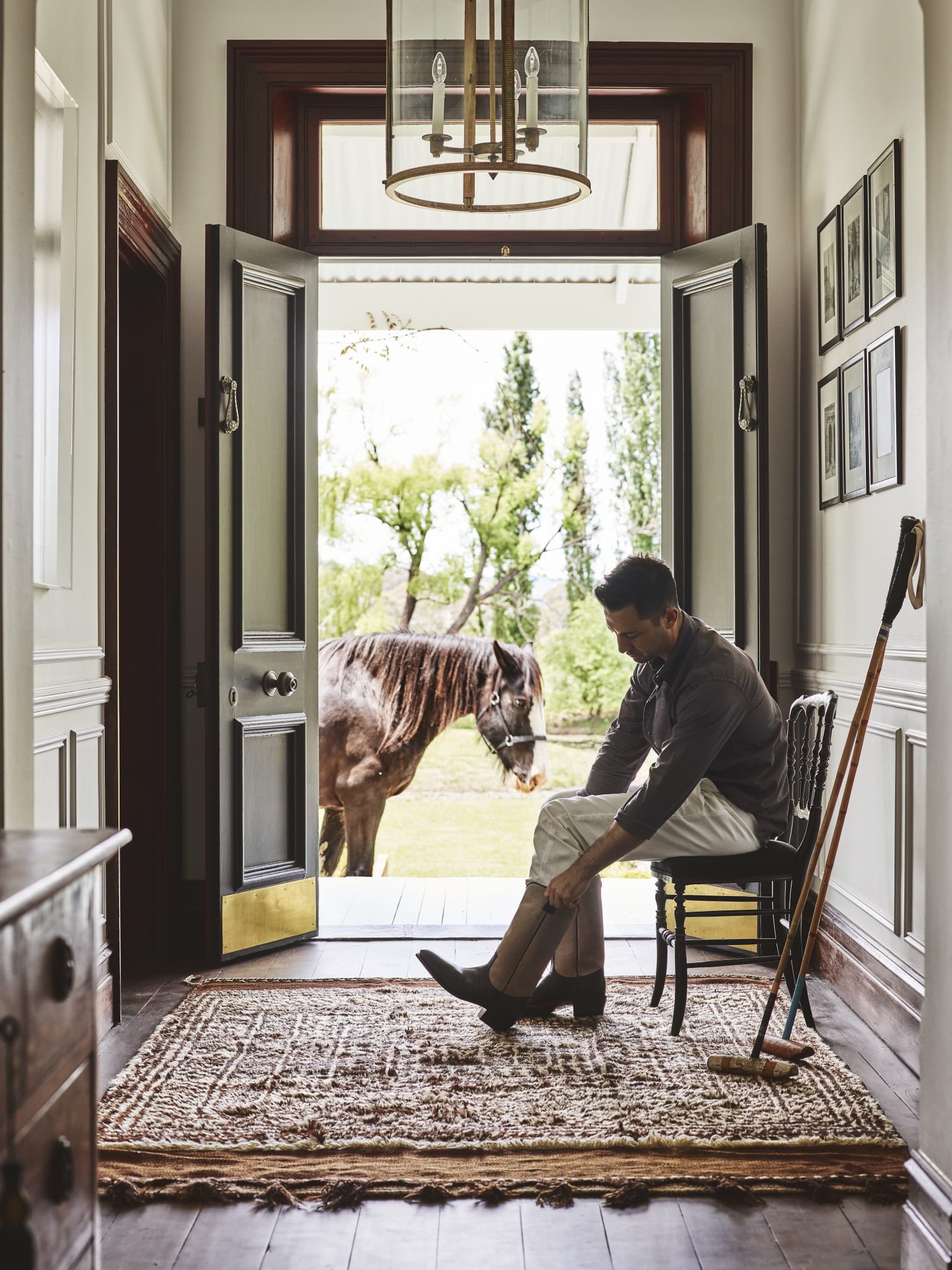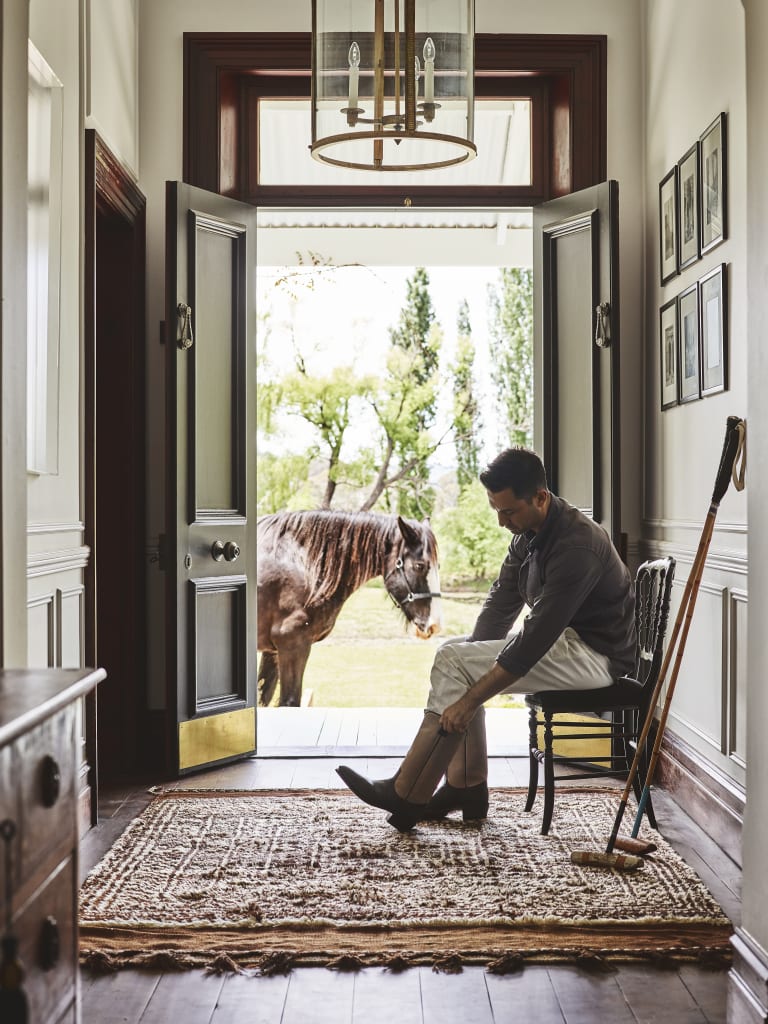 Steve Cordony in the recently renovated hallway at Rosedale Farm.Credit:Anson Smart/Harper's Bazaar Australia
But, as the spread showcasing their art-directed country idyll Rosedale Farm in next week's Harper's Bazaar Australia reveals, the good folk of Orange had nothing to fear.
After getting the keys to Rosedale in May 2017, the couple set about transforming the rundown property into a showcase property, which Bazaar describes as the the most "Instagrammable" farm in the country.
Four hours' drive from Sydney, the 49-hectare property sits at the base of a hill, neighboured by a cherry farm and an abandoned gold mine.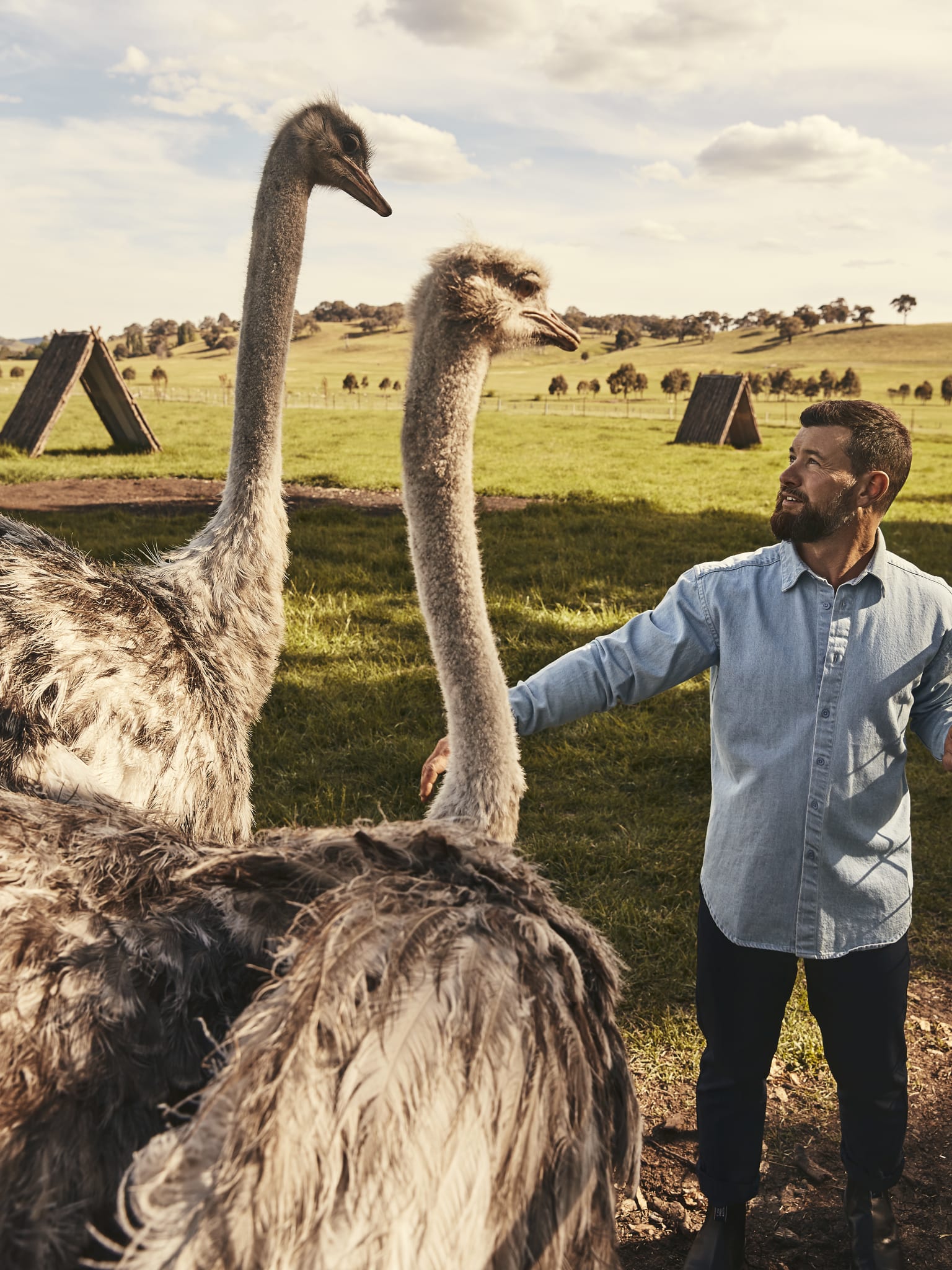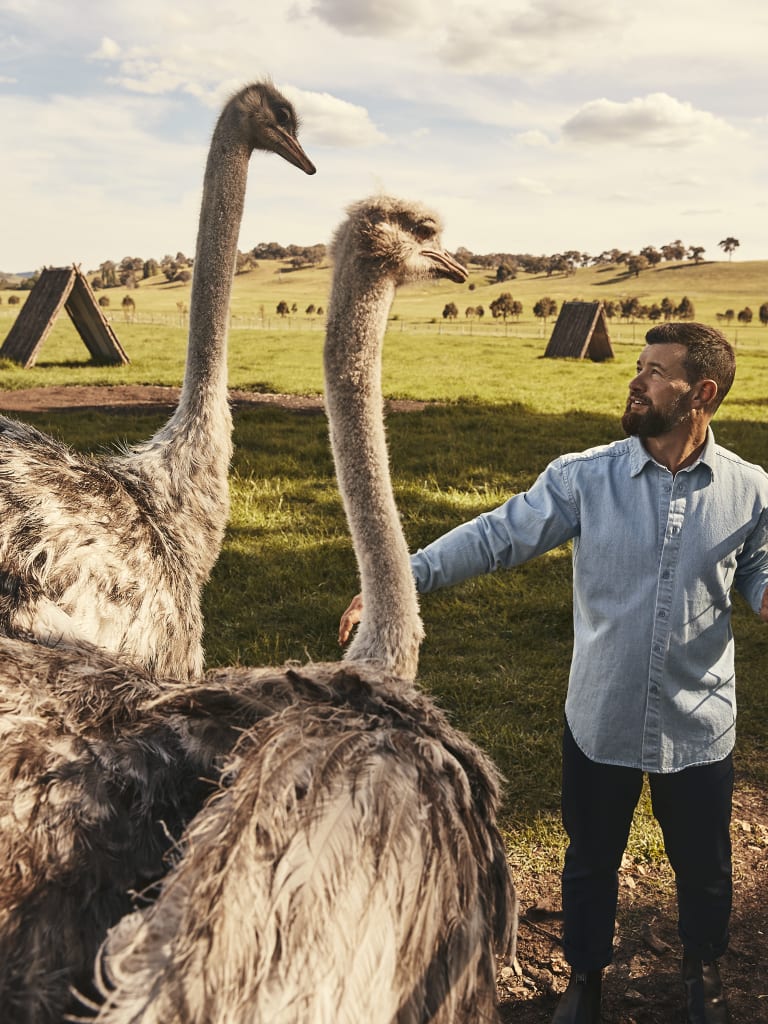 Michael Booth with Rosedale's colour co-ordinated ostriches.Credit:Anson Smart/Harper's Bazaar Australia
Cordony is described as "one of Australia's top interiors influencers", whose day job is styling events and rooms for clients including Roger Vivier, Ralph Lauren, Land Rover and Georg Jensen.
The house was built in 1877, and with such an old place, the first task was to deal with the basics. "I originally thought it would just need a fresh lick of paint," Booth confesses. "But then you pull up the floor and all the beams are either rotten or have white ant [infestation]. You tackle the brickwork or render and realise there's water damage or rising damp that needs dealing with. You go to put lights in and see it needs rewiring. Or a roof needs replacing. And the paddocks were full of scrap metal. Then there's the shepherd's hut, the poultry house, the hay shed and the servants' quarters still to deal with! But this place is a remarkable piece of intact history. Would I do it all again knowing what I do now? God, yes!"
And, Booth admits, his partner Cordony is a complete perfectionist, with no less than 20 samples of white pebbles and countless weekend trips to quarries required before a final selection was made for the grand long driveway.
"And is it perfect?" quips Cordony to Booth. "Yes! Thank you."
Rosedale Farm, near Orange, is being described as the the most 'Instagrammable' farm in the country.Credit:Anson Smart/Harper's Bazaar Australia
Originally 1214 hectares, Rosedale was a sheep property, but today there are just a few sheep; some speckle park cattle; two shire horses (Ebony, a 12-year-old mare, and Brave, a two-year-old
gelding), who tower over 18 hands high; chickens, ducks, geese, doves, guinea fowl, two peacocks and the three ostriches; plus English springer spaniel Louie and one overweight "rescue pig" named named Lucy, who Cordony confides to Harpers: "Sure, she has an eating problem, but she loves people."
Packer set to sail away in luxury
When it comes to getting bang for your buck, billionaire James Packer's new $200 million superyacht certainly looks impressive.
The first images of the huge new vessel, under construction in Italy, have emerged and, as PS has previously predicted, the private cruise ship is set to rival anything already on the high seas when it comes to floating gin palaces.
James Packer's new $200 million weekend runabout has finally been unveiled in Italy.Credit:Giuliano Sargentini/Benetti
This is no ordinary tinnie or weekend runabout.
After weathering plenty of emotional hurdles and checking himself into a Boston mental health facility in March, staying for six weeks, Packer has also been preoccupied with construction of the huge ship, which until now has been hidden inside a vast boat shed at an Italian shipyard in Livorno.
Taking nearly four years to be completed, the ship has been a source of considerable heartache for Packer, though the 107-metre long ship will soon make her maiden voyage.
The top-secret project has been codenamed FB 277 by Italian ship builder Benetti, and will be among the largest private vessels of its type in the world.
Billed as a "gigayacht" by Benetti, it is due to be ready for Packer to climb aboard in June next year.
PS previously revealed that, when it does launch, the craft will be named IJE – the first initials of Packer's children: Indigo, Jackson and Emmanuelle.
With construction originally overseen by Packer's former right-hand man and long-time friend Matthew Csidei, the project has been plagued with delays and cost blowouts, which led to Packer's decision unceremoniously to part ways with Csidei last year.
And while Packer's new ship may never make it to Sydney, friends have suggested the vessel would become his home, a floating mansion in which he can traverse the globe, away from prying eyes.
Though with homes also in Los Angeles, Aspen, Argentina, Sydney and soon in Mexico, he has plenty of options if life on the high seas proves all too much.
The ship has a beam of 15.2 metres at its widest point, a draught of 4.5 metres (the distance between the waterline and bottom of the hull) and will sport a white finish when delivered next year.
Featuring a full displacement steel hull and an aluminium superstructure, the vessel will have a top speed of 18.5 knots and a cruising speed of 16 knots.
Displacement at full load, with all of Packer's toys and accessories on board, will stand at 3300 tonnes.
Hair wars heats up in Double Bay
With more than 50 salons within his immediate vicinity, the king of Double Bay hairdressers Joh Bailey takes pride in the knowledge many of them were started by his former underlings.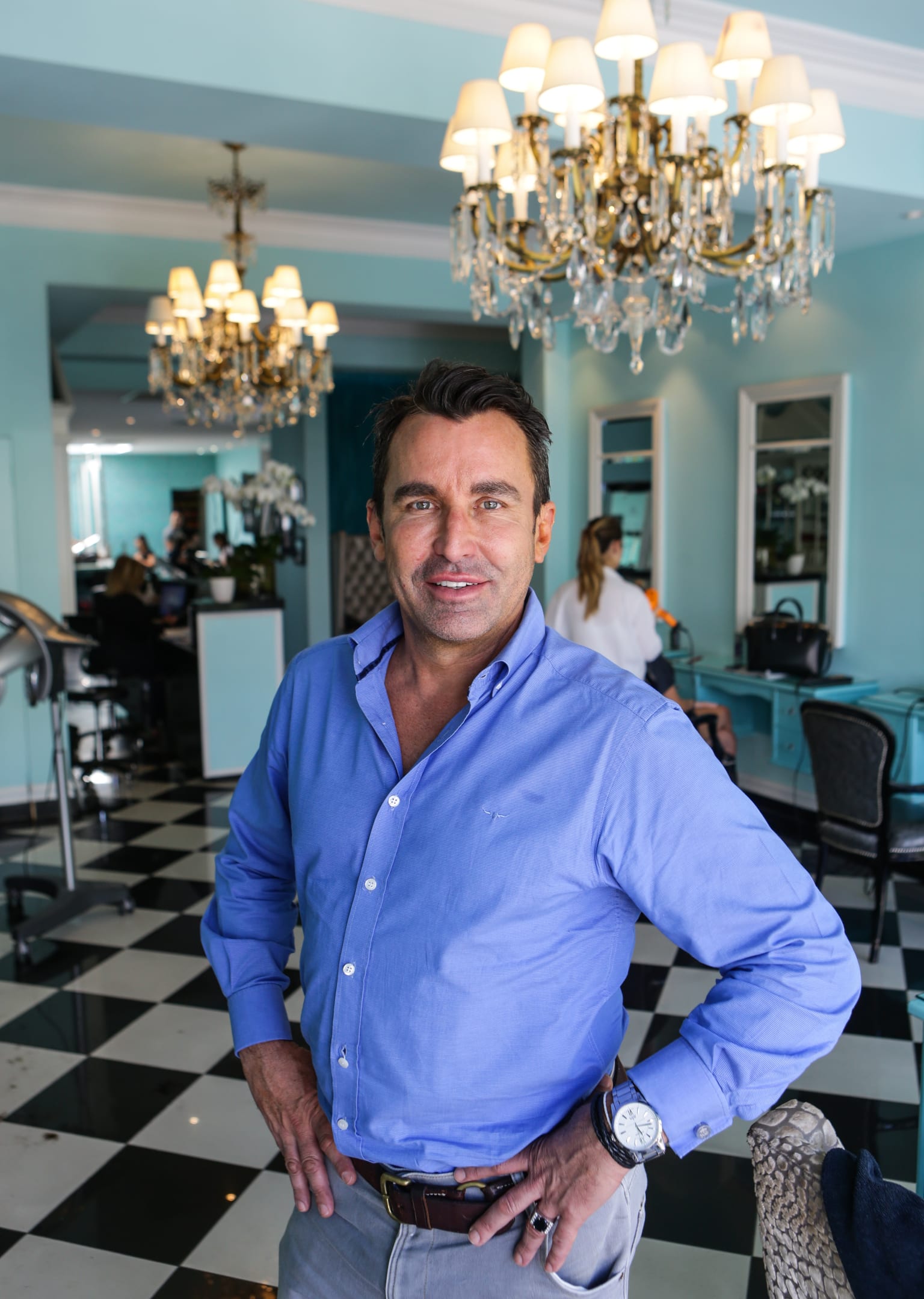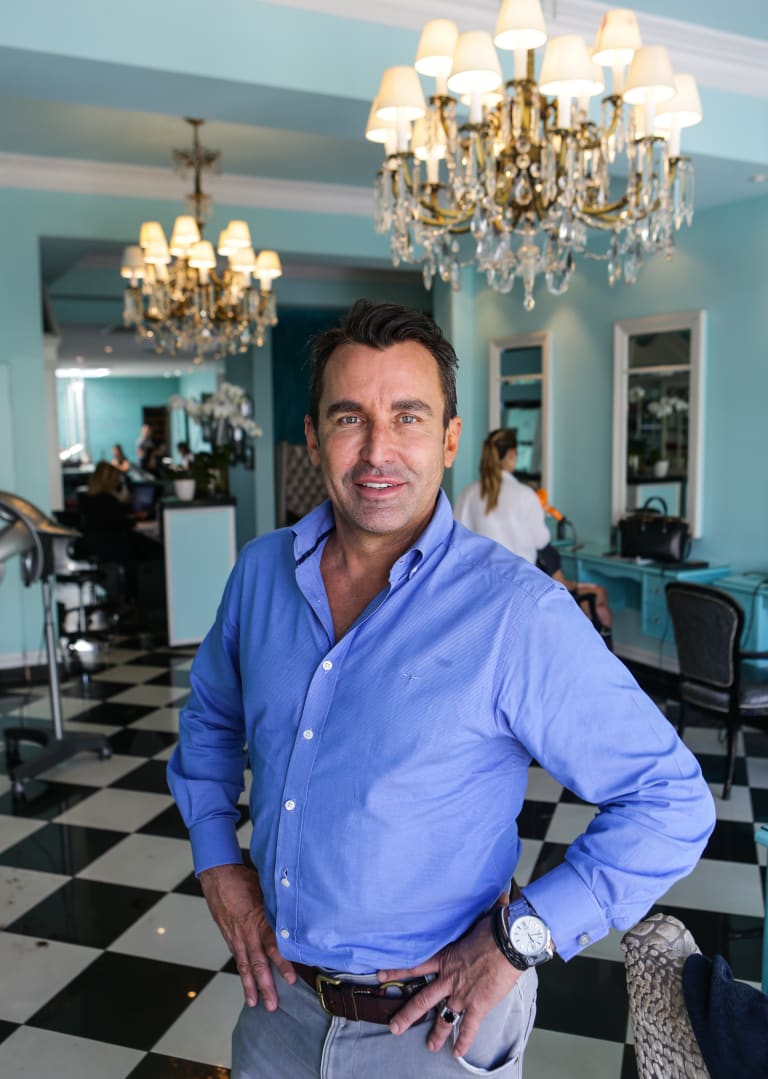 Time for a facelift: Joh Bailey has big plans for his Double Bay salon.Credit:Dallas Kilponen
But when two of his former staff, husband-and-wife team Tom and Mariah Cole, opened up their salon a mere stone's throw from where he has been tending Sydney's top tresses for more than 30 years, Bailey knew it was time to up the ante.
Over the next five months Bailey is pouring about a million dollars into a massive expansion of his Knox Street salon, taking over the ground floor that had previously been a homewares store and installing enough high-tech beauty gadgetry to rival the International Space Station.
Hairdressing husband-and-wife team Mariah and Tom Cole, former Joh Bailey staffers who have opened up down the road in Double Bay.
"We have always been the red-carpet-ready salon, but we are just going to really expand what we can offer.
The ground floor will become the new hair salon while upstairs will offer an array of beauty treatments with a whole bunch of machines being shipped in from America to work wonders on the girls," an excited Bailey told PS.
And while former "Bailey Girls" such as Terry Biviano and Roxy Jacenko have been spotted in the windows of rival Cole Hair, Bailey says he is fine with the competition.
"I'm actually quite proud so many of them started with me and have gone on to do their own thing," he told PS, hosing down any chatter of all out war among the snippers of Double Bay.
The stripes that changed Susie's life
Susie Elelman with American television personality Mark Curry in her life-defining 1995 Logies gown.
Susie Elelman was famously described as looking like a "herd of zebras rampaging down the Logies red carpet" in a revealing black and white striped dress she wore in 1995.
It would go on to become one of the great defining moments of the television personality's life.
In her new memoir 15 Minutes Of Fame, Elelman recounts what it was like wearing what was the most-talked about dress in the land, a frock she is still asked about to this day.
Inspired by a cover of Cosmopolitan magazine featuring '90s supermodel Stephanie Seymour in a skin-tight Herve Leger gown that Elelman spotted at her hairdresser's, nothing was going to stop the Channel Ten personality from replicating the look, not in the least her size 20 frame.
"I was not concerned in the slightest that the woman I'd seen on the cover of Cosmo was several sizes smaller than I was … when I put it on I felt fantastic. When I arrived on the red carpet I suddenly found all the cameras were pointed in my direction and lots of the media were calling out to do interviews."
But in a matter of hours Elelman would be engulfed in a tsunami of bad press. "I'd gone to the Logies feeling like a million bucks, expecting to raise a few eyebrows and shake things up a little, but I was not prepared for the response I received," Elelman writes.
"The rest of the country went into a state of shock. Pretty much the rest of Australia made no bones about telling me how much they hated it. I was slammed by every sector of the media, I became fodder for talkback radio programs and I made the worst-dressed list in just about every magazine.
"It was soul destroying. I'd never been on the receiving end of such hostile publicity. I even copped abuse hurled at me from strangers out of cars driving by."
But looking back Elelman sees the experience in a positive light, it was the catalyst for her losing half her body weight and turning around a lifetime of poor eating habits.
She writes: "This experience, though completely horrible, wasn't all bad."
Source: Read Full Article