Hoda Kotb went to Canada for Today's Fourth Hour's road episodes – Hoda and Jenna's Trippin' – this time last week, and she took it quite literally!
POPULAR: Hoda Kotb's adorable adoption announcements on Today
The beloved NBC star took a tumble on the snow while out presenting with Jenna Bush Hager, in footage which was shared on social media.
Hoda could be seen being helped up while attempting to snowboard, having fallen over on the snow, while Jenna too fell down as she tried to aid her co-star.
VIDEO: Everything you need to know about Hoda Kotb's family life
"Things are going well… @jennabhager," the mother-of-two wrote alongside the clip. Fans were quick to comment on the video, with many urging the 58-year-old to be careful. "Don't break Hoda!" one wrote, while another remarked: "Please be careful." A third added: "Please wear a helmet and stay safe."
MORE: Today show bid farewell to popular member of the team
MORE: Jenna Bush Hager looks unrecognizable with super long hair transformation
Hoda and Jenna were on their first work trip of the year, having announced their new travel series at the beginning of the year.
The hosts revealed their destination back in January by spinning a large wheel, revealing that they were heading off to Canada's Quebec City.
A post shared by Hoda Kotb (@hodakotb)
Hoda Kotb took a tumble in the snow
At the time, Hoda exclaimed: "Oh my god! We are headed north to a winter wonderland," detailing that Québec is one of Canada's oldest cities, and that they are going for the Québec Winter Carnival, the largest winter carnival. Hoda and Jenna have been working on the Fourth Hour together since 2019, when Jenna took over the co-hosting position from Kathie Lee Gifford following her retirement.
Jenna opened up about working with Hoda while talking to HELLO! last year, and she had nothing but positive things to say about the star.
MORE: Today Show surprises with live wedding ceremony on program
MORE: Savannah Guthrie reveals real reason she was absent from Today in new photo at home
The mom-of-three revealed that she often gets in fits of giggles with Hoda, and it's often made all the more funnier as it's never when they're supposed to be laughing.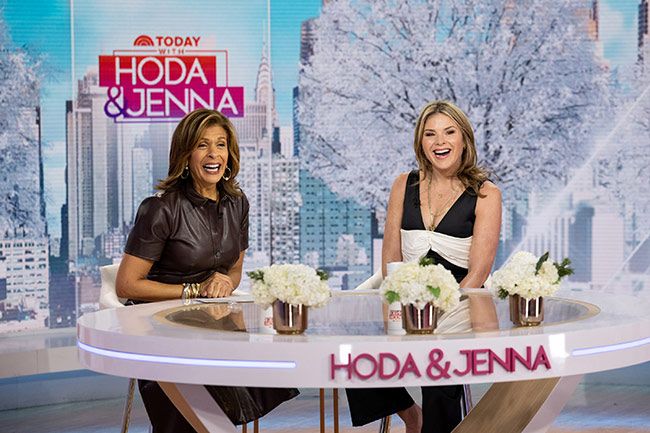 Hoda Kotb with her Fourth Hour co-host Jenna Bush Hager
"I feel like Hoda and I laugh hysterically, we can get get into that laughter where we're not supposed to laugh. That church laughter where we're like 'We're going to get into trouble'," she shared.
Read more HELLO! US stories here
Source: Read Full Article