Carrie Underwood is one of the biggest stars in country music today. The singer first won hearts all over the country in 2005 when she was crowned the winner of American Idol. A few months later, she released her debut album Some Hearts, which was a huge hit. Since then Underwood has won several Grammys, Country Music Awards, American Music Awards, Billboard Music Awards, and a Golden Globe nomination for Best Original Song.
The "Cry Pretty" artist now has a net worth of $140 million and lives in her dream home with her husband Mike Fisher and their two sons. Here's a peek inside Fisher and Underwood's 400-acre Tennessee estate.
Underwood and Fisher moved out of their previous home outside Nashville after the singer's fall
Before moving into their new home, Underwood and Fisher lived in the Nashville suburb of Brentwood, Tennessee. Zillow noted that the home was 7,083 square feet with four bedrooms and six bathrooms.
However, the couple decided to sell the house since it was the site of where Underwood had a nasty fall in 2017 which left her with a broken wrist and required her to get dozens of stitches in her face.
After news of her fall broke, some of their neighbors reportedly started pointing out the house to those who did not live in the community to get up close and personal to the pair's property. So they had no choice but to move.
A look outside and inside Fisher and Underwood's 400-acre 'forever home'
Variety reported that back in 2011, Underwood and Fisher shelled out $2.9 million for 354 acres of undeveloped land in the foothills south of Nashville. They paid another $350,000 later for an adjoining 50-acre spread.
During an interview with Country Living in 2016, Underwood confirmed that the land was where they were building their dream home. "My husband, Mike, and I are designing our forever home," she told the publication. "My must-haves are a wood-burning fireplace, a porch swing, and rocking chairs."
Two years later, the couple moved into that forever home. The exact square footage of the home is not known but you can tell how large it is from the outside. And the Underwood-Fishers have given fans a peek inside with several snaps on social media.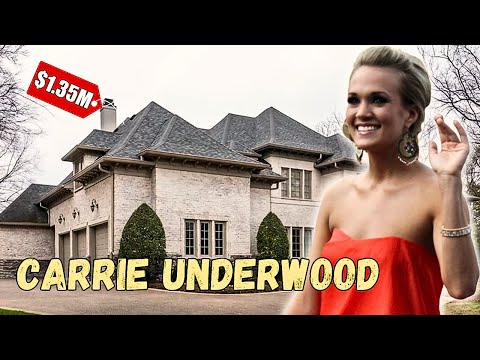 The couple also owned a house in Ottawa where Fisher previously played hockey
Prior to owning all that land in Nashville, the pair had an abode north of the border in Ottawa, Canada.
They had that house built in 2010. It sat on 11 acres and boasted five bedrooms and five bathrooms. The home also features hardwood floors throughout, high ceilings, and fireplaces. Some of its other amenities included a wine cellar, home theatre, a large chef's kitchen, a wet bar, and a home gym.
Fisher and Underwood ended up selling the property when the athlete was traded from the Ottawa Senators to Nashville Predators.
Source: Read Full Article