Isaiah Russell-Bailey is starring in the new Disney+ movie Crater, which just debuted today (May 12)!
The teen actor leads the film as Caleb Channing, who was raised on a lunar mining colony and is about to be permanently relocated to an idyllic faraway planet following the death of his father.
In the movie, before leaving, to fulfill his dad's last wish, he and his three best friends, Dylan, Borney and Marcus, and a new arrival from Earth, Addison, hijack a rover for one final adventure on a journey to explore a mysterious crater.
VIDEO: Watch the Crater trailer here!
Isaiah is also most well known from his Netflix roles on Family Reunion and We Can Be Heroes.
Ahead of Crater's release, we caught up with him and got the scoop on what it was like filming the movie, getting into the space suit and more.
Keep reading to see our exclusive interview…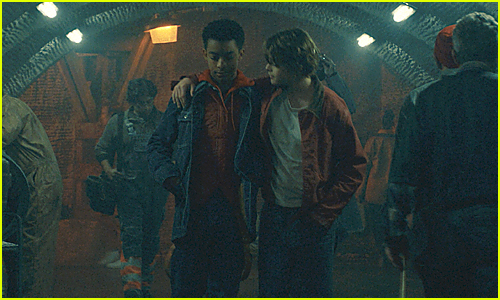 What was your favorite part of filming?
"My favorite part of filming was building that chemistry with the cast and hanging out outside of set. Because we shot the movie in Baton Rouge, Louisiana, we were able to learn about Louisianan culture. We tried so many different foods and we took a trip to New Orleans for swamp tours. While we were on set, we would play video games and sing songs that we liked together. We all had an amazing time filming Crater!"
Prior to filming, what were you looking forward to filming the most?
"Prior to filming I was definitely looking forward to seeing the finished spacesuits. I was actually the first person in the cast to try on the finished spacesuit. Also participating in the "space camp" was something that I was looking forward to. We learned a lot of interesting facts about the moon from an astronomer and we had two weeks of stunt and harness training which was a pretty cool experience."
You guys obviously didn't film in space, but did you have to do any type of space training prior?
"Yes. We had six weeks of prep before filming. For four of those weeks, we had lots of space suit fittings so that our suits looked like and fit like real space suits, with functional accessories. For the last two weeks, we practiced our harness work and stunts with Dave Macomber and Alan D'Antoni. They made sure that we were able to make the spacewalks and slo-mo look as real as possible, and I feel like we succeeded."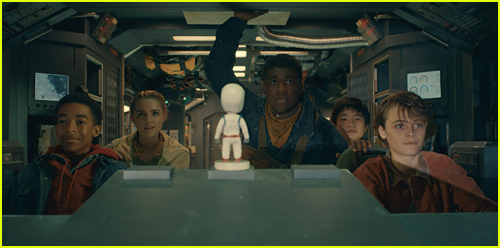 Real life space suits are fairly heavy, was the one you wore in the movie quite heavy?
"Surprisingly, the spacesuits weren't heavy at all. They were actually very comfortable. When I first wore the finished space suit for the movie, I told the team at Legacy Studios that I could sleep in the suit. A few times on set I did! It was a really comfy suit."
What was it like filming the spacewalk/flying scenes?
"Filming the spacewalk scenes was great! We worked with Dave Macomber and his stunt team for two weeks. They taught us stunts and how to maneuver in the harnesses. It really helped us get the slow-motion movements down so that it all looked as realistic as possible when we started filming."
What 3 foods would you want to bring with you as space food if you were to go on a journey through space?
"Three foods that I would bring to space with me are ice cream, Belgium waffles, and Panera Bread's chicken and pesto sandwich. Right now, these are my favorite foods. I don't think I can live in space without them."
If you were going on a 75-year journey and had to be put in cryo sleep, what's the one big thing you would want to do before going?
"One big thing that I would do before a 75-year cryo sleep would be to travel to Japan. I've always been a fan of Japanese culture. Also, I'm a huge anime geek. I feel like my life would be complete if I were to travel Japan and maybe go to an anime convention."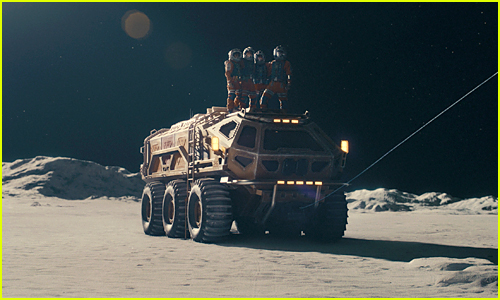 Now that going to space is more available to not just astronauts, would you ever want to go?
"I would! Like a lot of people, when I was younger, I wanted to be an astronaut and travel through space. To this day, I still love to study the solar system and learn about the planets. I totally would go to space if I got the chance to."
Would you ever live on a colony on the moon?
"I would totally live on a colony on the moon, if my friends and family are there with me. I think it would be a very fun experience. I'd be excited to try low gravity in real life and explore the moon as a whole. I've always been fascinated with the moon since I was a little kid."
If you could live in a colony, anywhere in the universe, where would it be?
"If I were to live on any space colony, I would want to live on the moon or Mars. I've had a fascination with the solar system for a while and the moon and Mars always stuck out to me. Also, after learning a lot more about the solar system as a whole, I found that the moon and Mars are the safest areas in space for humans to live. With that said, I would definitely choose to live on the moon or Mars."
Tune in to catch Isaiah Russell-Bailey in Crater, now streaming on Disney+!
In case you missed it, check out 10 Fun Facts about Isaiah.
Source: Read Full Article