Meghan Markle is riding a high after her first children's book, titled "The Bench," made the New York Times' best seller list. The picture book, which was released on June 8, is based on a poem that Meghan wrote for her husband, Prince Harry, on his very first Father's Day. In a pre-recorded interview with NPR's Weekend Edition that aired on June 20, Meghan revealed that she actually purchased Harry a bench and had a short poem that she wrote printed on a plaque and affixed to the back — it was the perfect gift. "As most of us do, you go, what am I going to get them as a gift?" Meghan said with a laugh. "And I thought I just wanted something sentimental and a place for him to have as – like a bit of a home base with our son," she explained.
And while just about everyone seems to be raving about Meghan's book — she told NPR that her son Archie "loves it" — there are some who don't see what all the fuss is about. In fact, journalist Claire Allfree had some not-so-nice things to say about "The Bench" in a piece she wrote for The Telegraph. Keep reading to see her critique of "The Bench."
Meghan Markle's book has received some negative feedback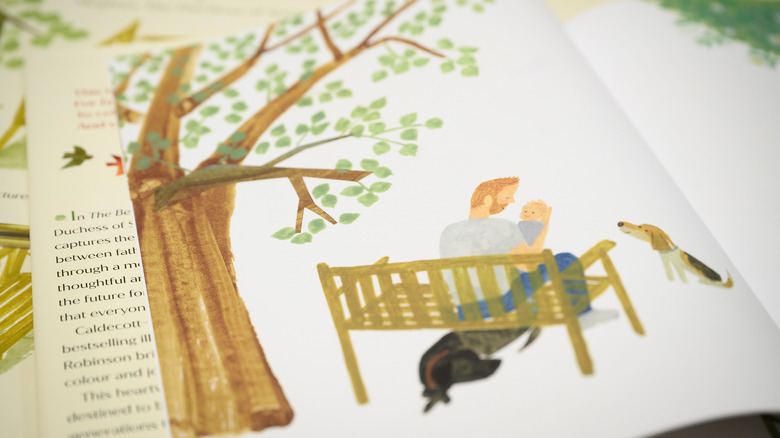 Meghan Markle's children's book actually received some harsh criticism from a few different people. However, The Telegraph's Claire Allfree may have had the harshest yet, calling the work "semi-literate." Taking a look at one of the photos that shows a man who looks like Prince Harry sitting on a bench holding a baby, Allfree says, "poor Harry's role in this marriage is to sit on his bench holding the baby while Meghan gets on and conquers the world, one act of compassion at a time," according to Fox News. However, Allfree's criticism of the book didn't stop there. 
"One wonders how any publisher could have thought to publish this grammar-defying set of badly rhyming cod homilies, let alone think any child anywhere would want to read it, but that's planet Sussex for you, where even the business of raising a family is all about the brand," she wrote in a piece for The Telegraph. And, as Fox News points out, Allfree isn't the only person to rip Meghan's book apart. The Sunday Times arts editor Alex O'Connell wrote that the book reads as "a self-help manual for needy parents," and that "it lacks…a good story and basic rhythm." Sophie McBain also slammed "The Bench," writing a review with the headline, "It is mind-boggling how bad this book is," for the New Statesman.
Source: Read Full Article