Kim Kardashian West and Kanye West "are ready" for their fourth child.
After reports said the KUWTK star and the rapper were expecting another baby — a boy carried via surrogate — the reality star confirmed the news to Andy Cohen while appearing on Watch What Happens Live with sisters Kourtney Kardashian and Khloé Kardashian.
Related: Kanye West Is 'Happy' In LA & No Longer Wants To Move To Chicago!
With the exception of "the nursery," the couple — who share North (5), Saint (3), and Chicago (14 months) — are prepared for their latest addition.
According to an ET source on Wednesday:
"Kim and Kanye are ready to welcome their new addition to the family. The couple's main stress right now is finishing the nursery. Kim and Kanye are very particular in their design and have gone over a few options for their new son's room."
Because this will be their fourth offspring, Kimye's "stress is down" regarding the pregnancy.
"Since this is baby four for the family, Kim and Kanye have been down this path before… Their stress is down with having another child, and their main focus is making sure their other kids adapt well to the new addition. North is the oldest and loves having siblings, but she likes having alone time with her parents."
This is contrary to the momma of three telling the New York Times that it's been "madness" at home over the baby.
Guess things have settled down since.
As we reported, in the latest issue of Elle, Kim expressed concern with how her kids will react to their new brother.
"I do worry about them getting along, because for my sisters and I, we were just so close growing up and obviously still are… And I want them to be, too!"
Additionally, while speaking to ET's Keltie Knight on Tuesday, Kardashian said this baby situation is a "different experience," explaining:
"I love my surrogate, we have a really good relationship. I really trust her and I definitely see, like, the first time that I went through it, I was a little bit more anxious, and texting more and calling more, and I feel like my surrogate this time around really is such a protecting person and I really trust that in her."
She added:
"So, I feel really calm and at ease… I don't know if it's a fourth kid thing or, we've been through the surrogacy before, you just get a little bit more calm as they go."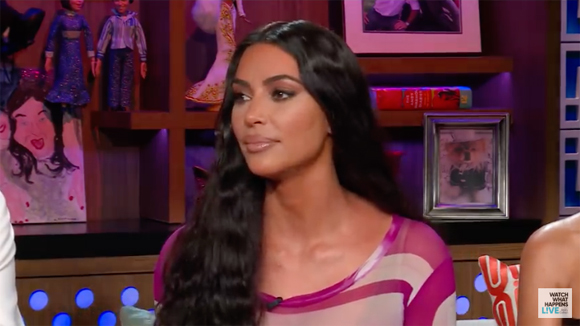 As we wrote in January, the 38-year-old and the 41-year-old are using a new gestational carrier this time around.
According to E! News, the family initially intended to go back to the same surrogate who carried Chicago, but the woman ironically got pregnant for herself.
The source revealed:
"The surrogate is well into the pregnancy. She is due in May and everything looks good. Kim and Kanye have known for awhile and are very excited. They had one male embryo left and are thrilled it has worked out. Kim always wanted four kids and having two boys and two girls feels perfect. They were very happy with the entire experience the first time and are so grateful to have one more baby."
Another insider gave more detail to People about the current surrogate's pregnancy:
"Since they had another embryo, Kim and Kanye always knew they wanted to try and implant that embryo too. They hoped to work with the same gestational carrier, but it didn't work out this time. They are working with a second carrier now that is pregnant and will give birth in the spring. Everything so far has been smooth. Just like the last time, Kim is very involved with the carrier. Kim goes to doctor's visits with the carrier and makes sure that she has everything she needs. She is a local woman with a family. Kim's OB/GYN is overseeing her pregnancy."
We are so happy for Kim, Kanye, and their family!
Source: Read Full Article