LaurDIY had a pretty incredible 2018 and decided to share all her favorite moments with her fans on Instagram.
However, some online trolls chose to focus in on how Alex Wassabi, a fellow social media influencer, wasn't included.
If you don't know, Lauren and Alex announced their breakup earlier this year.
"I put together some of my fav moments of 2018 to reflect on how incredibly lucky I am to be surrounded by the friends & fam that I've been blessed with," Lauren wrote. "A year of insane product launches, new friends and opportunities, meeting thousands of my #prettylittlelaur fam and celebrating new accomplishments with loved ones."
She added, "I've had my share of ups and downs, new chapters beginning and old ones ending, but I'm ready to love every day of 2019, the highs and the lows."
When one troll cited that Lauren was showing her "true character", she didn't hesitate in clapping back at the rude comment. You can see what she replied below.
It's only the first few days of 2019, can we please stop with the online bullying and start off on a better note? K thanks.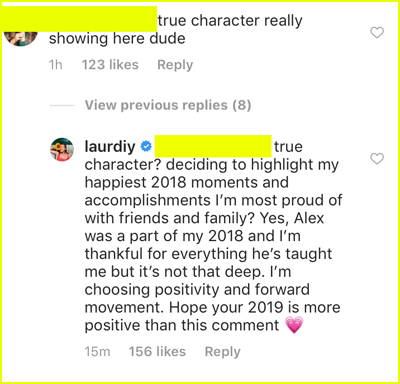 Source: Read Full Article