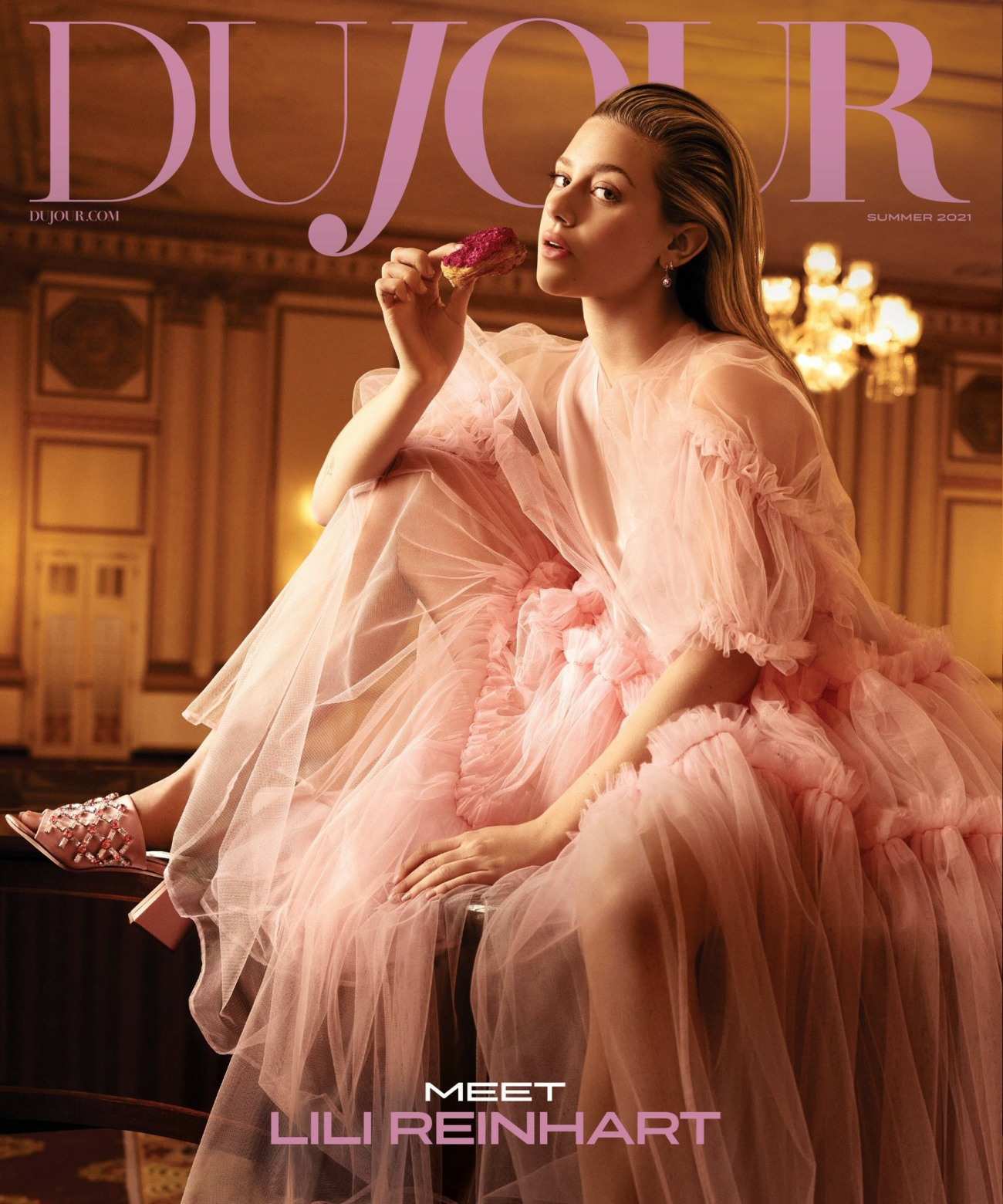 Lili Reinhart covers the latest issue of DuJour, I think to promote Riverdale, which is in its fifth season. Lili spent much of the past year in Canada, working on Riverdale in a production bubble, and it changed her. She was only able to go home to LA one time during the year. She missed her friends and family, she was lonely but she learned to enjoy doing her own thing by herself too. Every time I read about Lili or I read one of her interviews, I'm impressed by how down-to-earth she is. She genuinely seems like a normal person who just happened to find herself on a popular show. During the interview, she speaks about her own battles with body image. She's spoken about body dysmorphia and how tough it is to judge her own body against everyone else's hyper-edited photos. It honestly sounds like she had some bad moments in her own head during the pandemic:
Her book of poetry, Swimming Lessons, was published last year. "I'm not a masterful poet by any means," says Reinhart, who adds that sharing Swimming Lessons with her fans was both "vulnerable" and "experimental." "I'm still not 100 percent confident in who I am as a writer. People tell me they really relate to the poetry, and that's all I could ask for."

Not being able to travel during the pandemic: "It was the first year of my life that I wasn't with my family on Thanksgiving and Christmas. I can't have that much of a pity party [for myself] because the entire world is dealing with this, but it's been a long season. We feel the isolation of being here. I know how lucky I am to have this job and I'm thankful to be working."

She's tight with Riverdale cast members Madelaine Petsch & Camila Mendes: "We've leaned on each other through this time, and we're just getting closer. But we still miss our families and, ironically, we all bought homes in Los Angeles this last year and we're not able to be in them."

Her new home: In the early days of the pandemic, when Riverdale (and the world) was on hiatus, Reinhart purchased her first home in the Valley. "I needed a yard," she says. Her mother told her she had time to look, and so she did. At first, Reinhart was sleeping in her new home on an air mattress, and there's still a lot to be done—including more furniture and art for the walls. But while she's not using her new abode, she told her friends back in L.A., "Go enjoy my house while I can't. It makes me feel good that I have a spot that my friends can use."

How she feels more than a year after the pandemic began: "I'm definitely not the same person I was when I had to flee Canada [in March 2020]. My focus has been on myself, looking inward and trying to grow." This last year has grounded her, she says. It's helped her be more present: "I've been working on taking the pressure off myself, and stress doesn't affect me as much."

She had a period where she spent too much time working out & focused on her body image. "I think I had too much time on my hands. I'm single, so I'm very zeroed in on me right now. I was really being hard on myself for not working out a certain way or eating a certain way. And I just had to say, 'It's a f–king pandemic. I need to give myself a f–king break. I am doing just fine. I need to cut myself some slack.' I'm never going to have abs. Abs are made in the kitchen, and I had Dairy Queen and chicken parm last night. And that's okay. I'm learning to accept that in myself. I'm not a fitness model. I'm never going to be able to maintain that. I'm not going to not eat the ice cream."

She loves TikTok: It's a "beautiful community of all shapes and sizes cheering each other on. It's not amazing to see someone on Instagram calling me fat, but people are never going to stop body-shaming. It's a matter of what I can do to make myself feel better about that. My body is a journey that I have with myself."
[From DeJour]
Her whole thing about "I'm never going to have abs" and "I was really being hard on myself for not working out a certain way" made me so sad. This young woman is gorgeous and she has an incredible figure! Why does society/Hollywood do this to women who simply have some curves? That's all it is, that's what Lili is focused on – she's not ripped because that's not her body type, that's all. And I keep hearing second-hand stories about how women are going to TikTok in droves to find niche communities of women for their specialized interests. Has TikTok become the social media app for women to hang with other women??
https://www.instagram.com/p/CPtJCr5M9nE/
A post shared by Lili Reinhart (@lilireinhart)
Photo and cover courtesy of DuJour.
Source: Read Full Article