Following the incident, the actor/comedian takes to Twitter to blast United, accusing the gate agent of hating 'White Chicks', his 2004 movie that also features his brother Shawn Wayans.
AceShowbiz –Marlon Wayans is forced to miss his upcoming show due to an incident with United Airlines. While the actor/comedian insists that he's not to be blamed for it, police have issued him a citation related to the incident.
According to a spokesperson for the Denver Police Department, Marlon was involved in an altercation with a gate agent from United Airlines on Friday, June 9. After speaking with all parties, cops slapped him with a citation for disturbing the peace.
The "Scary Movie" star allegedly was upset when he was instructed to check a bag during the boarding process. While it was a common request, the actor reportedly wasn't having any of it. He angrily slammed his ticket on the counter and proceeded to board the plane despite the gate agent's attempt to stop him. His behavior prompted the gate agent to call for security.
A source close to Marlon, however, claimed that he was first told he had to consolidate his bag. But he was then told he had to check the bag altogether. Marlon was eventually escorted off the plane about 30 minutes later. A video obtained by TMZ saw the actor looking pissed while leaving the airport.
Following the incident, Marlon took to Twitter to blast United. "If this is how @UnitedAirlines_ treats their first class customers…. I'd rather fly any competitor coach. Sorry KC I'm gonna miss tonight's shows due to a United gate agent who probably hated white chicks," Marlon, who was set to perform Friday night at Kansas City Improv, tweeted. He's referring to his 2004 movie "White Chicks" that also features his brother Shawn Wayans.
"KC… my apologies. It's not my fault blame the gate agent and @UnitedAirlines_ can't believe they allow their first class customers to be treated this way. I need corporate to reach out DM me. This agent was rude," he further fumed. In another tweet, he wrote, "So petty. I fly hundreds of thousands of miles every year. I will be sure not to spend my first class money on @united."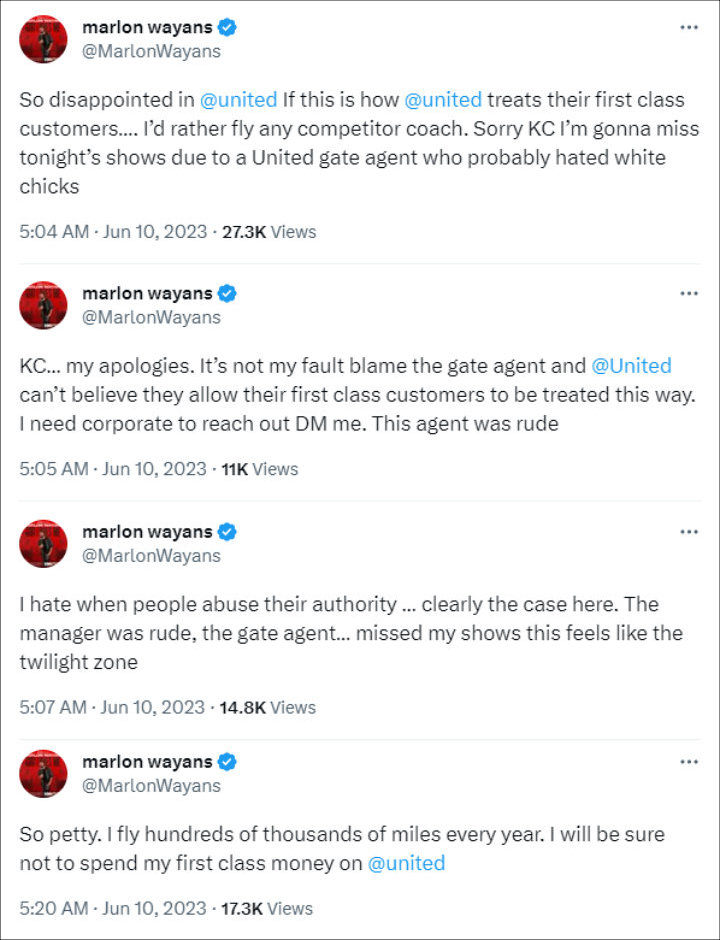 Marlon Wayans blasted United on Twitter after an argument with a gate agent.
Meanwhile, United issued its own statement regarding the matter. "In Denver on Friday, a customer who had been told he would have to gate-check his bag instead pushed past a United employee at the jetbridge and attempted to board the aircraft," a spokesperson told TMZ. "The customer won't be flying on United to his destination."
You can share this post!
Source: Read Full Article