Carissa Pinkston, who has modeled for the likes of Marc Jacobs and Savage x Fenty, is catching some MAJOR flack online.
The model is being called out for sharing transphobic comments, and subsequently pretending to be transgender to cover it up. Now, the 20-year-old is coming clean and apologizing for her wrongdoing.
According to screenshots obtained by a Twitter user, Pinkston posted messages to Facebook in May under the name Rissa Danielle, writing:
"Being Transgender does NOT make you a woman. It makes you simply Transgender. Being Transgender does not make you a woman in a Transgender context according to gender and sex. This is how they want to be perceived. In a biological context there are Females and Males. This is the world in 2019."
Yikes!!
After the transphobic messages began to circulate via social media, she was reportedly dropped from her modeling agency, Elite Models. But instead of apologizing for her words (which likely wouldn't have done too much good), she made her biggest misstep yet and claimed to be transgender.
In a message posted to her Instagram in late July, she wrote:
"I wasn't ready to come about it yet but today I got fired and I've been receiving hate mail and death threats ever since so I'm being forced to tell the truth. I'm Transgender. I transitioned at a very young age and I've lived my Life as a female ever since. It's been very hard to keep this secret but what I said about Trans-Women is a direct reflection of my inner securities and I have since come to realize that I am a Woman. WE ALL ARE!"
Ok…
It wasn't long before industry colleagues began to refute her claims. Model Aaron Phillip chimed in (below) along with others: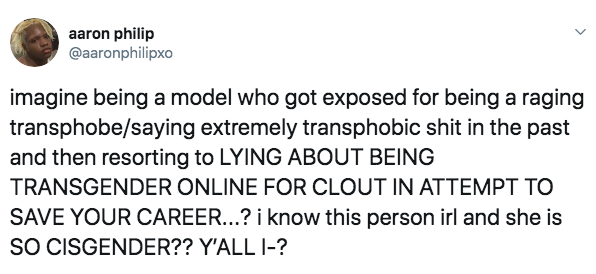 In an last-ditch effort to "make things better," she finally came clean about her lie, admitting she was in fact not transgender:
"I apologize for any transphobic remark I've ever made towards the Trans community. I panicked and I thought if I came out as Trans that I could somehow make things better for myself but it appears I've only made things worse. I'm truly sorry. I'm only 20 and I'm human. I make mistakes but I refuse to let them define me. I hope you all can forgive me and move on from this because I'm so much more than this incident and I'm not a coward."
Deflecting away from transphobic, or any phobic remarks, with a lie or faux-apology is clearly NEVER a good idea!
Ch-ch-check out ALL the receipts and screenshots (below):
As of this writing, all of the (above) "apology" statements and messages have been deleted from Carissa's IG account.
What do U think about this wild saga, Perezcious readers? Sound OFF (below) with all your thoughts!!
Related Posts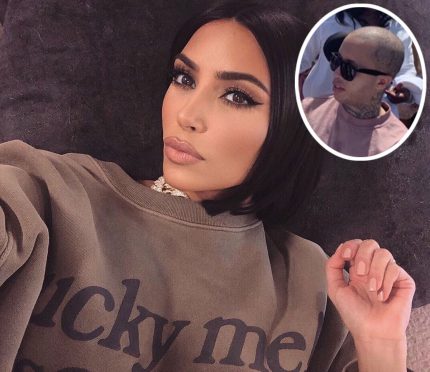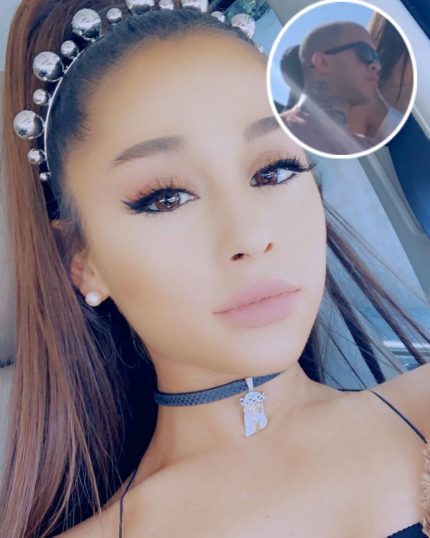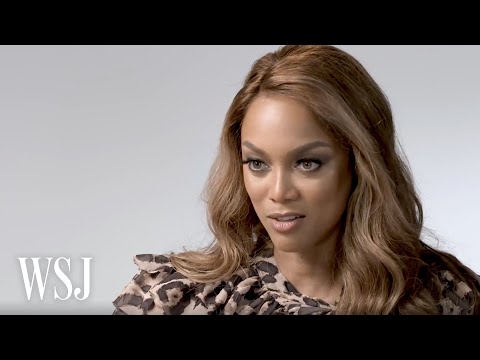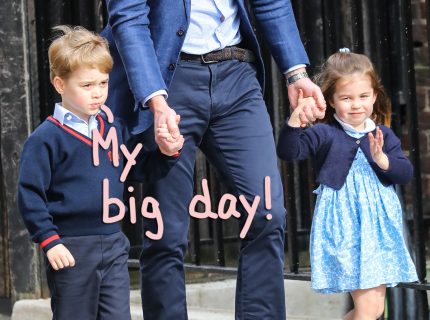 Source: Read Full Article