NeNe Leakes and her husband, Gregg, can now breathe a sigh of relief.
On Monday on Instagram, the Real Housewives of Atlanta star revealed her spouse is cancer free following the results of a PET scan.
After the 63-year-old patriarch was diagnosed in June 2018, his 51-year-old wife revealed it was Stage 3 colon cancer in November of that year.
In April 2019, the Glee alum revealed her man completed six months of chemotherapy.
The Bravolebrity posted a photo of Gregg — holding a sign that read, "No cancer found! Praise God…" — with the caption:
"Look at God! We are over joyed to say, we saw the doctors for the results of Gregg's Pet Scan he took last week! Test show, wait for It…..WE ARE CANCER FREE!!! Yes God! Now i can go give Gregg a black eye… since so many thinks he's abused #f**kcancer #f**kopinions#cancersurvivor #pushthrucaretakers#lifeoftheleakes"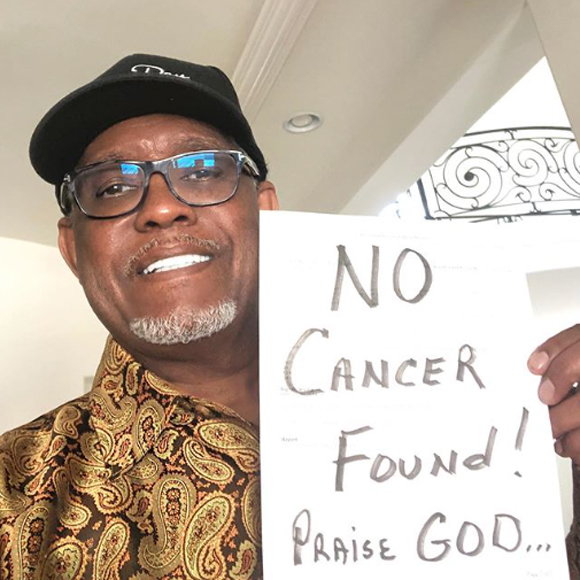 As documented on the last season of RHOA, Gregg's health battles took a toll on the couple's relationship.
During the reunion, the pair admitted they considered splitting up.
NeNe said:
"It would be easy to make a decision about divorcing Gregg if he didn't have cancer…I don't want to live my life unhappy."
Gregg added:
"The reward might not be necessarily be that we are husband and wife at the end… The reward might be that we are best friends at the end."
The two — who share 20-year-old son Brentt — married in 1997, divorced in 2011, and remarried in 2013.
As we wrote last month, the reality TV diva was accused of being "embarrassingly drunk" while hosting a show for the Ladies Night Out Comedy Tour in Oxon Hill, Maryland.
Leakes reportedly came on stage nearly 50 minutes late, appeared to stumble, repeated herself, struggled to remember some of comic Janelle James' credits, and called her "Jes James."
According to a source, NeNe was seen crying backstage, and kept saying:
"Somebody put something in my drink bitch. I only had two drinks; I ain't supposed to be this drunk."
In response, Leakes' rep DENIED she was intoxicated, and blamed the star's tardiness on the venue.
"The decision to begin the show late was made by the VENUE. Not by NeNe Leakes. NeNe was backstage with the other comedians watching video footage of the audience filing into their seats which was still occurring approximately 10 minutes prior to their scheduled start time of 8PM. She waited backstage until she was notified by someone at the venue that it was time for her to take the stage to start the show, which she then did promptly.
NeNe takes her professional commitments very seriously. She was not intoxicated, and therefore she did not stumble nor was she disoriented. She started the show by welcoming the audience as she does in every city, which was met by applause and positive fan response as usual. Any comment made about her material or comedic timing is someone's personal opinion."
While the spokesperson said NeNe had "a cocktail," she primarily got sick because she took a vitamin on an empty stomach.
"Prior to the show, NeNe had taken a vitamin on an empty stomach. Neither she nor Gregg had eaten all day, and when she arrived at the venue she had a cocktail backstage. She then got immediately sick.
As NeNe takes every professional commitment seriously, NeNe assured everyone backstage that she was OK and would still do the show as planned despite feeling incredibly sick and unsure of what the cause was. Immediately after the show, Nene did confide in Gregg and those backstage. 'Why would I be sick like this. I only had ONE drink. Who made this for me, did someone put something in my drink?'
Gregg was also sick, from not eating all day and having to take medication on an empty stomach, which is when they realized this was the cause. Nene had not taken the vitamin with food as advised, mixed with having only one cocktail prior to the show. Any emotion to these statements were because of frustration and confusion by Nene as to why she was feeling so sick when she barely drank; evidence from her asking if there might have been someone who spiked her drink."
We are so glad to hear of Gregg's health update though!
Source: Read Full Article