Gareth Fuller/PA Wire
Grab a seat and listen up: Prince Harry has some things to say.
While delivering a speech on Tuesday morning, the Duke of Sussex addressed all that backlash surrounding his recent vacations with Meghan Markleand son Archie Harrison to Ibiza and Nice, in which the royal family flew private. "We can all do better," the environmentally conscious Brit said. "And while no is perfect, we are all responsible for our individual impact. The question is what we do to balance it out."
Currently in Amsterdam to announce the launch of Travalyst, the first Sussex Royal Foundation initiative, Harry came ready to face the naysayers head on. "I came here by commercial," the 34-year-old revealed. "I spend 99 percent of my life traveling the world by commercial. Occasionally, there needs to be an opportunity based on a unique circumstance to ensure my family are safe and it's genuinely as simple as that. But as I said in my speech, for me, it's about balance."
Of course, the cheeky, red headed royal had some jokes prepared too. "Having spent last night here," he told the audience, "I don't know about you guys but it was definitely the best nights' sleep I've had for the last 4 months!" (Sorry Archie!)
Earlier this summer, the Duke and Duchess—who plan to only have two children for the sake of the planet—came under fire for taking a private jet to Elton John's home in Nice. The duo were of spending public money and adding to the carbon footprint by not choosing a commercial airline.
But as the criticism flooded in, the "Rocketman" singer took to social media to shut down the haters.
In a lengthy Instagram post, he revealed he and husband David Furnish not only paid for the trip but also made a donation to balance out the extra carbon emissions.
"To maintain a high level of much-needed protection, we provided them with a private jet flight," the superstar explained. "I highly respect and applaud both Harry and Meghan's commitment to charity and I'm calling on the press to cease these relentless and untrue assassinations on their character that are spuriously crafted on an almost daily basis."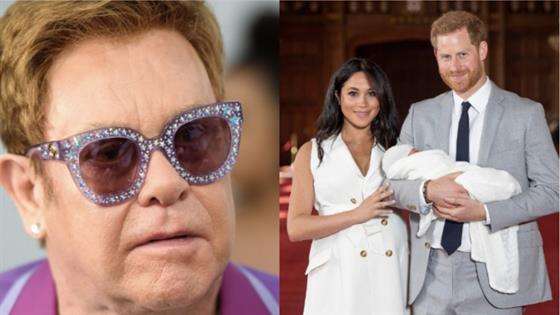 Soon, more stars stepped up to the royals' defense.
Ellen DeGeneres hailed the couple as "compassionate" while recalling her and Portia De Rossi's conversation with the duo. "Portia and I met Prince Harry and Meghan in England to talk about their work on wildlife conservation," the Emmy winner wrote. "They were the most down-to-earth, compassionate people. Imagine being attacked for everything you do, when all you're trying to do is make the world better."
And later, Pink took to twitter to stand with her fellow A-listers. "I'm happy to see people coming to the defense of The Duke and Duchess of Sussex," she wrote. "The way people treat her is the most public form of bullying I have seen in a while. It's out of control. Let's all be a bit kinder, huh? Let's show our children that it's cool to be kind."
Source: Read Full Article