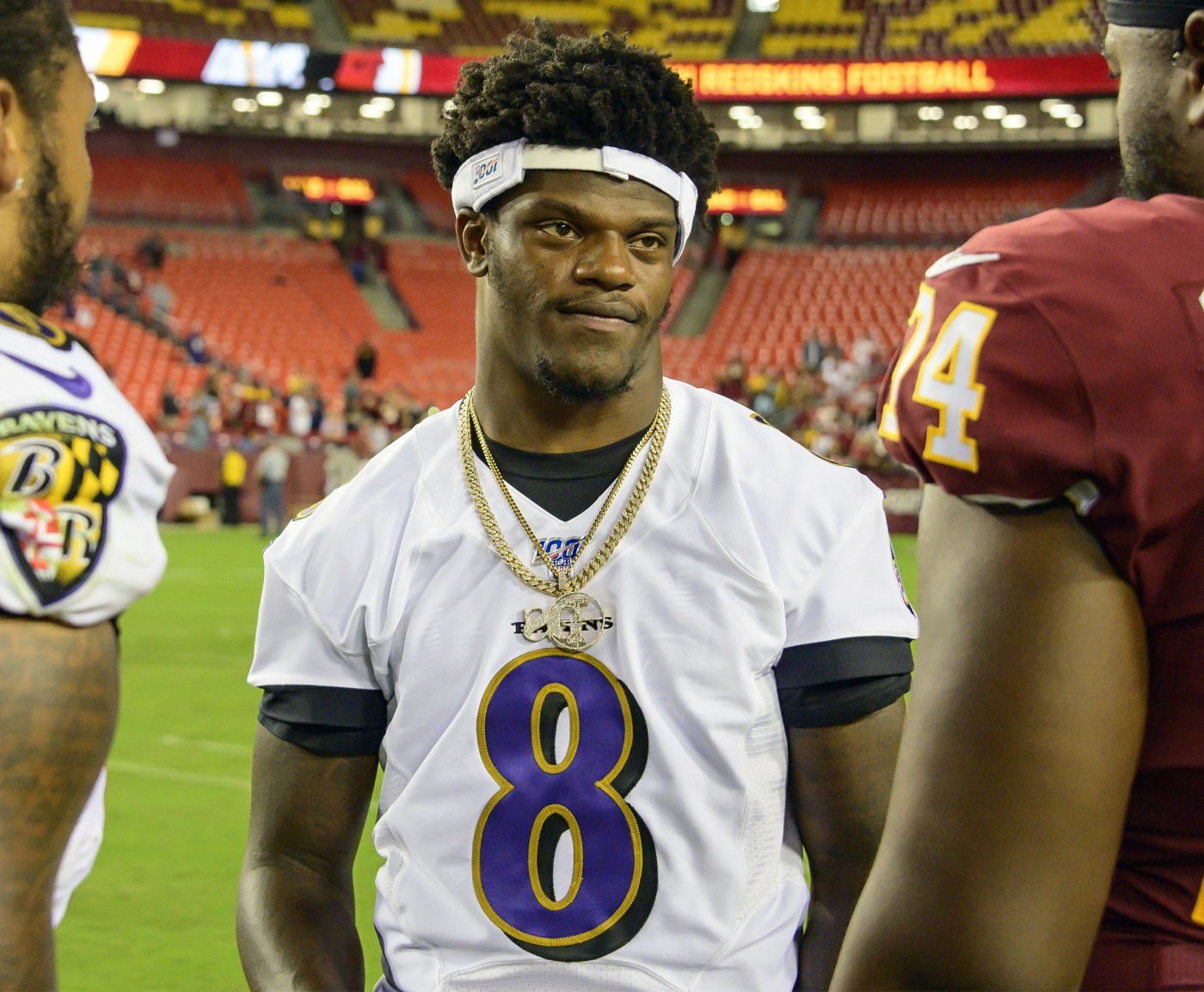 Whenever I hear elite athletes and professional football players talk about their vaccine hesitancy, I'm completely disgusted at the abject stupidity on display. The sport I follow – tennis – has some anti-Vaxxers, but at least most of them have learned to not get too f–king specific about it at this point. These football players, though. Last week it was Kirk Cousins refusing to get vaccinated and suggesting a Plexiglass solution to all of his issues. Cousins is on the Minnesota Vikings, reportedly one of the NFL teams with the worst vaccination rates in the entire league. On the other side, we have the Baltimore Ravens, a team which claims to have a 90% vaccination rate among players. One of the few holdouts on the team? Quarterback Lamar Jackson, who is recovering from his SECOND Covid infection. Dude still refuses to get vaccinated.
Baltimore Ravens quarterback Lamar Jackson was noncommittal on whether he would get vaccinated after being infected with COVID-19 twice in the past eight months, saying it was a "personal decision."

"I just got off the COVID list," Jackson said after Monday's practice when asked if he would get the vaccine. "I got to talk to my team about this and see how they feel about it. Keep learning as much as I can about it. We'll go from there."

Does that mean he's thinking about getting vaccinated? "We'll see," Jackson said. "Talking to the doctors. We'll see."

Jackson returned to training camp Saturday after missing 10 days, the NFL-mandated quarantine for unvaccinated players who test positive. Last November, Jackson tested positive for COVID-19 and missed one game. On Monday, he acknowledged he dealt with the same symptoms from the coronavirus this time and slept a lot because of fatigue. Jackson said last December that he "wouldn't wish [COVID] on anybody" and reiterated that Monday. But he still wouldn't budge on whether he would get the vaccine, even when pressed that it puts the Ravens at a competitive disadvantage.

"I feel it's a personal decision," Jackson said. "I'm just going to keep my feelings to my family and myself. I'm focused on getting better right now. I can't dwell on that right now … how everybody else feels. Just trying to get back to the right routine."
[From ESPN]
Once again, it's not a "personal decision." It's just not. Not when you're a public figure – an elite athlete – and not when your job requires you to be in close quarters, like a huddle or a locker room. He's endangering his own welfare and he's endangering everyone he comes in contact with, including teammates. In fact, it's not a damn personal decision for the people who are not elite athletes either. It's how you prove you're a functioning member of society: you care about your own health and the health of others enough to get vaccinated. Jackson is 24 years old – where is hearing this sh-t about how it's his "personal decision" and why does he believe that getting Covid again would be preferable to just getting the g–damn vaccine?
Embed from Getty Images
Photos courtesy of Getty, Avalon Red.
Source: Read Full Article