Prince Harry's upcoming memoir is already making serious waves in the world ahead of its 2022 release date. Harry revealed on July 19 that he'd be writing what's sure to be a bombshell tell-all, claiming in a statement that the book would be "accurate and wholly truthful" and written from the perspective of the man he is today, "not as the prince [he] was born" (per BBC).
Harry added that he'd be telling his story including all "the highs and lows, the mistakes, the lessons learned" and wants "to help show that no matter where we come from, we have more in common than we think."
There have been various reports purporting to know the royal family's reaction to Harry's book revelation. A source claimed to Us Weekly that Harry's older brother Prince William and their dad, Prince Charles are said to be "particularly concerned about what Harry will reveal." They added that the two supposedly "don't know what to expect" and are supposedly feeling pretty "nervous" about the release.
Notably, Harry seemingly remains on the outs with his family members in the U.K. after stepping back as a senior member of the royal family and moving with his wife, Meghan Markle, and their son to North America, where they welcomed their daughter, Lilibet, in June.
But while it sounds like William's not too happy about Harry's memoir, what could the impact be on him when it's released? Read on for the latest.
Prince William could reportedly 'come out worst' as a result of Prince Harry's book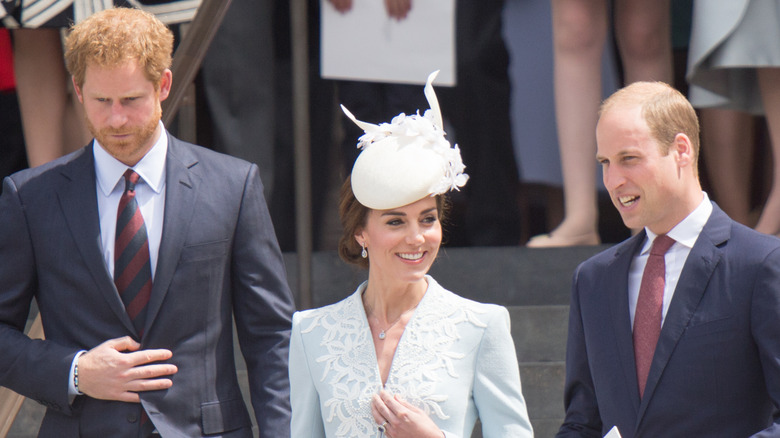 Prince William could potentially be the one who suffers most as a result of Prince Harry's memoir, according to a royal expert who spoke out to Express. Editor-in-chief of Majesty Magazine, Ingrid Seward, explained that as William is in line to the throne after his dad, Prince Charles, any big claims made in the book could affect his future the most.
"William is probably the one that will come out of this worst of all because there is a row between William and Harry," Seward said. "Basically if Harry says things that are inappropriate about the monarchy, that is William's future," she added, noting that no longer "Harry's future" as "he is out of it now, but it is William's future."
It's also William's children who will continue on the royal legacy, meaning anything Harry writes could potentially affect them too. Next in line to the throne after William is his and Kate Middleton's eldest child, Prince George.
The claims came after it was alleged Harry has been trying to make as big of an impact as possible in the world as quickly as he can amid fears he could fall down the royal pecking order and lose the public's attention as William and Kate's children get older.
Source: Read Full Article