Scott Disick will star in a new KUWTK-spinoff after his last project was CANCELED!
According to E! News on Tuesday, Kourtney Kardashian's baby daddy is set to appear in his own show — called Flip It Like Disick — about his passion for real estate and house flipping.
Although "Lord Disick" flipped his first project five years ago, the reality TV personality is ready to take his venture to the next level with help from pop singer-turned-interior designer Willa Ford, friend/business partner Benny Luciano, "short-tempered" contractor Miki Moor, and veteran assistant Lindsay Diamond.
According to E! Executive Vice President of Development and Production Amy Introcaso-Davis:
"Scott Disick is funny, unpredictable and unfiltered… Fans of Scott on Keeping Up with the Kardashians will get to see another side of him in Flip It Like Disick, as an entrepreneur and design guru, leading his talented and opinionated team through difficult design challenges that result in astonishing reveals."
In a statement, the 35-year-old promises "crazy and impressive renovations" in his new program.
"I'm excited to bring fans a new series that shows what I'm really passionate about professionally, which is flipping real estate and doing crazy and impressive renovations on celebrity homes… E! has never had a show like this before. It's a bit different than viewers are used to seeing, but I think they will be both entertained and inspired by my team."
The show — produced by STXtelevision with Tower 2 Productions and Ryan Seacrest Productions — will air later this summer.
Ryan Holcomb, Jason Goldberg, Lori Gordon, Kris Jenner, and Disick will serve as executive producers.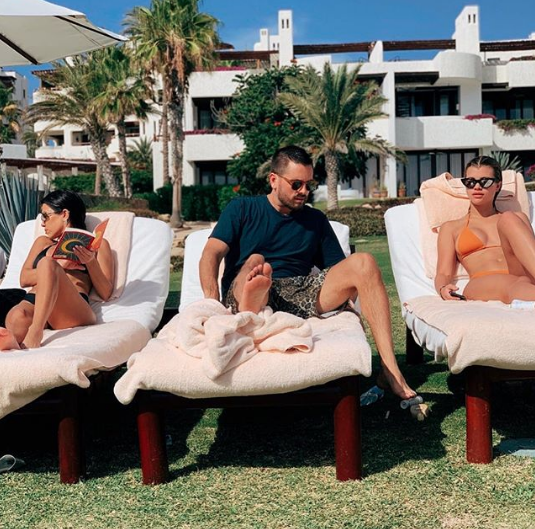 If this project sounds familiar… IT IS!
As we reported in 2017, Sofia Richie's boyfriend tried — but failed — to step out of the KarJenner shadow with his spinoff, Royally Flipped.
Reportedly, Scott was given $58,000 "to shoot a taster of what the show would be," and it was so bad, TV executives canceled the entire thing!
Apparently, Disick was so "boring" and "dull," the final product was unwatchable. A source told The Sun at the time:
"The shots were Scott going around houses and doing them up but it was so dull. He doesn't know enough about renovating to sustain a whole show, let alone a series."
We guess being "dull" is a testament to his growth overall, though!
While the father-of-three is known for being KUWTK's comic relief, he was apparently unable to recreate that magic in the new setting.
"On Keeping Up With The Kardashians, Scott was popular on screen because he had a minor role and was really funny to watch. But watching just him and his two mates on screen, there was no spark or chemistry."
And it didn't help that he was reportedly boozing it up during production.
"Scott didn't stop his partying during filming either which left producers worried about the effect it would have on the show."
Oh. So maybe not so much growth?
While Kris did everything she could to help her daughter's baby daddy, you can't polish a turd!
"Kris tried her hardest to help Scott out but she can't magic great TV out of thin air… She's distancing herself from this show, even though she was just in an advisory role behind the scenes, because it's pretty embarrassing."
Hopefully this new project will pan out better!
Source: Read Full Article