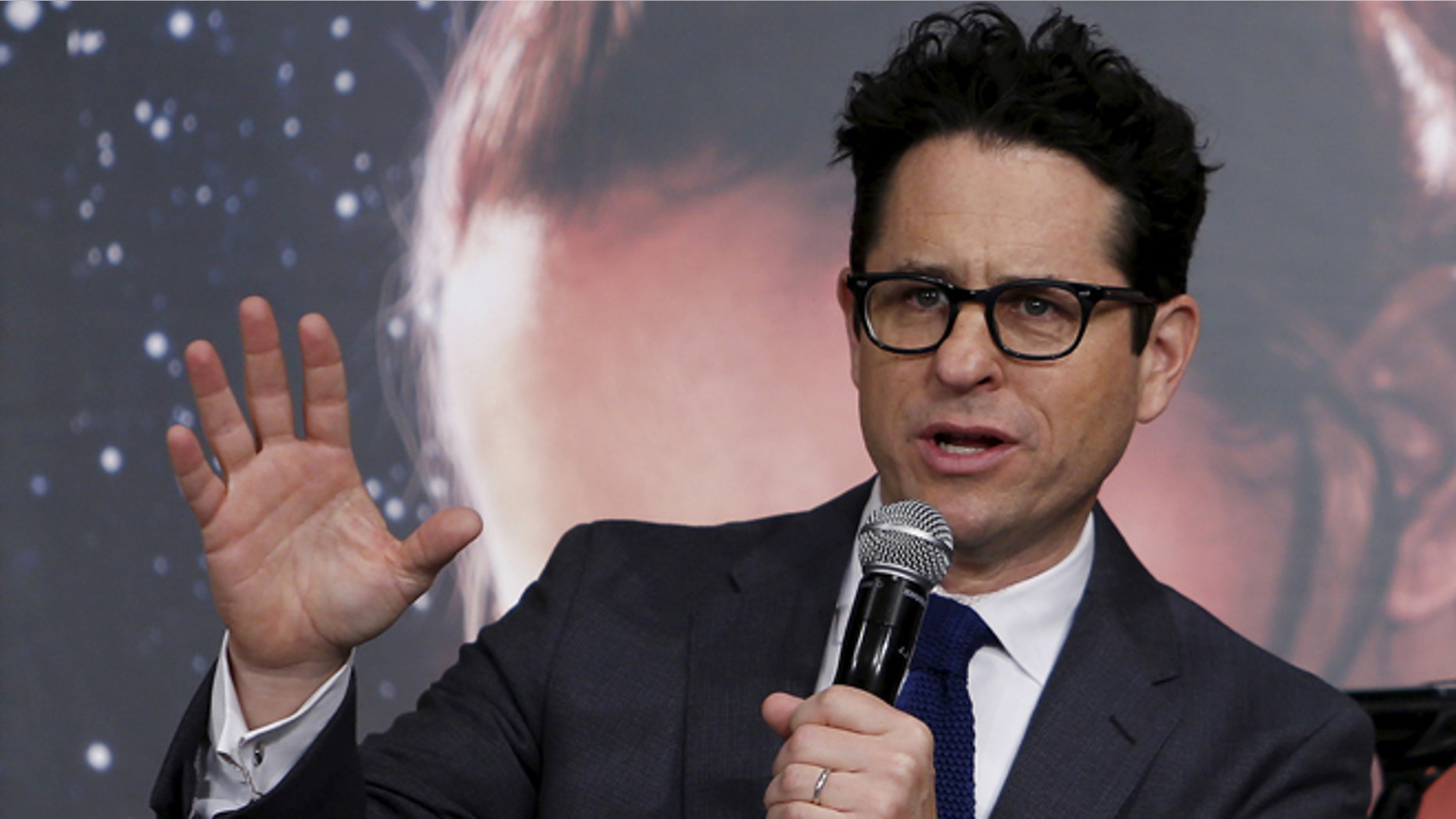 Director J.J. Abrams speaks during a news conference for his upcoming movie "Star Wars: The Force Awakens" in Urayasu, Chiba prefecture, the suburbs of Tokyo, Japan, December 11, 2015. REUTERS/Yuya Shino – RTX1Y6W0
(Reuters)
J.J. Abrams has announced that he and the cast of the yet untitled "Star Wars: Episode IX" has wrapped filming on principal photography of the third movie in the director's revival of the franchise.
Abrams took to Twitter on Friday to share a photo of principal cast members Daisy Ridley, Oscar Isaac and John Boyega hugging each other in what appears to be an emotional moment on the film's set.
'STAR WARS 9' TEASED BY JOHN BOYEGA WITH BLOODY ON-SET PHOTO
"It feels impossible, but today wrapped photography on Episode IX. There is no adequate way to thank this truly magical crew and cast," Abrams wrote along with the picture. "I'm forever indebted to you all."
Abrams is returning to the franchise after bringing it back to the big screen in 2015 with "The Force Awakens" for the first ever sequels since "Return of the Jedi" premiere in 1983. "Jurassic World" director Colin Trevorrow was originally tapped to direct the third movie in the new trilogy, but he dropped out due to creative differences with Lucasfilm.
'STAR WARS: THE LAST JEDI' NEGATIVE RECEPTION IS THE WORK OF RUSSIAN TROLLS CLAIMS ACADEMIC RESEARCHER
"Episode IX," which has yet to be given an official title, but will likely get one soon now that filming has wrapped, will pick up where the last film in the trilogy, "The Last Jedi" left off. Directed by Rain Johnson, the film ended with the Resistance still fighting the dreaded First Order.
CLICK HERE TO GET THE FOX NEWS APP
As previously reported, the film reportedly planned to use Carrie Fisher's General Leia character heavily prior to her death in 2016. Now, reports indicate she'll be used by way of unused footage from "The Force Awakens" and fans will see original trilogy star Mark Hamill's Luke Skywalker pick up some of the remaining slack.
Source: Read Full Article