Are lovebirds Taylor Swift and Joe Alwyn …Ready For It?
The super low key couple have been dating for about 2 years now (which feels more like 5 years in Hollywood time), and we've never seen our girl Taylor happier than she is now with The Favourite actor.
In fact, these two are so invested in each other at this point, their close friends are placing bets on when the pair will be engaged!
According to the latest from Us Weekly, a source close to the You Belong With Me songstress confirms that Joe and Taylor's relationship is definitely ready for the next step:
"Taylor's friends are all talking about a proposal and how she really wants to marry Joe. He's her dream guy."
We have to say — the guy is hot, talented, and super supportive of Tay.
The pair has been on the same page about enjoying their relationship on their own terms from day one, and it sounds like he does tick off a lot of boxes!
The 29-year-old previously told the publication that she knows Joe's her End Game, saying:
"Taylor really believes Joe is the one for her. She wants to get engaged to him. She just doesn't feel as though she has to impress anyone at this point."
The 27-year-old British actor reportedly couldn't agree more! A different insider says:
"Joe feels privileged that he gets to be with Taylor. And he is happy being out of the spotlight."
It truly sounds like the duo has been able to thrive for this long because they've avoided the spotlight. Which is quite unlike the way the singer has handled her relationships in the past:
"She's much happier without her personal life out in the open. She credits Joe for that and realizes how much better off she is."
Taylor Swift Reveals The Songs That 'Healed' Her After 'Bad Breakups'
As we wrote, Miz Swift skipped out on the Grammys this past year to support her man at the BAFTAs. Though they did not walk the red carpet together, Taylor made a low-key appearance at a post-awards dinner party in London to celebrate with everyone afterwards.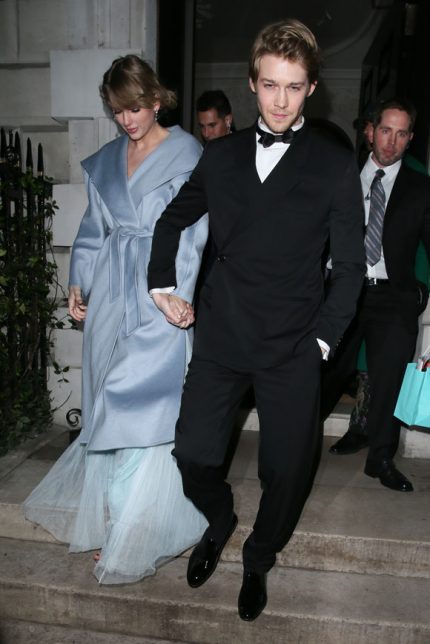 Though Swift's Reputation was snubbed from the list of nominations, it's still a huge deal that she skipped out on the biggest night in music to be with her love instead!
Starting our engagement countdown in 3…2…1…
But even with all the talk of putting a ring on it, the insider speaking with Us insists the two will continue to be their "very low-key and normal" selves, and do things like "work out, watch movies together and have friends over."
As we said, the pair seems like such a good fit for each other!
Do YOU think Taylor and Joe will get engaged soon? Sound off in the comments below!
Source: Read Full Article