We want to remember the victims from the awful March 15 terrorist attack in Christchurch, New Zealand.
So far it is being reported that 49 people died during the shooting at the two mosques while 48 were injured. Of the 48 injured, 39 are still in the hospital with 11 in the intensive care unit.
Read on for information on some of the victims and the latest developments from the tragedy, including news on how gun laws may be set to change in New Zealand.
Contents
Mourning The Victims
The victims came from all over the world, including Syria, Jordan, Pakistan, Turkey, Saudi Arabia, Bangladesh, Indonesia and Malaysia. Here are some of the ones who have been identified:
Daoud Nadi, 71, came to New Zealand from Afghanistan in the 1980s and was a community leader in Christchurch. It is believed he threw himself in front of the gunman to prevent other deaths.
Sayyad Milne, 14, wanted to be a soccer player. He was described as a "typical Kiwi kid."
Naeem Rashid, 50, is being hailed as a hero after attempting to tackle the shooter.
Tahla Rashid, 21, had just gotten a new job and had plans to get married.
Farhaj Ahsan, 30, was an electrical engineer who is survived by his wife and two young children.
Hosne Ara, 42, reportedly rushed toward gunfire to try to save her husband, who uses a wheelchair. Her husband has reportedly survived.
Khaled Mustafa was a Syrian war refugee.
Amjad Hamid, 57, is believed by his family to be dead. He was a doctor specializing in cardiorespiratory illnesses.
Hussain al-Umari, 35, was excited to go to his place of worship then have dinner with his parents afterward.
Lilik Abdul Hamid is the first Indonesian to be confirmed dead in the attack.
Many other victims of Jordanian, Egyptian, and Pakistani origins have yet to be identified. They were all clearly upstanding members of their community with their own significant contributions. Some were young children who will sadly never get a chance to make their own mark on the world. All will be remembered with love. We continue to keep them and their loved ones in our thoughts, and send love, healing, and strength to the community and people all over the world who have been affected by this tragedy.
New Gun Laws
In the wake of the terrorist attack, New Zealand gun laws are set to change, according to lawmakers.
The main suspect used two semi-automatic weapons, two shotguns, and a lever-action firearm. He obtained his gun license in 2017.
New Zealand Prime Minister Jacinda Ardern said:
"While work is being done as to the chain of events that lead to both the holding of this gun license and the possession of these weapons, I can tell you one thing right now — our gun laws will change. It's the time for change."
During a press conference, police commissioner Mike Bush added:
"I was very happy to hear the Prime Minister's comments this morning that there will be a change in the gun law. But I can't say any more than that."
New Zealand has a population of 4.6 million with more than 1.2 million guns in possession among them. New Zealand law states that anyone 16 and over can apply for a gun license, while anyone 18 or older can seek a permit to obtain a military-style semiautomatic weapon.
Senator Fraser Anning & #EGGBOY
Queensland senator Fraser Anning issued a truly awful, quite frankly disgusting statement following the terrorist attack, essentially blaming Muslims for the massacre.
It reads in part:
"I am utterly opposed to any form of violence within our community, and I totally condemn the actions of the gunman…The real cause of bloodshed on New Zealand streets today is the immigration program which allowed Muslim fanatics to migrate to New Zealand in the first place."
It gets worse. You can read it in full below: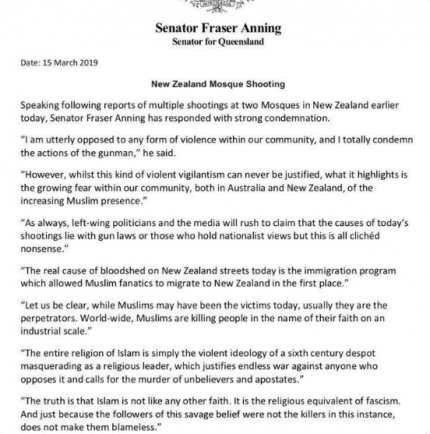 What a despicable person.
Many people from all over the world condemned his statement, but one person took it a step further. During a press conference featuring Anning, a 17-year-old boy identified as Will Connolly decided to egg him. Yes, he slammed an egg onto the politician's head. Observe (below):
Will has been dubbed #EggBoy and is currently trending on Twitter. It's the little things sometimes. Here's another angle:
Beautiful. Thank you, Will.
Confronting Chelsea Clinton
Chelsea Clinton is also trending on Twitter after being confronted by a young woman during a vigil in honor of the victims of the terrorist attack held at New York University.
You can see footage of it (below):
The young woman, identified as Leen Dweik, says:
"This right here is the result of a massacre stoked by people like you and the words that you put out into the world. The 49 people died because of the rhetoric you put out there."
This is reportedly in response to Chelsea's condemning of Rep. Ilhan Omar (D-Minnesota), who was accused of using anti-Semitic language in a tweet posted last month.
Reactions on Twitter are divided, with some supporting Leen and others on Chelsea's side.
Others refocused attention on the victims, which is really what we should all be doing.
It's no surprise that people like #eggboy and Chelsea Clinton are trending, because that is the kind of stuff that gets attention these days and goes viral, especially on social media.
We wish all 49 names of the victims were trending instead. They're the ones who deserve all the attention from the media and around the world, and they were all taken too soon.
Once again, sending their loved ones and the entire Christchurch community our love and support.
If you want to help, here are some charities that are raising money for the victims:
Christchurch Shooting Victims Fund
United for Christchurch Mosque Shooting
Source: Read Full Article