Bill and Melinda Gates are the true definition of a power couple. As the founder of Microsoft, Bill is one of the richest people in the world, and he and Melinda enjoy the fruits of that, living in a home that is worth $124 million dollars. But their life isn't all about luxury; they also run a $45 billion charitable foundation.
But although money can cause problems in a marriage, Bill and Melinda Gates have been married for 25 years and they still adore each other. How do they do it? Most people wouldn't mind getting financial advice from these ultra-wealthy philanthropists, but they also have valuable marriage advice to share.
A workplace romance that worked out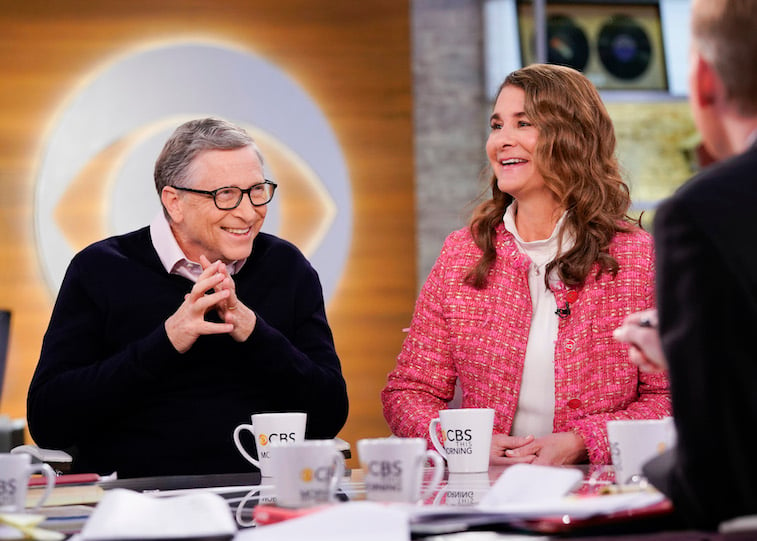 In 1987 Melinda was hired at Microsoft as a project manager. She met Bill at a business event, and when it was over he asked her out. She had plans, so she turned him down. They ran into each other a few months later, and he asked her out again, for a date a few weeks in the future.
Again, she said no, telling him he just wasn't spontaneous enough for her. 
He seemed to take her comment to heart, because he called her an hour later, asking if that was spontaneous enough. It was, and they started dating. Within a year they knew they were in love and it was time to decide what they wanted to do next.
Bill took a very logical approach to the matter, making a list of the pros and cons of getting married on a whiteboard. It's a good example of how compatible the two are that Melinda wasn't put off by his analytic approach. 
They built quite a life together
In 1994 the couple got married in a top-secret wedding in a Hawaii hotel. Bill rented every room in the hotel and all the helicopters on the island to keep the event secure. After getting married, they went on to have three children together.
Through the years they have been careful to raise the children in a thoughtful way, doing everything they can to avoid spoiling them.
But Melinda and Bill wanted to do more. They believed in giving back to the community, which led them to start the Bill and Melinda Gates Foundation, saying, "Our families believed that if life happens to bless you, you should use those gifts as well and as wisely as you can."
This dynamic is important to them
To make it possible for them to work together in the way they do, they had to address an issue early on. As one of the founders of a huge tech company, Bill was used to being in charge.
On top of that, he was her actual boss when they met. It would have been easy for him to take the lead, especially when they started the foundation. 
But that's not how this power couple works. They've made an effort to live their life together as equals.
Bill and Melinda Gates do this chore together every day
Melinda says that an important part of what makes their marriage so strong is that they have an equal partnership. You could see it early on when Melinda insisted that Bill drive the kids to school.
These days their kids are old enough to drive themselves, but the Gates still cooperated in small but important ways. Every night after dinner they wash the dishes together, showing their kids and each other that they are equals.
Bill and Melinda have a stunning amount of wealth and success. But it seems like the secret to their success has more to do with cooperation than winning.
Source: Read Full Article