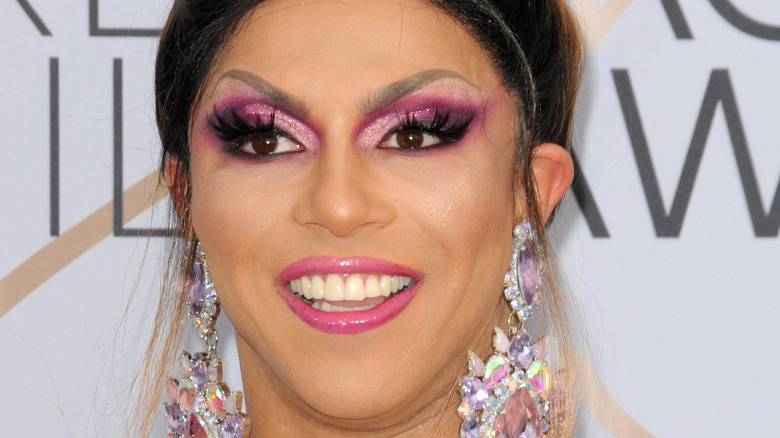 "RuPaul's Drag Race" gives birth every season not only to a whole new cast of queens but also to feuds, drama, and heartbreaking eliminations. Because it's been on television for over a decade, it's even offered some stunning transformations over the years. One such transformation comes in the form of Shangela, who competed on Season 2, Season 3, and "All Stars" Season 3.
Then there's Mimi Imfurst, who competed on Season 3 and "All Stars" Season 1 and who is known for making RuPaul say, "Drag is not a contact sport," after she picked up another contestant during a lip sync performance (via YouTube).
Together, Shangela and Mimi share one of the most iconic fights in "Drag Race" herstory. The fight took place in the "Untucked" portion of a Season 3 episode and saw the two queens verbally attacking each other before ultimately throwing drinks at each other (via YouTube). In this fight, the queens remark that Mimi's runway outfit wasn't up to par with the other contestants', and Mimi deflects by accusing Shangela of having a sugar daddy that pays for all of her outfits, which the latter quickly refutes.
"I don't have a sugar daddy, sweetheart. Everything I've had, I've worked for," Shangela replied. "I've never had a sugar daddy. If I wanted a sugar daddy, yes, I could probably go out and get one because I am what? Sickening. You could never have a sugar daddy because you are not that kind of girl," she continued.
The fight became explosive, but is there more to the story than the few minutes fans saw on television?
This fight may have caused bloodshed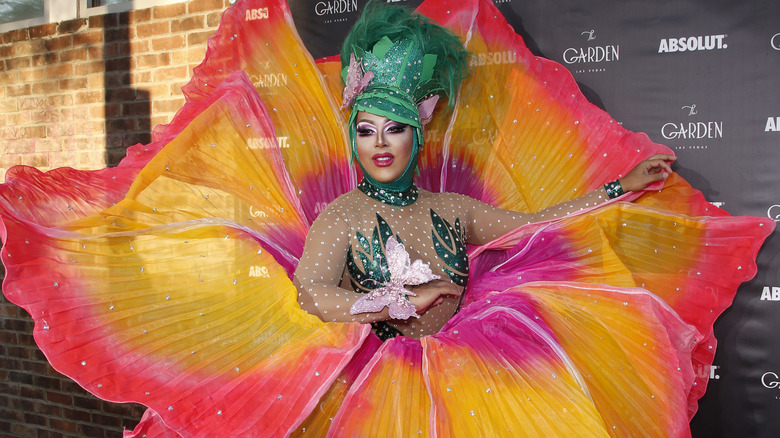 The iconic fight between Shangela and Mimi Imfurst only lasted a few minutes on television, but some fans think there may have been more to it that wasn't aired. According to Gay Times, fellow Season 3 contestant Alexis Mateo revealed on the show "Hey Qween" that a three week production break in which everyone was sent home from filming followed the infamous "Untucked" fight. This was unprecedented for the show and remains a reason why fans think something worse happened that simply never aired.
Alexis essentially confirmed this. During her "Hey Qween" appearance, she said, "The Shangela-Mimi incident was worse than you guys got to see" (via Lainey Gossip). It appears, though, that everything was kept tight-lipped. Mimi even used RuPaul's health as an excuse for the production break at the time. However, another Season 3 contestant, Stacey Lane Matthews, revealed on the podcast "Feast of Fun" that producers actually needed those three weeks to figure out how to proceed with the season after such a bad fight.
Moreover, it appears that Shangela may have drawn blood from Mimi during the fight. Lainey Gossip notes that Mimi's wig was situated on her head differently after the fight, potentially covering up a cut on her forehead. Stacey corroborated the cut's existence on "Feast of Fun," so it's perhaps the bloodshed of another contestant that caused the break after all.
Finally, according to Alexis' appearance on "Hey Qween," this incident, including the break, is still deemed by the series' producers to be the worst issue the series has had to handle.
Source: Read Full Article