Rumors of a feud between A$AP Rocky and Travis Scott have floated around for years.
Ever since the "Sicko Mode" rapper lunged at a fan who called him "A$AP" in 2015, people have been convinced that the rappers have always had bad blood.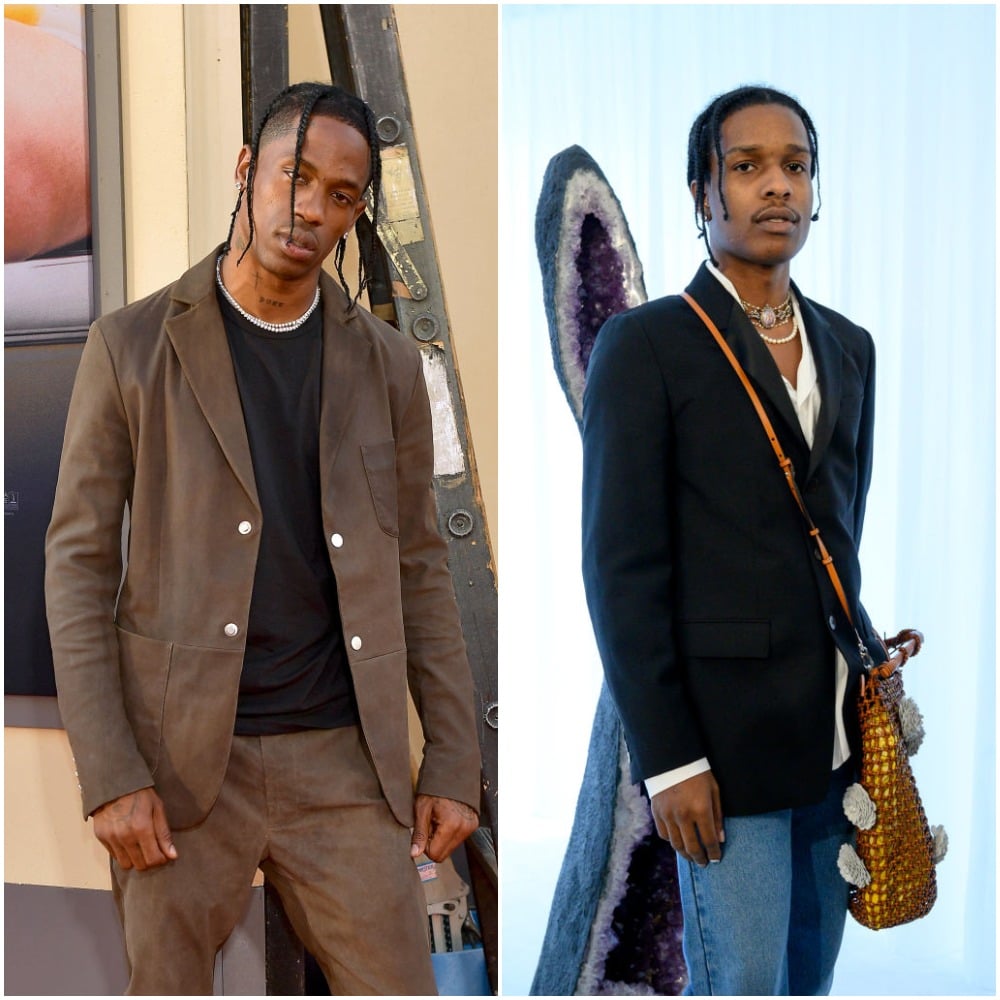 But since Rocky has dispelled the rumors more times than once, we wonder, were the rappers ever really feuding?
The rappers first sparked feud rumors in 2015
Usually, when celebrities are in the middle of a feud, they continuously fan the flames by either dissing each other on social media or calling each other out during interviews.
Even though Rocky and Scott never did those things, fans were still convinced that there was bad blood between them and have kept the rumors of a supposed feud going for years.
Fans first sensed that there was tension between the rappers back in April 2015 when Rocky's former creative director, Ian Connor, accused Scott of copying their A$AP Mob's style during an interview with Complex Magazine.
"Why is Travi$ [Scott] No. 1? Who influenced Travi$? Who's the father? Rocky. A$AP Mob. Nast. Ian Connor. Illz. Bari. What's that sh*t when all those people signed off on the…thing?" Connor said.
Later that year, TMZ caught the "HIGHEST IN THE ROOM" rapper getting angry and lunging at a fan for calling him "ASAP."
Several months later, Connor revisited the accusations in a series of tweets, which Rocky shut down during his 2016 interview with Ebro in the Morning.
"If you're going to do something and influence people, you can't be arrogant about it when somebody gets inspired," he said. "If you're going to inspire people, you can't fault them for that."
He added that it wasn't up to him to decide if Scott actually copied his crew's style, but rather the fans. "Let shorty rock and let the people decide if he a biter or if he authentic," Rocky continued. "I'm not saying everybody should be allowed to just take whoever got it going on. I'm not implying that, but I feel like that whole situation, it sound petty."
Both proved that they didn't have beef with each other
After sharing his two cents on the whole Scott stealing his style situation, Rocky left things at that, and his and Scott's alleged beef wasn't brought up again until 2018.
In April of that year, record producer Funkmaster Flex stirred up some trouble when he took to Twitter to accuse several rappers — including Scott — of stealing Rocky's "swag."
After posting the tweet, the "Canal St." rapper seemingly agreed with the disc jockey by quote-tweeting the post with the caption "FLVCKO FACT."
Following a ton of drama surrounding his social media comment, Rocky proved that there were no hard feelings between himself and Scott when he commented on the fellow rapper's achievements during a 2018 interview with Complex's Peter Rosenberg.
"There's times when I feel like I pioneered a lot of shit, but don't get acknowledgment from certain people or artists or whatever the case was," he said. "He said what he said, I said 'Facts.' That's about it… I think Travis makes cool music and he had a baby, I'm happy for that. It's beautiful."
Rocky recently shut down rumors of a feud
Though Scott hasn't said anything at all about his alleged feud with Rocky over the years, he seemingly shut down rumors of them having beef with each other at London's 2019 Wireless Festival.
While on stage, the "Sicko Mode" rapper gave Rocky, who had been arrested in Sweden that same month, a shout out by yelling "Free Rocky" during his set.
A few months later, the A$AP Mob member completely shut down all rumors of a feud following his Rolling Loud performance in October 2019.
Though fans were convinced that a freestyle he performed was a Scott diss track, Rocky shut down the rumors once and for all with one tweet.
After posting the tweet, it seemed like fans had finally put those feud rumors to rest.
Though there might still be some people who believe Scott and Rocky will never get along, it seems like these two are done feeding into the rumors.
Source: Read Full Article