"What's in a name?" To answer William Shakespeare's classic question, a lot — at least when it comes to Lilibet Diana Mountbatten-Windsor. 
The daughter born to Prince Harry and Meghan Markle on June 4, per their Archewell website, was named after Harry's grandmother, Queen Elizabeth II, and his late mother, Princess Diana. The "Diana" in Lili's name was no surprise, but her first name shocked many, given the tension between the ex-royals and the present British royal family. Many thought the name an admirable tribute, like one Twitter user who called it "a really sweet sentiment," while others, like the Daily Beast, deemed the nod a clever move on the Sussexes' part and the perfect chance for a reconciliation.
The name seemed to have more than its share of critics. Unsurprisingly, Piers Morgan was one. Weighing in on June 6 to Australia's "Today" show, Morgan called Lilibet's name an "ironic" choice." "You have this couple who have been trashing the royal family and the monarchy for the last few weeks and they have named the baby after the queen," he noted. Agreeing was royal biographer Angela Levin, another frequent commentator on Harry and Meghan, who told "Good Morning Britain" (via Page Six) the name was "rude" to the queen, as "Lilibet" was a "private nickname" from her late husband, Prince Philip.
But what does Lilibet's name say about the relationship the Sussexes directly have with Her Majesty? Keep reading for what a royal historian says.
Harry considers Elizabeth like a "stepmother" and she more than likely approved of the name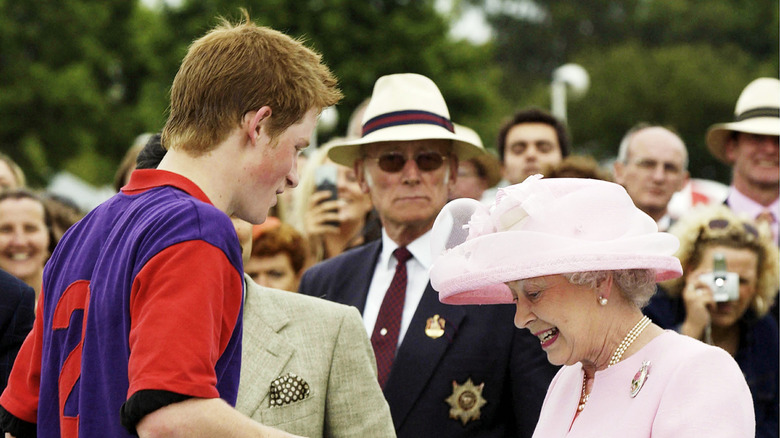 Lilibet Diana Mountbatten-Windsor has the lofty responsibility of being named after Queen Elizabeth II, and she more than likely approves, royal historian Robert Lacey told People in June. Prince Harry and Meghan Markle's newborn daughter's first name has been a point of contention with the couple's existing tension with the royal family, but as Lacey pointed out, "they would not have used the name" if the queen hadn't offered her prior support. 
In addition to first telling Elizabeth, per Lacey, "their hope of naming their daughter Lilibet in her honor," skeptics should rest assured of "the remarkable bond between Harry and his grandmother." Calling the queen "a sort of stepmother for both Harry and William" following their mother Princess Diana's 1997 death, Lacey stated, "We are realizing now the importance of the emotional bonds that she's been able to establish with Harry and their ability to talk to each other directly. That affection remains." 
As a source told People, the queen was even among the first to meet Lili on video chat once she arrived home. The Sussexes "couldn't wait to share," the insider said. Even in their March Oprah Winfrey interview criticizing "The Firm," Meghan affirmed that Elizabeth reminded her of her own grandmother. "The queen has always been wonderful to me … She's always been warm, welcoming, and inviting," the duchess said (via Oprah Daily). 
Maybe outside royal commentators should hear more before weighing in on family matters.
Source: Read Full Article