As "Keeping Up with the Kardashians" came to an end, fans tuned in to watch Andy Cohen ask the famous family all the unanswered questions to come out of Season 20 in the "Keeping Up with the Kardashians" reunion.
One question that prompted many reactions on social media was whether or not the Kardashians promote unattainable beauty standards for women, given the reported plastic surgery the family members have had. Kim Kardashian came to the defense of all her sisters, telling Cohen (via People), "No, I don't. Because I think we get up, we do the work. We work out." Kendall Jenner chimed in adding, "We all really enjoy taking care of ourselves and being healthy, so I think if anything, the only thing we're really trying to represent is just being the most healthy version of yourself."
Whether fans agree with the ladies' sentiments or not, one thing is for sure that the Kardashian who most actively promotes being a "healthy version of yourself" is Kourtney Kardashian. The reality star shared her journey in wellness throughout the E! series, attempting to get her family in on her gluten-free lifestyle and eventually starting her own lifestyle brand, Poosh. Kourtney's dedication to health, wellness, and natural beauty has caught the eyes of fans, as the reaction to a July 8 Instagram photo demonstrates.
Kourtney Kardashian was praised for her unedited photos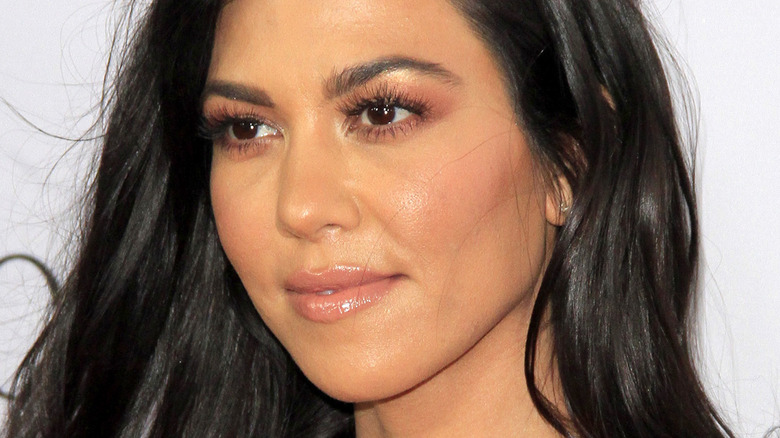 Appearing in a tiny, thong bikini, Kourtney Kardashian got a little cheeky in a new Instagram post for her lifestyle brand Poosh. The photo was of the backside of the 42-year-old mom of three, proving the early AM workouts at the Kardashian camp are truly working. The caption for the photo emphasized Kourtney's "rounder rear," promoting a Poosh interview with Kourtney's personal trainer. But it wasn't the roundness of Kourtney's behind that caught the eyes of fans — it was the cellulite left unedited. "Unedited, omg I love her," wrote one fan, as another called the reality star an "unedited queen." Another commenter praised the Kardashian for empowering "the natural women body!!"
Back in 2019, Kourtney shared with her Poosh fans that she has stretch marks and gave tips on how to get rid of them. The celeb posted an Instagram bikini photo showing off her physique and was met with love, with one fan writing, "love our tiger stripes @kourtneykardash and @poosh I'm glad you didn't edit the photos makes us the women that we are!"
The positive feedback to Kourtney's Instagram photos just might prove she is "the most interesting to look at," as Kim Kardashian would say.
Source: Read Full Article