And the party don't stop.. ❤️??
You'll never friggin' guess who threw themselves another wedding reception. I prayed that we were done with Priyanka Chopra and Nick Jonas' wedding extravaganza. They had no fewer than a dozen giant weddings, receptions and wedding-related photo-ops. They sold EVERYTHING. They sold their gift registry. They sold their bachelor and bachelorette parties. They made "exclusive" deals with Vogue, People Magazine and Hello for extensive coverage and photos. They completely oversaturated the market – and completely overestimated the interest in their love story – for a solid month, if not longer. And just when I thought the wedding extravaganza was over, they went back to India for yet another f–king wedding reception, complete with a photocall and another People exclusive:
Priyanka Chopra and Nick Jonas are continuing their wedding celebrations! The newly married couple returned to Mumbai two weeks after throwing their first lavish wedding reception in New Delhi to celebrate their marriage with a second reception thrown by Chopra's mother, Madhu Chopra.

As Chopra, 36, and Jonas, 26, posed in front of an extravagant wall of flowers, the bride wore a strapless custom navy ballgown with intricate gold embroidery created by India-based designer Sabyasachi. Chopra also draped a semi-sheer embroidered dupatta shawl over her shoulders and accessorized with a vintage diamond necklace, rings, stacked bracelets and stud earrings by Sabysachi.

Jonas traveled to the U.S. last week and spent time with brother Joe Jonas to watch the Canelo vs. Rocky fight together over the weekend and enjoyed a court-side view of the Knicks game on Monday, before returning to Mumbai on Tuesday.
[From People]
I'm starting to HOPE that this is all some kind of contractual fauxmance, because if all of this is for real, then I'm worried about both of them. I understand that Hindu weddings are big extravaganzas, but I'd like to think that even the richest and most famous Indians are side-eyeing the crap out of Priyanka right now for her insistence on doing all of this. The thirst of these two, my God.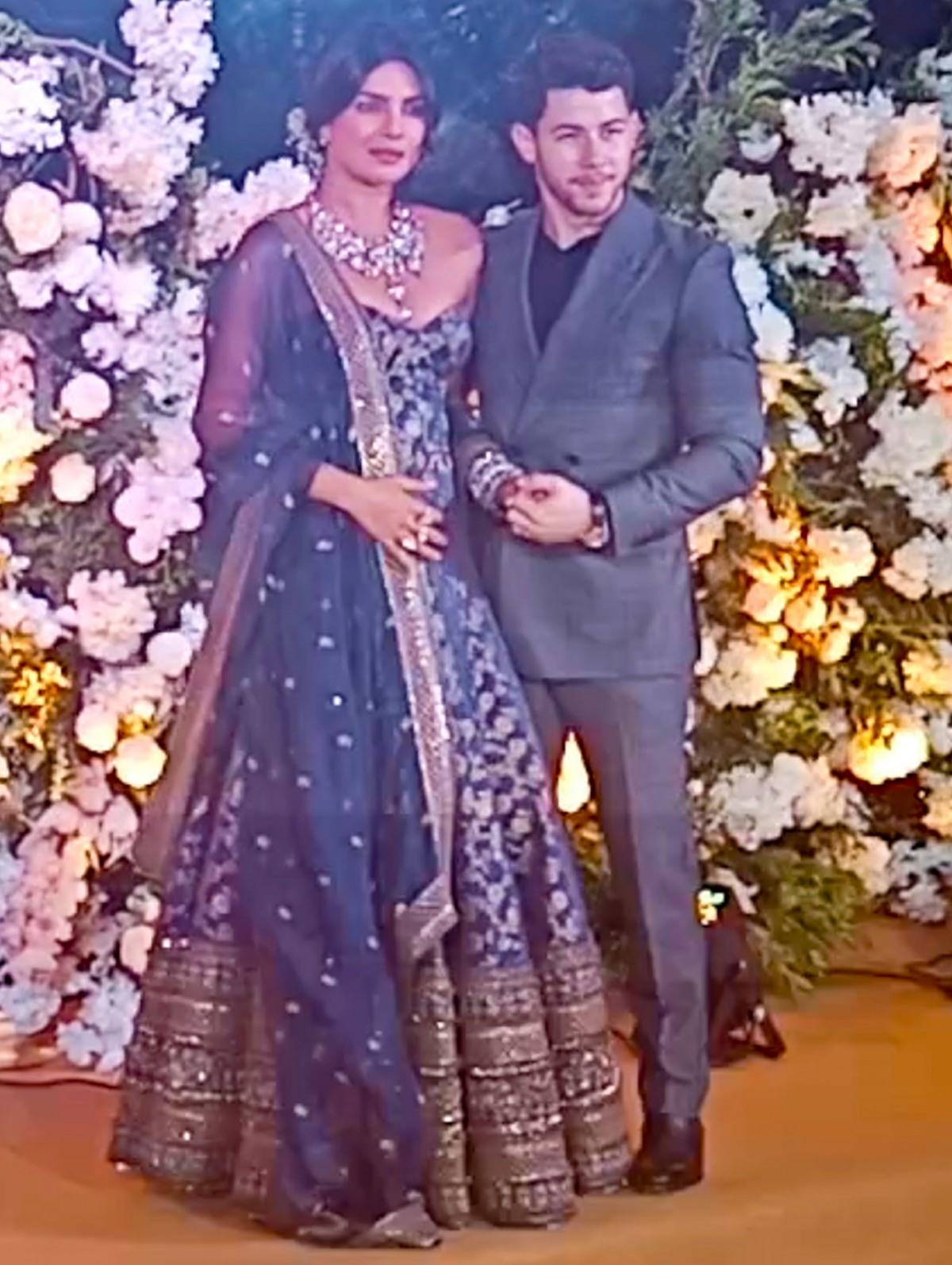 Embed from Getty Images
Embed from Getty Images
Photos courtesy of Backgrid, Getty and Instagram.
Source: Read Full Article