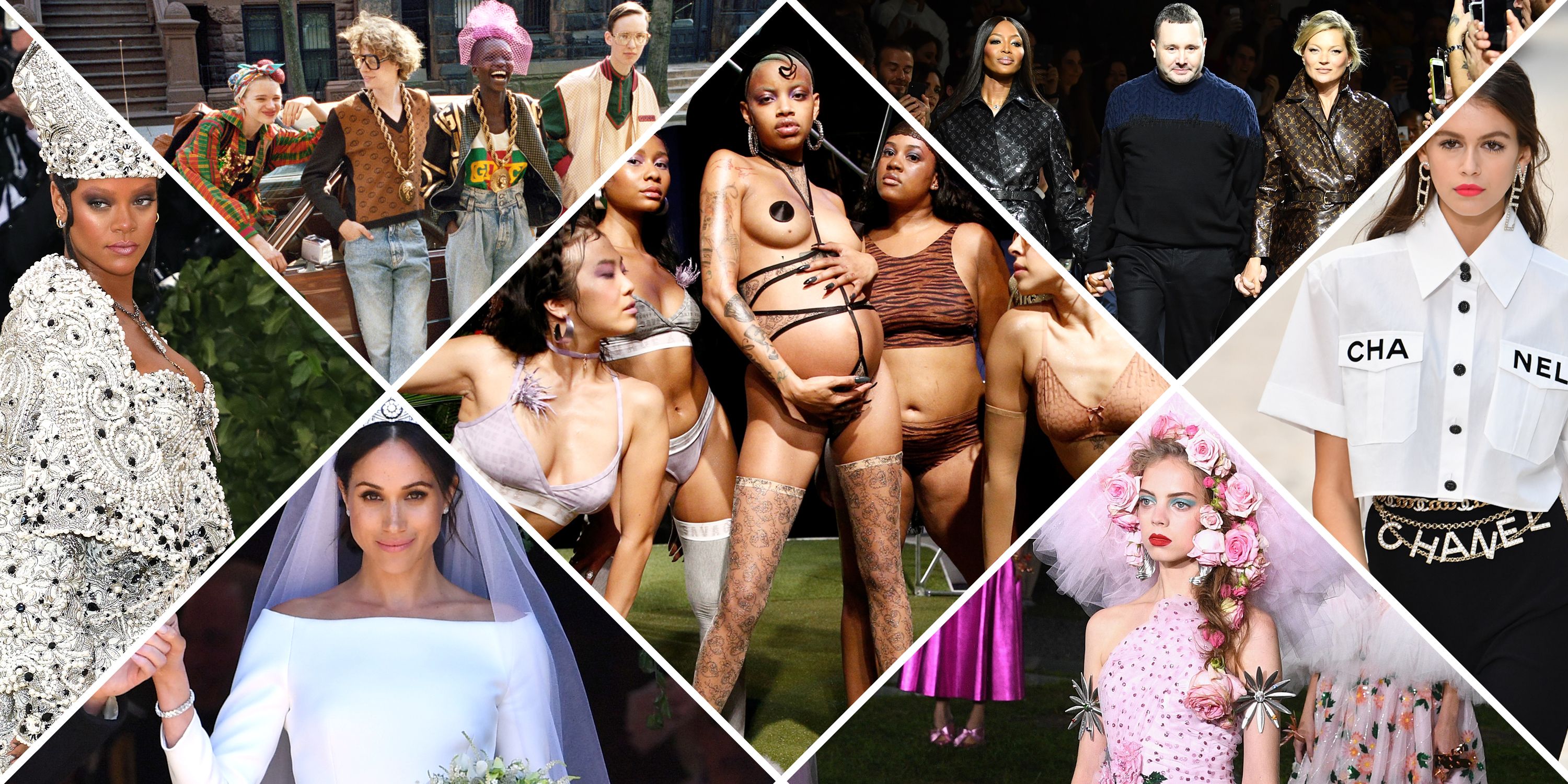 It was a year of highs, lows, and some strides of progress in the fashion industry. From fashion activism to more diverse runways and conversation-starting red carpets, 2018 brought about some positive change in the fashion world. But there were also some notable controversies and the loss of several prominent design icons as well. As the year comes to an end, we're taking a look back at all the biggest moments that meant the most in fashion.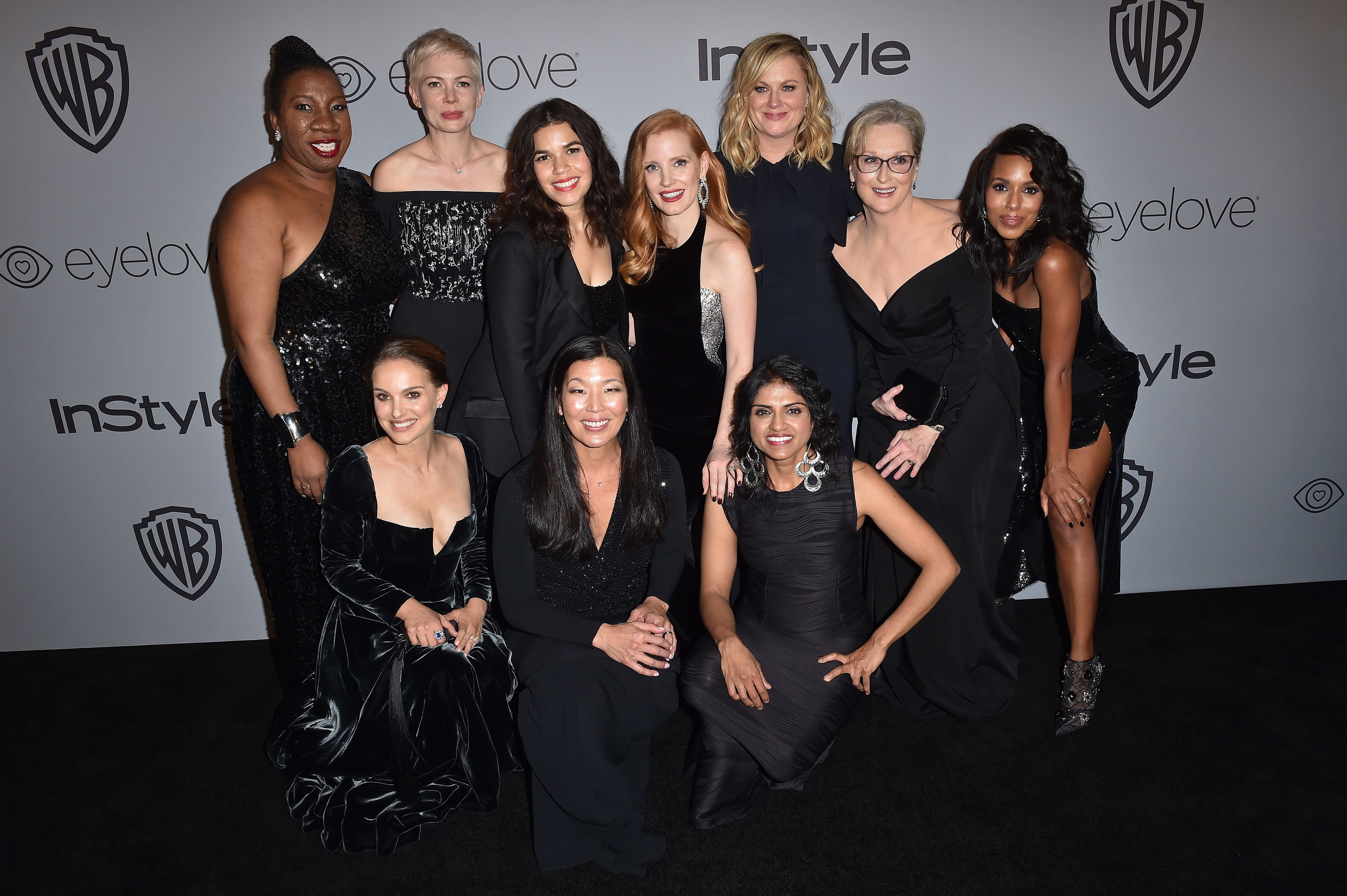 The year kicked off with women of Hollywood bringing the Time's Up movement to the red carpet at the Golden Globes. Wearing all black in solidarity, stars from Meryl Streep to Kerry Washington and #MeToo founder Tarana Burke used their award show fashion to speak up about sexual harassment and gender inequality in Hollywood and beyond.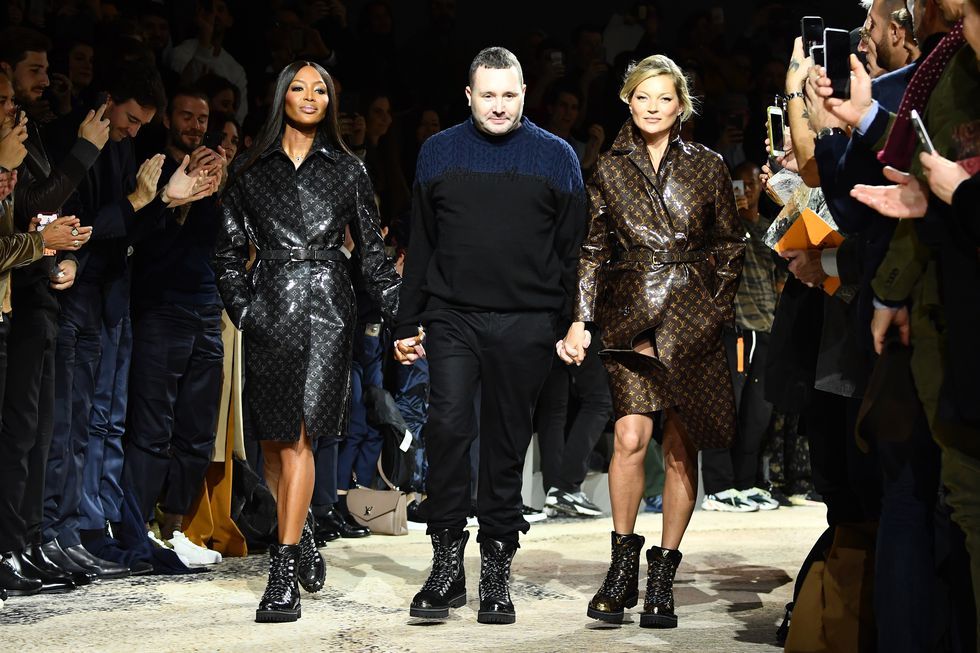 For Kim Jones' final show as creative director at Louis Vuitton Men's, '90s supermodel icons Naomi Campbell and Kate Moss reunited on the catwalk. Marking their first runway show together in years, the fashion legends also escorted Jones down the runway for his final bow.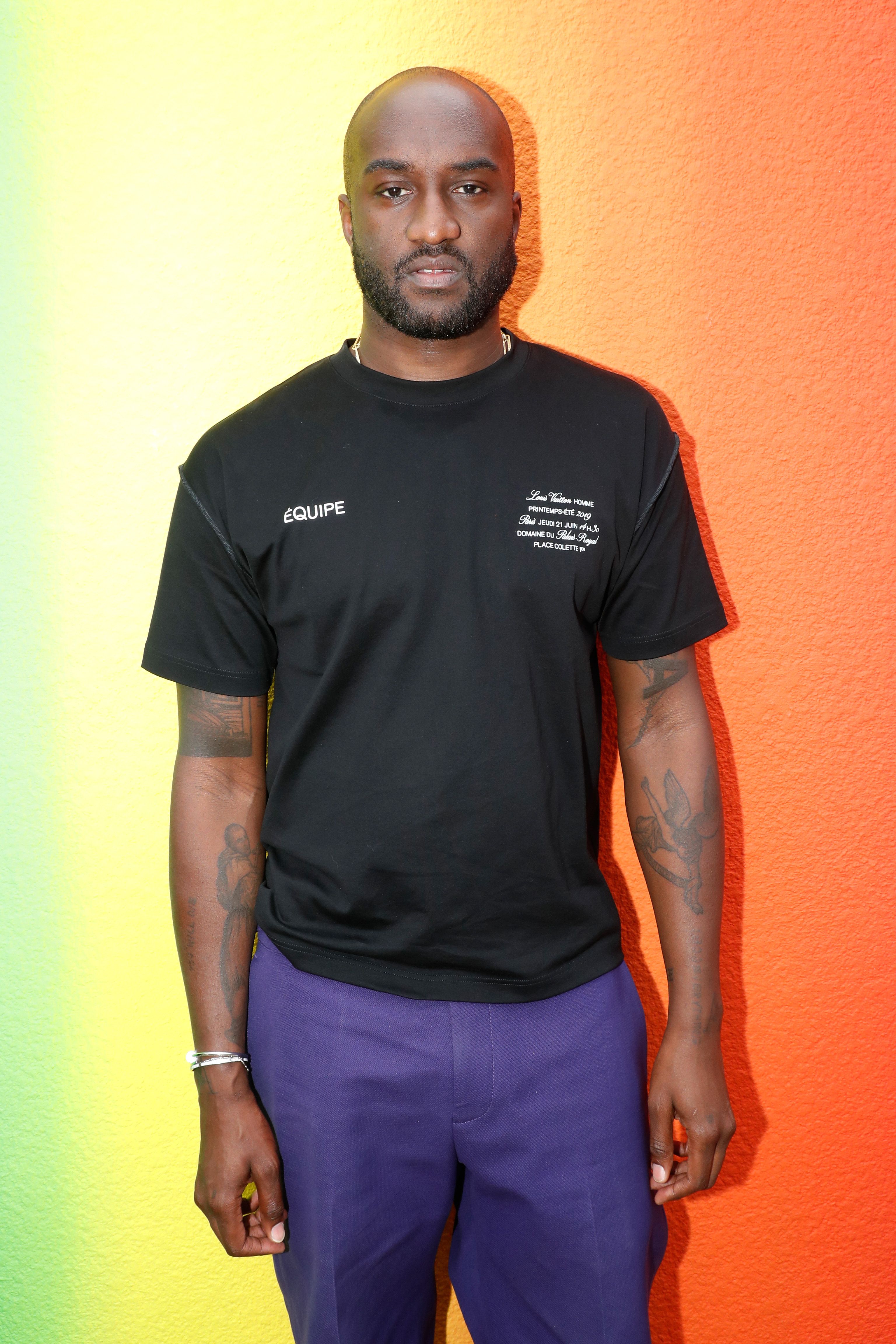 Making history, Virgil Abloh became the first African-American artistic director at Louis Vuitton Menswear—succeeding Kim Jones' in his role. In June, the creative director debuted his first runway collection for the fashion house to a star-studded front row. The monumental show ended with an emotional moment shared between Abloh and his longtime collaborator Kanye West.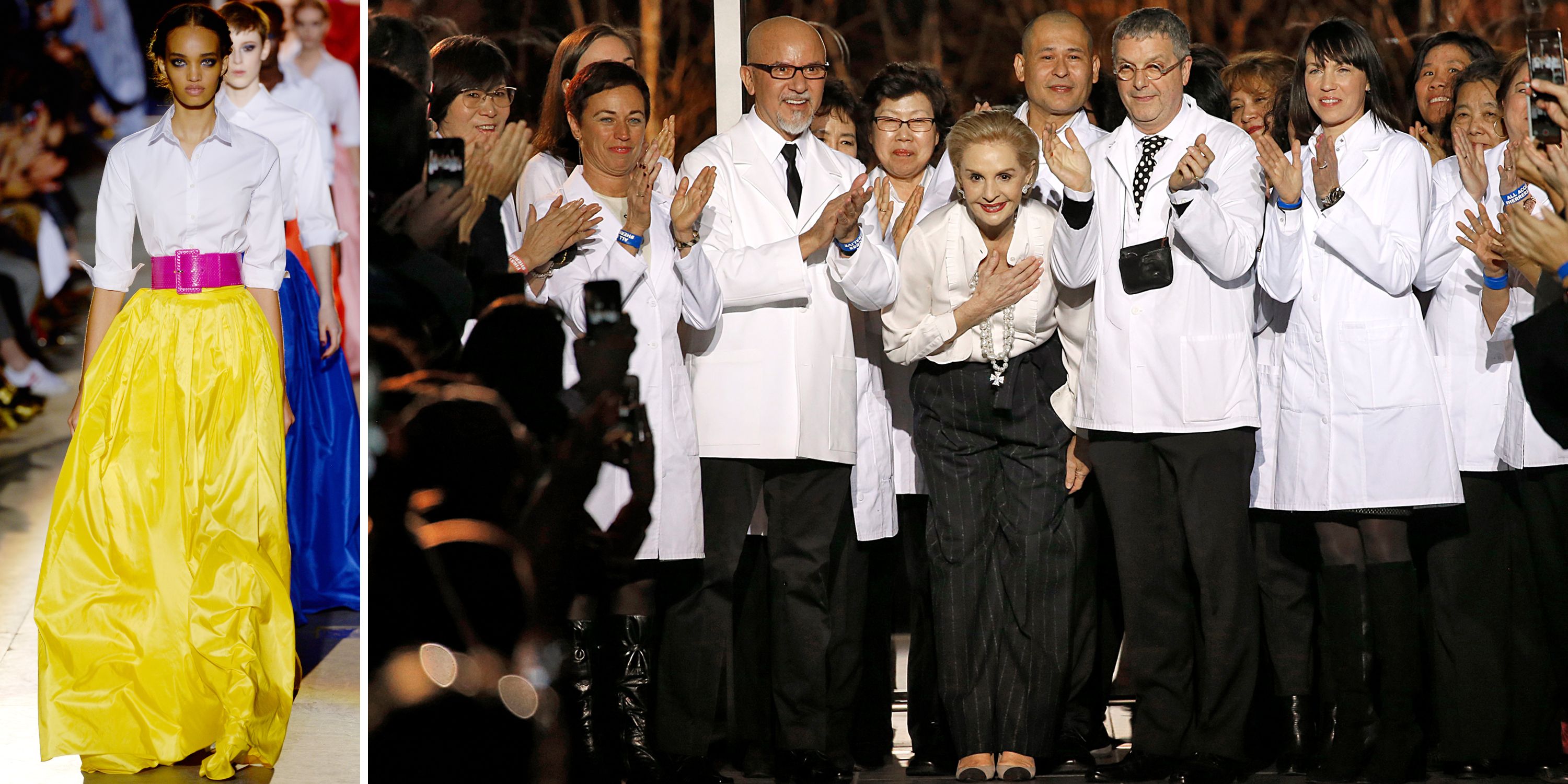 In February, Carolina Herrera announced her Fall 2018 runway show would be her last before stepping down as creative director. Marking the end of an era, the designer's final collection celebrated her most memorable designs over the years and concluded with a standing ovation. Wes Gordon, who worked as a creative consultant to the designer for a year, succeeded Herrera in her role.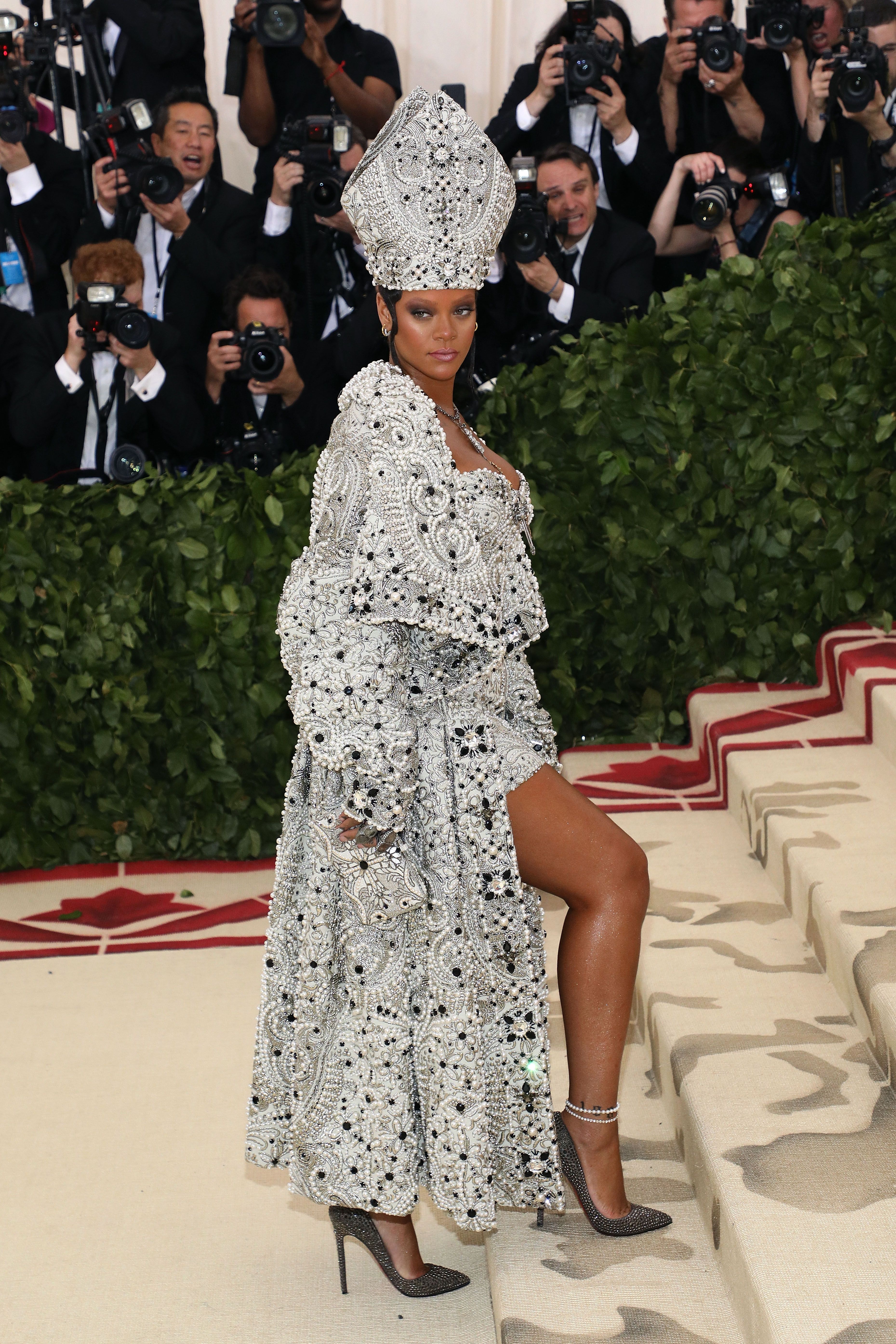 Delivering another jaw-dropping Met Gala look, Rihanna showed up to this year's Heavenly Bodies: Fashion and the Catholic Imagination theme looking like a high fashion pope. The singer stunned in a pearl and jewel-encrusted robe, matching papal mitre, and necklace designed by Margiela—which easily became the most memorable look from this year's fashion event.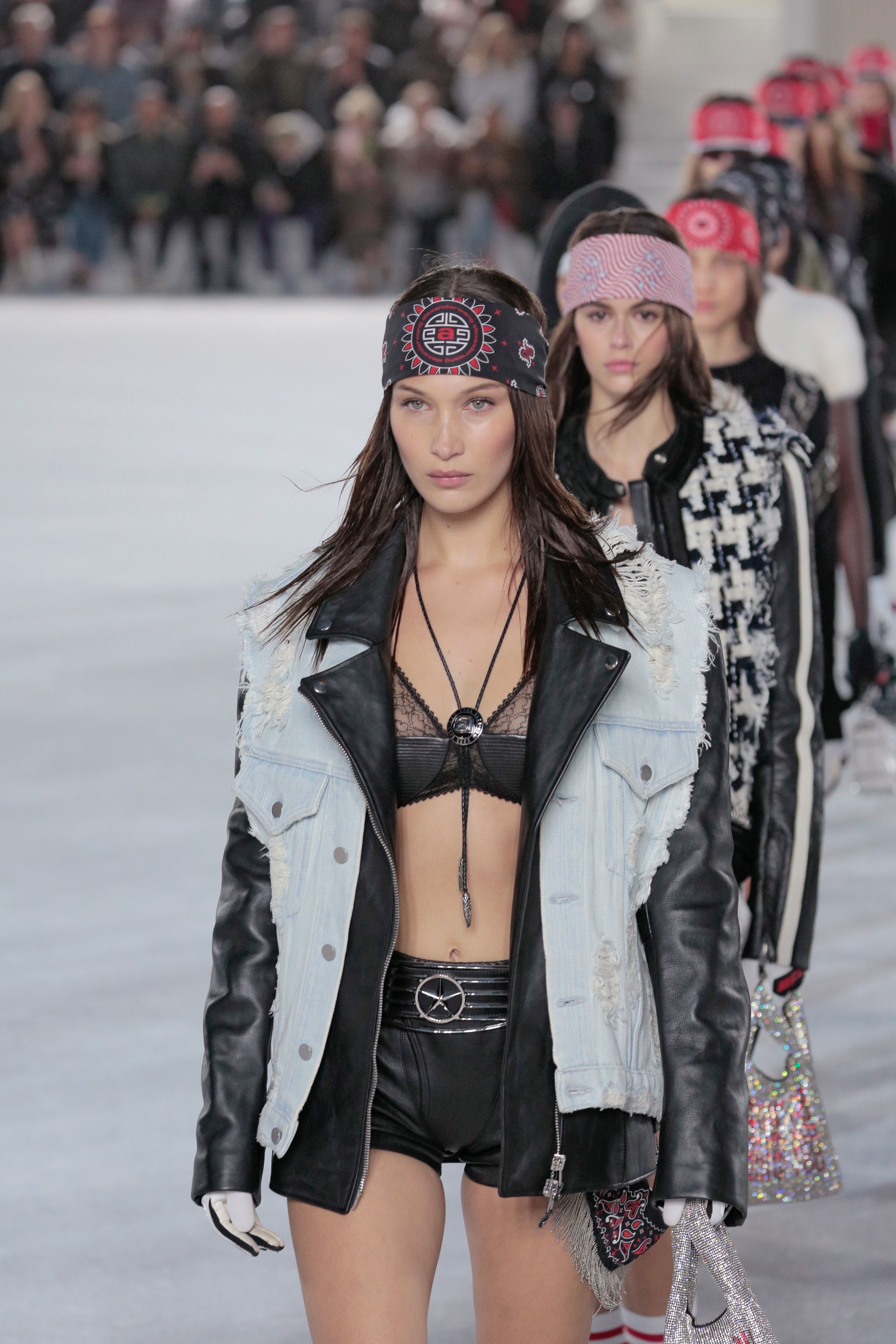 Another shakeup hit New York Fashion Week when Alexander Wang announced he would no longer be showing during the traditional NYFW calendar. Instead, the designer will now show "seasonless" collections twice a year in June and December to align with the brand's production schedule. To kick off his new schedule, Wang presented "Collection 1" and "Collection 2" this year—both of which were odes to America.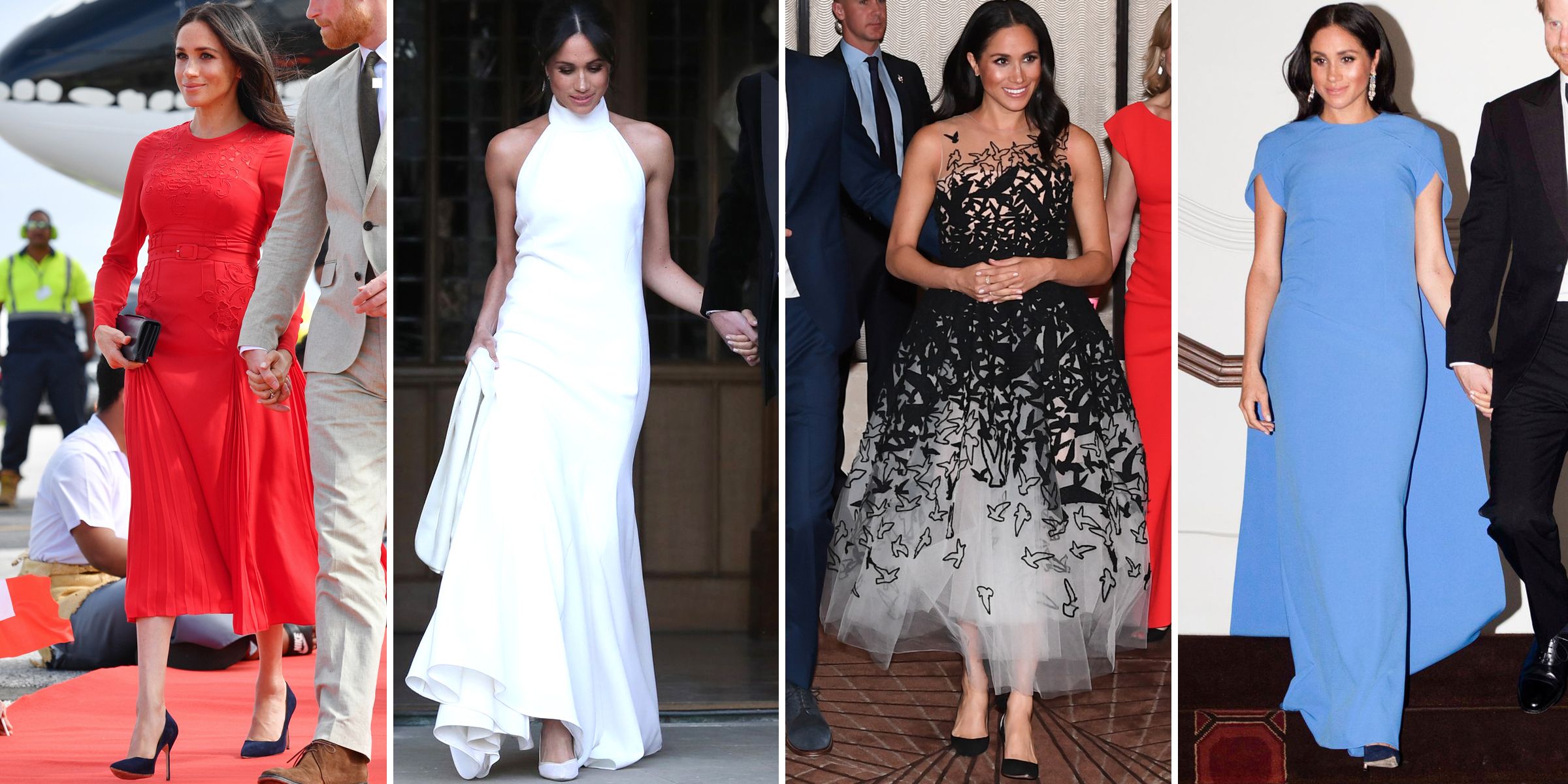 From the royal wedding watched around the world to a pregnancy announcement, it was a whirlwind year for Meghan Markle. Now officially a Duchess, it was all eyes on Meghan and every single thing she wore this year. She crashed designer's websites, sold out nearly every item she wore, and established her new style as a member of the British royal family.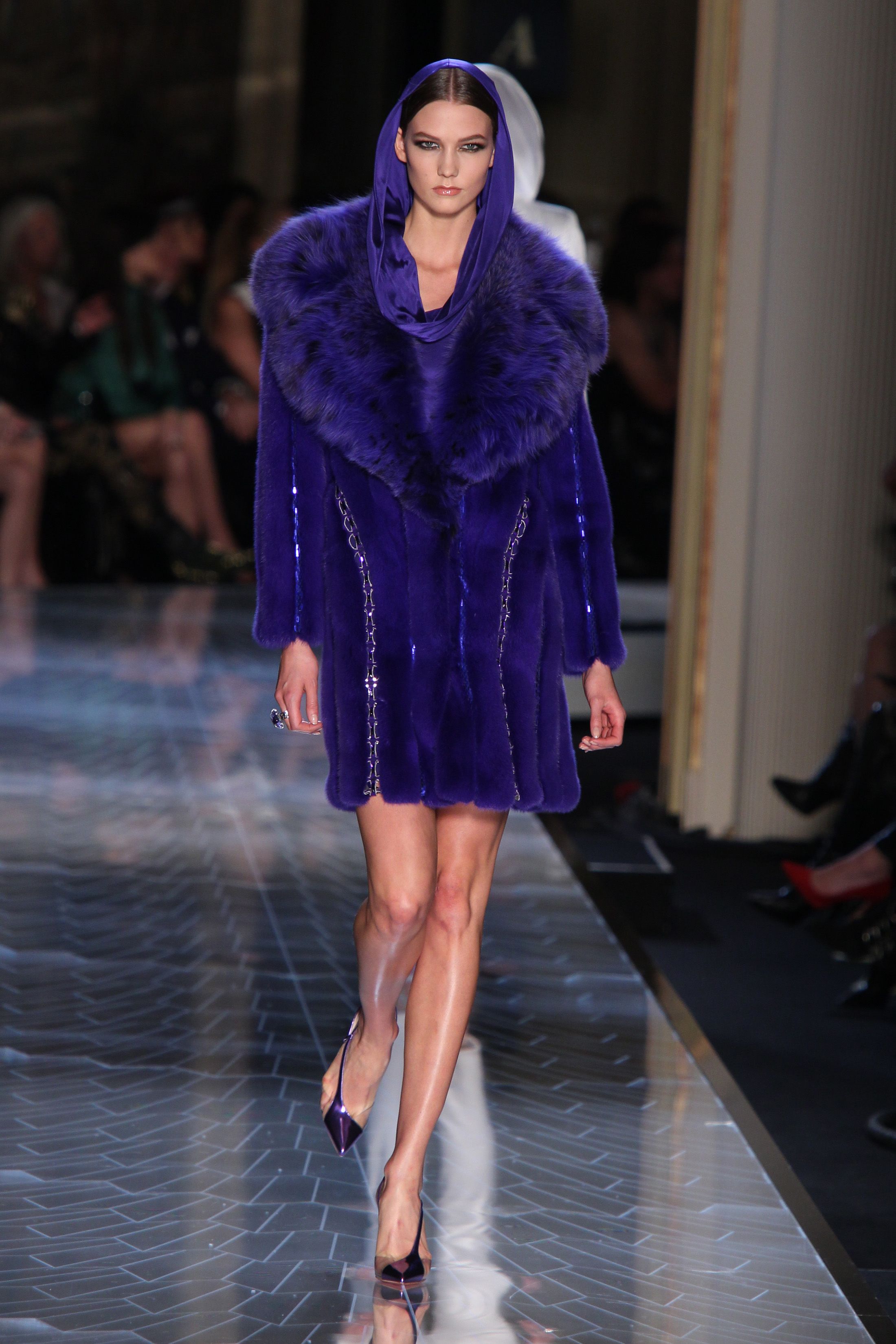 In 2017, fashion houses including Gucci and Michael Kors announced their decisions to ban real animal fur. This year, a growing list of designers including Versace, Diane von Furstenberg, Coach, and Burberry followed suit in going fur free. Additionally, San Francisco became the largest U.S. city to ban real fur in March.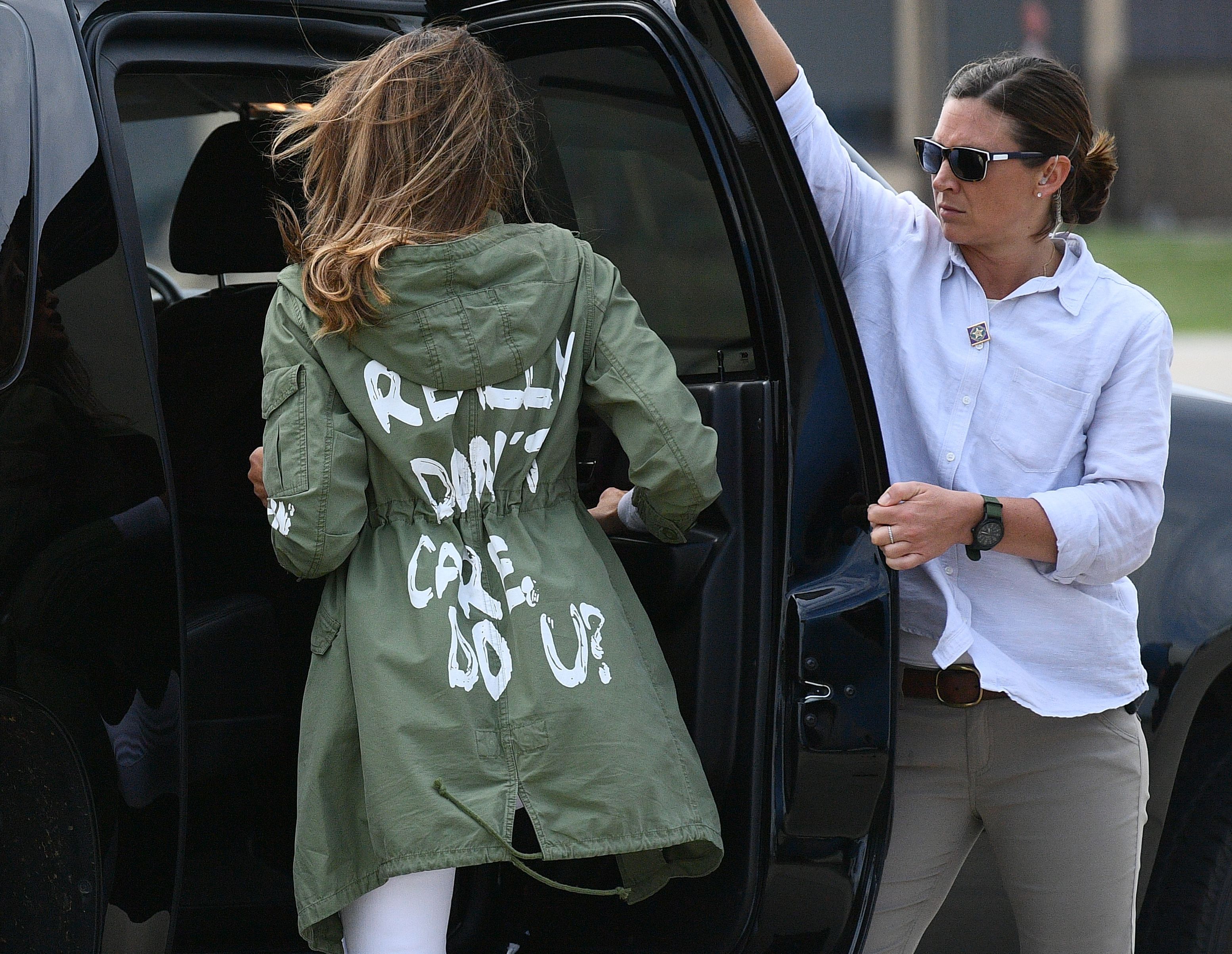 Melania Trump sparked outrage when she wore a Zara jacket reading "I Really Don't Care, Do U?" on her way to go meet detained refugee children at the Texas border. Causing an outcry across the country (and world), it was one of the most talked-about fashion choices of the year. The First Lady later said her disrespectful jacket choice was a message "for the left-winged media who are criticizing me." K.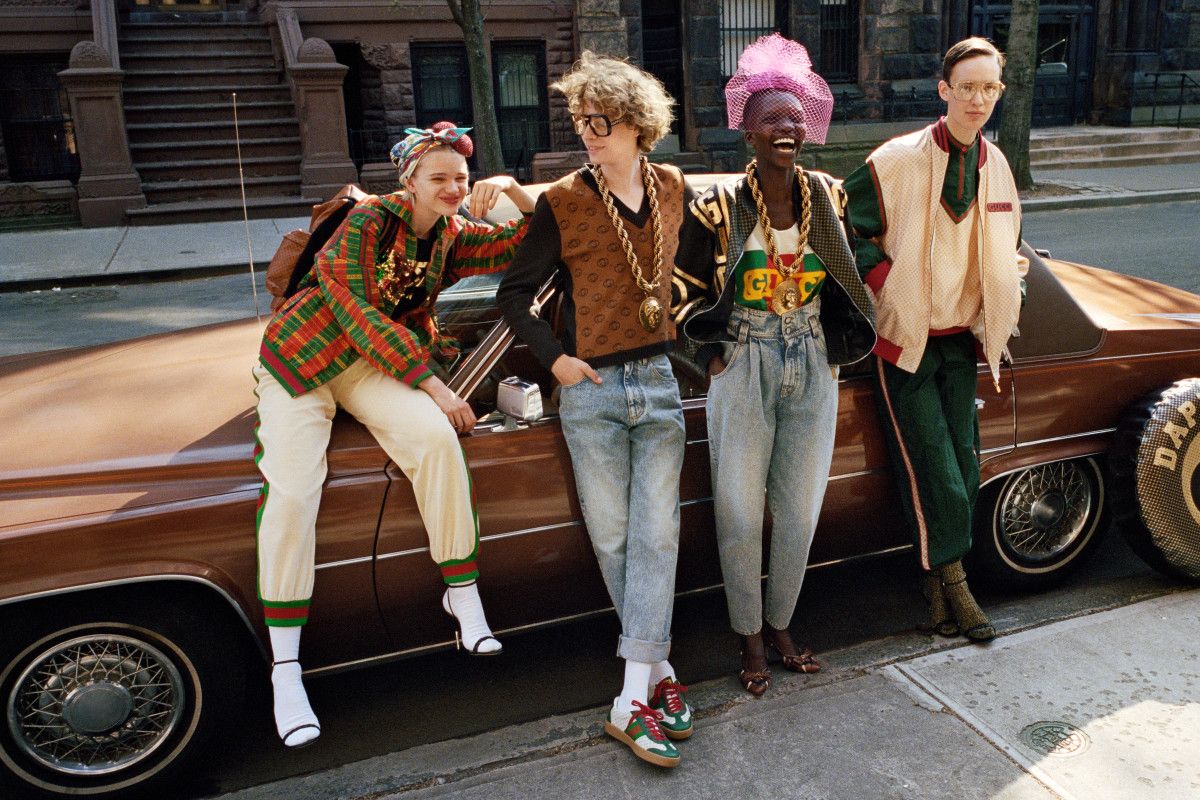 Legendary Harlem couturier Dapper Dan debuted his first major collection with a luxury brand in June. Inspired by the streets of Harlem and custom pieces from his '80s archives, the Gucci x Dapper Dan collaboration included apparel to footwear, eyewear, and accessories. It was Dan's long-overdue reckoning in the fashion world, following the 1992 shutdown of his Harlem atelier.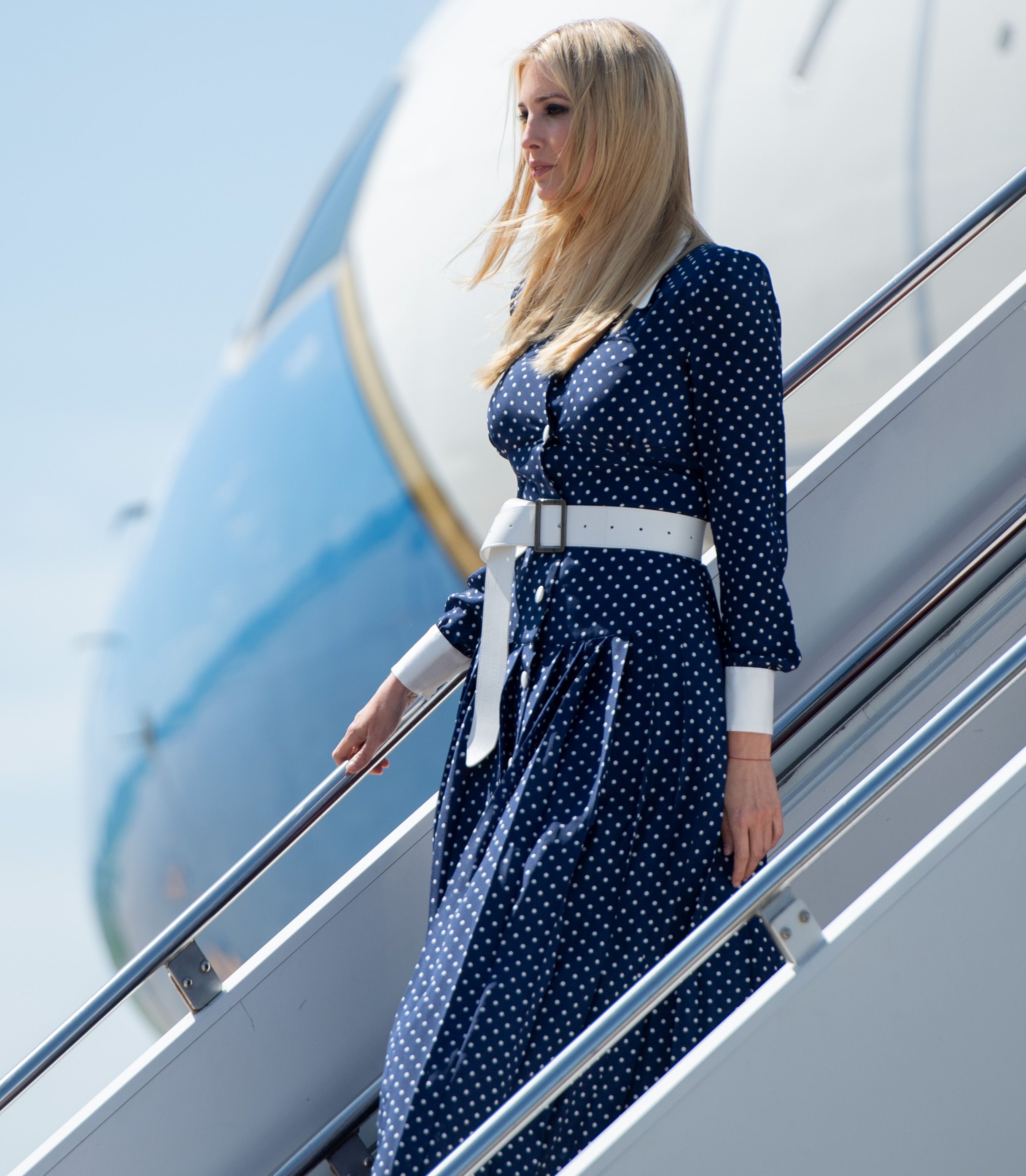 After months of consumer backlash and many stores opting to drop the brand, Ivanka Trump's namesake fashion label announced its closure in July. Following the 2016 election, Trump distanced herself from her brand in order to take an official role in the White House. But given the label's close ties to the Trump family, it wasn't able to survive criticism of its political ties.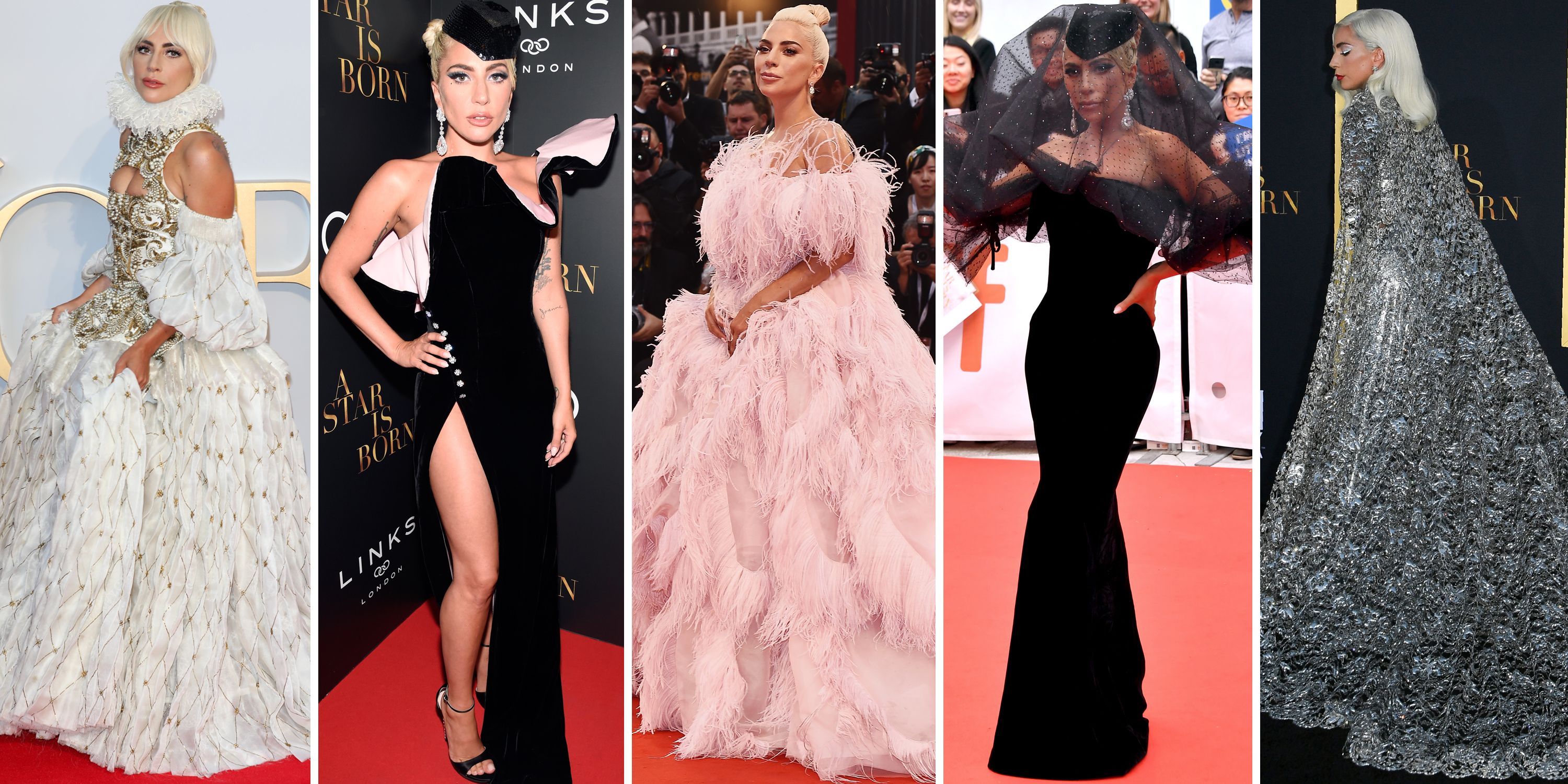 Lady Gaga's breakout film role in Bradley Cooper's A Star Is Born may be generating a ton of Oscar buzz, but we'd also like to submit her amazing promo tour looks to the Academy for consideration as well. The singer-turned-actress repeatedly stunned at every one of the film's worldwide premieres. First, there was her epic boat arrival to the Venice Film Festival followed by a show-stopping pink feathered Valentino Couture gown. There was an archival Alexander McQueen look for the London premiere, a dramatic all black veiled look in Toronto, and a sparkling cape gown by Givenchy Haute Couture. A star was born (again), indeed.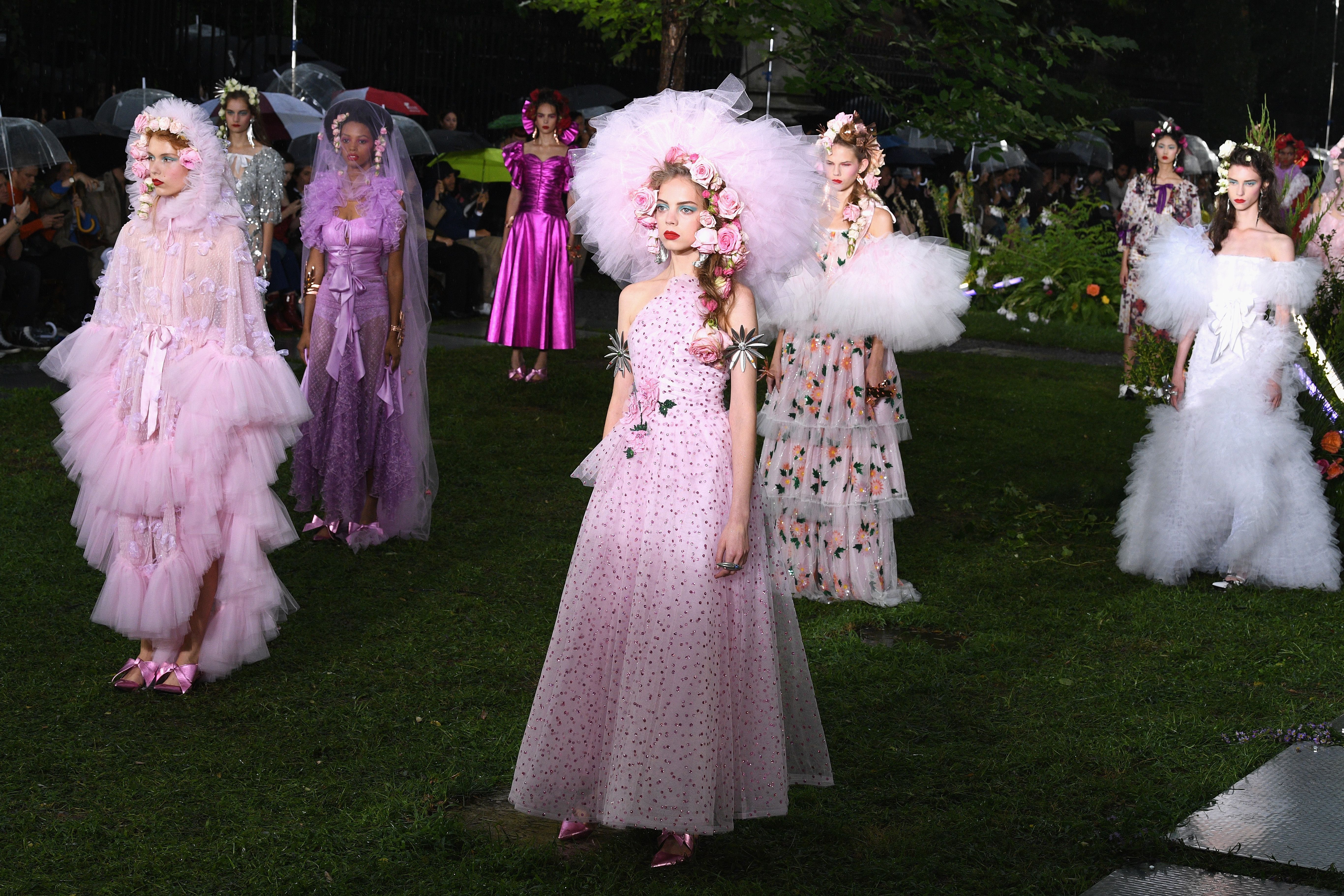 After a few seasons of showing at Paris Fashion Week, Rodarte made a grand return to New York Fashion Week in September. The fashion house staged a hauntingly beautiful runway show in a rainy graveyard that perfectly contrasted a lineup of swoon-worthy, tulle-heavy gowns. It made for one of the most stunning moments of the Spring 2019 shows.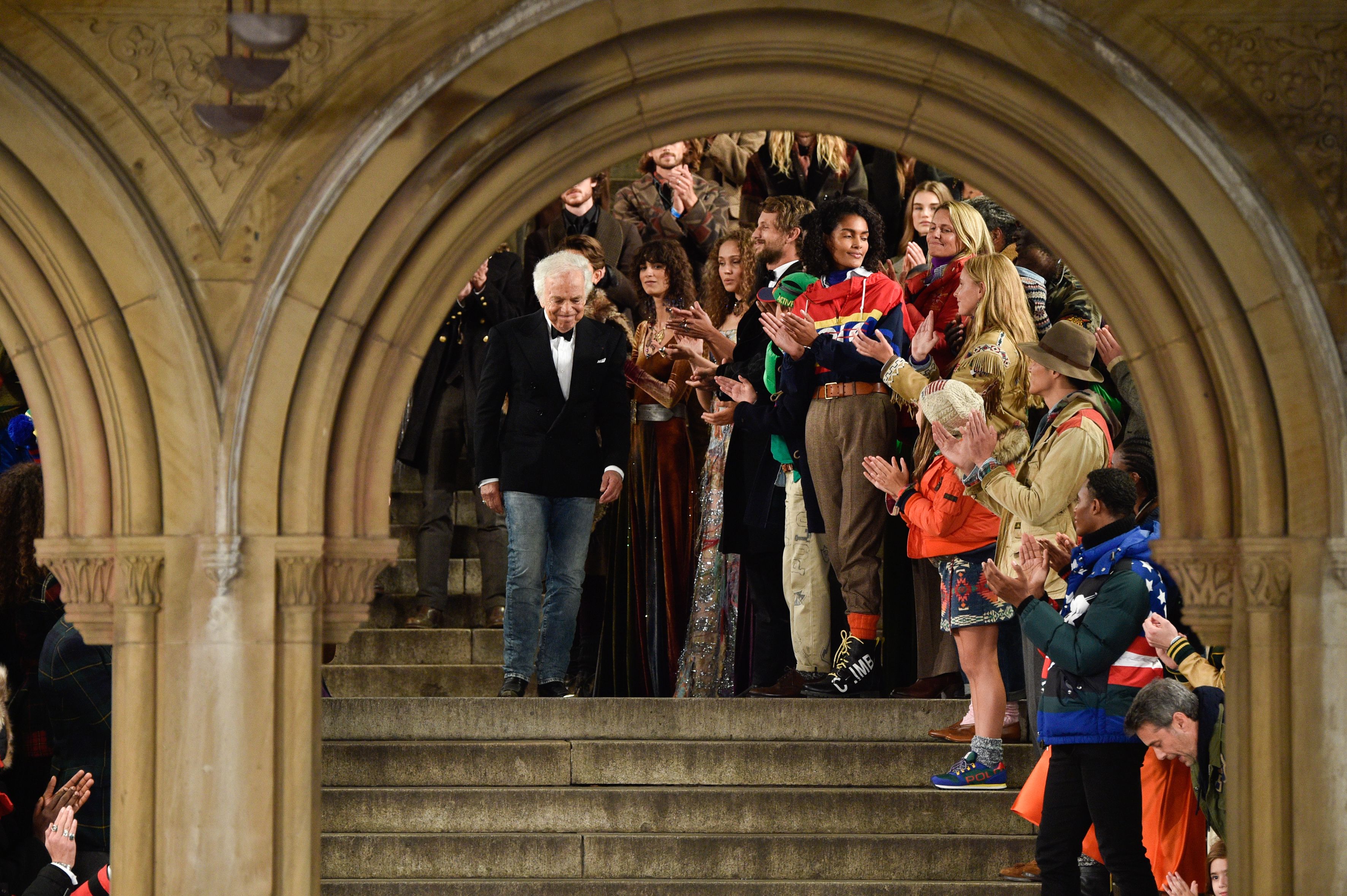 To ring in 50 years of Ralph Lauren, the designer staged a dazzling, star-studded show in Central Park. Featuring over 100 runway looks, the collection was an homage to the brand's legacy and greatest moments over the years. On top of the incredible venue and collection, the show was packed with a long list of A-list attendees from Hillary Clinton to Oprah Winfrey, Iman, Blake Lively, Priyanka Chopra, Kanye West, Calvin Klein, and more. Unsurprisingly, the designer received an applauding standing ovation during his bow.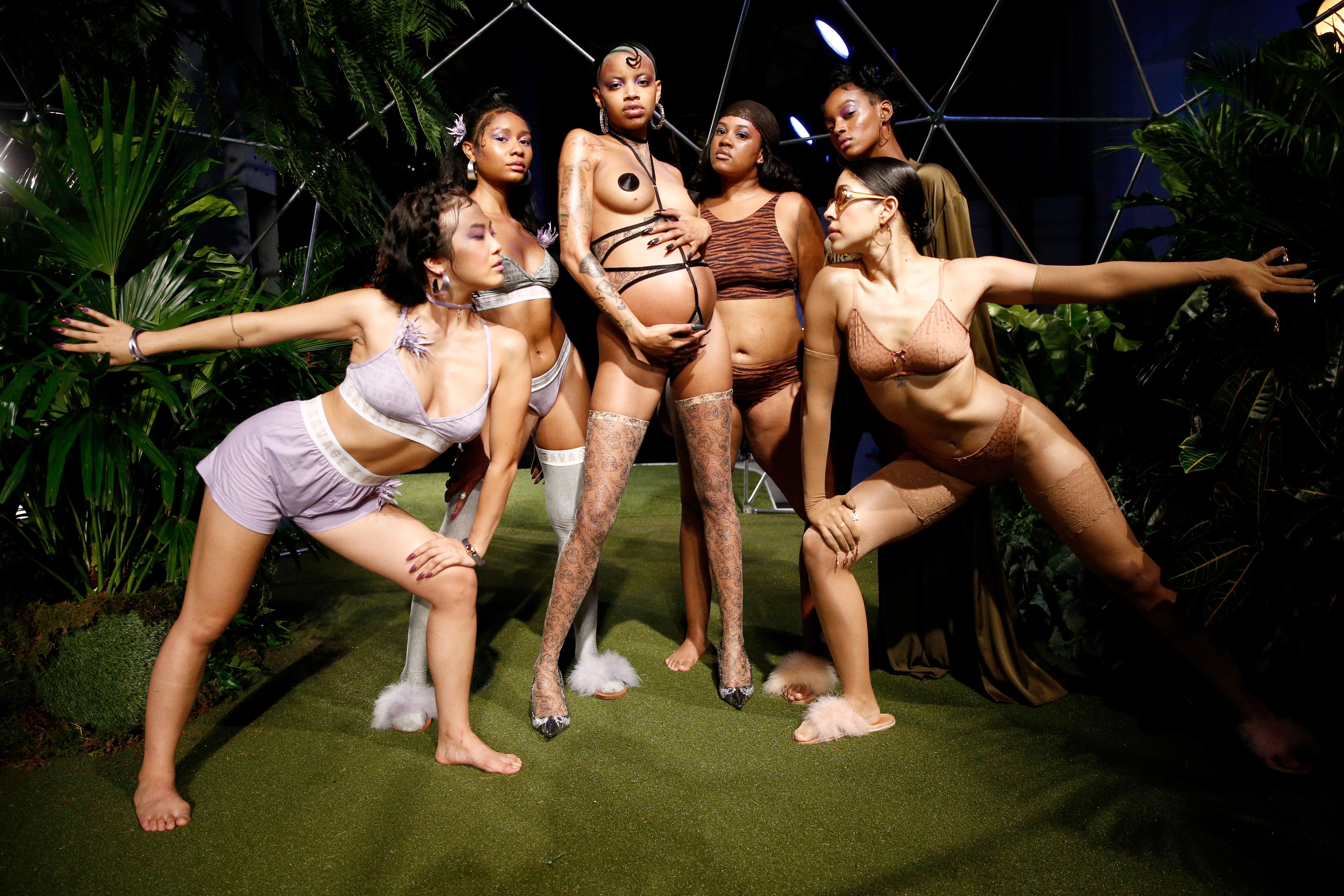 Making for one of fashion's most diverse and inclusive runways of the year, Rihanna made a splash with her first ever Savage x Fenty New York Fashion Week show. The stunning celebration of womanhood featured women of all sizes, races, and ethnicities. Most notably, it also cast two pregnant models in lingerie—including Slick Woods who went into labor right after walking the show. Once again, Bad Gal Riri knows best.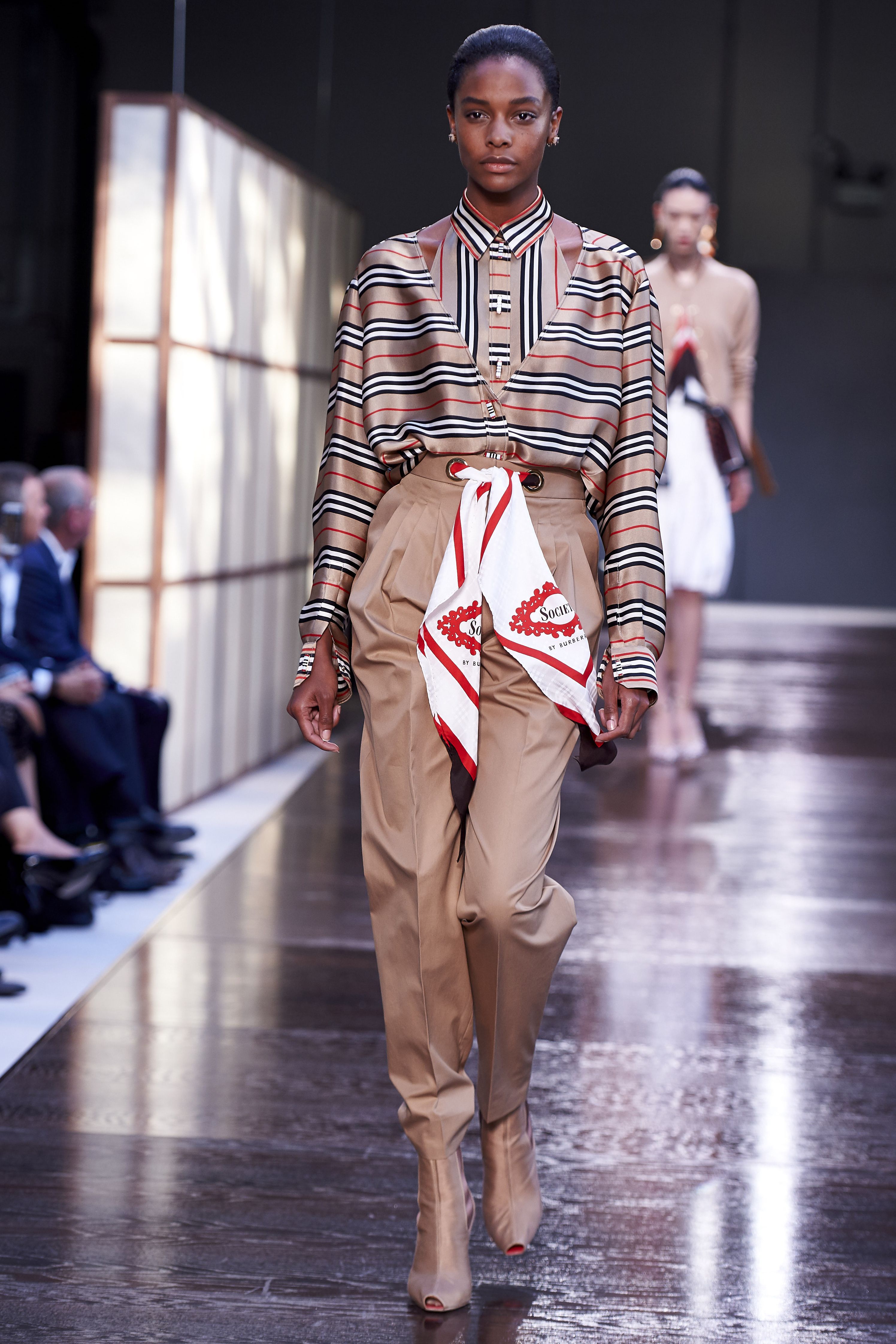 In September, Riccardo Tisci presented his first collection since being appointed creative director at Burberry. Featuring an astounding 134 runway looks, including both men and womenswear, the designer unveiled his reimagined take on the British heritage brand, ushering in its next chapter.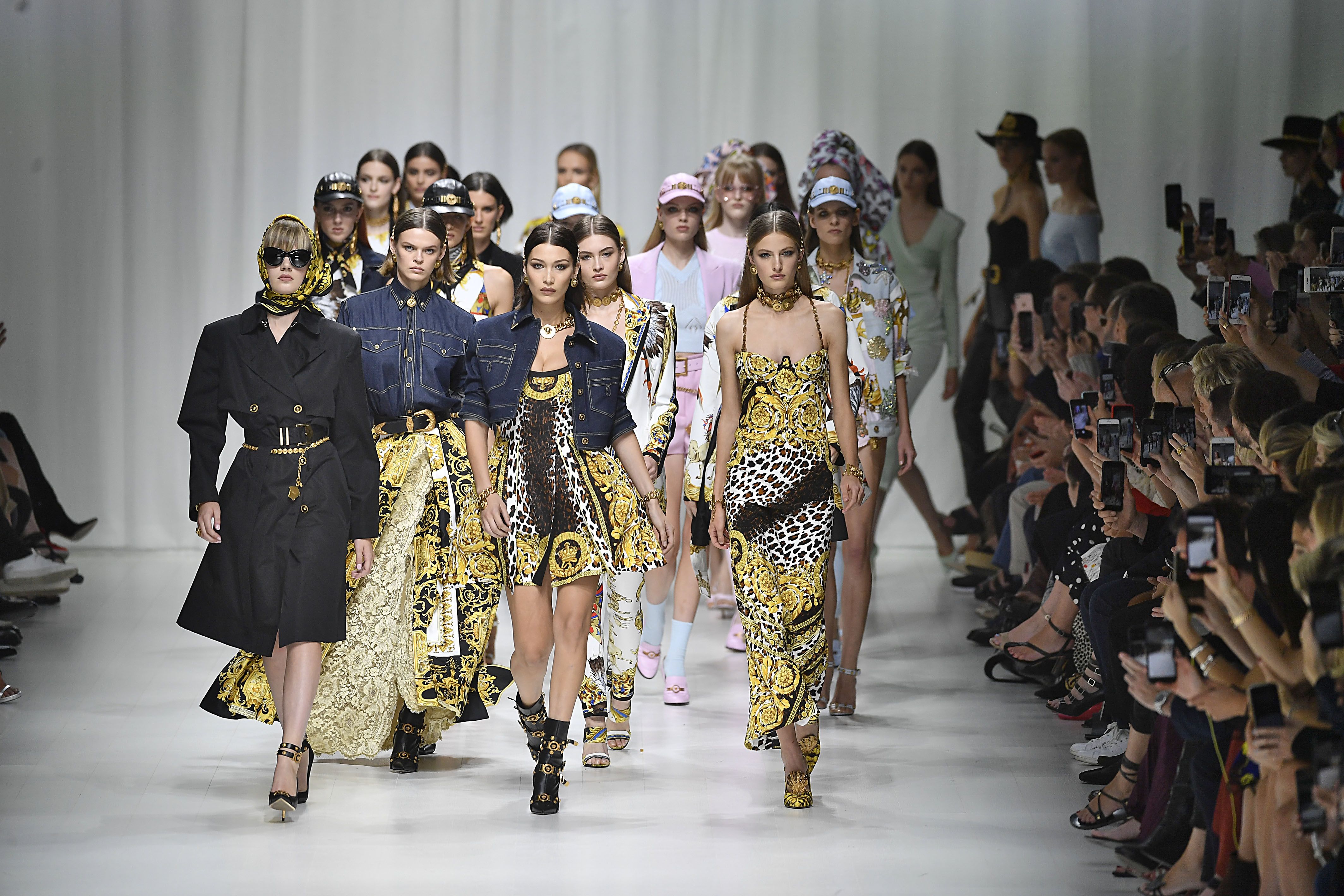 In one of the year's most shocking pieces of fashion news, Michael Kors bought Versace in a $2.1 billion deal. In its acquisition of the iconic Italian fashion house, the Michael Kors Holdings fashion group changed its name to Capri Holdings. Donatella Versace, who will remain the brand's creative director, said in a statement, "We believe that being part of this group is essential to Versace's long-term success. My passion has never been stronger. This is the perfect time for our company, which puts creativity and innovation at the core of all of its actions, to grow."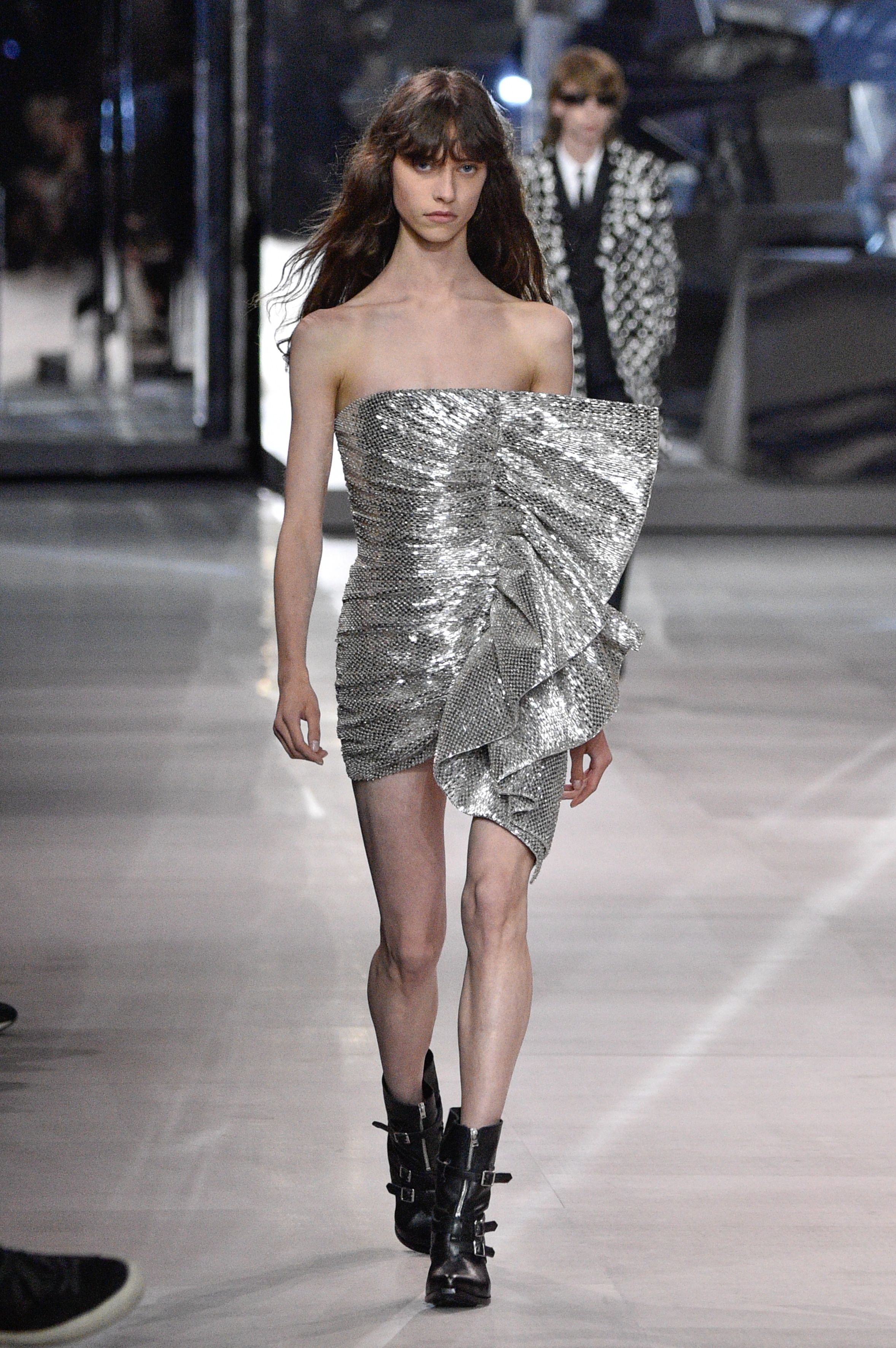 Hedi Slimane shocked the fashion world when he unveiled his first collection for Celine in September. A drastic departure from Phoebe Philo's polished vision at the brand, Slimane brought the party-ready, '80s-infused looks from his Saint Laurent days to Celine. The outcome resulted in a ton of criticism from fans missing the old Celine.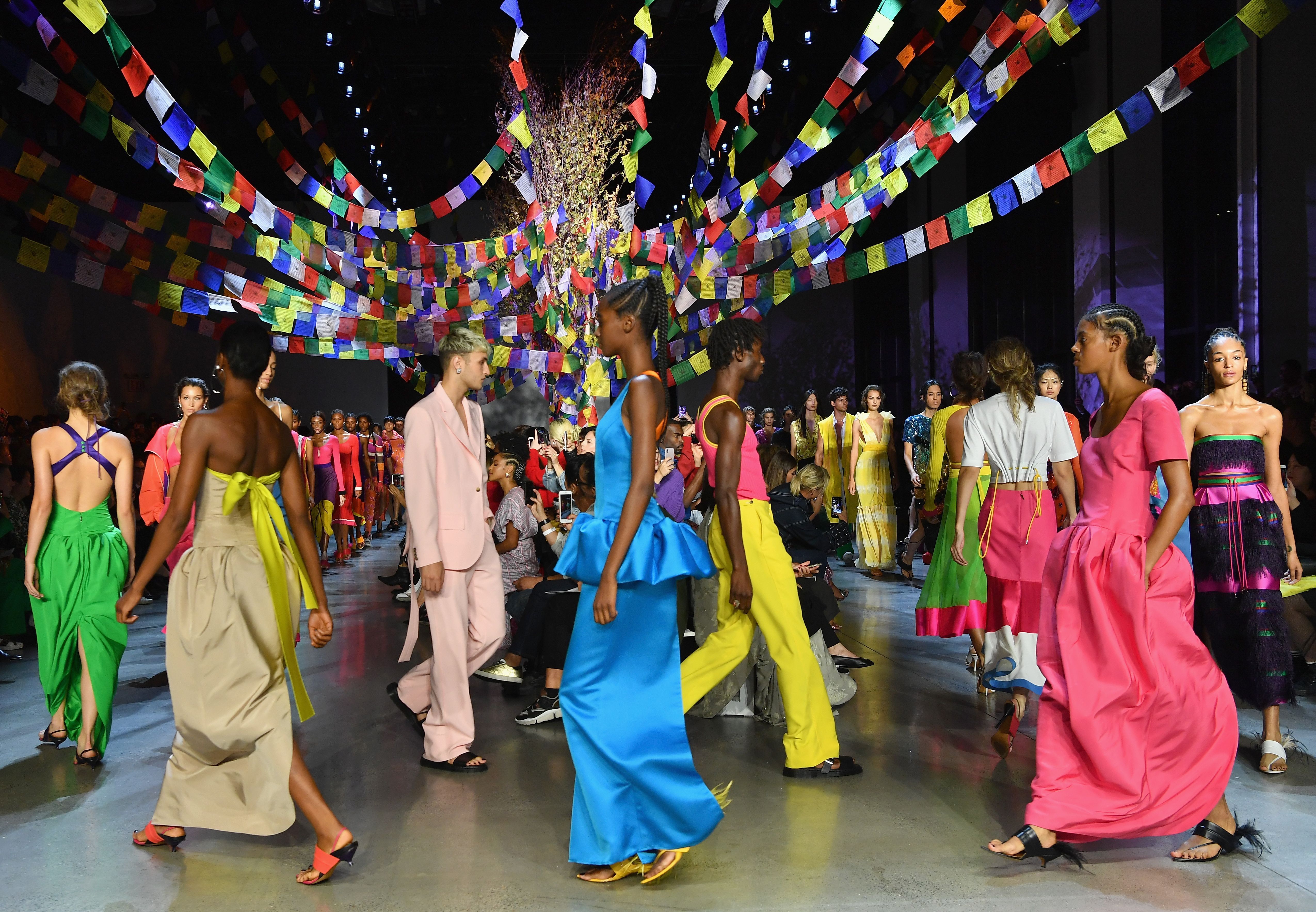 Though there's still a lot of work to be done, huge progress was made at the September shows during New York Fashion Week. In New York's most diverse runway season ever, the Spring 2019 runways featured 44.8% models of color and an increased representation of plus-size models as well. Small strides were also made in terms of age diversity along with transgender representation.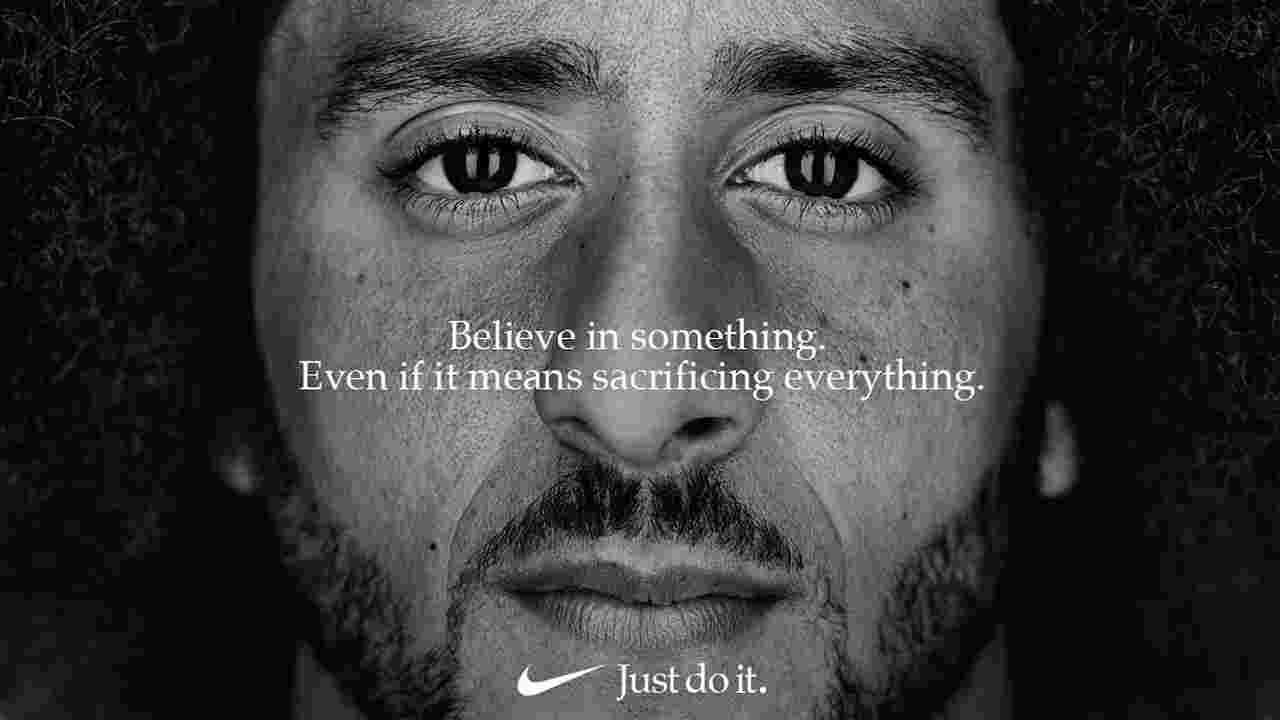 In one of the fashion industry's most meaningful moves of 2018, Nike cast Colin Kaepernick as the face of its new "Just Do It" campaign. Kaepernick, who began kneeling during the National Anthem to peacefully protest police brutality and racial injustices against the African American community, hasn't been signed to an NFL team since 2016 due to controversy surrounding his activism. Nike went on to broadcast the inspiring commercial during the NFL season opener in September—further making a powerful statement.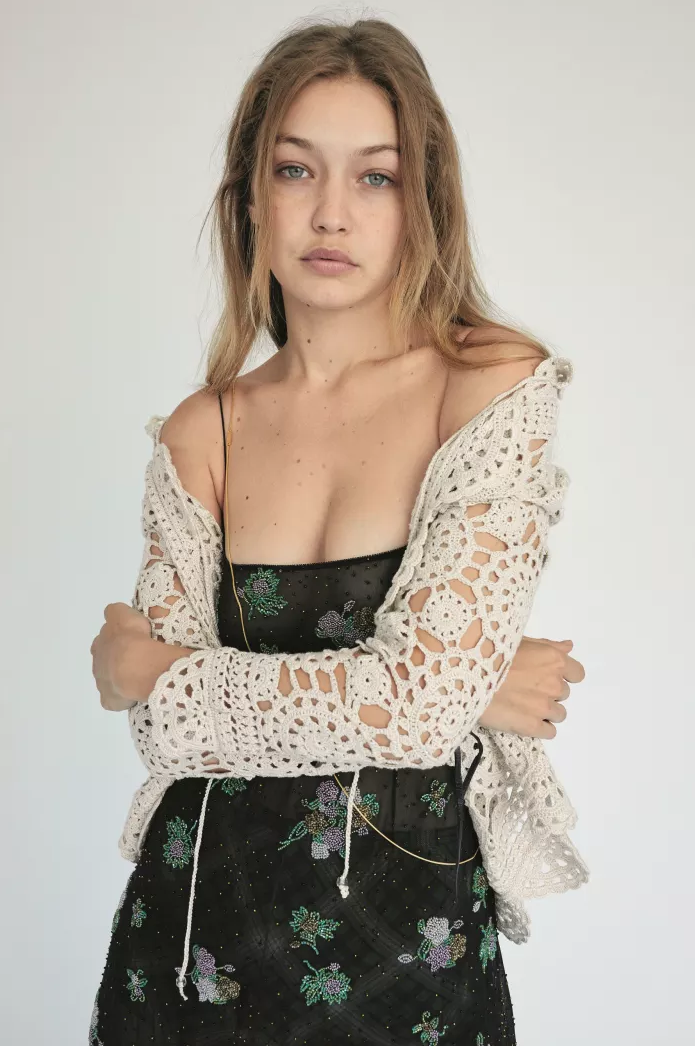 Giving us a major dose of fashion nostalgia, Marc Jacobs announced the reissuing of his famous 1993 grunge collection for Perry Ellis—which ultimately led to his firing from the brand 25 years ago. Jacobs brought back the full collection with a capsule dubbed 'Redux Grunge Collection 1993/2018 Marc Jacobs'. To celebrate the reissuing, the brand tapped Gigi Hadid, Slick Woods, Dree Hemingway, and more to model the collection in a campaign shot by Juergen Teller.
Dolce & Gabbana found itself in hot water after controversy surrounding its planned (and later cancelled) Shanghai fashion show. Instagram account @DietPrada posted screenshots of an exchange between Stefano Gabbana and Michaela Phuong Thanh Tranova, which included a series of problematic, racial remarks from the designer. Gabbana then claimed that his Instagram was hacked, and that he wasn't responsible for the offensive content. Dolce & Gabbana's official account also posted an apology, explaining that both accounts had been hacked. But after backlash spread online and high profile guests began pulling out of the scheduled Shanghai show, it was quickly cancelled.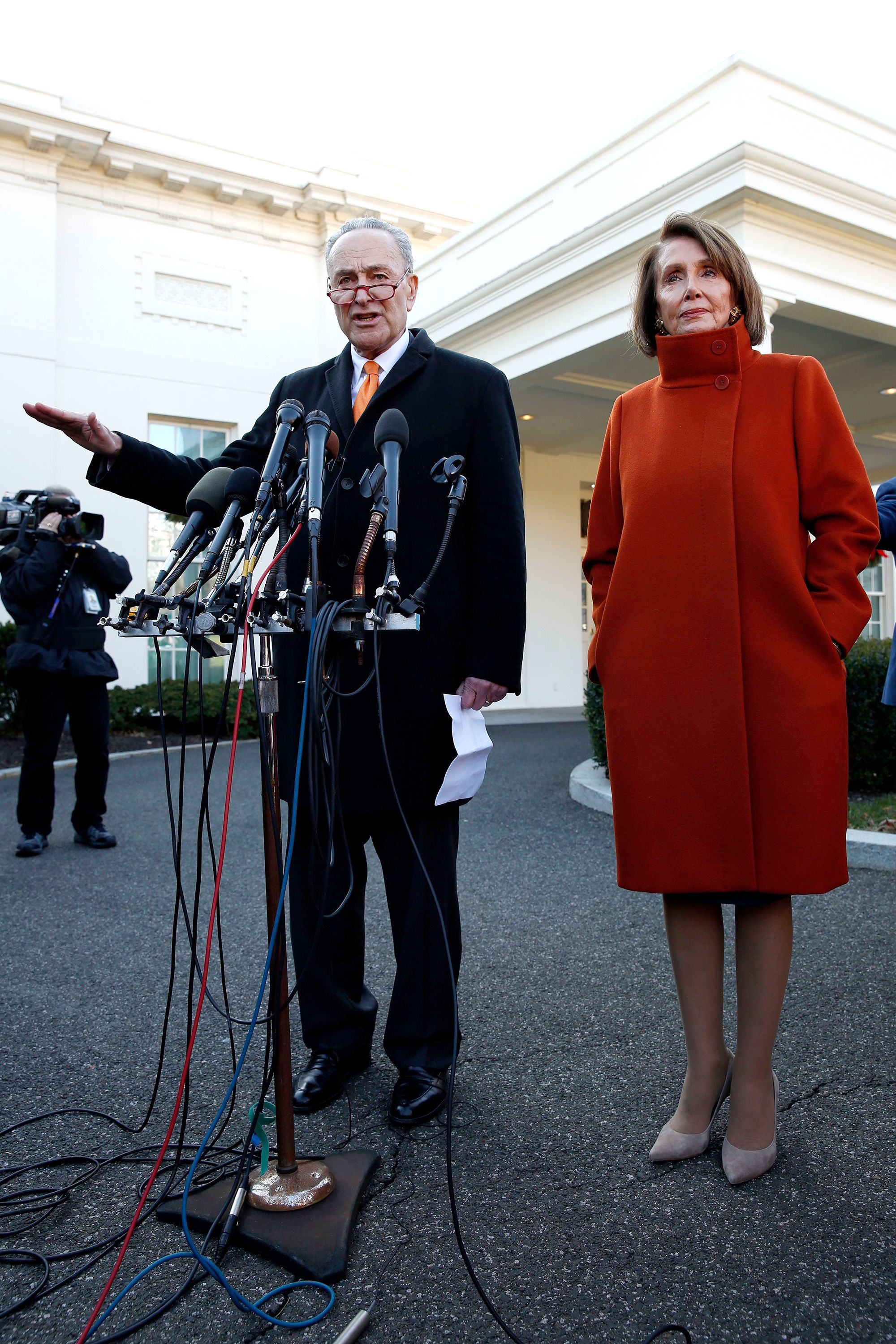 Following a heated meeting with President Trump, House Minority Leader Nancy Pelosi captured everyone's attention not only with her fiery words, but with her red power coat by Max Mara. While exiting the White House like a true boss, Pelosi caused the internet to collectively obsess over her outerwear choice. Memes spread instantly, a Twitter account called "Nancy Pelosi's Red Coat" was born, and The Boston Globe dubbed it "Big Coat Energy."
The infatuation with Pelosi's coat was so immense that Max Mara decided to reissue the design (originally from its 2012 collection) in honor of the House leader. It will be available to shop in 2019—proving the influence of politics in fashion.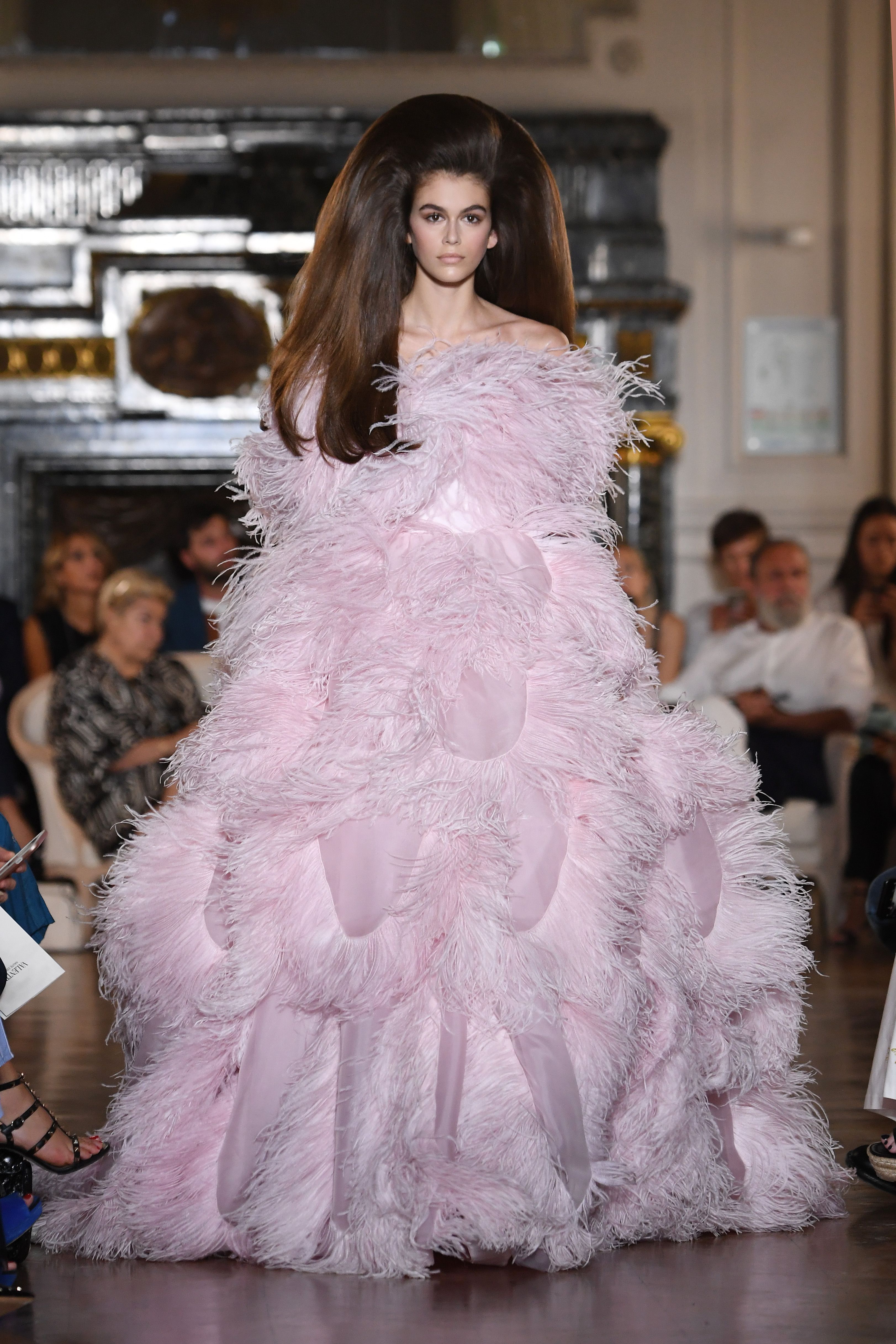 After a year of endless runways, a design collaboration with Karl Lagerfeld, and several ad campaigns, the Fashion Awards declared Kaia Gerber as 2018's Model of The Year. As predicted, the 17-year-old is quickly following in her supermodel mom's footsteps—and this is only the beginning.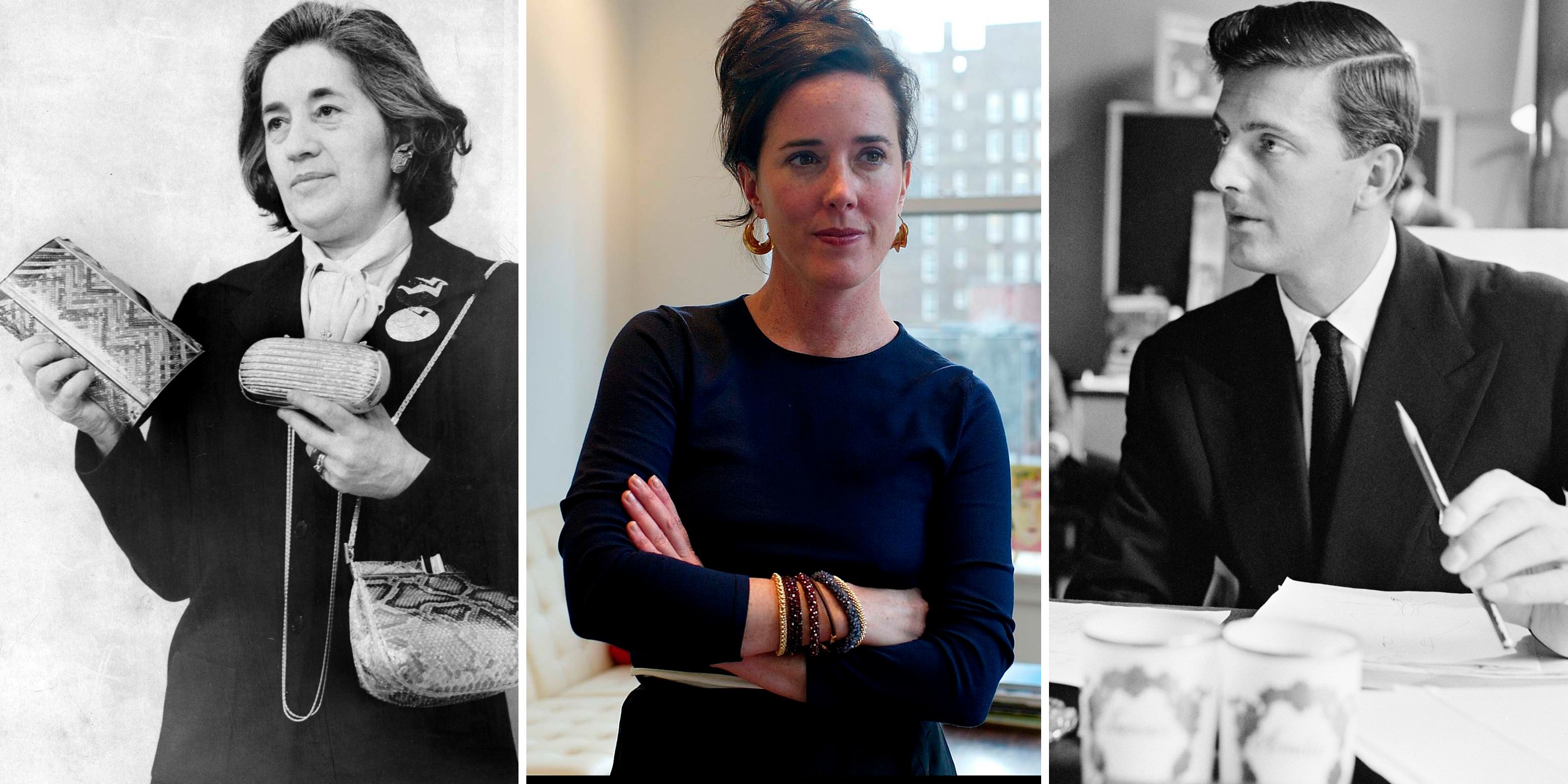 Although there were plenty of feel-good moments in the fashion industry this year, there were also a few big losses. Most shocking of them all was the tragic death of Kate Spade in June. The 55-year-old died of an apparent suicide, leaving the fashion world in mourning at her loss.
In March, the industry lost another icon when Hubert de Givenchy passed away at the age of 91. He was most-known for founding the Givenchy fashion empire and designing some of Audrey Hepburn's most famous looks.
A month later, handbag designer Judith Leiber passed away at the age of 97. She was celebrated for her incredibly ornate, quirky, and luxurious handbag designs.
Source: Read Full Article