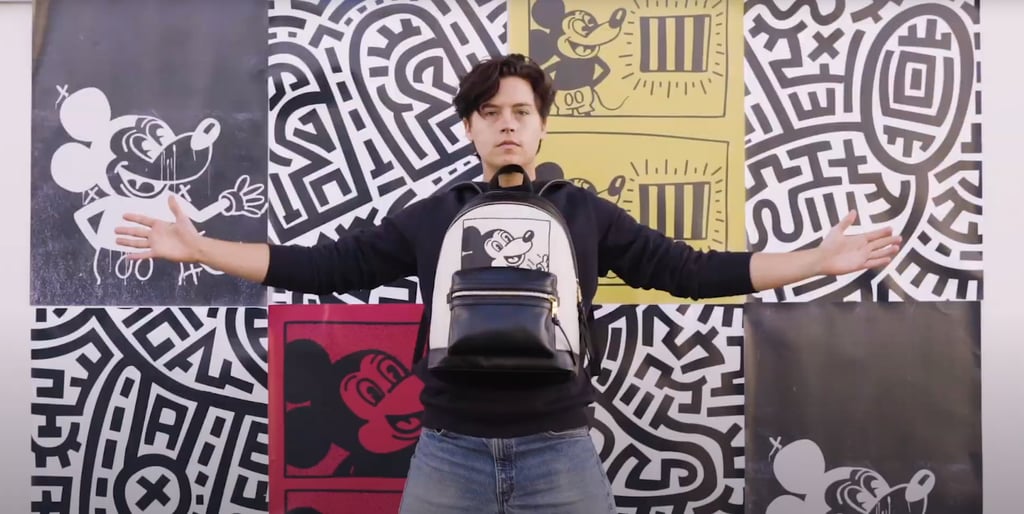 Cole Sprouse For Coach's Disney x Keith Haring Campaign? Now That's a Pretty Sweet Match

Coach has partnered with Disney to launch a new line of Keith Haring x Mickey Mouse products, all of which feature the iconic pop graffiti artist's take on everyone's favorite mouse. Coach tapped five models who embody the fun and quirky elements of such a collection, but most notably, Cole Sprouse, who's going back to his Disney roots and will surely remind you of his time on The Suite Life when you see him wearing the gear.
Kaia Gerber, Koki, Xiao Wen Ju, and Myles O'Neal join Sprouse for the campaign, which also features short videos of the crew hanging out in the stylish looks, intended to recreate the vibe of Downtown New York in the '80s (since that's the decade Haring's artwork for this particular collab comes from). As for the clothes, you'll be able to shop glovetanned leather pouches and handbags, some equipped with signature Mickey ears, a shearling jacket, scarves, sweatshirts, t-shirts, and hoodies, retailing between $175 to $2,200 beginning on December 26.
"Sometimes the best design comes from the most unlikely juxtapositions, and I can't think of a cultural clash that brings me more joy than Mickey Mouse and Keith Haring. Ahead of its time when it was first made, this art feels so timely today as we can celebrate and appreciate the diverse work of great creators whoever they may be, without social boundaries. As my collections over the years have shown, I love Disney and I love Keith Haring, so this collaboration makes for my ultimate treat," said Coach Creative Director Stuart Vevers in a press statement.
It's worth noting that this isn't the only collection you'll see celebrating Keith Haring's history of Mickey Mouse in the next few months. Disney is also collaborating with brands like Levi's, Zara, Stance, Uniqlo, and Swatch through March 2021, so there's more where this came from! That being said, 'tis the season for a bit of nostalgia, so we're going to revel in the fact that Cody — er, Cole Sprouse — is paying homage to his Disney days with this drop from Coach. Scroll down to see all the pictures, then sign up for Coach's updates online, so you don't miss out on nabbing your favorite item.
Source: Read Full Article