Consider this a taste of what's to come at the Virgin Australia Melbourne Fashion Festival (VAMFF): last week, a collection of Australia's top fashion folk gathered at Hobart's MONA museum for the David Jones' Art of Living season launch. Two female fashion editors wore the same Bianca Spender suit – a loose-fitting jacket-and-pant set – in different warm tones. Designer Rebecca Vallance donned her label's own checked take on a suit, while Amanda Shadforth, from fashion/art site Oracle Fox, paired her blue suit with a white button-up shirt. Were they dressing like men? Hard to say, when you consider the standout men in the room: leading the pack were Romance Was Born designer Luke Sales, dressed in loose fisherman-style floral pants accessorised with a gingham elephant bag and pink-soled sneakers and model Josh Heuston, looking frankly like he'd borrowed Amanda Shadforth's suit but had made it scull a few MONA cocktails first, that's how relaxed it was. Were they dressing like women? Not according to the residents of fashion's new utopia, where clothes are so unlabelled and inclusive, they no longer fit into a category based on gender.
And although not everyone is following suit (pun intended), there's no doubt that this is fashion's newest frontier. Other barriers have been broken already: VAMFF special guest Ashley Graham, a curvy model, appeared on the famed swimsuit cover of Sports Illustrated; at past David Jones parades, there have been models who are shorter/older/curvier than in previous years, and from more diverse ethnic backgrounds. Once upon a time, their presence was heralded with a press release; now, no one blinks a fake eyelash. And with it comes the blurring of lines between what defines womenswear and menswear, and who can wear it. At last year's VAMFF, suit maestro Dom Bagnato sent several female models down the runway in his garments. As VAMFF chief Graeme Lewsey says, "The opportunity for this year's festival does lie in this concept of us appealing to more non-binary consumers. Menswear especially is offering another version of wearing clothes that may not necessarily be defined by a gender binary outcome. This fluidity of gender and spectrum is why menswear is on the rise, and it's not at all feminised menswear, it's this other construct of fashion…There's a lot more playfulness, and there's this experimentation and creativity in how clothes are worn."
Shelby Green of Giant Management and Jack Moran of Vivianas model outfits by Double Rainbouu. Credit:Eddie Jim
Among menswear in particular, rules are lately being broken. On the red carpet in Hollywood for the SAG Awards last month, it was the famous men whose risk-taking stood out: they wore gold jackets (Henry Golding), printed suits (Anthony Ramos) and lapel jewellery (Chadwick Boseman). But Black Panther's Michael B. Jordan one-upped all of them, wearing the new Louis Vuitton floral man harness. He wasn't even the first celebrity to wear it, since actor Timothee Chalamet wore a black beaded version for the Golden Globes. And with one-time Kanye West collaborator Virgil Abloh heading up LV, everyone gets the message: menswear is being disrupted, big time.
But while a floral harness might not have much staying power, unisex clothing and fashion that crosses gender lines is predicted to get bigger. Lately, fashion has been an accurate reflection of where public consciousness lies: it's shown more diversity, has promoted political causes and is ethically aware. Now it's important that fashion represents the population – particularly those in Generation Z – who don't conform to typical gender labels.
Shelby Green and Jack Moran model Chris Ran Lin outfits. Credit:Eddie Jim
Sydney's Double Rainbouu – which will be part of VAMFF's Runway 7 parade – was created as an alternative to resort wear, but does most of its pieces – think Hawaiian-style shirts and baggy pants in playful prints – for men and women, with the only difference being in the sizing. Co-designer Toby Jones says: "We always started with the idea that it would be a unisex brand, but we also felt that the pieces were gender neutral, and people could get into them no matter what sex, shape and size they are. The bulk of our collection crosses over into both men's and womenswear, so we sell basically the same products to men and women … it used to be that if you crossed those barriers [of gender labels], you might have been a fringe dweller, but that's not the case any more. It's more widely accepted." Accessibility of fashion via online shopping, he believes, has allowed customers to niche shop more than ever before. "Customers are seeking out brands for a specific item or product, and they'll go to that brand for one thing and someone else for another. There's not the kind of brand loyalty that there used to be."
Women gravitating towards menswear isn't new; Bianca Jagger, Diane Keaton and Lauren Hutton all popularised men's-style suits in the '70s. These days, sports luxe labels such as P.E. Nation are the off-duty uniform de jour for many fashion females, and as David Jones ambassador-model Jessica Gomes says, "I love men's clothes, and I love wearing an oversized tailored men's suit, big hooded jumpers, baggy jeans and basketball shorts. I once bought a men's suit and tailored it to fit me. Although I love wearing girly stuff, I feel most powerful when I am comfortable. I have a floral dress on now, and in a dress I'm very restricted – it's very lady-like, you have to cross your legs and carry yourself in a different way. You can garden in your overalls; you can't really garden in a skirt!" She says that the idea that certain clothes are for men and certain clothes are for women "is so archaic. Now, if you're a little girl and you want to wear T-shirts and jeans every day, you're allowed to. You don't have to wear cutesy dresses every day."
Melbourne-based designer Chris Ran Lin will be showing his menswear collection at VAMFF, but says that it's menswear in name only. "I have female customers buying my designs – it's more a matter of who likes to wear it, not what gender they are … Also, we realise there are not only two genders … when people say who is your target market, that's not a question for me. I want to dress everyone, and I want them to feel comfortable in what they're wearing."
It's a sentiment echoed by Nixi Killick, one-time designer for Lady Gaga, whose latest collection will be shown in a VAMFF exhibition, Cryptic Frequency. "I see my brand as inclusive, not exclusive. The brand is seasonless and genderless – I'm very much designing for the human body whether that's in masculine or feminine form, and no matter how that person identifies – it's irrelevant. In the last year especially, a lot more men are buying into the label and alternate fashion in general. There's a new wave of experimentation … It's breaking down the idea of dividing clothing into separate camps and looking at the power of colour and aesthetics to communicate in fashion and effect change. To me, it tells people that they can express themselves in any way they want. It's about the best possible future."
Nixi Killick fashion.
When you compare Killick's label to the clean lines and sometimes austere appeal of Jade Sarita Arnott's Arnsdorf label, they seem to have nothing in common, apart from both originating in Melbourne. But Arnsdorf also appeals to both sexes – stylists occasionally borrow the clothes for male model shoots – and Arnott also says that "it makes sense that in this time of openness and inclusivity, codes of dress have blurred and there's more fluidity … womenswear is becoming more inclusive to people who don't just identify as women."
But although she welcomes the fact that society is becoming less constrained – "my friend was at a music festival and she was quite surprised there were so many men wearing dresses; we're really deconstructing clothes and de-genderising garments" – she also points out that there's a practical reason for keeping some line between men's and womenswear. "From a construction point of view, we do focus on a traditionally female biological figure because it's hard to cater to everyone. But we do made to measure and alterations, so we give everyone access to our garments – we're specifically able to cater to your body."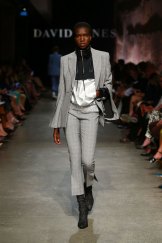 A model showcases designs by Camilla and Marc during the David Jones Art of Living season launch.Credit:Mark Nolan
David Jones' general manager of menswear, Chris Wilson, also thinks that erasing the division between menswear and womenswear will never be completely possible. "I think there will always be elements of unisex, and you see that in sportswear. But men and women have different shapes, so I don't think it will ever not be separate." He does note that menswear has changed in his eight years at David Jones. "Now, accessories are huge, and the colour palette has changed – it's gone from blue, black, grey and white to all sorts of different colours, with lots of pinstripes and printed shirts. Guys are now happy to stand out."
Melbourne-based designer Christian Kimber has had women come in to buy pieces since he first opened his doors at the end of 2016. They still don't account for a large chunk of sales, unless you count their shoe purchases. "Women respond more to the relaxed silhouette we have. But they do want our shoes – maybe it's because when Nike does a women's sneaker, it's often purple or pink, and they want a black shoe." He had so many women wanting his shoes that he went down several sizes, starting his line at 37. He's happy where he stands in the marketplace; although he does have garments in hues that were traditionally associated with women – pink and baby blue – they don't tend to have the same turnover as his other colours. So while he loves the fact that both sexes shop in his store, he knows he can't be everything to everyone. "Identity is so important in fashion, and you have to stand for something." For the Christian Kimber label, that's essentially defining the look of the Australian male. "My concept is to sell the Australian lifestyle through fashion, where menswear is not formal, but it's not so casual, either."
One person with a different perspective is model Stefania Ferrario, who looks feminine and curvaceous when she appears in campaigns for Dita Von Teese's lingerie line, but who slips into a male role on film when she wears boyish gear, gels her short hair and wears a different expression. Although she enjoys the creativity of switching roles for a photo, she's surprised by the reaction she sometimes gets. "People can get really confused and say, 'You're not a male, why are you dressing like this?' They can get quite triggered by this and upset."
Her own view is that "Clothes are a way of expressing yourself and saying who you are on the inside. When you allow people to explore clothes that aren't stereotypes of masculine and feminine, it allows them to find out more about themselves … I remember first seeing [androgynous-looking model] Erika Linder shooting men's campaigns, and it was empowering. It used to be that brands thought, 'Let's grab headlines and shock people.' And now it's moved into the norm … [gender diversity in fashion] really does end up trickling down and affecting everyday people. We're going to take it in subconsciously and having those images around more and more would have a huge impact on the psyche of the youth of today. It's important to see that in fashion."
Source: Read Full Article