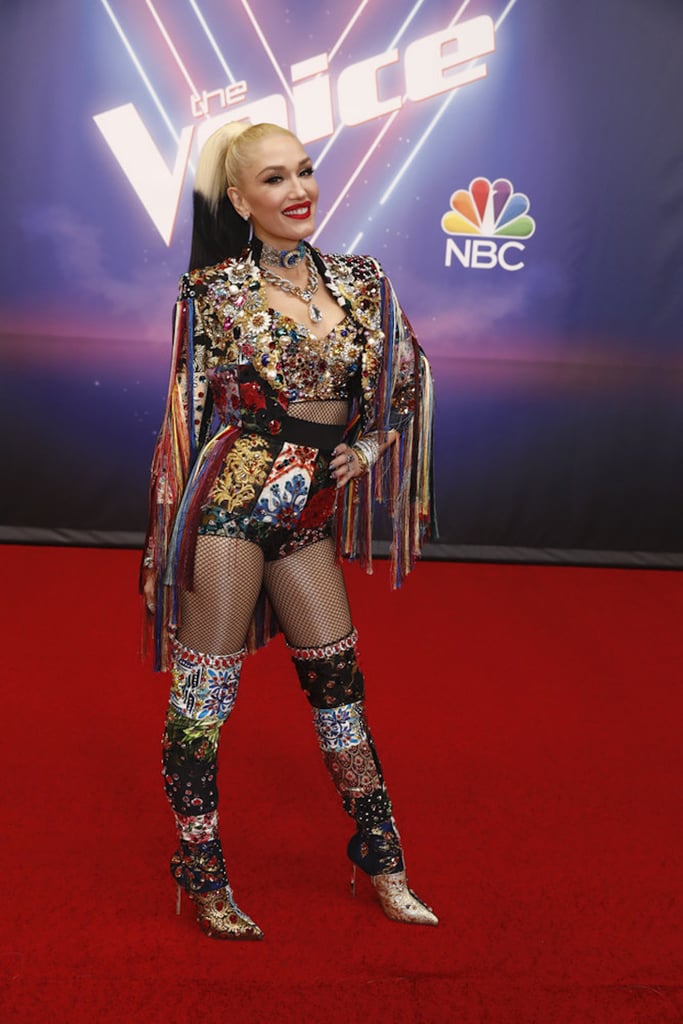 Gwen Stefani's Rainbow Fringed Jacket Was Made to be on TV — Just Look at It!

Gwen Stefani has been using The Voice as a platform for many big moments, ranging from finally giving us a glimpse at her engagement ring from Blake Shelton to performing her newest single on stage. In honor of her song "Let Me Reintroduce Myself," which dropped on Dec. 7, Gwen first re-created her iconic outfit from "Just a Girl," wearing a rhinestone-studded cropped tank that took us back in time. Then, the singer took the stage to sing her new single for the first time on The Voice.
Gwen went all out in a rainbow fringed jacket that added the perfect amount of dramatic flair as she twirled on stage. She wore head-to-toe Dolce & Gabbana, including a pair of patchwork shorts combined with a fully beaded bra top. The singer paired the set with a matching jacket with multicolored silk fringe accents and Swarovski crystals sewn throughout. Gwen accessorized her bold outfit, which is from the brand's spring/summer 2021 collection, with a pair of knee-length beaded boots and a Swarovski choker necklace with her initial, G, on it. She also wore multiple bracelets and rings by Anne Sisteron. Keep reading to get a closer look at Gwen's colorful outfit.
Source: Read Full Article