When your holiday party plus one is your BFF, showing up together is a given. But to really create an Instagrammable entrance, rock subtly complementary outfits for a statement only the two — or three — of you can make!
Whether you're both in monochrome, both in brights, or both looking fabulous in prints, let dressing up together be half the fun of your holiday festivities. Not only is it the perfect nod to your friendship, but you'll both effortlessly own the holiday event circuit with style and flair.
Below, find festive, complimentary looks for you and your best friends — no matter what seasonal activities you have planned!
Holiday Cocktails
The catch is to dress complimentary — not identical. So go ahead and give each of your outfits your own spin. If she's rocking tuxedo pants with black booties for cocktail hour, opt for chic ankle pants and black flats. We love the idea of a velvet bow belt, making it extra holiday-ready. Sweaters in neutral tones always pair well together, and with subtle embellishments and knit detailing, these versatile picks are both cozy and elevated — aka perfect for an evening soiree.
For an easy one-and-done look, throw on different jumpsuits or dresses and let your personalities shine through in the accessories you choose. From sparkly jewelry to poppy prints, the styling opportunities are endless!
Crystal Floral Sweater

Buy Now




Pants in Side Stripe

Buy Now




Kitten Heel Ankle Boots

Buy Now




Stitched Sleeve Sweater

Buy Now




Velvet Tie Waist Pants

Buy Now




Crystal Drop Earrings

Buy Now




Jeweled Bow Flats

Buy Now




Wrap Jumpsuit

Buy Now




Cutout Back Lace Dress

Buy Now




Dot Crossover Sweatshirt

Buy Now




Floral Textured Tie Waist Top

Buy Now




Beaded Ribbon Necklace

Buy Now



Secret Santa Party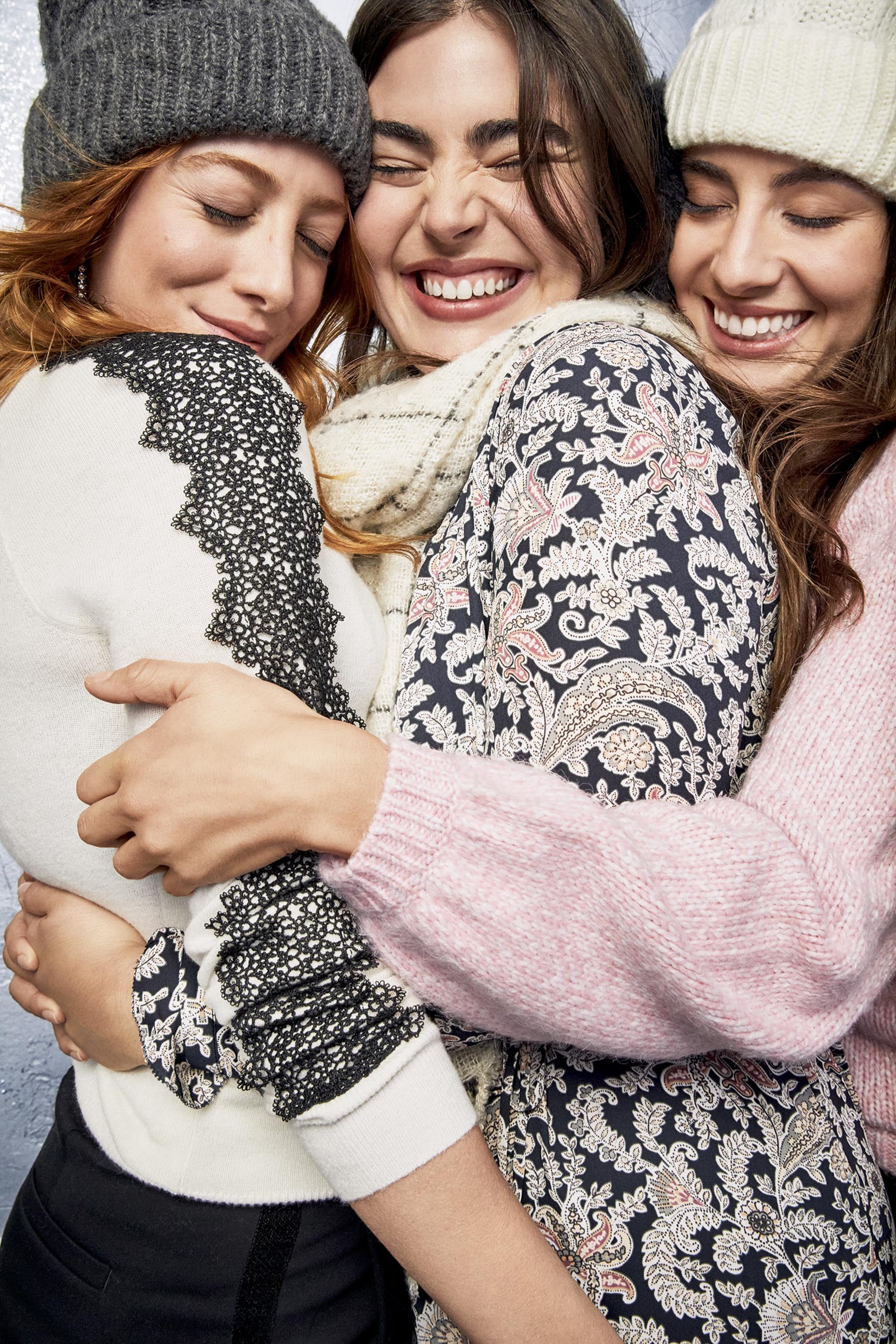 When attending a group gift exchange, the goal is to dress cozily yet with polish. Coordinate with your BFFs by choosing pieces in complementary color families — think rich creams, soft pinks, and light grays. While different, your looks will still work well together because they incorporate common colors throughout. For an even more cohesive look, try incorporating matching beanies or scarves, and prepare yourselves for all the fun photo ops!
Lace Sleeve Sweater

Buy Now




Cable Faux Fur Pom Pom Hat

Buy Now




Skinny Velvet Stripe Ankle Pants

Buy Now




Vine Ruffle Shirtdress

Buy Now




Plaid Boucle Blanket Scarf

Buy Now




Tie Back Drapey Sweater

Buy Now




Cable Faux Fur Pom Pom Hat

Buy Now




Flare Sleeve Sweater

Buy Now



Holiday Movie Binge-Watching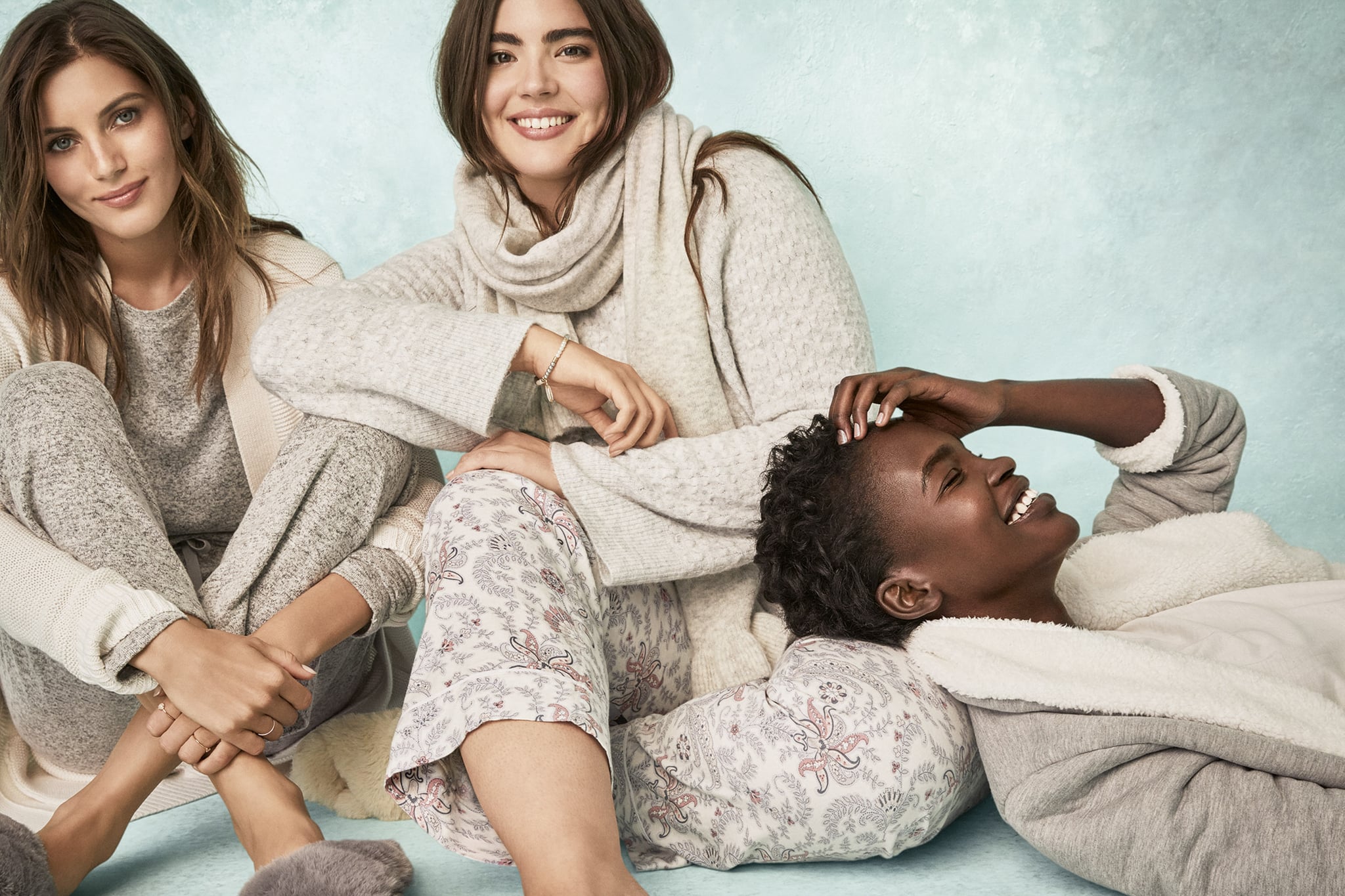 When snuggling up for a movie marathon, keep your outfit as soft and comfy as possible. For chic alternatives to a sweatsuit, opt for flattering cotton pants — hello, elastic waistband — and fuzzy sweaters in versatile tones of beige and gray. You and your pals will feel comfortable without looking like you just rolled out of bed, which is perfect for spontaneous ice cream runs!
Even though looking your best isn't necessary for a day of relaxation, you and your friends will have fun turning your binge session into a laid-back event complete with hot cocoa, takeout food, and facials. Plus, there's something about cute loungewear that makes a lazy day indoors feel glamorous and purposeful.
Refined Joggers

Buy Now




Flecked Raglan Sweatshirt

Buy Now




Ribbed Open Cardigan

Buy Now




Faux Fur Lined Slip On Sneakers

Buy Now




Vine Pajama Pants

Buy Now




Boucle Mock Neck Sweatshirt

Buy Now




Confetti Blanket Scarf

Buy Now




Plaid Pajama Shorts

Buy Now




Star Pajama Tee

Buy Now




Terry Open Hoodie

Buy Now




Faux Sherpa Open Hoodie

Buy Now




Striped Cowl Neck Tunic Top

Buy Now



Shopping and Looking at Christmas Lights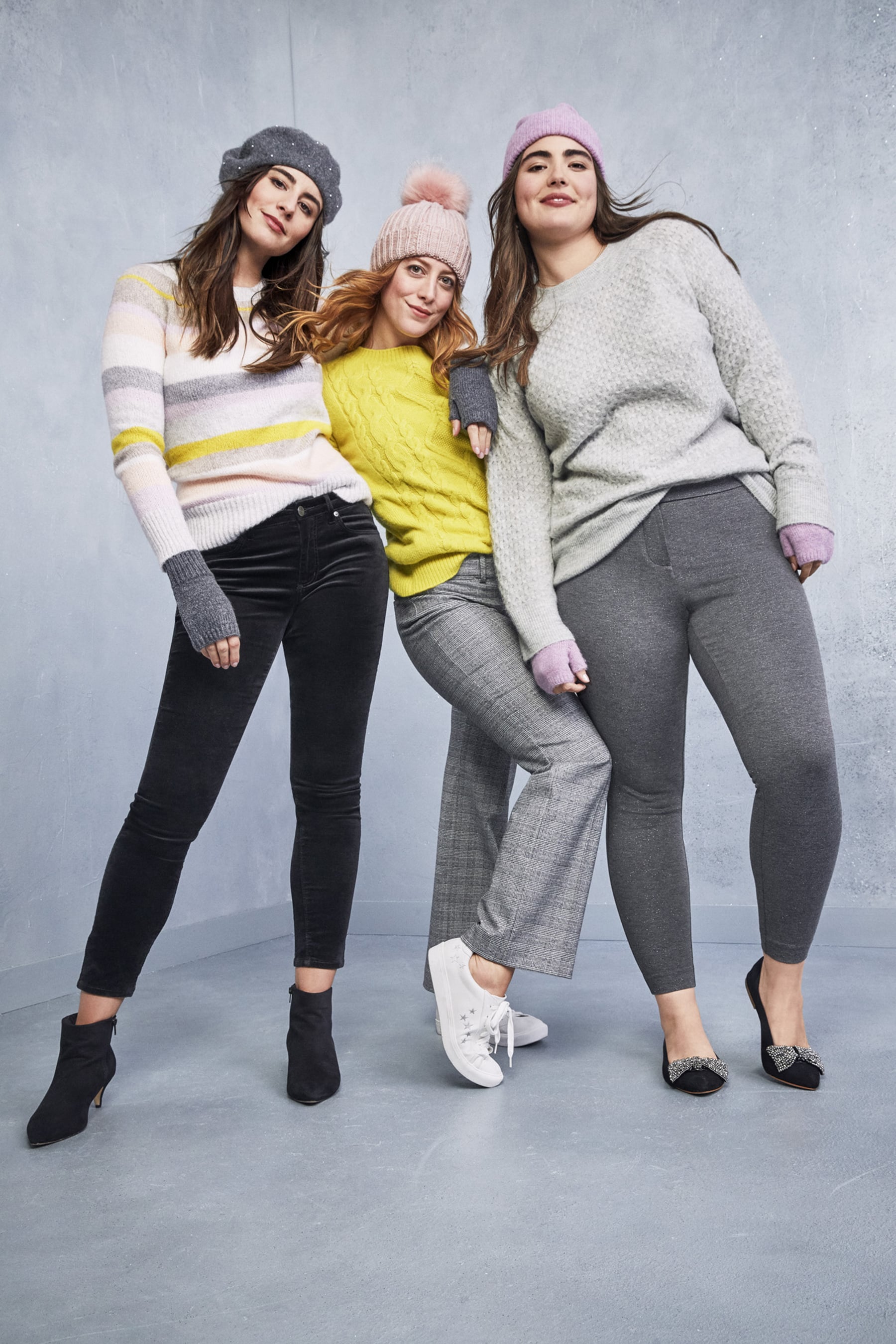 A fun day of outdoor adventuring calls for practical yet stylish looks that are both warm and trendy. Coordinate with your girls in bright colors grounded by neutral splashes to ensure you can spot each other in the crowd. Keep toasty in soft beanies and berets paired with matching gloves, and make sure your shoes can withstand lots of walking around.
Try wearing various shades of gray along with poppy colors of your choice, making for cheerful ensembles that are vibrant and refreshing. Don't forget the little details, either — like pearlized studs, pom-poms, and embellished bows — as these small-but-mighty extras will make each outfit feel extra special and festive.
Mixed Stripe Sweater

Buy Now




Velvet Ankle Zip Skinny Jeans

Buy Now




Kitten Heel Ankle Boots

Buy Now




Pearlized Beret

Buy Now




Cable Tunic Sweater

Buy Now




Plaid Trousers

Buy Now




Star Embroidered Sneakers

Buy Now




Shimmer Twist Earwarmer

Buy Now




Stitchy Flare Sleeve Sweater

Buy Now




Leggings in Seamed Ponte

Buy Now




Jeweled Bow Flats

Buy Now




Heathered Hat

Buy Now




Heathered Fingerless Gloves

Buy Now




Geo Fairisle Sweater

Buy Now




Shoulder Button Tunic Sweater

Buy Now




Faux Fur Infinity Scarf

Buy Now



Source: Read Full Article