For Martine Rose, the opportunity to work with Farah was something to be grabbed with both hands. The brand, originally founded in Texas a century ago, occupies an important place in Jamaican culture and was a regular feature in the Rose household while she was growing up. When it came to designing the collection, Rose was able to reinvent items she remembered her family wearing throughout her childhood.
"Farah didn't have to do much convincing," Rose tells HYPEBEAST. "Unless there's a genuine connection, unless I feel emotionally connected to it on some level, it doesn't work. This just made sense." The emotional connection to Farah came through her family, and particularly memories of her uncle and cousins wearing the brand. "Farah for me is full of memories from my personal experience of growing up in a Jamaican household in '80s London," Rose continues.
"Farah for me is full of memories from my personal experience of growing up in a Jamaican household in '80s London."
In particular, Rose remembers the crease in Farah slacks. "I remember all of my cousins playing football in them, because they're indestructible," she says. "They could slide and skid around and they'd still have that crease." Another memory close to home for Rose comes from her uncle, Cleophus Erastus Casanova Rose. "He has the best name in the world, and he was always very stylish," she adds. "He would go back halfway through the day to iron the crease back into his trousers so he was looking absolutely pristine all day."
As well as her direct familial connection, Rose has also tapped into the wider status of Farah in Jamaica for this collaboration. Discussing the brand, Rose likens it to labels like Clarks and Bally that gained huge subcultural followings in the country. "All of those iconic '70s pictures of reggae artists in Jamaica with their sound systems, they're always wearing their Clarks, their Farah slacks and their beachy jumpers. It's all part of that iconic era."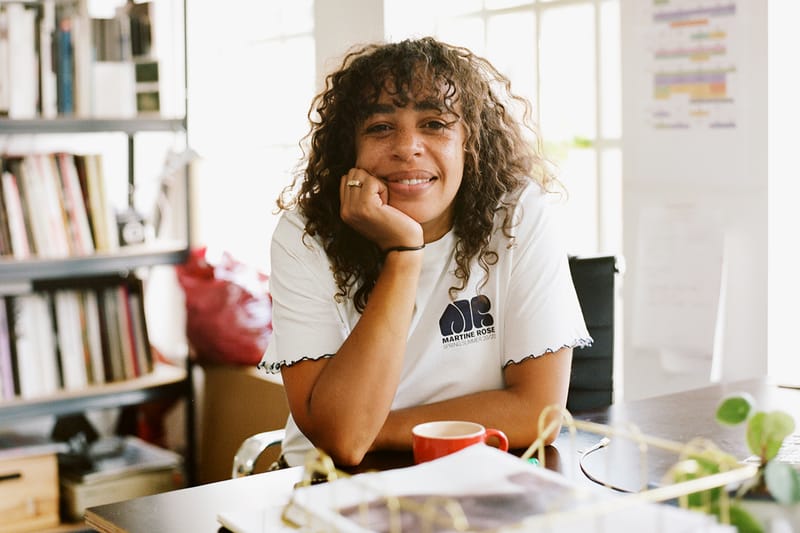 Ekua King
Throughout the collaborative collection, certain pieces reference these influences. The crease, beloved by Martine's cousins and uncle Cleophus, is a stand-out feature. "There was no way I could work with Farah and not work with the crease," says Rose. "It was the idea of looking sharp, looking neat, everything being completely on point regardless of what you were doing." Another highlight is scarves designed to look like jumpers thrown around your neck — which Rose singles out as her favorite pieces. This design is a nod to a sense of style and interpreting pieces through the way you wear them. "It's to embody an attitude more than just simple garments," she says. "It appears as one thing but it is worn as a scarf, so it evokes a body language and a language of the piece."
The more broad influences from Jamaica also make up a part of Rose's family memories. For Rose, growing up in a Jamaican household has always been an important influence, represented through an interpretation of style. "Fashion in Jamaica has got little value, but style is everything," she adds. "It's not what you have, it's how you wear it, it's trying to embody an attitude, a flair for wearing things. You don't have much in Jamaica, it's not like everyone has an abundance of cash to spend on things, so it's an influence of individuality. How you put stuff together is much more important than what you have."
"It's not what you have, it's how you wear it, it's trying to embody an attitude, a flair for wearing things."
While the idea of working with Farah appealed to Rose from the earliest moment, collaborating with a much-loved family institution came with its risks. "A collaboration shouldn't be treated lightly, particularly when something has such a resonance in your memory," Rose explains. "You tell your family or friends that you're doing this collaboration and they said 'don't f*ck it up.' Your cousins will look at it and say 'that's not what I remember Farah being.' So there is an extra pressure."
In order to create the collection, Rose was granted access to the Farah archives. Looking through old pieces helped shape the collection, as well as allowing Rose to view Farah in a different way. "Going through anyone's archive is great, I'm essentially a very nosy person, so it's a really good opportunity," Rose says. "It's beautiful because you really understand the brand on a much deeper level, you see what they value, what they've archived and what they don't value.
"The bits that have resonance for you – they're not necessarily the precious bits for the brand. Sometimes, it's not what you'd expect."
Source: Read Full Article