The best part of nailing the holiday gifting game is seeing their face when you know you got it right: the ecstatic unboxing, the big smile, and then, of course, seeing your relentless pursuit pay off when said-gift is used again and again. We want you to get that result every time, which is why we're partnering with Gap to curate creative gift ideas for friends and family.
From colorful outfit extras for your bestie like pom-pom beanies and snuggly gloves to wardrobe-anchoring staples for the parents like cozy turtlenecks and matches-everything flannel shirts, we've got a few stylish ideas to get you started. Couple those with fun and unexpected extras (hi, waffle maker!), and the next person on your gift list will be you.
For Your Best Friend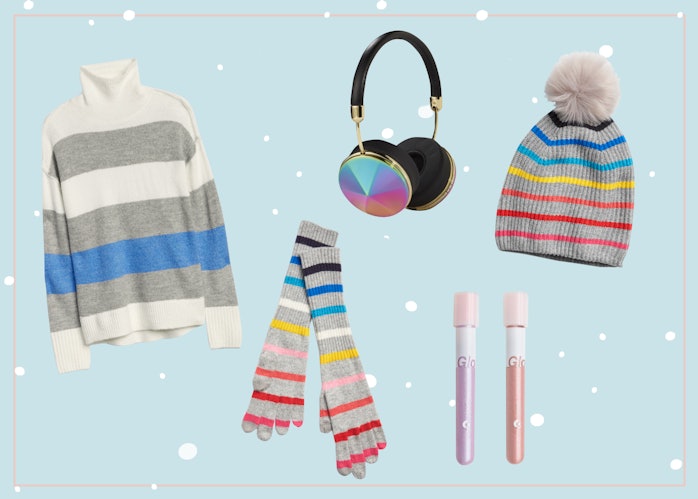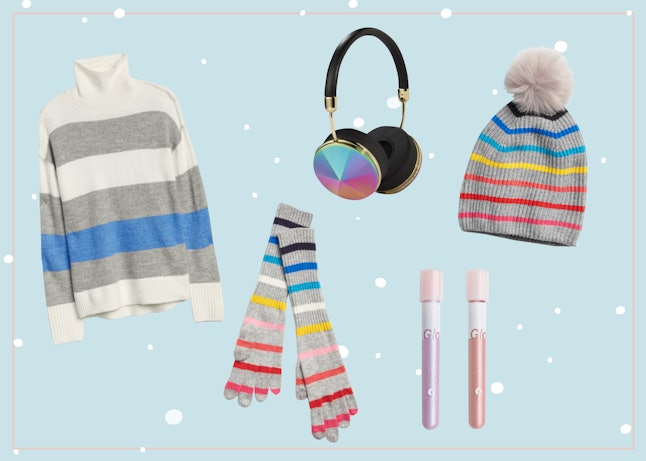 Your bestie deserves, well, the best — and that's why we're covering all the bases. From the cutest colorful pom-pom beanie and crazy stripe gloves to a comfy sweater with rainbow stripe detailing, these style picks will keep your No. 1 cozy enough to brave even the toughest temps. A glow-y eyeshadow duo and spicy phone case are basically the cherry on top.
Crazy Stripe Pom-Pom Beanie in Heather Grey, gap.com; Crazy Stripe Gloves in Heather Grey, gap.com; Brushed Turtleneck Pullover Sweater in Neutral Stripe, gap.com; Wireless Headphones, frends.com; Eyeshadow Duo, glossier.com.
For Your Niece Or Nephew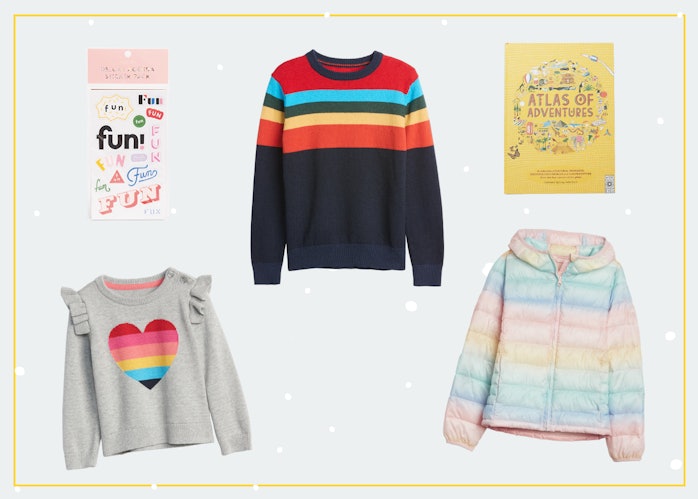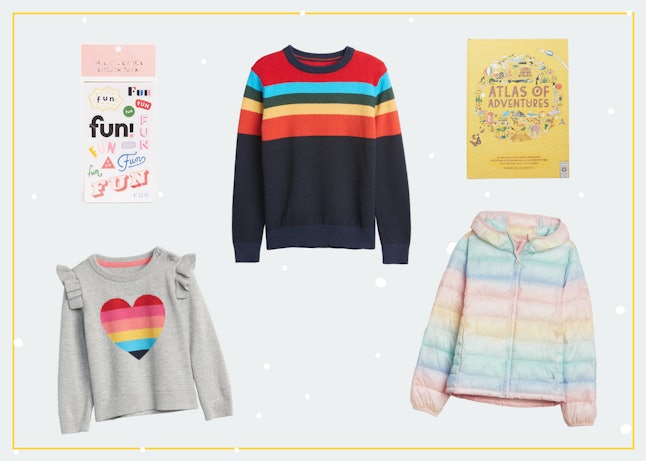 Being the favorite family member is a competitive sport in any family, but with the perfect outerwear pick and a personality-packed sweater (rainbow heart or colorful stripe, anyone?) ready to gift, there will be no contest. Add in a playful sticker set and Atlas of Adventure, and you'll wish you were the one unwrapping these fun picks.
Ruffle Rainbow Heart Sweater in Light Heather Gray, gap.com; Coldcontrol Lite Print Puffer Jacket in Multi, gap.com; Crazy Stripe Pullover Sweater in Crayon True Indigo, gap.com; Atlas of Adventure, anthropologie.com; Sticker Set, shopbop.com.
For Your Sister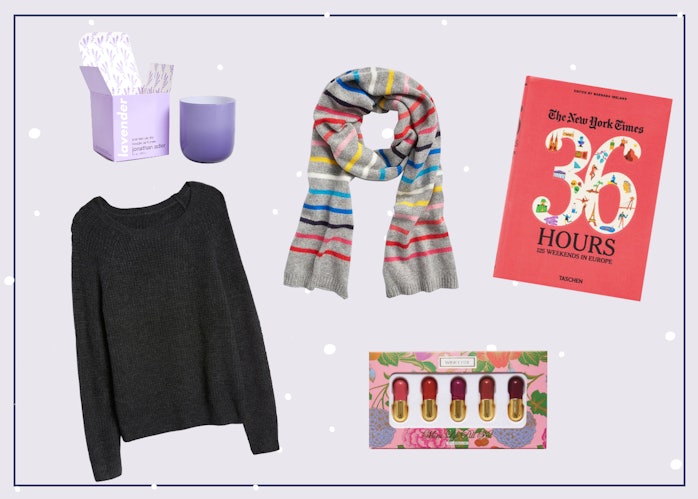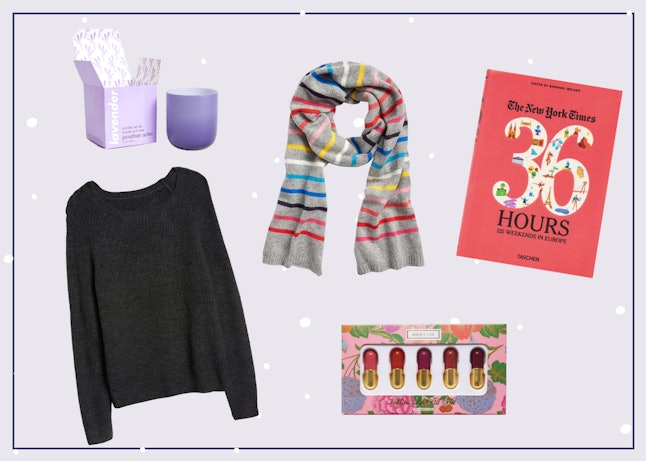 Your sis is always up to date on what's next, just like this sleek waffle-stitch sweatshirt that's forever on-trend and a blanket scarf outfitted in an eye-catching pattern. Lavender candles will keep her space feeling chill, too, especially as she cozies up with 36 Hours in Europe to plan her next getaway.
Waffle Stitch Pullover Sweater in Charcoal Heather, gap.com; Crazy Stripe Scarf in Heather Gray, gap.com; 36 Hours In Europe, needsupply.com; Lavender Pop Candle, jonathanadler.com.
For Your Mom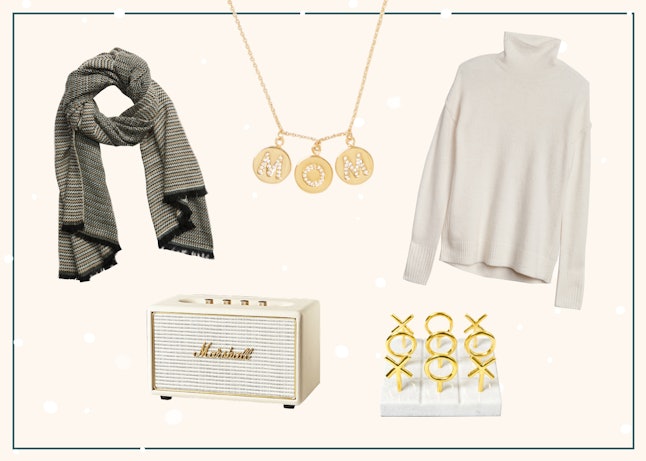 Mom's time-transcending style calls for a neutral palette (think: classic white turtlenecks and cozy chevron fringe scarves) with a side of glamorous rock 'n' roll (rock-ready WiFi speaker and glimmering necklace: check!). Finally, a fancy tic-tac-toe game keeps the fam entertained but looks just as pretty when on display.
Brushed Turtleneck Pullover Sweater in Snow, gap.com; Chevron Fringe Scarf in True Black, gap.com; WiFi Speaker, cb2.com; Brass Tic-Tac-Toe Game, jonathanadler.com; Necklace, katespade.com.
For Your Dad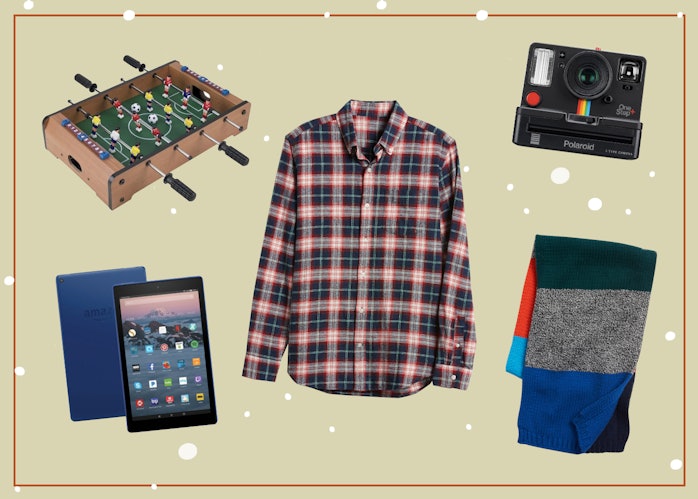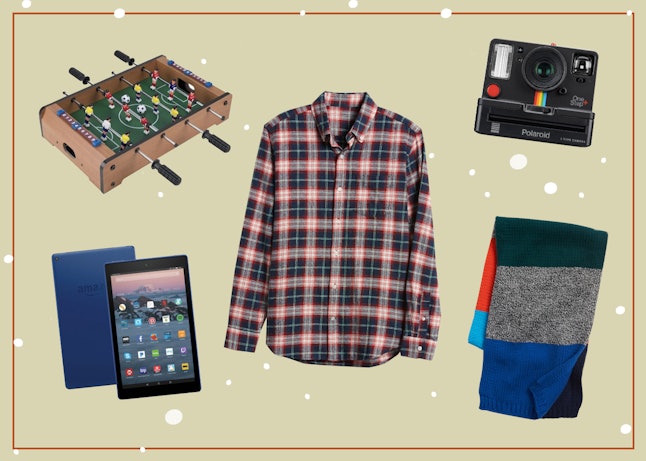 Dad's affinity for flannel meets its ultimate match in this smart shirt, while a color-blocked scarf adds a little saturation to his look. Gift out of the box with a cool Calathea plant that'll brighten his space, and help him capture more memories with an instant camera. Then, make your next family morning together extra-delicious with a waffle maker the whole family will thank you for.
Standard Fit Flannel Pocket Shirt in Red Blue Plaid, gap.com; Colorblock Ribbed Scarf In Multi, gap.com; Instant Camera, polaroid.com; Tabletop Foosball, target.com; Kindle, qvc.com
This post is sponsored by GAP.
Source: Read Full Article