Gather 'round, friends, and celebrate with us this most hallowed of holidays: the 10th anniversary of that time Kanye interrupted Taylor Swift at the VMAs, kicking off a butterfly effect of pop-cultural shenanigans that reverberate to…uh, today, actually. Please join us as we peruse what everyone wore for this special occasion—although, spoiler, only one of those main players was in attendance tonight, and she was an even bigger winner. Kanye, whatever you're wearing tonight, we hope it was cozy.
Most Ready to Head Down to Miami After the Show: Taylor Swift in Versace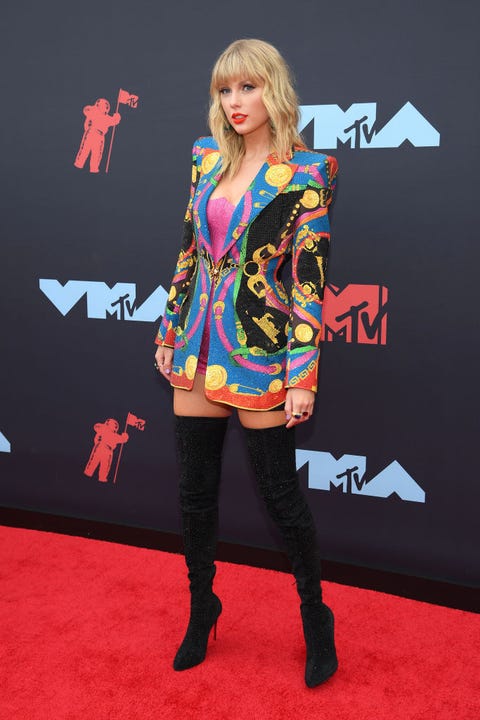 For whatever reason, Taylor's been deeply into '80s-feeling Versace outfits as she promotes Lover. Did she frantically binge The Assassination of Gianni Versace last month? Has she just been kicking around Miami lately? We'll simply never know.
Best Use of a Feather Boa: Lizzo in Moschino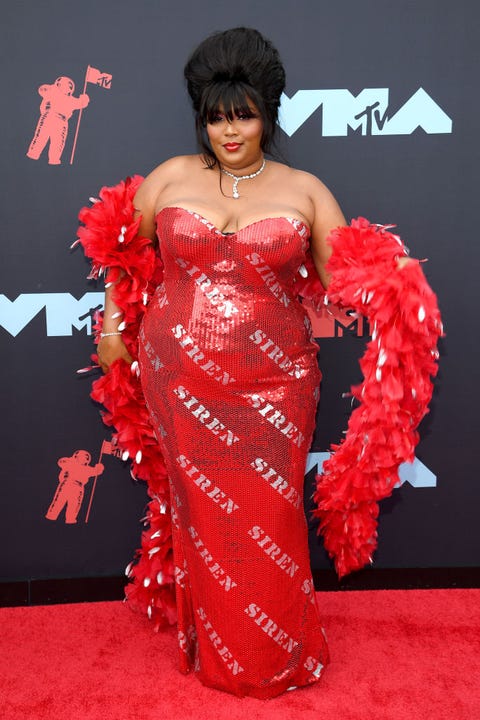 We know she's got a lot on her plate at the moment, but can someone please write a nighttime drama with a role in it for Lizzo, in which she sweeps into a room wearing exactly this, says something devastating, and then wraps her boa around her neck before exiting to a thrilling music sting (which she'll also perform herself, on the flute)? It can even be called Siren. Someone, please, get on this!
Biggest Shrug: Heidi Klum in Nedo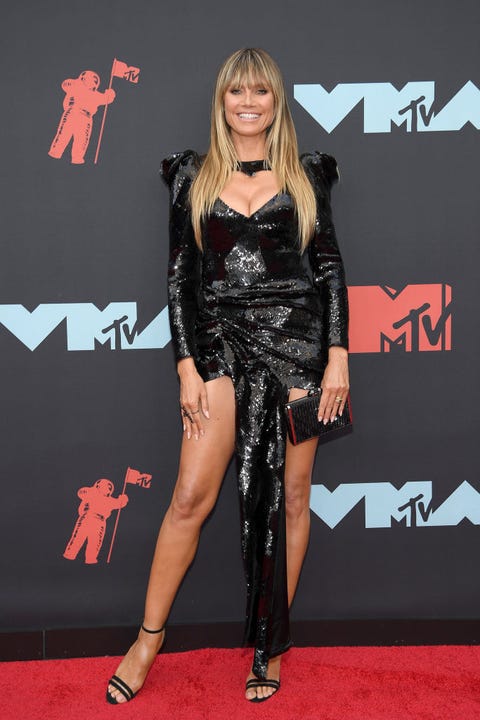 Do you think Heidi is as perplexed as we are by why she's been to three out of the last four VMAs? Presumably, it's so she'll show up and just…do her Heidi Klum thing, and she must agree with that theory, judging by this typically boob-oozing, thigh-flashing ensemble. We would say it'll go in the dictionary under Peak Klum, but it has too much competition to guarantee its inclusion.
Most Bridal: Camila Cabello in Balmain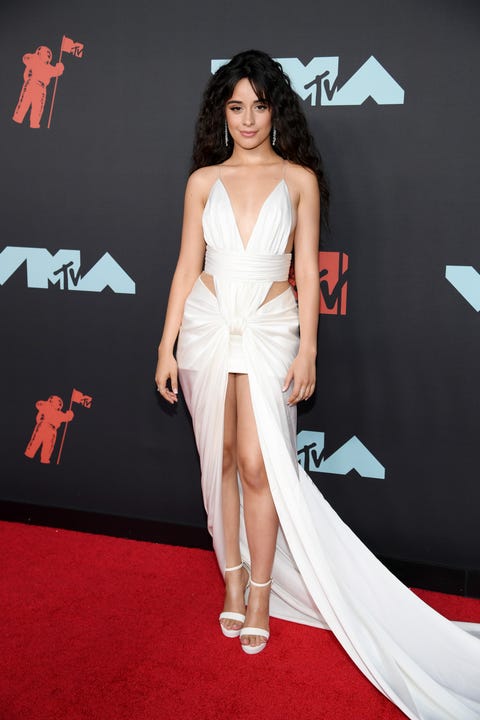 Look, if you were teasing a potential romance with the dude with whom you've recently released a sexy duet, and you were both going to show up at a big event like this one, you'd totally wear a white gown, too, and dare everyone to write wedding commentary. We have taken your clever PR bait, Camila! Point to you!
Best Whimsy: Keke Palmer in Yousef Aljasmi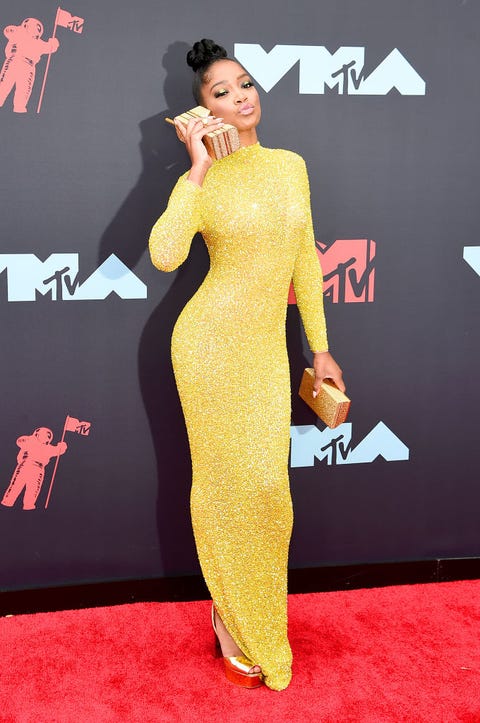 Straight-up, that canary gown looks stellar on Keke. But our favorite touch is the jewel-encrusted brick cell phone. Is it…a bonus purse? Is it real? Does it work? Can she call her friends and scream that she just saw Missy Elliott? And, if so…where can we get one?
Most Angelic: Gigi (in Tom Ford) and Bella Hadid (in Charlotte Knowles)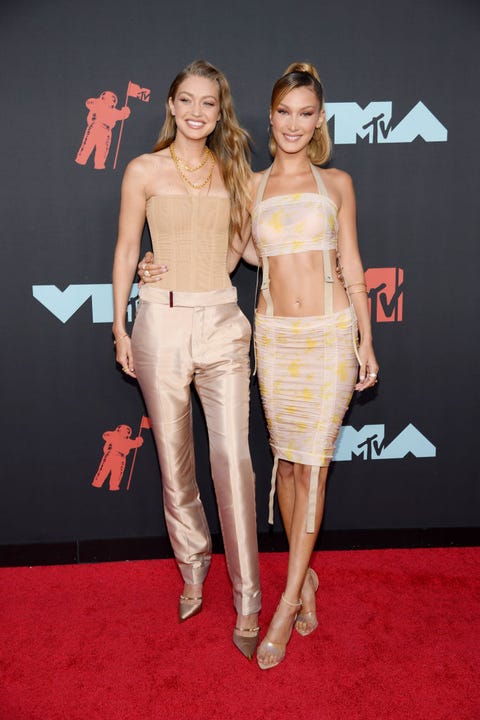 The folks at Victoria's Secret are rethinking their iconic fashion show, and it no longer will be televised. No sweat for the Sisters Hadid, though, who don't need gigs as Angels to step out in something lingerie-inspired.
Best Inspo: 2 Chainz
"Wow, 2 Chainz is testing our resolve not to shop" is not a sentence we expected to write today. We're not entirely sure if that cute swingy coat fits 2 Chainz, but we are wholly convinced it would work on us.
Most Fantastic Pattern: Monica in Libertine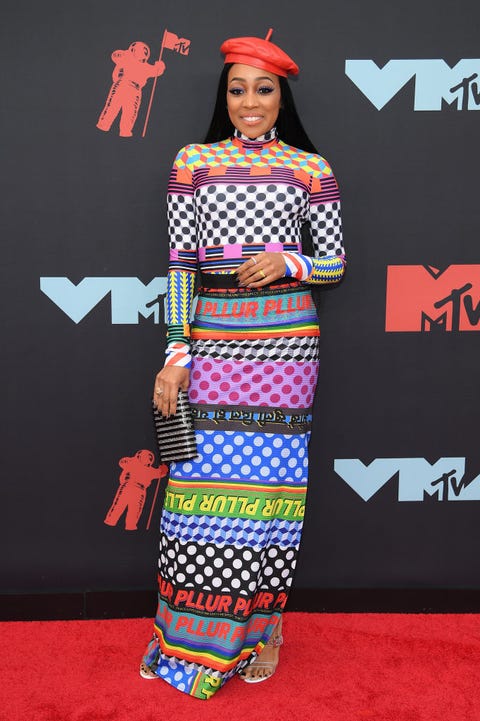 Who cares about the boy? Is there any possible way that this dress could be ours?
The Other Most Fantastic Pattern: Halsey in Dundas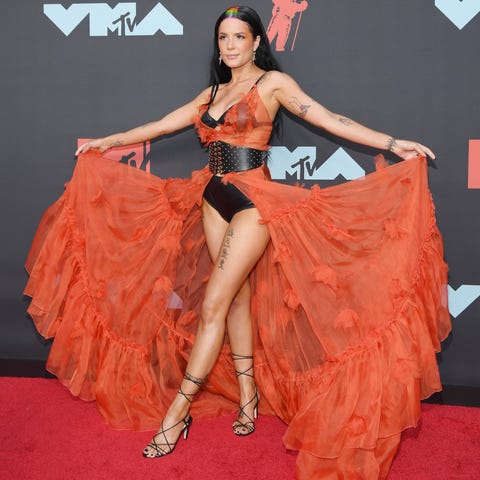 No, we're not talking about her gown. "I'm always kind of classy, kind of naked," she cheerfully told the MTV interviewer, and, truly, that kind of covers all her bases. But we LOVE that she dyed (or just painted?) her part into a Pride rainbow, which certainly is the pot of gold at the end of this look.
Most Costume-y: Diplo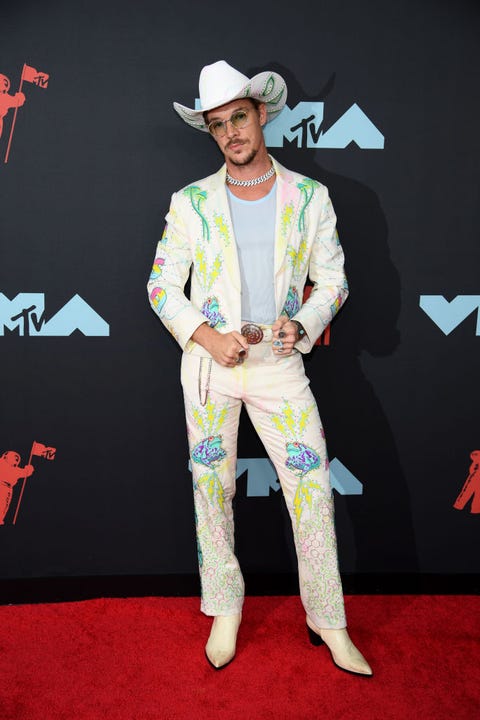 True confession time: We can never really remember what Diplo actually looks like from event to event. But we're pretty sure it hasn't always been High Fashion Cowboy.
Still Having the Hottest Girl Summer: Megan Thee Stallion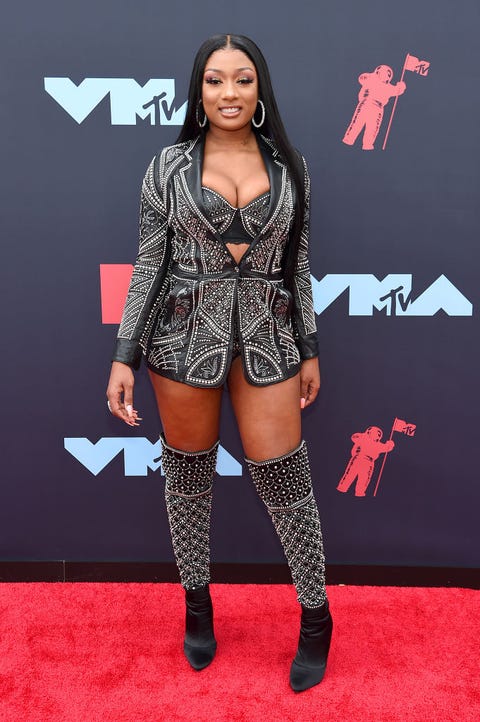 When your hit song is called "Hot Girl Summer" and has inspired a million memes on Twitter, you'd better show up at any and all events looking like you're having one. Mission: accomplished. (Possibly in both the literal and figurative definitions of "hot.")
Most Dramatic Engagement Party: Lindsey Vonn (in Affair) and P.K. Subban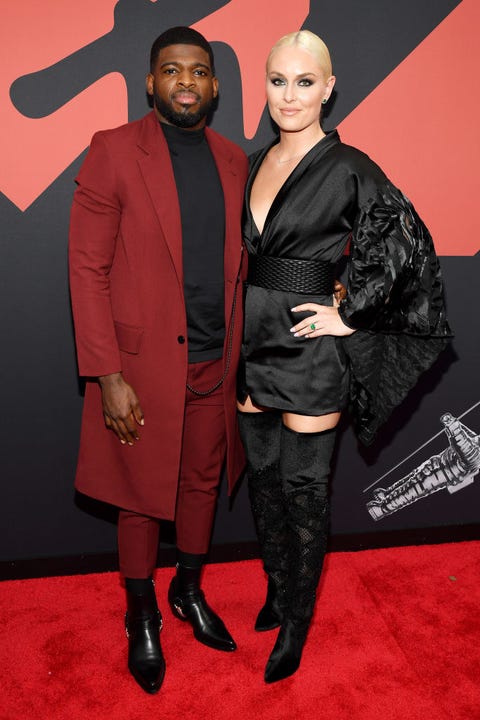 These two just announced they're betrothed, and where better to celebrate than in a place where you can watch Lizzo up-close and in person? P.K. has always had an exuberant sense of style, and Lindsey swings for the fashion fences as fiercely as she skiied; that often backfires on her, but we're strangely attracted to her witchy sleeves.
Most Overeager: Alison Brie in Elie Saab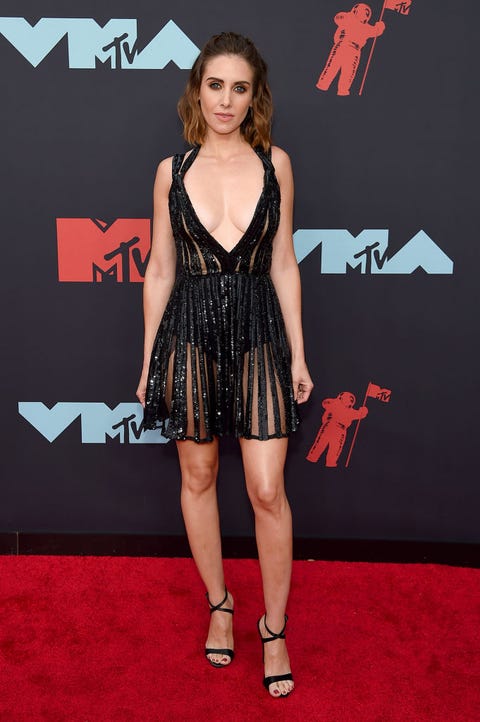 We're probably going to have a LOT of Sexy Maleficents on Halloween this year; apparently Alison just really, really wanted to get there first.
Best Gaga Cosplay: Ava Max in Kaimin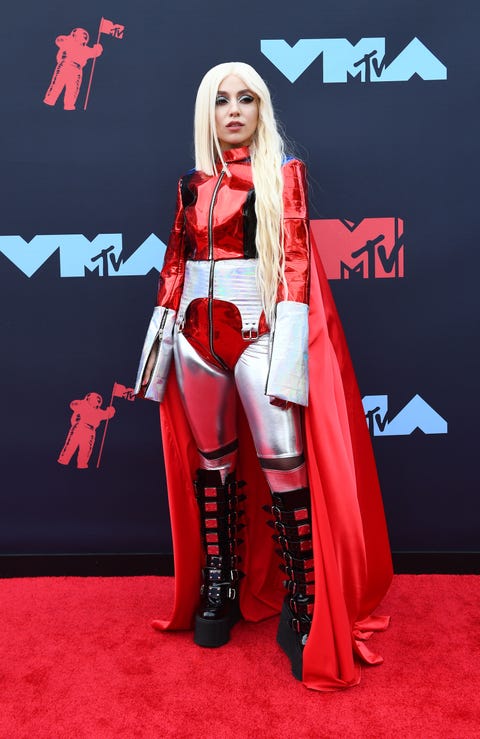 In fairness: This whole thing really feels like a combination of Gaga and the MTV Moonman itself, but when she sang on the pre-show and busted out some vocal runs in those platforms, with her long blonde hair and dramatic eye makeup, it sure FELT like we were supposed to be witnessing the birth of a new star (but same as the old star).
Best Lenny Kravitz Cosplay: Lenny Kravitz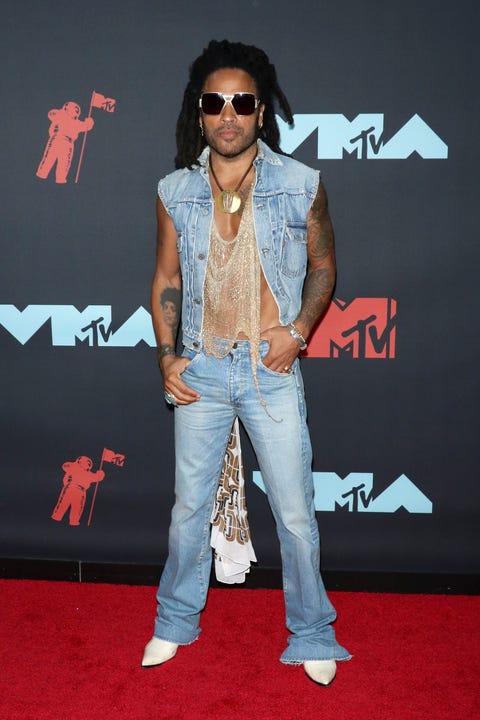 The Amazon is burning, and the glaciers are melting, but one constant on which we can always rely: Lenny Kravitz will wear flared denim, a vest, and a torn piece of metallic mesh pretending to be a shirt. His brand is apparently forever. Thank god.
Visit the Fug Girls on their website or follow them on Twitter. Their book, The Royal We, is available here.
Source: Read Full Article