While you're busy decorating your house with tinsel and swapping out your evening glass of wine with eggnog, you might also be planning your ugly holiday sweater lineup for this year's round of holiday parties. Well, look no further than the Ariana Grande and Cardi B ugly holiday sweaters this season, because they are sure to be the biggest hit at any shindig.
While rocking kitschy reindeer and drunken Santas is always a crowd pleaser anywhere from a 12 Days of Christmas pub crawl to a family sit-down dinner, the celeb-oriented holiday sweaters bring something a little different to the table and are a little more pop culture oriented. While everyone else is putting on knits filled with ornaments and jingle bells, you can take a fair isle sweater with Cardi's signature cat eye sunglasses and be the most memorable person at the party.
If you're ready to trade in your elf references for some music world realness, then head over to IdeasByArianna (carrying sizes S Men's – 4X Men's,) an Etsy shop based in Seattle full of irreverent knits and celeb-focused products. In total, it has 31 items under the "Ugly Sweaters" category, giving you plenty of choices to pick the one you like the most.
Usually costing around $49, right now the shop has a 30 percent off sale and you can nab one of these pieces for an affordable $34. Plus, in honor of the holiday season, 10 percent of the purchases will go directly to Projeto Vida Corrida, which supports children in need in Capão Redondo, Brazil. Shop some of its picks below.
Ariana Grande Ugly Christmas Thank You Next Sweater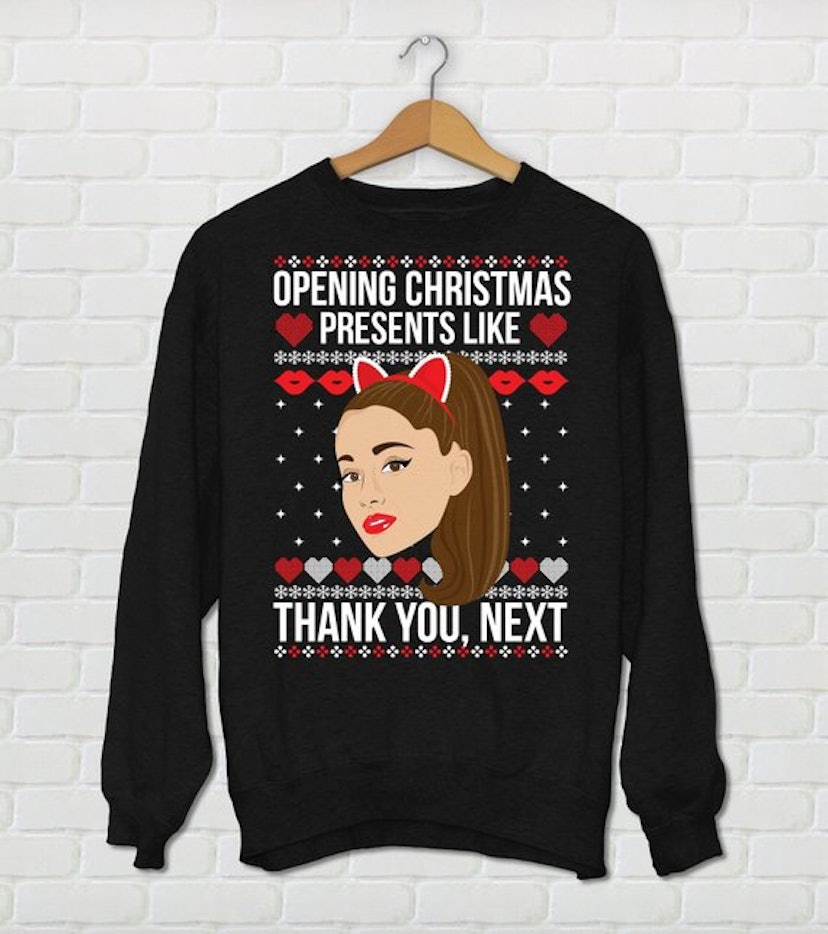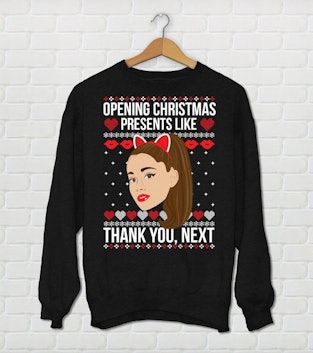 Ariana Grande Ugly Christmas Thank You Next Sweater
$34
Etsy
Usually $49 but now 30 percent off at $34, you can now nab this Ariana Grande sweater for $14 less. Featuring lyrics from her newest hit single, the sweater reads "Opening Christmas Presents Like, Thank You, Next." It has a floating Grande head in the middle with the artist's signature high pony tail and cat ears, along with some fair isle-like stitching consisting of hearts, kisses, and snowflakes. While it's a cute pick for a holiday party, it would also be a hilarious present for a pop lover on your gift-list.
Unisex Cardi B Christmas Sweater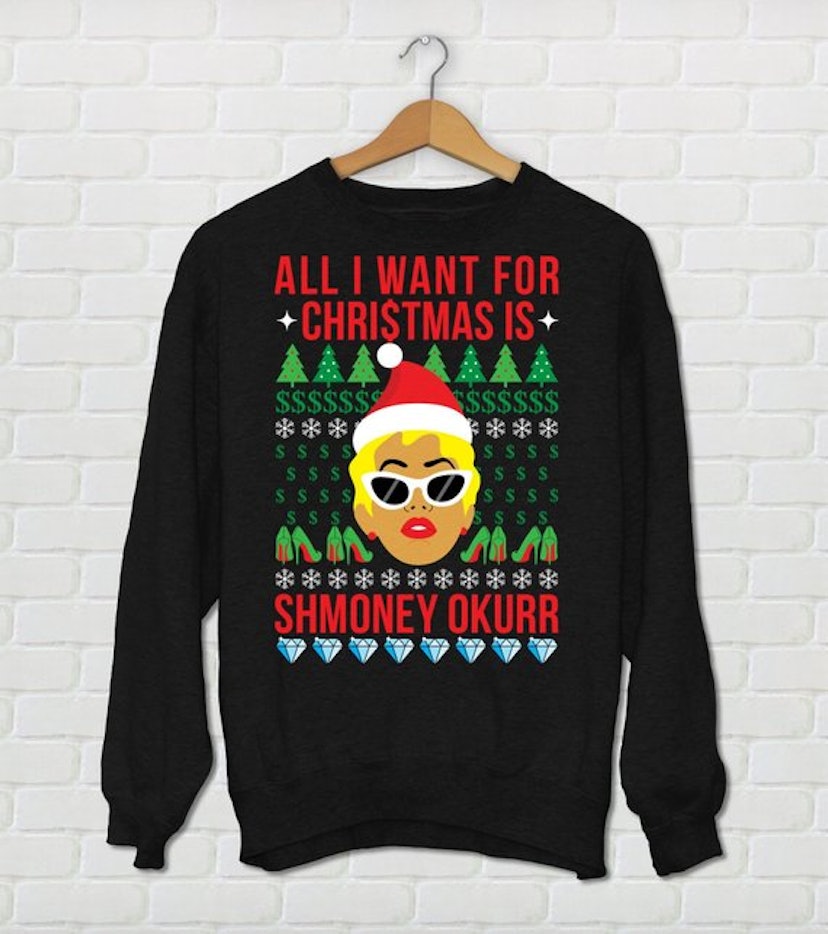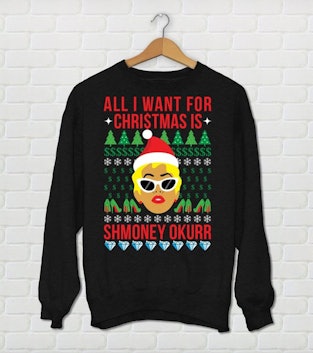 Unisex Cardi B Christmas Sweater
$34
Etsy
Rep everyone's favorite fashionista-slash-rapper this season with a Cardi B knit. Featuring the phrase "All I Want For Christmas Is Smoney Okurr," it not only captures the artist's trademark personality, but catches all of our quest to stop being broke. It takes her image from her Invasion of Privacy album, and added in a Santa hat, a plethora of Christmas trees, and dollar signs, diamonds, and Cardi's beloved Louboutin shoes.
Santa Do You Love Me? Drake Sweater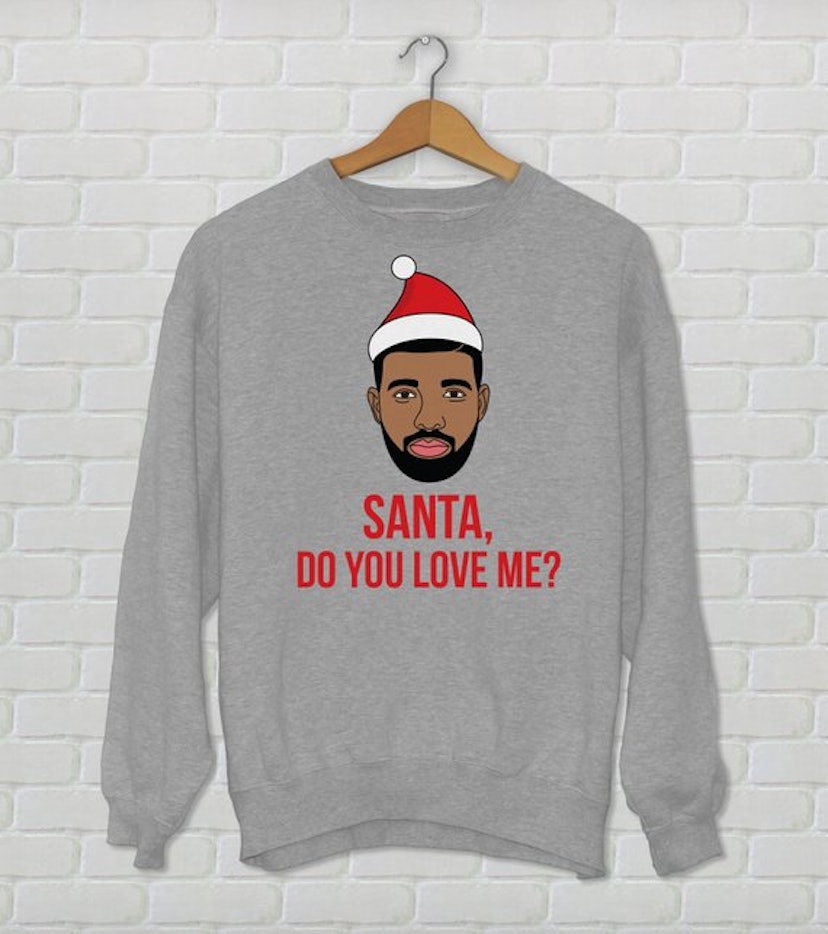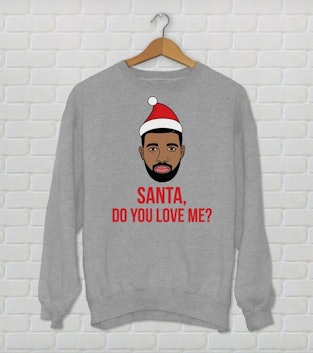 Santa Do You Love Me? Drake Sweater
$34
Etsy
Riffing off of the "Kiki, Do You Love Me?" Drake hit of 2018, this grey crewneck features a floating Drake head topped off with a Santa hat and the words, "Santa, Do you Love Me?"
Up your Ugly Sweater game this year and dress up with one of these pop culture icons this season.
Source: Read Full Article