Scott Petinga was only 31 when he received news of something he did not see coming: testicular cancer. It's something most guys aren't prepared to hear, but could really happen to anyone. "No one ever taught me the importance of conducting a monthly self-exam," he says.
Now armed with his own underwear company, his journey has led him on a mission to educate guys about their health—with good reason.
At 46, he still finds himself in and out of healthcare facilities every other month, even though he's been in remission for 14 years (due to all the treatment it took to eradicate the cancer). For many Americans, he says, the exorbitant costs associated with severe medical conditions is a heartbreaking reality. He's also vocal about how underfunded so many rare diseases are. So in order to get better, Scott had to fund his own medical research with his life savings. "As a [then] 40-year-old, it's something that no person should have to do, to use every dollar you've ever worked for to make sure you actually wake up the next day," he says.
This led Scott to look at people like Bono (who co-founded Product Red) and try to replicate what they've done. "I'm a huge proponent of taking normal, everyday products, specifically men's products, and use the proceeds to fund innovative medical research in underserved areas of medicine," he says. And from these seeds, a new idea was planted and Pariah Underwear was born.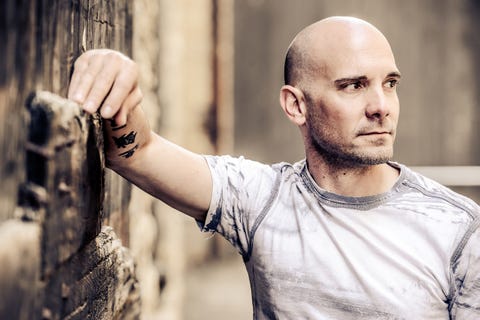 Scott Petinga

Courtesy
To Scott, the most important part of his underwear brand is and will always be the philanthropic aspect. He gives 50% of all proceeds away to charities that are distributed through the TH!NK DIFFERENT FOUNDATION — an organization that provides grants and program support designed to improve underserved areas of healthcare in the U.S. And as a fair trade underwear business, the facilities used treat the workers the same way Scott says he would treat his workers here in the U.S. Along with fair wages and hours, the company is vegan-based in all their materials. "We are truly changing the way underwear is thought about, made, developed, manufactured and distributed," he says.
Every box of underwear contains a testicular self-exam flyer, a message that "all men need to hear," reads the website. "Since society has failed to educate men on the importance of monthly self-exams we decided we needed to do it ourselves," it states.
In addition to the ethical and philanthropic aspects of Pariah, Scott boldly claims that it's the most comfortable underwear you'll ever own. According to the site, their fabric won't dig in, bunch up, slid, twist or move. "It's as close to going Commando as one can go," it states. Not only that, but Scott says they use a proprietary fabric called CoolClean that literally repels 99.9% of germ and odors.
Everybody thinks they're invincible, until they get a life-altering disease.
Scott makes it a point to note that he never sought out to make an underwear brand and make money. He had initially reached out to every underwear company because of a nonprofit he created called Cacti, whose mission is essentially to create awareness about how important it is to do a monthly self-exam. "All I wanted to do was to get my little pamphlet about how to conduct it in every pair of men's underwear out there, and nobody would do it," he says. "Because it would either increase the price of the underwear a few pennies or it would reduce shareholder value by a few pennies."
Eventually, he got to feel a little bit irritated that these companies were putting profits over people, which is when he finally decided to do something about it. "What's interesting is, I'm willing to get any underwear brand my flyer to put in there, because it's not about me selling underwear," he says. "It's about every guy in America between the ages of 15 and 40 knowing that once a month, they need to take two minutes in the shower to make sure they're okay." And for Scott, the same sentiment applies to the medical side. "If every company could just give a little bit of money off of every product just like Product Red does, if we start putting the massive amounts (billions of dollars) that shareholders are making back into making civilization a better place, how amazing is that?"
While not everyone may have gone through a difficult medical condition like Scott, he's nonetheless committed to making sure guys are informed and educated about their health. "Everybody thinks they're invincible, until they have a life-altering disease or situation," he says. "Our proceeds are not to get anybody rich, or to appease shareholders. It's truly to save the world at the end of the day."
Source: Read Full Article