Designer Philipp Plein showcased his fall/winter '20 runway show in Milan last Friday featuring his usual over the top fashion including leopard print gowns, neon hoodies, and sheer, lace minis. But also included in the mix were models who wore purple and yellow jerseys featuring the late Kobe Bryant's number "24" and the word "Plein" written above it.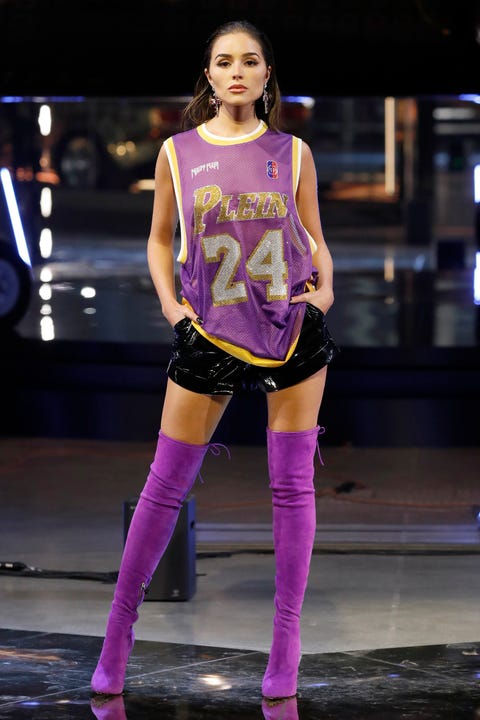 It's been almost a month since Bryant, his daughter Gianna, and seven others tragically died in a helicopter crash is Los Angeles on their way to a basketball game. (There is a public memorial scheduled today at the Staples Center.) The runway show also featured gold helicopters in the background, which Twitter immediately called out as "distasteful."
distasteful, tacky & material waste. philipp plein who has so long been making clothing that adds nothing but clutter to the fashion landscape has decided to include gold helicopters along his crystal basketball jerseys after the passing of kobe & gianna bryant. its disgusting. pic.twitter.com/zvFq4oU5gG
this is disappointing, distasteful, and disrespectful .Philipp Plein making a "tribute" to Kobe Bryant by featuring a gold helicopter and tastelessly placing his name all over lakers style jerseys with kobe's number. I am actually shocked. pic.twitter.com/AD4gBjY0zm
Philipp Plein made two gold helicopters for his show today, which falls 27 days after Kobe died in a helicopter crash
➖
BUT DONT WORRY he whipped up a bunch of Swarovski Kobe jerseys (with "Plein" written on them??) so it's cool.
➖
Fuck you, Philipp. pic.twitter.com/UHjbubXuG9
Philipp Plein is nothing but a culture vulture & uncreative designer; he knows exactly what he's doing
I wish we would all collectively just ignore him, & the many like him, instead giving them the exact reaction they want when they do something offensive…every. single. time. https://t.co/Kf90MBiGzN
Items from the runway collection are now available on the designer's website, featuring a bedazzled purple jersey listed for $2,070 and a sparkly sweatshirt variation listed for $3,150. According to the site and Plein's Instagram post, sales from the collection will support the Mamba & Mambacita Sports Foundation, but it is unclear how much is being donated from each purchase.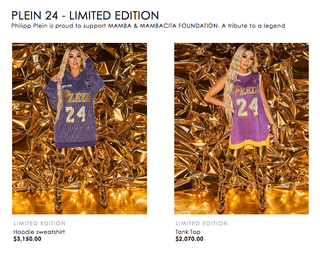 Bloggers and celebrities also walked the show including Gigi Gorgeous, Nikita Dragun, Olivia Culpo, and Jada Pinkett Smith, who also appeared alongside Plein at the finale.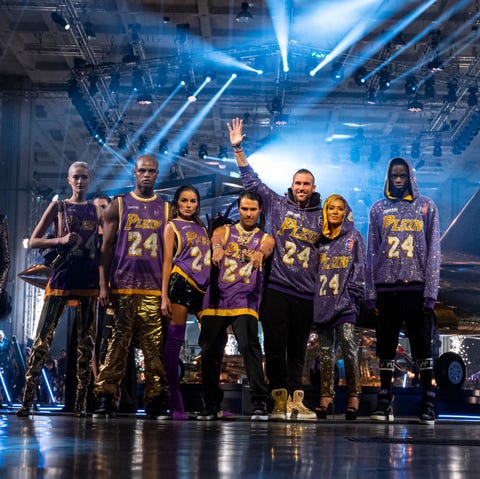 Source: Read Full Article