If there's anything I love more than the holiday season, it's the food that comes right along with it. This year, I've set an intention to contribute at least one dish per celebration, since I'm sure even the hostess with the mostest appreciates a little help every now and then. That, and, IMO, Buddy the Elf has it all wrong. The best way to spread Christmas cheer isn't through cheesy jingles, but instead, maybe some cheesy bread or hollow chocolate Santas. You might not realize it, but Christmas foods make great gifts because, not only does everyone appreciate food, these decadent treats only come around once a year. The more opportunities to indulge, the better, amirite?
If you're having a hard time coming up with gift ideas for your holiday's hostess, or really just anyone with an appetite, you really can never go wrong with food. There are also just so many routes you can take with this type of present, so you can easily please everyone's tastebuds and save money doing so. If you're a baker, pop into the kitchen and whip up a batch of holiday cookies. If anything that involves an oven just isn't your forte, that's what store-bought goodies are for.
Trust me, friends, you don't have to be Betty Crocker to give the gift of good eats. Here are a few edible ideas your loved ones are sure to enjoy.
A Case Of Caffeine For The Coffee Connoisseur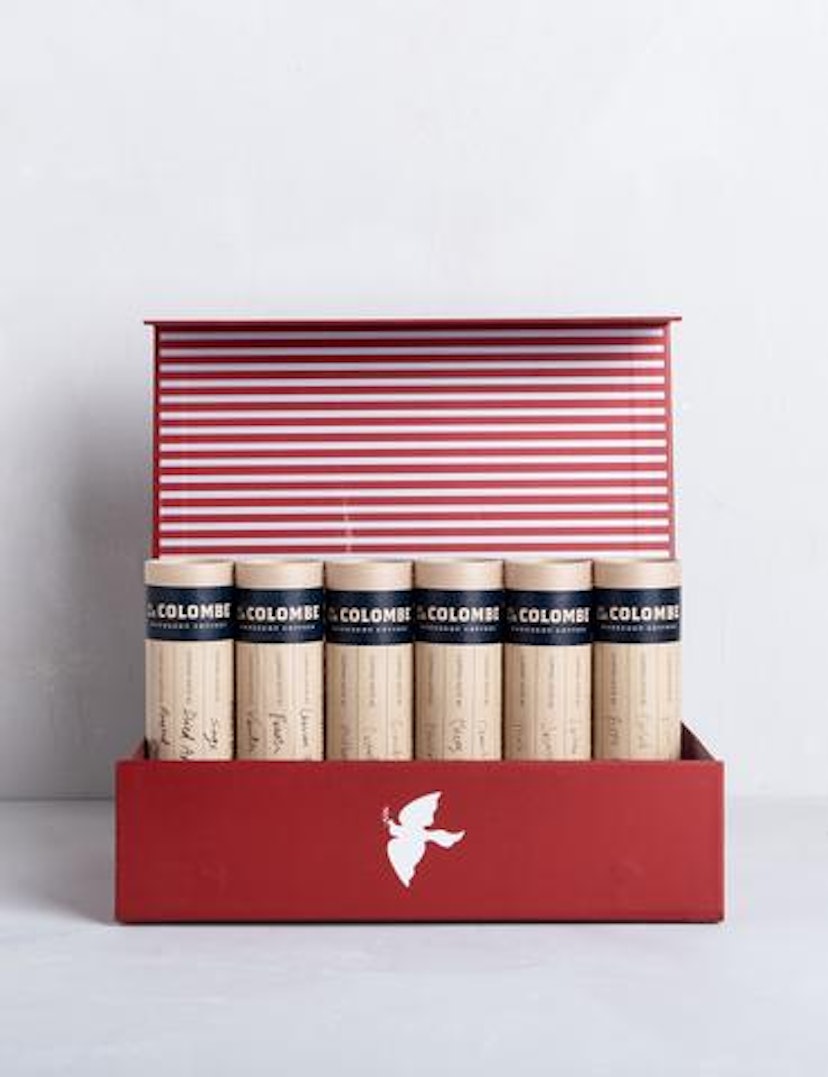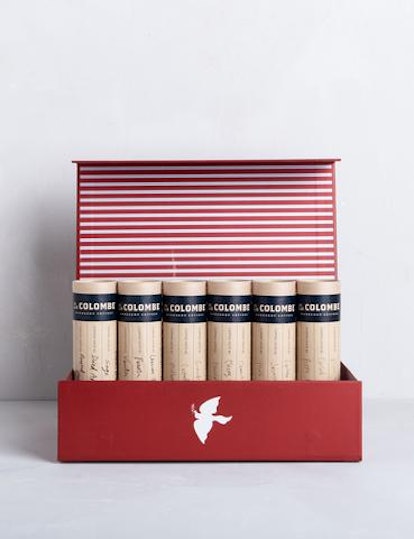 La Colombe Workshop Sampler Gift Box
$30
La Colombe
They must have coffee in Santa's workshop right? For the loved one or hostess who fancies themselves a coffee connoisseur, give them the gift of caffeine and you might just earn yourself a cup during the after-party if you stay to help clear the dishes.
La Colombe's Workshop sampler box is fancy, affordable, and introduces the lucky recipient to six artisan light roasts from around the globe, including Costa Rica's San Ramon Honey brew, Ethiopia's Guji Natural, and Mexico Sierra Sur, which boasts notes of rose and kiwi.
Think of it this way: Party hosts are bound to run out of beans eventually. This clever gift gives them extra stock — though I highly doubt they'll want to share.
Make Cocoa-In-A-Jar For Your Favorite Chocolate Lover
Am I the only one who remembers the internet's (specifically Pinterest's) obsession with packing all the food and pouring all the drinks into mason jars? My mom and I were super into the trend, but one DIY recipe that still sticks out to this very day is hot chocolate-in-a-jar.
The idea here is that you've equipped your recipient with everything they need to make the most decadent mug full of hot cocoa, and the best part is, you can be creative and experiment with different flavors. Just make sure, if you're going to get crafty, you at least do your loved one a solid and taste-test your creation before handing it out as a present.
Splurge On A Festive Box Of Seasonal Chocolate Candies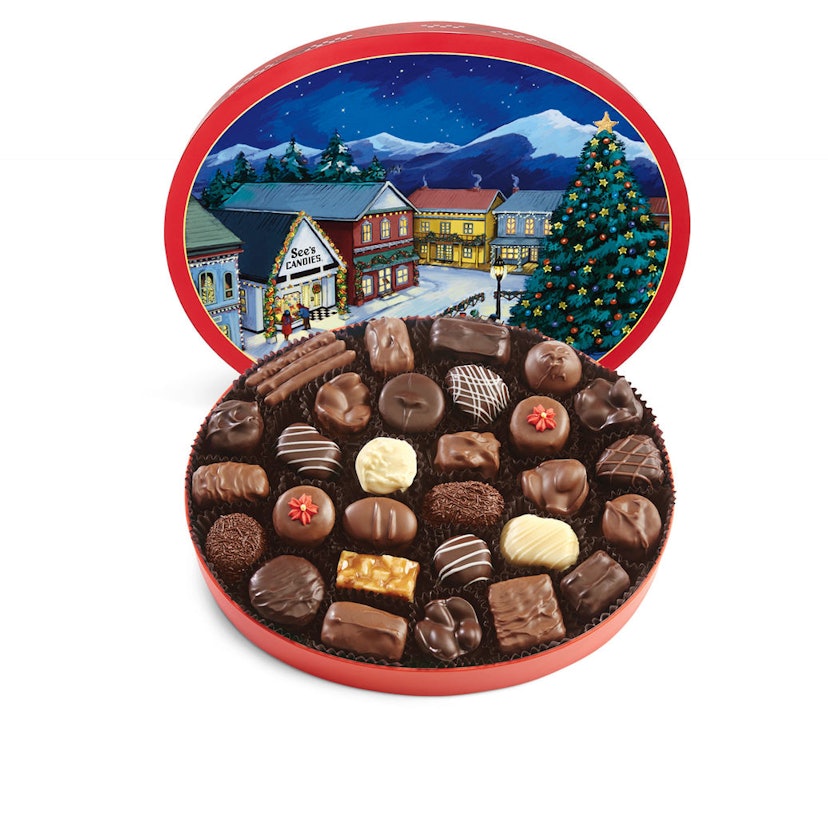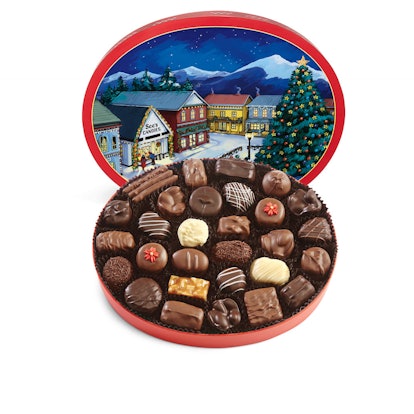 See's Candies Christmas Memories Box
$37.50
See's Candies
What's a Christmas celebration without a little chocolate? For me, not much of a party, that's for sure. Christmastime means fancy truffles and candies oozing caramel and coconut fillings, and if your loved one loves chocolate, they'll gush over See's Candies' assortment.
For me, upwards of $20 is pricey for a box of chocolates, but See's Candies are practically gourmet, boasting rich milk, dark, and white chocolate treats overflowing with different nuts and creams. Plus, the festive tin comes embossed with a winter scene so lovely, your recipient can use it as decoration or a storage box for Christmas cards once all the goodies have been eaten.
Bake A Batch Of Cookies With Love
FYI, your loved ones don't have to be vegan to receive a dozen of these mouth-watering treats from food blogger Liv B's recipe box. I stumbled upon this video by chance a few years back during my plant-based transition, and never have I ever tasted a cruelty-free cookie quite like her chocolate hazelnut recipe.
This video specifically provides you with three cookie recipes to choose from (snickerdoodle, chocolate hazelnut, and salted chocolate pretzel), but if you search around the internet, there are tons of easy how-to's to follow, so even if you don't fancy yourself a star baker, you can easily whip up a batch of baked goodies to give out as gifts this holiday season.
Peppermint Bark Thins Are A Seasonal Delight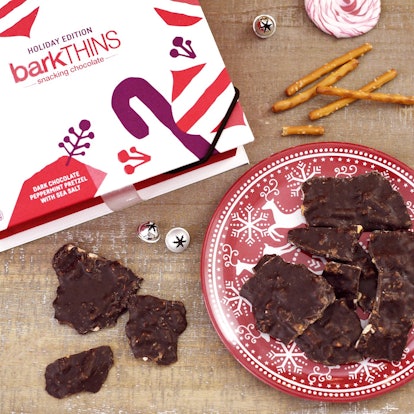 barkThins Dark Chocolate Christmas Gift Box
$8.99
Target
Chocolate and peppermint go together almost as seamlessly as chocolate and peanut butter (almost). I know myself, and once the holiday season rolls around, I'm bolting to the nearest Starbucks to pick up a hot peppermint mocha. 'Tis the season for choco-minty goodness, after all.
One of the best peppermint barks out there is barkThins' spin on the traditional snack. These clusters are literally just chunks of pretzels covered in smooth dark, peppermint chocolate, and sprinkled with sea salt. What more could you possible crave around the holidays?
How About A Festive Bottle Of Booze?
My husband and I started making themed drinks for all of our parties, and now our family members know, if they're coming to a Guerra fiesta, there's going to be some sort of festive cocktail to cheers with.
When my sister asked if we could whip up a pitcher of sangria to bring to a party she was hosting, it occurred to me that bring home-mixed booze is the perfect gift for any occasion, especially around the holidays. I suggest whipping up a pitcher of holiday sangria, pouring it into a glass bottle (like this one from Sur La Table), adding a bow, and gifting it to your hostess.
Harry Potter Treats For The Holidays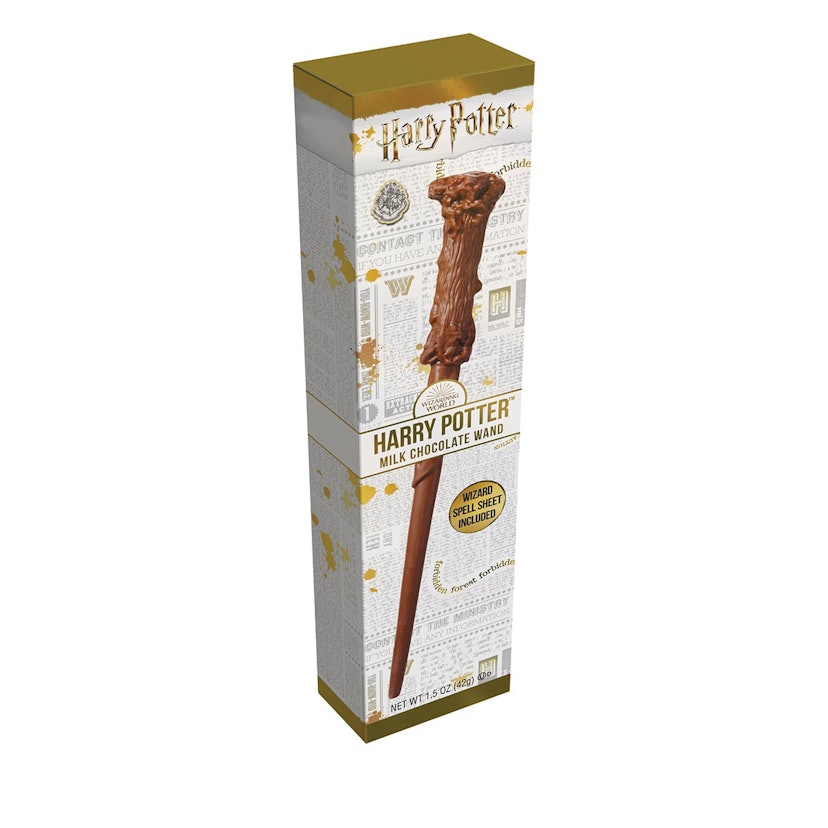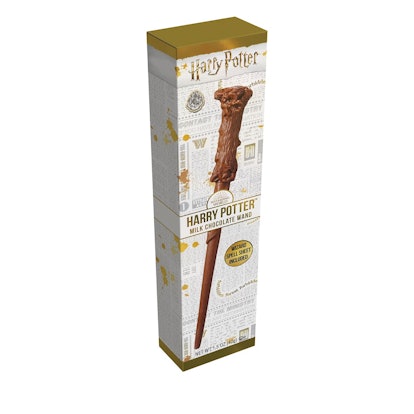 Jelly Belly Harry Potter Chocolate Wand
$10.79
Jelly Belly
Every year, like clockwork, Dec. 1 rolls around and I am almost instantly nostalgic for Harry Potter. Why I associate jolly ol' St. Nick with Mr. Potter around the holiday season, I'm not entirely sure. Maybe it's because this was the time of year when both of my parents had off from work and we'd watch the films together, or perhaps it's because Freeform marathons the heck out of the series multiple times throughout the holidays — whatever the case, Christmastime is here, and I'm looking to get a taste of the wizarding world pronto.
If the person you're treating this Christmas is also a Potterhead, check out Jelly Belly's line of character wands, designed to mirror the exact wands that Harry, Hermione, and Ron held onto through Hogwarts. Yum.
Make Cookie Pops Festive For 2018
IMO, cake pops are overrated. But cookie pops? Now those are some treats that deserve more attention around the holiday season. If you're feeling creative, and have time to spare to get a little crafty, why not give these Christmas Oreo pops a try? They're festive, unique, and everyone loves an Oreo. They're also vegan-friendly, so if you have any plant-based friends attending the party, they can join in on the fun.
A Holiday Tea To Sip And Soothe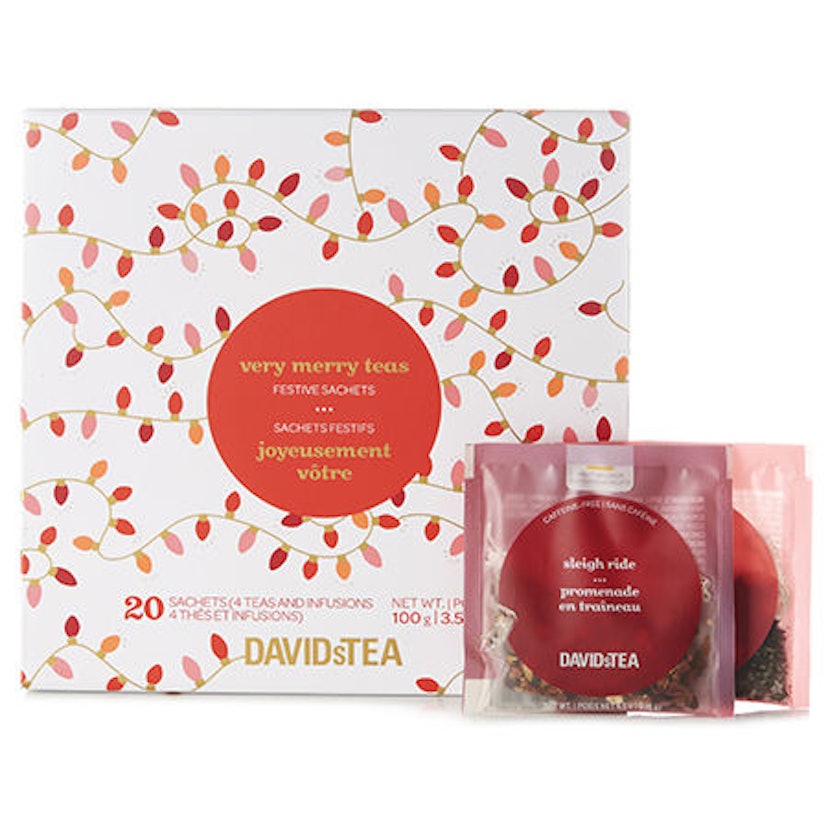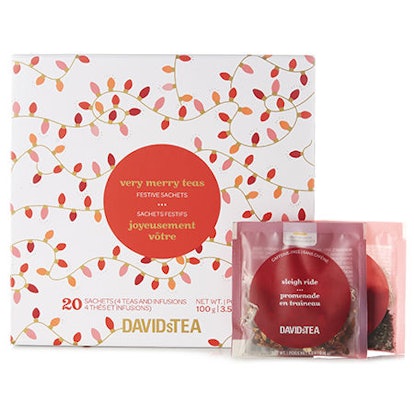 DAVIDsTEA Very Merry Teas Mini Sachet Tea Chest
$20
DAVIDsTea
The holiday season is super busy, and it can be an incredibly stressful time of year. If you know one of your loved ones gets particularly anxious around Christmas, gifting them a tea chest full of limited-edition winter brews to sip and unwind with after they've finished shopping and wrapping might bring more solace than you'd think.
Source: Read Full Article