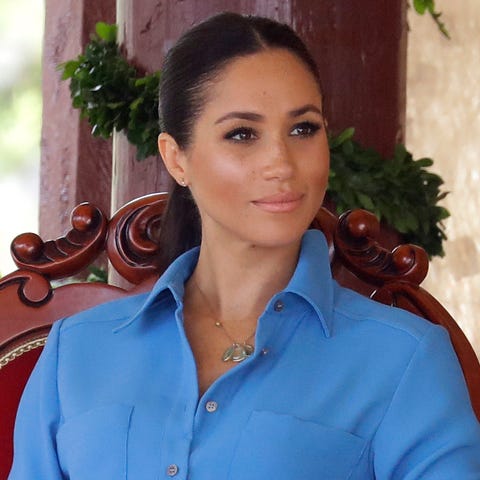 Earlier this week, Kensington Palace released Meghan Markle and Prince Harry's Christmas card, and it's a lovely picture of them gazing at a fireworks display during their wedding reception.
View this post on Instagram
The Duke and Duchess of Sussex are delighted to share a new photograph from their Wedding Reception at Frogmore House on 19th May. The photograph, which was taken by photographer Chris Allerton, features on Their Royal Highnesses' Christmas card this year.
A post shared by Kensington Palace (@kensingtonroyal) on
The photo gives off a super candid vibe thanks to the fact that Meghan and Harry clearly aren't posing, and honestly there's nothing to complain about. Unless you're Meghan's half-sister Samantha Markle, who has a lot of complaints!!!! As usual!!!
Samantha hit Twitter to respond to Kensington Palace, writing "Interesting that the Duke and Duchess of Sussex have their backs turned. Is this towards the world or just the Ragland and Markle family? It's a bit sad. Face the Christmas spirit."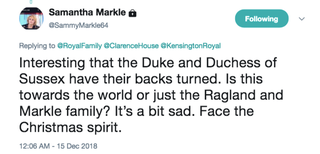 Twitter
Er, it's doubtful that Meghan and Harry had some secret agenda while picking this photo for their Christmas card, but Samantha's offended nonetheless. "It's incredibly rude to turn your back in a Christmas photo that is meant to share warmth and good wishes with the world," she wrote in another tweet. "Those. that criticize me for pointing out the truth, need to get that brown stuff off their noses. I hear the worlds smallest violin playing."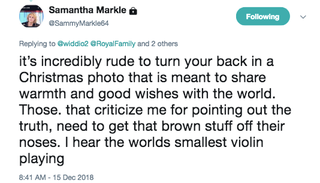 Twitter
No words, only Gifs:
From: Cosmopolitan US
Source: Read Full Article