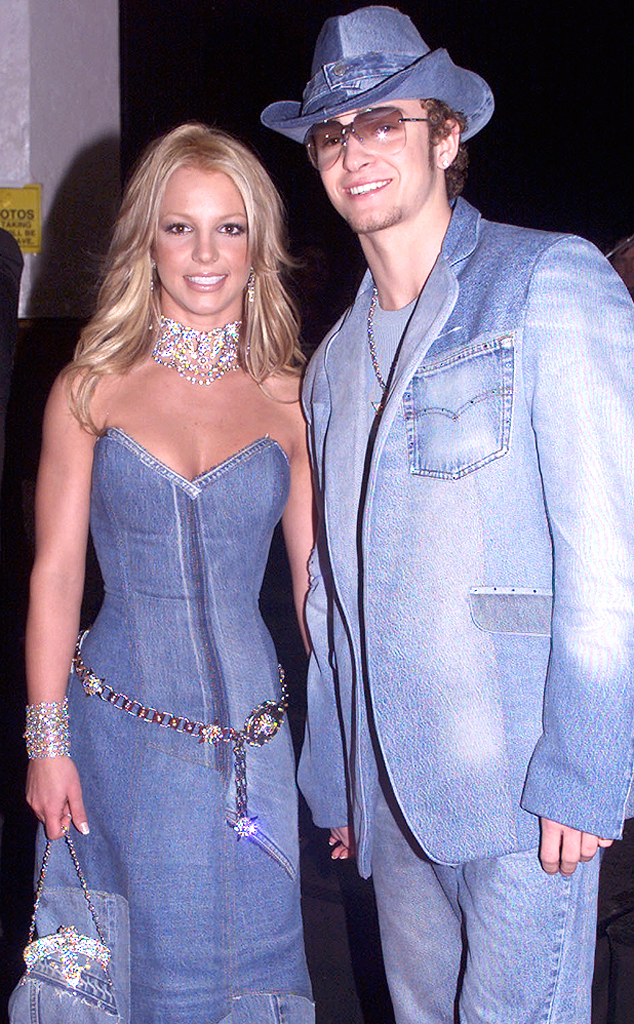 REUTERS/Rose Prouser
Before we begin, let's take a moment of silence to reflect and remember those pop culture moments that came before us. Jump in a time capsule or take a Throwback Tuesday and look back at one year in particular in the early 2000s: 2001. We survived Y2K, so why not go all out one year later?
That momentous year, Hilary Duff became the most relatable teen when Lizzie McGuire premiered (Gordo, where art thou?), Russell Crowe won an Oscar for Gladiator, Shrek came out and made us question talking donkeys around the world and last but not least, Britney Spears and Justin Timberlake debuted their iconic denim-on-denim-on-denim-on-denim outfits to the world.
18 years ago today, The Mickey Mouse Club co-stars and popstar couple strutted their best (denim) stuff at the 2001 American Music Awards and forever changed what it means to have a red carpet moment.
There's so much to say about their sartorial decisions, yet words can hardly do it justice.
Let's start with the "…Baby One More Time" singer. Who knew denim could be made into a cocktail dress? No one, until Britney proved us all wrong.
Her strapless dress was tight on top and flowed elegantly to the ground. The bottom of the dress was filled with various shades of blue jean, almost making it seem like the outfit could really work as a day-to-night piece. Her diamond and silver studded belt sat loosely around her hips and matched perfectly with her purse, which was also denim with a sparkly strap.
But we can't discuss the dress without mentioning her accessories. Oh yes, the accessories. She rocked a thick V-shaped choker (screaming early 2000s vibes) and mirrored it with a crystal clasp bracelet around her wrist.
This entire get-up will go down in history as one of the most unforgettable till the end of time.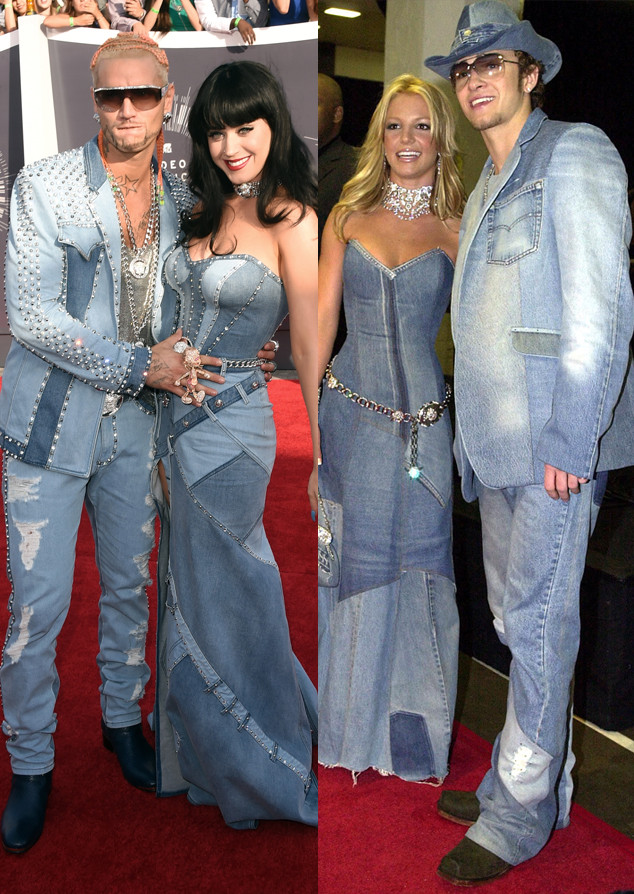 Jason Merritt/LUCY NICHOLSON/Getty Images
Lest we forget Justin? Never.
His Canadian tuxedo was well-accessorized, too, and consisted of more separate pieces. Starting from the top down, there was the dark blue fedora/cowboy hat/all of the above because it can't even fit into one category of hat. The "ribbon" of the cap was made from a jean's waist with the button facing forward. Then, his ill-tinted glasses had a brown-purple hue to it and were clearly more for fashion's sake than sun protection.
His outer layer completely redefined what it means to wear a jean jacket. The Levi's coat looked like a blazer mixed with a sport coat. Unclear if the pocket flap led to an actual pocket (probably not).
His diamond necklace shimmered in the light and was made of the same material as his girlfriend's jewelry.
The "Sexy Back" singer's shirt didn't look like denim material, but camouflaged nicely enough with the rest of the outfit.
Oh, those pants. Are these the jeans that launched a thousand lookalikes?
The bottoms were possibly created out of at least two different pairs of jeans. They were various shades of blue and filled with silver studs on top. The pants flowed and creased all the way down to his brown boots.
Over the years, some celebrities attempted to pay homage to the couple by wearing double denim outfits on the red carpet. For instance, Katy Perry wore a strapless denim dress to the 2014 MTV Video Music Awards and walked the carpet with Riff Raff, who wore a matching suit.
The "Toxic" singer later praised Perry for her decision to pay tribute to her. "Just when I thought the denim dress had retired….you bring it back! You looked amazing tonight bb ;)," she tweeted.
While a full throttle joutfit might raise some eyebrows nowadays, we'll never hold it against Britney and Justin for doing it.
Don't miss E! News every weeknight at 7, only on E!
Source: Read Full Article