If you've never been to a NASCAR race in the dead center of summer, sweat dripping down your back and soaking the seat of your blue jeans, let me set the scene.
It is hot, it is fast, and it is loud.
How hot? Today, it's roughly 95 degrees Fahrenheit in and around the steaming asphalt oval of the New Hampshire Motor Speedway. Add 30 to 40 degrees if you're inside a competing car. Subtract 30 degrees if you have access to an air-conditioned sponsor suite, as I do. (Here is the part where I stop complaining about the weather.)
How fast? The top drivers at this particular race, the Foxwoods Resort Casino 301, touch 130 mph as they circle the 1.06-mile track.
How loud? If you're lucky enough to observe a race from the pit box, you'll be greeted by the following sounds: the primal growl of 40 souped-up engines, the clang of steel against asphalt, the roar of thousands of passionate fans, the screams of lug nuts being ripped out of tires with extreme prejudice.
I should also mention that it is also really fun, even if you — like me — have no previous interest in the sport and deeply fear the concept of pushing, say, 70 mph in a mid-sized sedan.
Kelley Blue Book, the go-to resource for making car shopping and research easier, has invited me here to take in a race, interview a driver they're sponsoring, and poke around a bit.
By the time I arrive at the garage to take in practice and qualifying rounds, the No. 9 car is already speeding around the oval in its Sunday best, boasting a slick blue, white, and gold paint scheme and the brand's classic blue seal on the hood.
In the driver's seat is the prodigiously talented, incredibly named Chase Elliott.
Meet Chase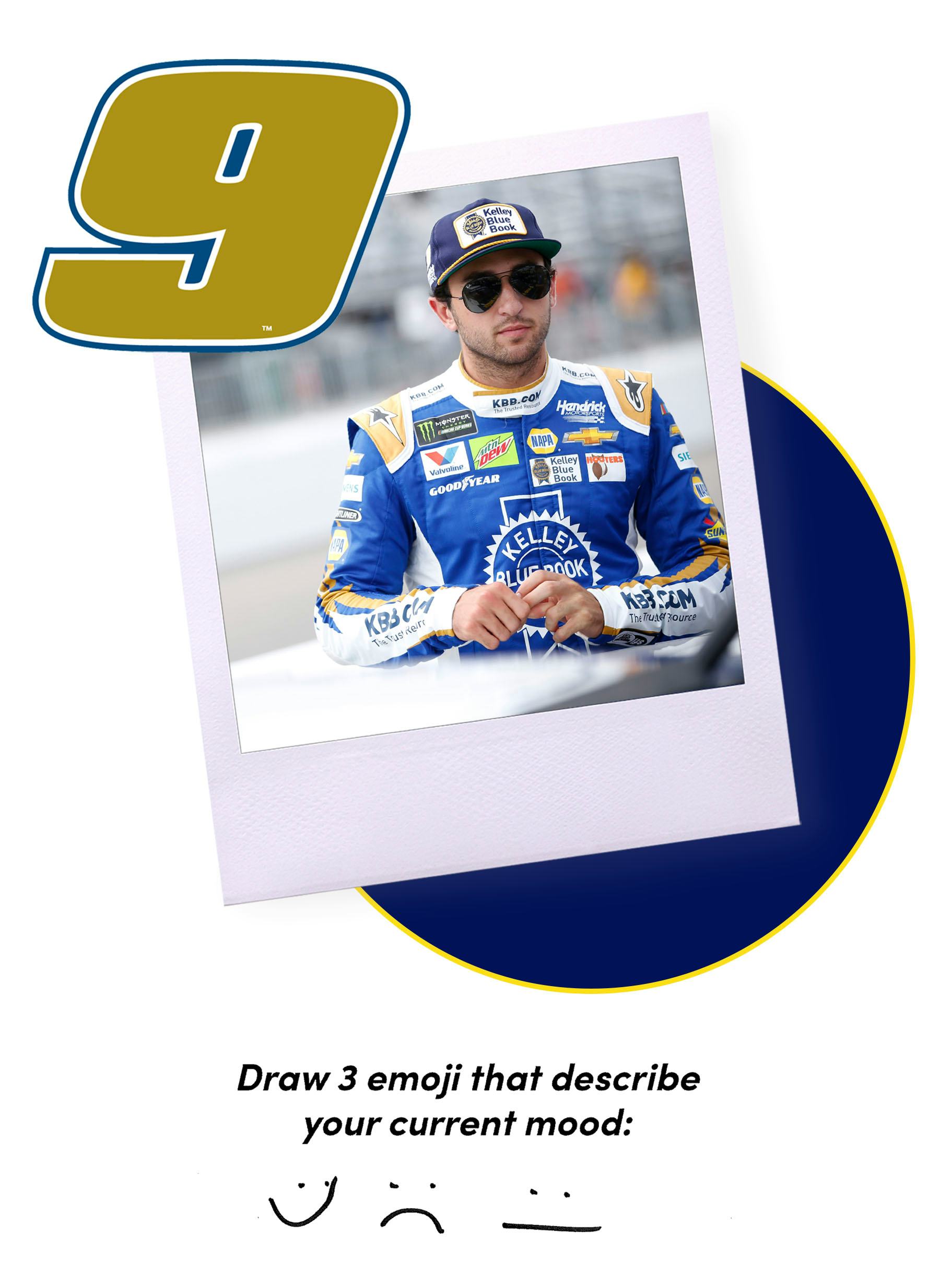 If you follow NASCAR in any capacity, you know Chase Elliott. If you don't, a quick primer: Chase, born William Clyde Elliott II, is a 23-year-old stock-car driver and the league's reigning Most Popular Driver. He drives a Chevy Camaro ZL1 with that big "9" on the side for his team, Hendrick Motorsports.
Last year, he captured 21 top-10 finishes, including his first big win at Watkins Glen in New York.
This year, he has two more big wins under his belt; not only at the famed Talladega Superspeedway, where he posted a blistering 161 mph average speed, but also a repeat victory at Watkins Glen, where he handily bested drivers nearly twice his age. He's playoff-bound for the fourth year straight.
Is that good? Yeah, that's good.
As is somewhat common in the sport, Elliott comes from a famous racing family — his father is Hall of Famer and 16-time Most Popular Driver Bill Elliott — but this has been covered elsewhere, ad nauseum, and at length.
Does he feel a lot of extra pressure because of his dad? "I don't, no," says Chase when he's asked this at a fan meet-and-greet in Loudon, N.H. "His career is incomparable. I'd love to beat him because he's my dad. [laughs] … Hopefully I'll catch up one day." (He's asked about his dad a lot, and I cannot stress enough how graciously and sincerely he responds every time. When I ask him what he's learned from his mom, he answers: "Just be nice to people.")
Because of all this history, he's been the Next Big Thing for awhile. By the time I get to him, he is very much a Big Thing. Chase Elliott fans are many and varied: kids, grandpas, young women, teenage boys, moms, dads, babies, hardcore motorsports fans, casual viewers, and 300K followers on Instagram. He is, by all accounts, nice to all of them.
He's clean-cut and approachable, a star on the rise who enjoys simple pleasures like country music, wakeboarding, and rooting for the Atlanta Braves from the friendly mountain town of Dawsonville, Georgia (population just shy of 3,000).
As John Gianninoto, the fuel man on his crew, says, "Yeah, he's the most popular driver, but you'd never think that just talking to him."
Because of his pedigree, maturity beyond his 23 years, and most importantly, his results on the track, Elliott has managed to strike the delicate balance between being a fan favorite and a driver's driver.
The Traveling Circus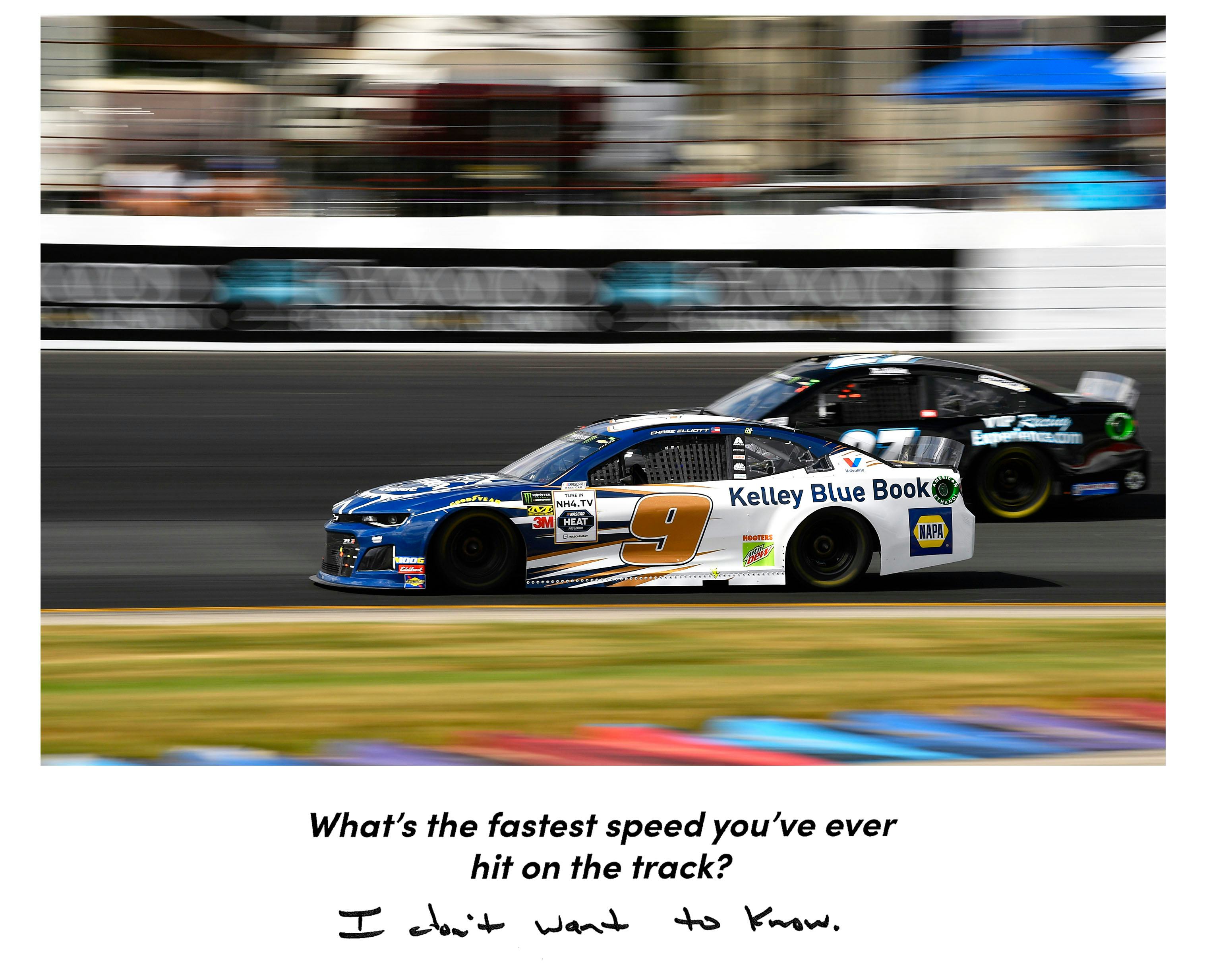 The "hot pass" I'm provided by Kelley Blue Book means I can stick my nose into lots of places I'm frankly afraid to be, like the garage, the pit box, and the hauler, which is essentially a truck that serves as the team's nerve center.
It takes me a full day at the track to begin to comprehend the complex planetary system that orbits a driver like Chase Elliott: it's a dizzying array of crucial crew members, team representatives, sponsor types, super-fans, and random interlopers like me, all gravitationally bound together for race weekend.
Terms like "crew chief" and "points" and "fall-off" and "over the wall" whiz over my head as I try not to get run over by gruff-looking dudes pushing stacks of tires across the asphalt; or worse, cars peeling out of the garage for practice.
I finally meet Elliott inside the hauler, within a well-lit, narrow hallway lined with tightly organized cabinets and drawers. Directly above our heads, but not visible to us, is a storage space containing a backup No. 9 car, fully ready to go in case he wrecks in practice or qualifying rounds. (I find this ominous.)
To me, the morning has been chaotic — crew members in branded firesuits scurry around quietly like surgeons in an operating room, rummaging through the hauler for parts after a teammate crashes in practice.
In the midst of this, Elliott appears in front of me, calm as anything. And I decide to ask this:
If you're wondering, he'd prefer the bisque.
Meet The Crew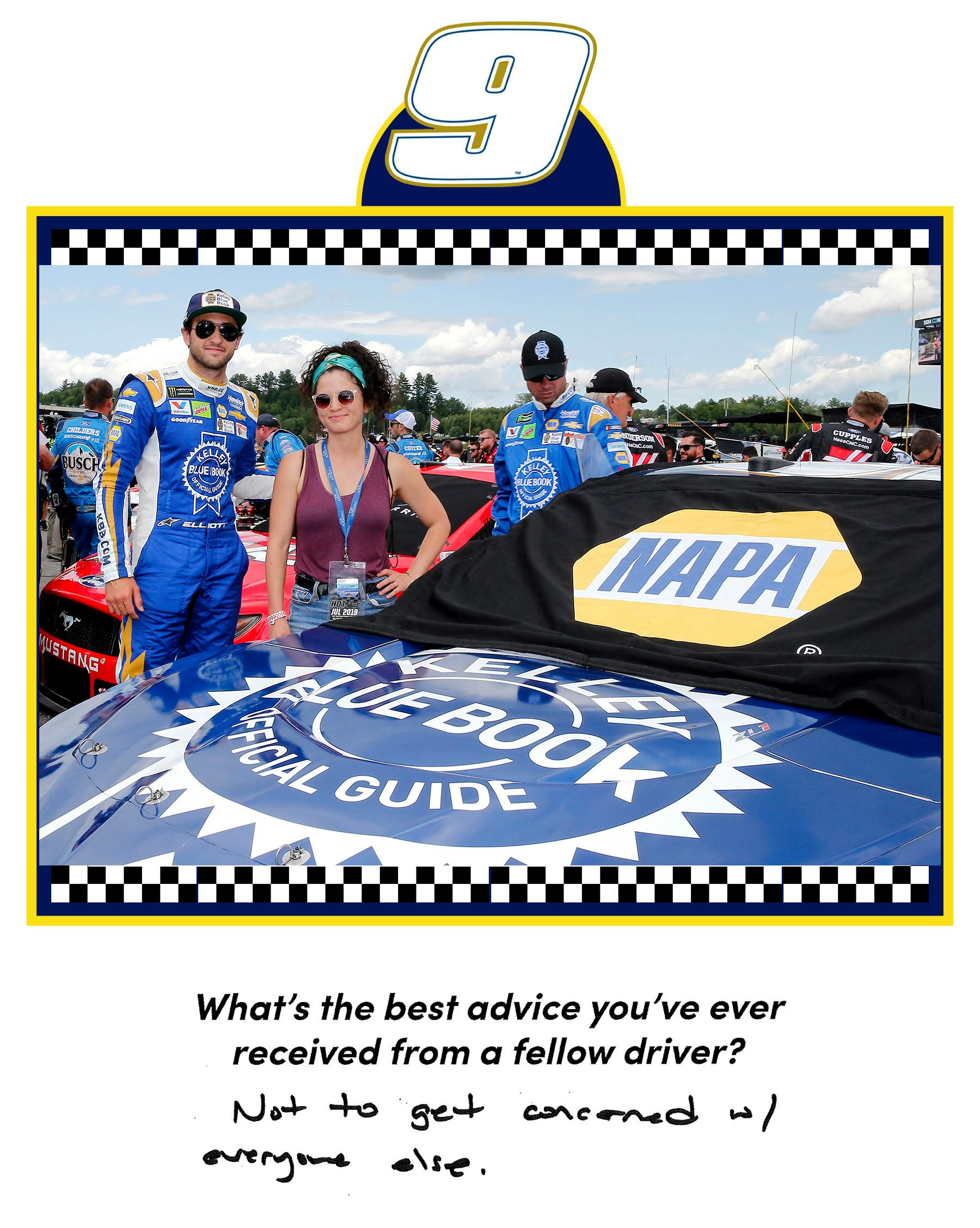 Roughly 24 hours before race day, Elliott is not only engaged in practice and qualifiers, but also a litany of activities only tangentially related to motorsports — photo ops, meet-and-greets, sponsor obligations. It won't stop until he's securely buckled into his car.
I speak with a few crew members, who combine engineering and athletic might to make race day go smoothly. There's the veteran Gianninoto, the fastest fueler in the world, and a more recent addition, jackman TJ Semke — both former football players — and lastly, crew chief Alan Gustafson, another veteran who, prior to working with Elliott, coached a little-known driver named Jeff Gordon for five seasons.
Of course, deeply woven into the NASCAR experience, from the names of the races to the tracks to the cars, are the sponsors. Elliott has been working with Kelley Blue Book for the past four years, and they're sponsoring two of his races this season. It's an easy fit. Kelley Blue Book is meant to help people like you and me (and our parents, and their parents) research car prices before going to a dealership — and also ensure you get a fair offer for a car you're selling via services like Instant Cash Offer. He just helps them get the word out.
As Elliott says: "I think the big thing to everyone is price. No one wants to spend more money than they have to. So just understanding you're not getting ripped off on something is the key."
As someone who tolerates driving and is completely overwhelmed by the prospect of buying a car, I'd have to agree with a company that's been around for over 90 years and a guy who not only races cars for a living, but seems constitutionally incapable of embellishing the facts.
The main thing is: in the end, if Chase wins, all of these people win.
No pressure.
Just Teach Me How To Drive, Chase!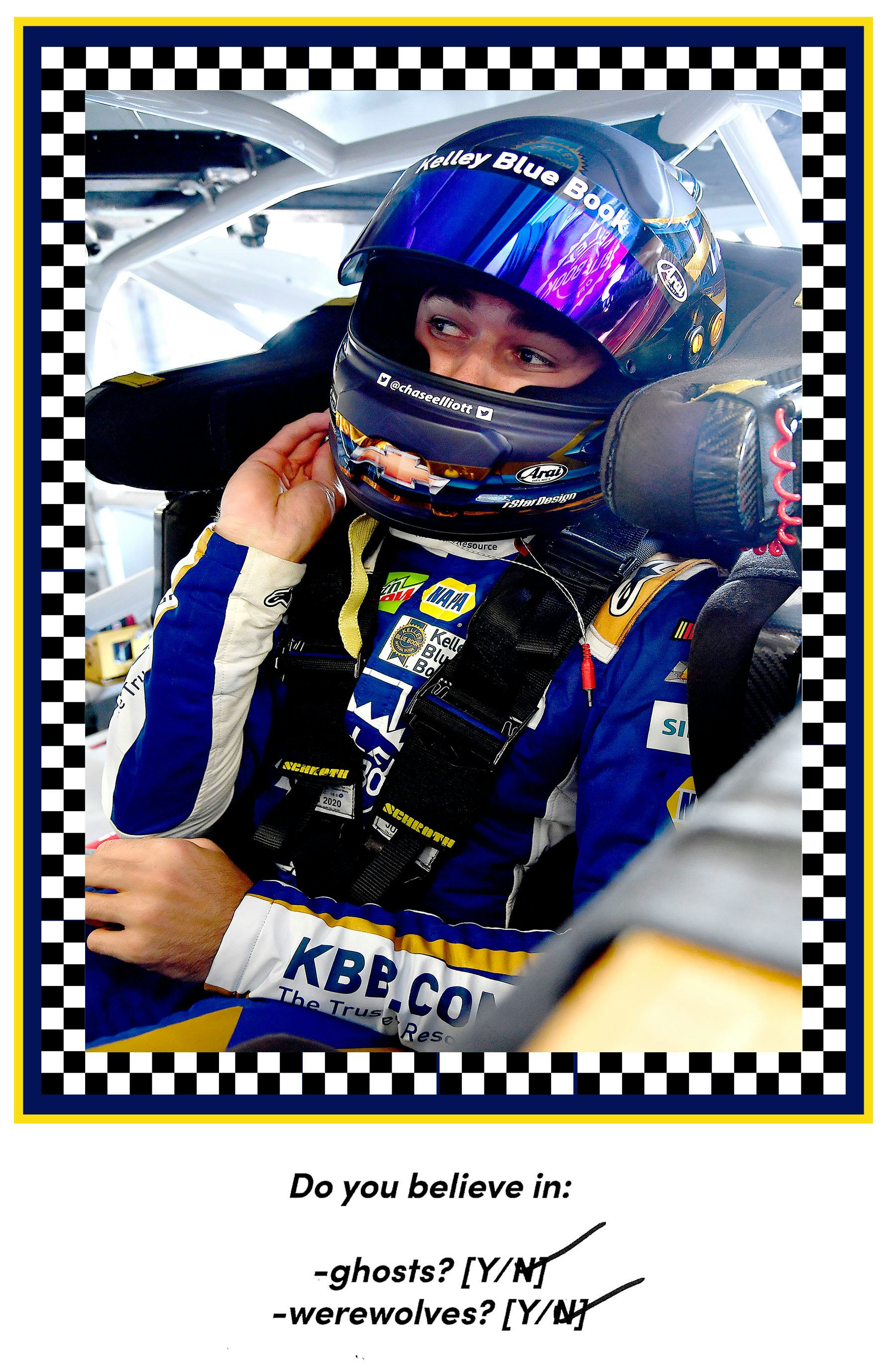 Elliott speaks in a twangy tenor and emits a laidback, no-drama vibe — a cool customer, but open and friendly.
To his credit, he doesn't flinch at my stupid lobster question, and pushes back gently on my suggestions that he is not, in fact, just like us. For example, I tell him about my troubles judging how close cars are on the left and right, and ask about his approach.
"It's just like you do," he shrugs. "We have mirrors on the left side of our car, and a rearview mirror." When I suggest it's different because he's going 130 mph, he says, "Everyone's going fast, so it feels about the same, you know?"
"I don't really feel like that's true," I respond, no closer to being a better driver by osmosis.
If I'm being honest, everything I've seen Chase Elliott do fills me with a sort of maternal dread.
So I ask him if he's ever scared, whether it's while racing, learning to fly private planes, or elsewhere. What I really want to suggest is a less hazardous job, or at least, less hazardous hobbies.
"There's been moments of terror in all that stuff," he explains. "If you like to learn, you're gonna crash, and it's not gonna be fun. [In racing], where you're pushing the limits in the car, you're gonna scare yourself. It's just part of it. If you're not on the edge of being scared, you're probably not gonna be very good. Just the way it is."
I ask if he ever feels peeved by other people on the road while, say, grabbing milk and cereal from the store in his Chevy Tahoe.
"Oh, sure. If you're in a hurry to get somewhere and the exit's stacked up, you have people who run in the next lane [and try to get over]," he says, the competitor in him finally coming to the surface. "I have done it before. But when someone's about to do it to me, they are not getting in between me and the car in front of me. It's not happening. Nope."
Off To The Races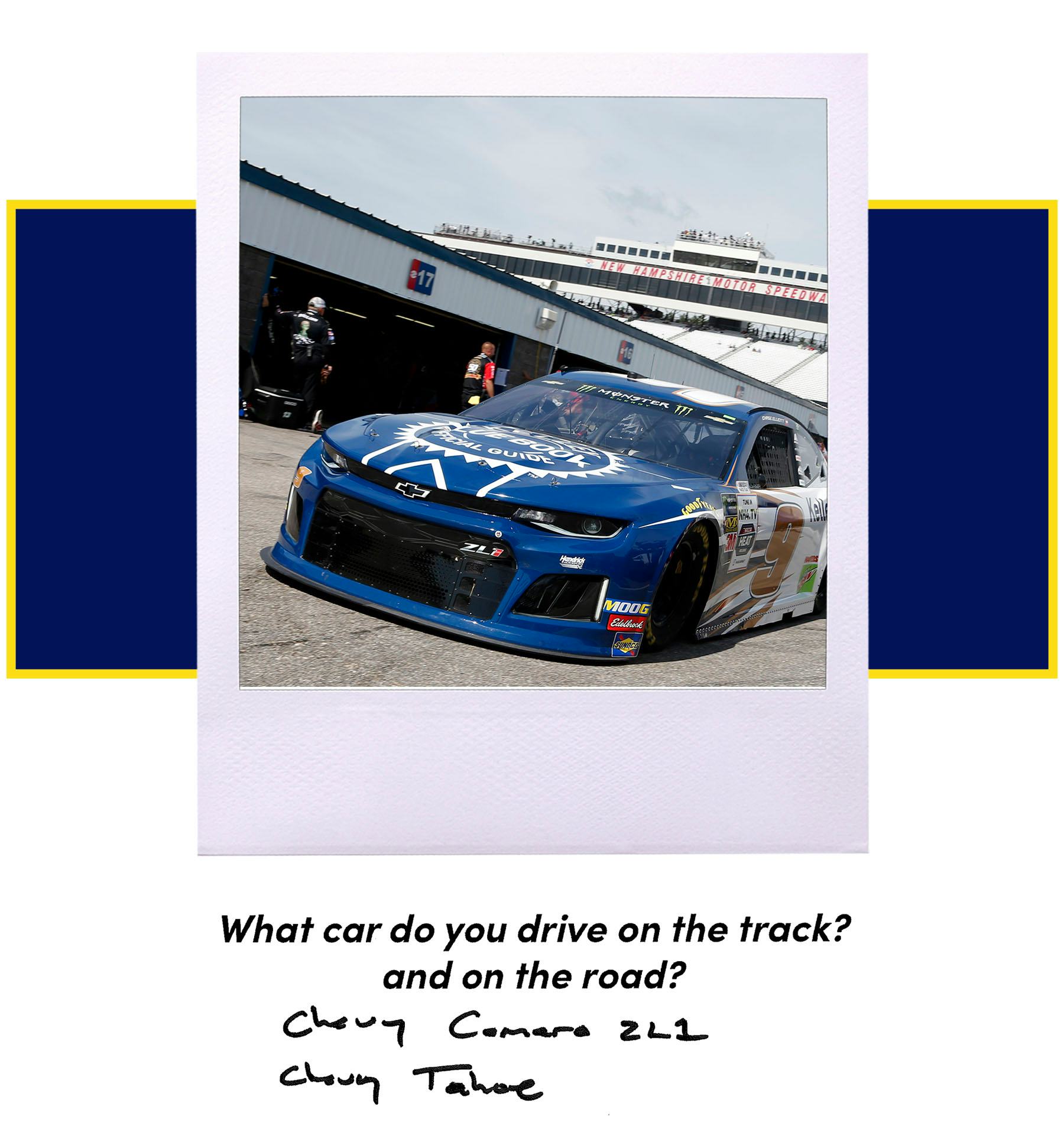 Because everyone drives, and everyone fills up a gas tank, and everyone knows how to make a left turn, and some people (who are not me) know how to change a tire with some amount of dexterity, they think they can do this. I am telling you: they cannot.
On Sunday afternoon, the race begins and I'm standing in the pit box, only a few feet away from the action.
I'm dumbstruck by everything. Sure, there's the noise, the heat, the speed. But I marvel at Elliott's ability to control the car, even as he mentions trouble over the radio; the agility and brute strength with which Semke gets a car lifted up and tilted sideways alongside his teammates; the graceful ease of Gianninoto lifting a series of fuel cans to the No. 9 car within split seconds. (I later learn that those cans are 94 pounds apiece.)
To me, it certainly appears more dangerous than "regular" driving, but as Elliott says: "It's just different. When you go down the road, I think it's probably more dangerous. Other people not knowing better is the big thing, and just not trusting other people."
I fear I'm one of those people who can't be trusted.
Elliott laughs and says, "I don't trust some of these guys, either." He gestures in the general direction of the other teams. "So I guess it's all relative."
The Road Ahead
As I watch the race that day, I realize just how hard it is to win. So much depends on the driver, but also on the conditions, the track, the crew, and if some other guy decides to be a jerk on the road. So much depends on being absolutely perfect.
The phrase I frequently hear from drivers and crew members is: "I just try not to make too many mistakes." It's a competition based on milliseconds and the fine-tuning of complicated equipment, everything highly visible to all in attendance.
Semke, the jackman, explains it like this: "In a normal sport, it's you versus another team, so there's a 50-50 chance: either they're gonna win, or you're gonna win. In racing, there's 40 teams that could potentially win, so getting a win is a lot harder to come by."
"It doesn't go smoothly all the time," admits crew chief Alan Gustafson. "So if you overcome that and get a good result, those are days that kind of stand out."
"On the worst days," he continues, "[y]ou have these plans, and everything's well thought-out, and everything goes really well, and at the very end you feel like the rug's pulled out from under you."
Today is one of those days. Chase Elliott doesn't get his lobster bisque, but he'll get his bowling pin a few weeks later. Bottom line? Even if you're set up perfectly, you can't guarantee a perfect result. So it's probably best to stay cool and calm and take the long view.
As for us mortals? We can get the best information possible. Buy gently priced cars. Drive them adequately and at moderate speed, as their creators intended, to our office jobs, to the beach, to supermarket for a carton of milk. And that just might be enough for you and for me.
But first, I'm seriously looking into some driving lessons.
This post is in partnership with Kelley Blue Book.
Photos: Courtesy of Kelley Blue Book. Design: Youmin Park/BDG
Source: Read Full Article