Every holiday season, a few ~it~ flavors take the forefront. Or, at the very least, as close to the front as they can get without peppermint everything elbowing them of the way. This year's standouts — hot cocoa and sugar cookie — are so ridiculously cozy that it's like we're all constantly biting into the inside of a flannel Instagram. It only makes sense, given the rising popularity of said flavors, and that Cracker Jack Holiday Sugar Cookie Popcorn is back on shelves for 2018.
Per the box, the limited time holiday version of this nostalgic snack is "Delicious Holiday Sugar Cookie Flavored Coated Popcorn decorated with Holiday Sprinkles". While that isn't the most specific, I can translate this into millennial by dubbing it "sugar on top of more sugar," which is a cause that I fully endorse with both my stomach and my heart. The "holiday sprinkles" are red and green, adding some festive flair to the beloved candy, and in the interest of journalistic integrity, I should say that my mouth watered a little bit just looking at the outside packaging.
The flavor first came to my attention via Instagrammer @candyhunting, who alerted the dessert-loving masses to the flavor's return — fittingly, on National Cookie Day, aka the most important holiday on your calendar this season.
Luckily, you won't have any trouble obtaining them if you can't find them in stores; Walmart is selling them both individually and in four-packs on its website right now. There's only one review on the site — a five-star one that says "Love these" — so if you're looking for an extra nudge, there's a minimalist one for you.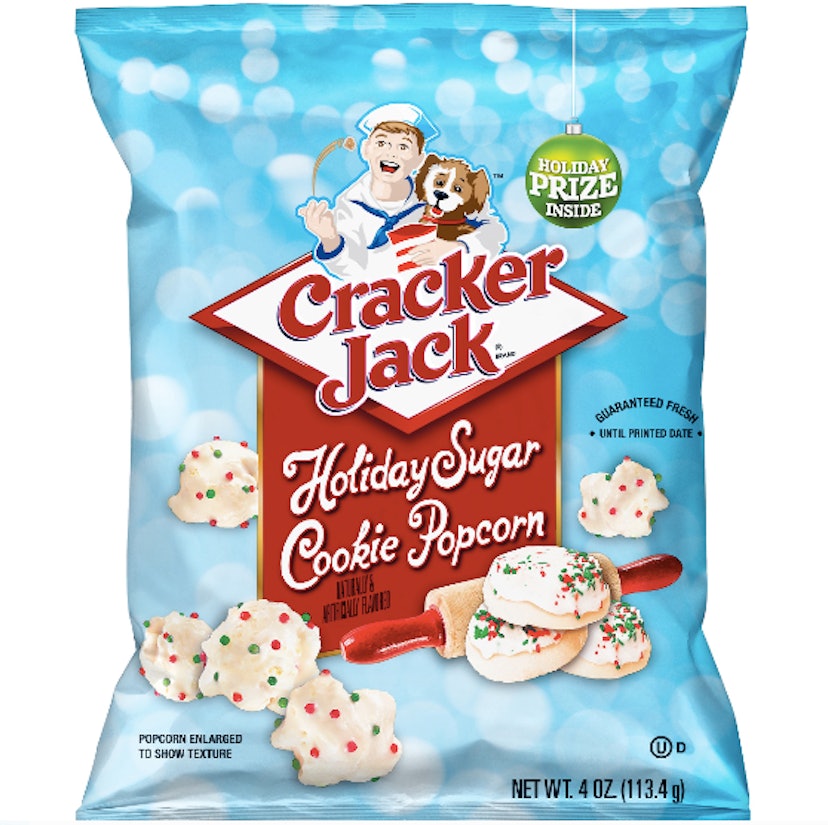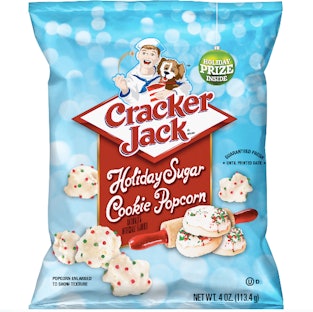 Cracker Jack Holiday Sugar Cookie Popcorn
$1.48
Walmart
Instagrammer and blogger Junk Banter left a more detailed review on their website in 2017, writing, "Cracker Jack Holiday Sugar Cookie popcorn carries a thick snow white glaze and some red and green sprinkles. The candy-coated popcorn is all sorts of merry. The glaze is smooth and identical to what one would expect from a caramel corn. The flavor is a sweet vanilla. Like, really sweet. I'd like to say too sweet, but it's not any sweeter than I expected from a Cracker Jack product. Does it taste like an actual sugar cookie though? Sure, if you use your imagination!"
So it seems that while no popcorn can miraculously become a cookie, if you have a sweet tooth this might just get the job done.
If you're in the market for MORE sugar cookie-flavored things this holiday season, boy howdy, so I have a delicious doozy for you — Target is carrying Sugar Cookie-flavored milk this holiday season, so you can save yourself the step of drowning a cookie in your milk to achieve sweet dairy perfection.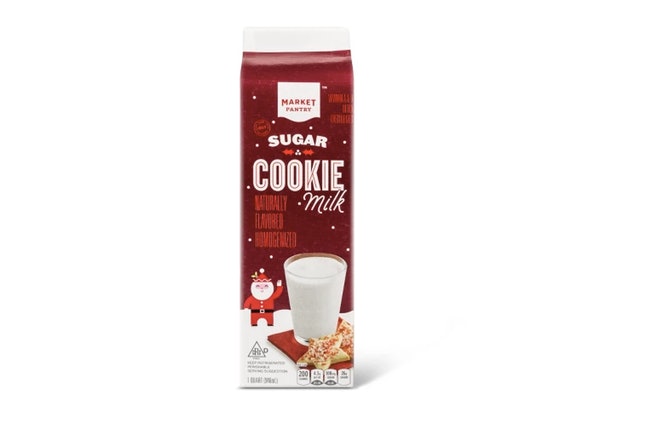 Granted, you could just … eat a sugar cookie. (I recommend these Buddy the Elf ones that just hit shelves.) But why stop there when you can have a sugar cookie dipped in sugar cookie milk with sugar cookie popcorn on the side? Santa's Christmas plans just got lit.
Source: Read Full Article