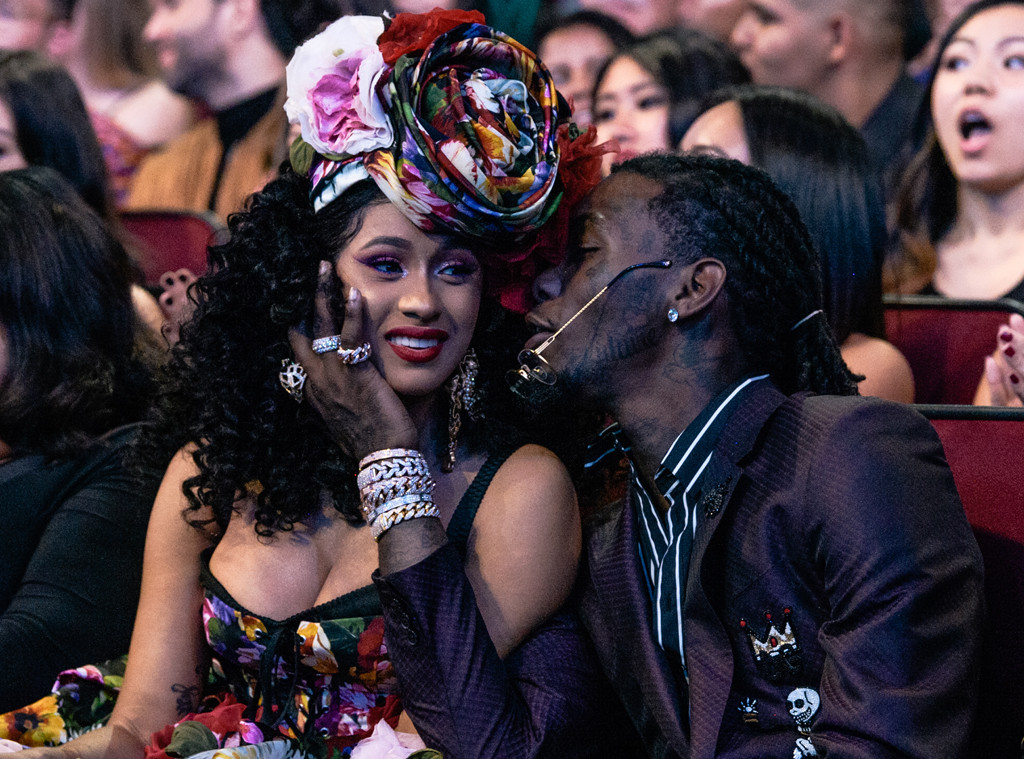 Emma McIntyre/AMA2018/Getty Images For dcp
"I don't date rappers."
That was Cardi B's succinct response when a pal informed her that Atlanta-based wordsmith Offset, one-third of trap music's leading trio Migos, was interested. It was nothing personal, she would explain to the man himself, not a knock on the romantic history that led to him having three kids with three women, or his lengthy rap sheet that included an eight-month stint in jail. She's just always maintained a no musicians policy, she explained to E! News. "Because I know that these rappers they like women, and I always felt like if, 'Imagine I have sex with you and I fall in love with you and you not trying to take me serious.'"
Besides, she questioned, why was he after her in the first place? Thanks to her two successful mixtapes, the stripper turned breakout star of Love & Hip Hop: New York was definitely on the rise, but she was still months from releasing "Bodak Yellow," the impossibly catchy summer hit that would complete her transformation into household name.
"Any woman that you could have, why you gonna choose me?" she continued. "I always avoid dating artists. But he was co consistent. He put it down, he was just on some, 'Look I'm not stopping until I get you,' and it's like, 'Well, if you want me so bad come get me.'"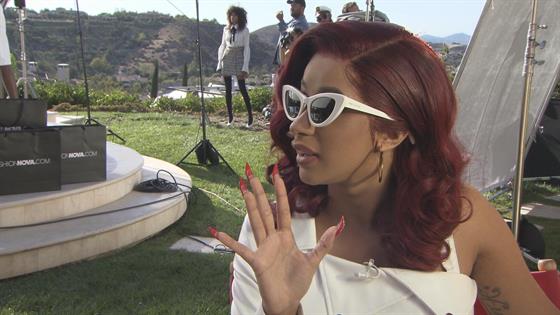 That might still be solid advice today. Because while the pair will no doubt continue their separate reigns over the hip-hop world—in February Migos broke their own record for the most concurrently charting titles by a duo or group while Cardi surpassed Beyoncé as the first woman to have five simultaneous hits on the R&B/hip-hop chart—and remain connected as parents to 5-month-old daughter Kulture Kiari Cephus, their dramatic 22-month love story has taken another turn.
"I've been trying to work things out with my baby father for a hot minute now and we're really good friends and you know we're really good business partners," the musician (born Belcalis Marlenis Almanzar) announced in an Instagram video Tuesday evening. "He's always somebody that I run to talk to and we got a lot of love for each other but things just haven't been working out between us for a long time and it's nobody's fault."
The simple truth, she continued was, "I guess we grew out of love, but we're not together anymore. I don't know. It might take time to get a divorce and I'm gonna always have a lot of love from him because he is my daughter's father."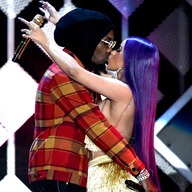 Photos
Cardi B and Offset: Romance Rewind
The timing was surprising as just three days earlier, the couple had put on quite the show for fans gathered at The Forum in Inglewood, Calif. for 102.7 KIISFM's Jingle Ball, Cardi ending her set by turning to the crowd and declaring, "He's so fine. That's my baby daddy, yo." But another split in what the Bronx-bred double Grammy nominee has dubbed a history of "breaking up and making up," could hardly be labeled as shocking. Nor is it so far-fetched to think this could just be another bump the Atlanta-based duo will have to overcome.
As yet, neither side has offered up an explanation (though considering Cardi's famed candor and Offset's announcement he would be dropping a song today, it's hard to imagine one isn't coming), but Offset's comment on Cardi's post—"Y'all won"—would suggest the duo's trust issues had gotten the best of them.
Ever since a late 2017 iCloud hack seemed to catch Offset (born: Kiari Cephus) with another woman, Cardi noted in a W magazine profile, Internet trolls have seemed eager to stoke her fears of his continued infidelity.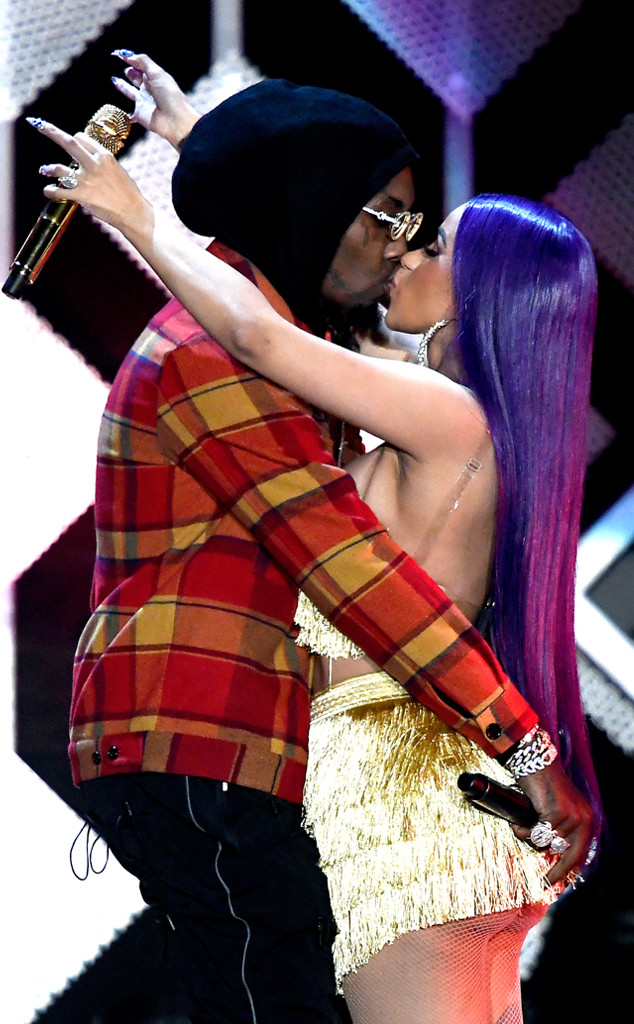 Kevork Djansezian/Getty Images
"Every single day there's rumors about me and my dude. And it almost drives me crazy, because I start to believe them," she admitted. "I don't have no proof. I don't have receipts. But I just got to know my man. We practically on the phone 24 hours a day. If I can't find him, I'm going to find his friend. Somebody going to answer the phone. But I cannot be feeling insecure, to a point that I would drive my dude away, because these people want that to happen."
And it's already taken so much to get them to where they are today.
Though Offset, 26, had guested on "Lick," a track off the 26-year-old's Gangsta Bitch Music Vol. 2 release, the pair didn't come face-to-face until what Cardi calls a chance meeting at a New York party in early 2017, right around the time Migos was notching their own hit with "Bad and Boujee".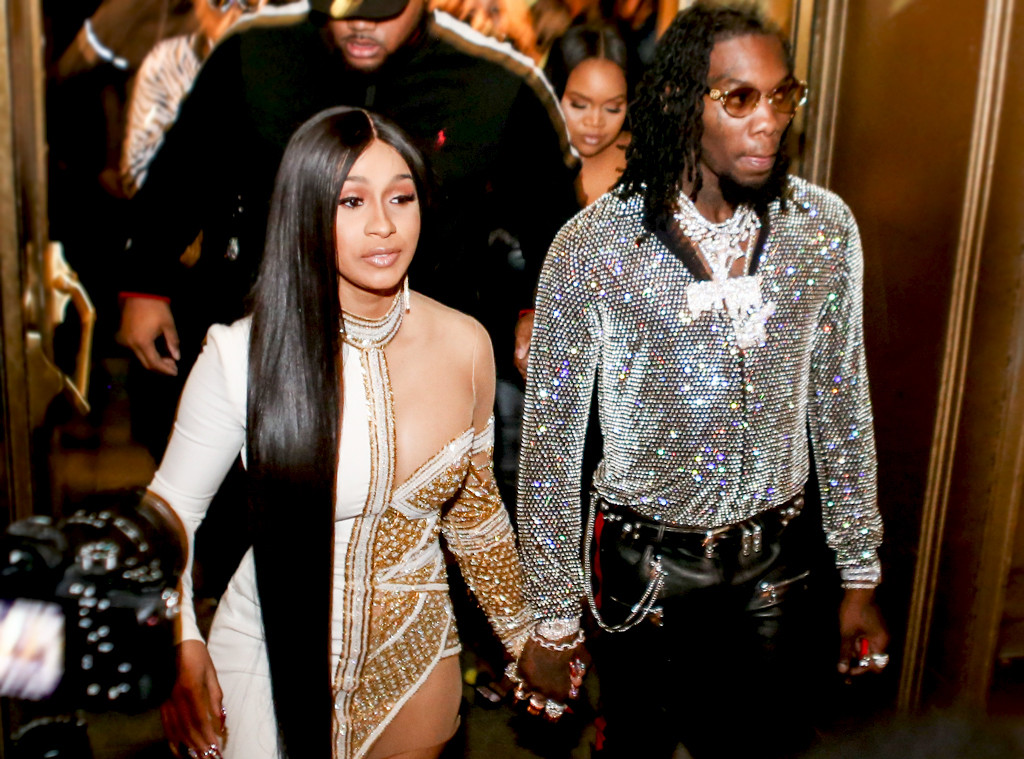 Thaddaeus McAdams/Getty Images
Except it wasn't so much by chance as it was Offset's deliberate scheming. Sure, he'd heard her when she said she didn't date rappers, but "I was like, 'Damn, I am on her!'" he explained to Rolling Stone. "I am like, 'Shit, I like Cardi B!'" He had his publicist arrange a dinner for a select group of women, and soon they were enjoying their first date at the 2017 Super Bowl in Houston. As he said, "That's a power move!"
It was certainly a statement-making one that forced the pair to immediately define a relationship they were still figuring out. While Cardi was quick to label the musician, who's collaborated with everyone from 21 Savage to Macklemore, her "babe" in a Valentine's Day Instagram, she stopped short of confirming their coupling, telling Fader that March, "I'm not saying I'm dating an Atlanta guy."
Even after they made what can only be a declarative statement of coupledom, stepping out together at a Met Gala afterparty, the two-time Grammy nominee declined to make him her plus one at June's BET Awards, a source telling HollywoodLife at the time, "She's playing it cool with him right now. He didn't ask her to go with him and she's for sure not going to ask him. They're still talking to each other, but it's complicated."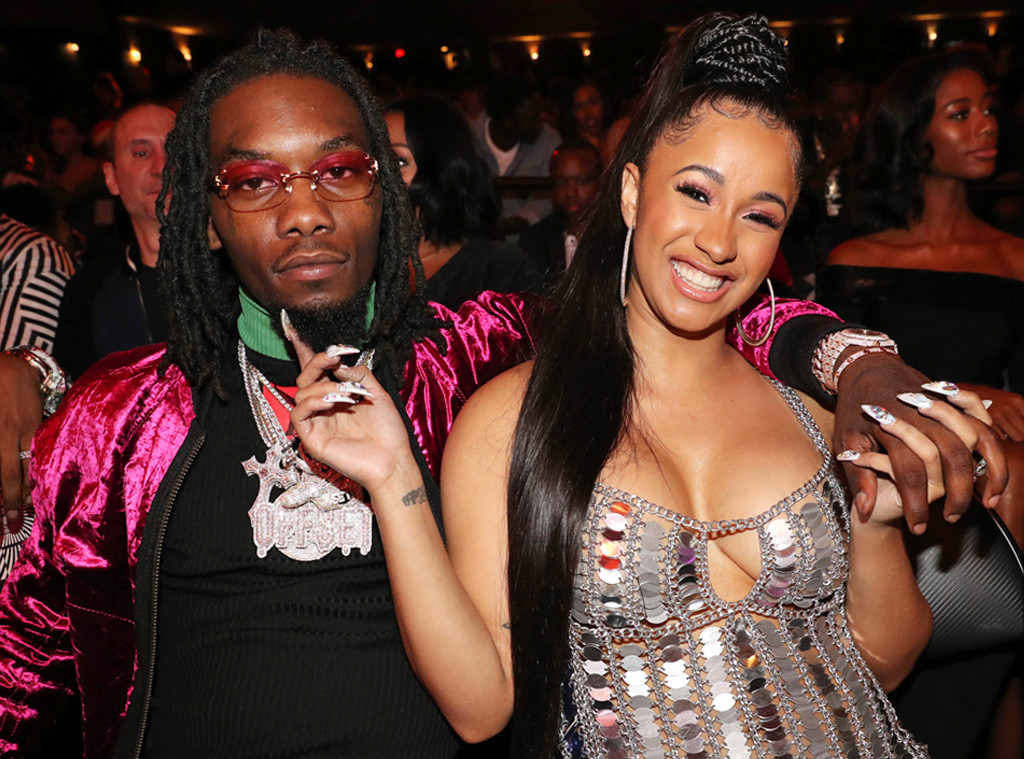 Johnny Nunez/WireImage
Complicated being an apt description for the entire first year or so of their romance. Just when it seemed they were making their union officially official, like the time Cardi hinted at engagement rumors ahead of her August MTV Video Music Awards performance, saying, "Every woman, I think, wants to get married and wants to have children. It's never too early to get married now," there would be an equally public sign that the relationship was in flux.
Last October, while Offset's likeness still decorated the tips of her elongated nails, she posted two separate photographs. With the first, she dubbed herself single. On the second, she proclaimed, "Peace nikka." By the next day, though, she was tweeting it was all a misunderstanding over a stolen purple blanket. (Because, really, who hasn't been there?) "But on a serious note," she concluded, "I really loveeeee my man he was gifted to me from Jesus.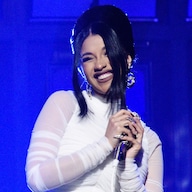 Photos
The Most Cardi B Things Cardi B Has Ever Said
At Power 99's Powerhouse in Philadelphia days later, a sold-out crowd watched as he dropped to one knee, a sea of cell phone cameras capturing the moment and her enormous eight-carat teardrop-shaped diamond. "Jesus Christ I'm so emotional," she wrote on Instagram. "@offsetyrn I loveee you so much. Thank you for seeing the potential in me since you met me. For giving me advice molding me and loving me…I can't wait to spend FOREVAAAA with you. Lets make a lot shmoney and love together."
Two months later she was once again questioning her decision.
When the cheating scandal broke that December, she tweeted, then deleted, "I'm going to make a decision in my own times with my heart and mind. I don't need to be rushed or be told what to do. It's my life! I belong to me not to the world," adding that while "it's not right" to cheat, "What you want me to do? Go f–k me another n—a? start all over again and get cheated on again? This s–t happens to everyone."
Instagram
She later explained her situation to Cosmopolitan, saying, "It's like everybody is coming down my neck like, 'Why are you not leaving him? You have low self-esteem.' I know I look good. I know I'm rich, I know I'm talented. I know I could get any man I want—any basketball player, football player. But, I want to work out my sh-t with my man, and I don't got to explain why."
Though she had a pretty good reason. As Cardi would eventually reveal, they were already legally entwined, the decision to wed made mid-argument that September. They had discussed marriage, already, she noted to W, so it wasn't out of the blue, but her suggestion still stunned her guy. "He's like, 'You're playing around.' And I said, 'I'm for real.'"
If the timing was unconventional, it fit with the whole theme of their romance. "When I got married with my dude, we still had a lot of doubts, because our relationship is not like everybody's," she shared. "He was always traveling, and I was always traveling. We're artists. So I used to see him, like, twice a week, and, you know, he's known for having different women, and I'm known for, like, not taking s–t from guys. But we really loved each other, and we was scared to lose each other."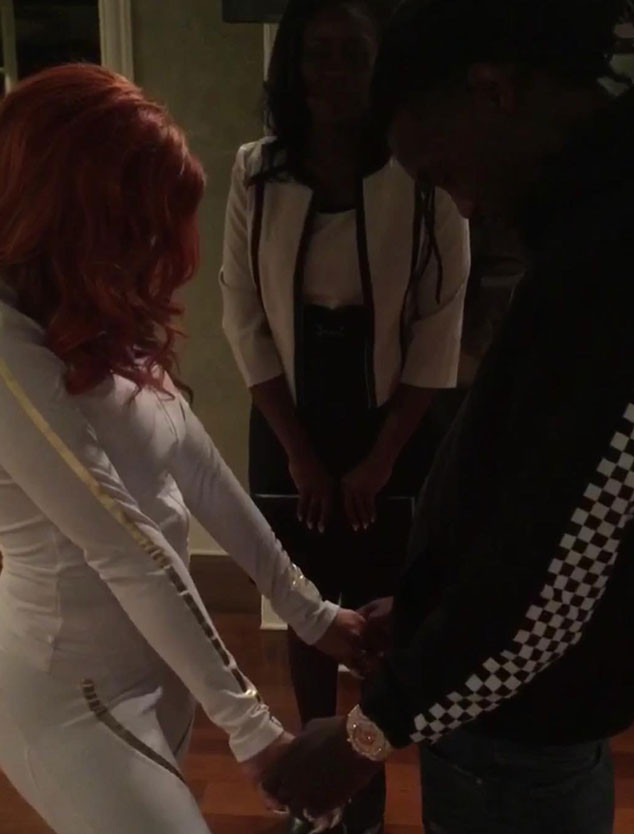 Instagram
So they phoned up Atlanta-based minister Melinda Guess, choosing to focus on the enormity of what they were entering into rather than the traditional trappings of a wedding. Standing in front of their king size bed in sweats as her cousin looked on, the pair exchanged the standard vows provided by Guess. Without rings to share, they sealed the moment with a kiss and several hugs. "They were definitely excited and I could tell they were a little nervous too," the officiant told E! News. "You can tell there is so much love between them."
Still without any bling binding them, it didn't quite feel real. It had been her dream, she explained to W, "for a guy to get on his knees and ask me to marry him. And he was just like, 'I will never get on my knees. F–k outta here.'"
Except, of course, for her he did, surprising her with his onstage proposal weeks later.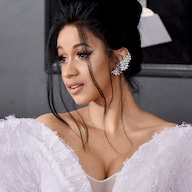 Photos
Cardi B's Best Looks
Of course, the real shock came weeks later when the home pregnancy test came back positive. "I was f–king freaking out," she admitted. "Everybody around me was like, 'No, this never happened before. Every artist that had a baby, they already put in years in the game. This is your first year. You're going to mess it up.'"
But her man had a different take. "He kept saying, 'I don't know how you don't see it, but you so hot right now, nothing could get in your way. You just have to work hard and put out a poppin' album. I think you should keep the baby.'"
Eventually Cardi agreed, explaining during an appearance on Power 105.1's The Breakfast Club, just days after she revealed her baby bump in spectacular fashion on Saturday Night Live, "I just didn't want to deal with the whole abortion thing. I just didn't want to." Besides, she continued, "I'm a grown woman. I'm 25 years old. I'm a schmillionaire and I'm prepared for this."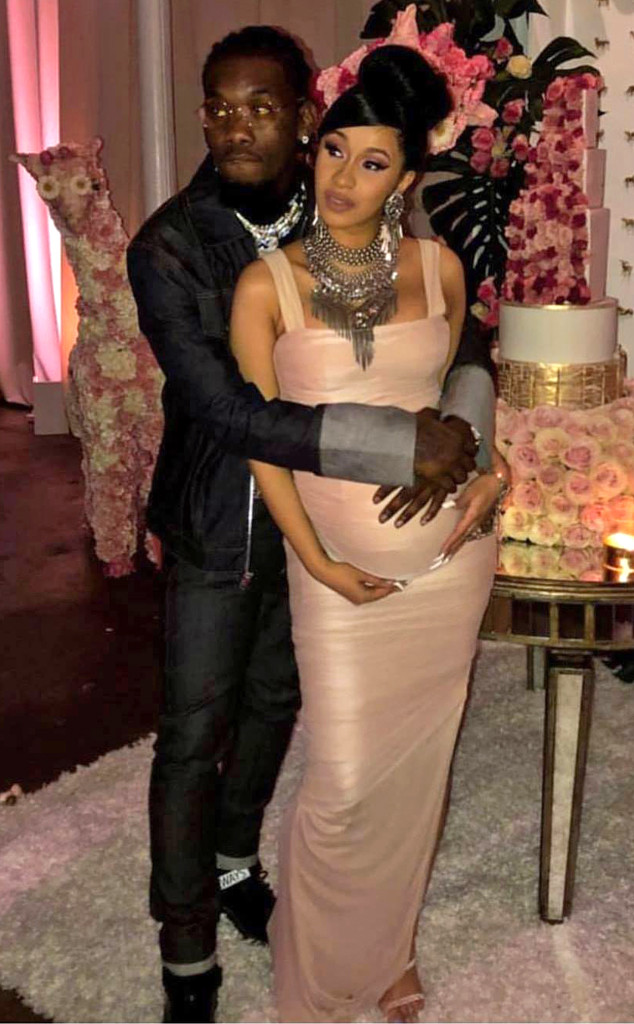 @IamCardiB/Facebook
As much as any new parent could be, anyway.
Cardi copped to being surprised by the changes to her body ("She broke my vagina!" she explained in typical candid fashion on Jimmy Kimmel Live!) and the surge of emotions that led her to struggle with postpartum depression. "My doctor told me I could maybe get postpartum, but I thought no way my life is great now. I have money, I have a baby, everything is good in my marriage," she told E! News. "Then out of nowhere, you just start feeling so vulnerable and sad and so overprotective and you just need a lot of love and hugs."
Which Offset was all too happy to provide, along with parenting tips (a source told E! News the rapper "has been very helpful because he's been through this before and knows the ropes,") some Kulture-monogrammed jewelry and two brand new Lamborghinis, though the "regular, degular, shmegular girl from the Bronx" has never learned how to drive.
View this post on Instagram
I miss you ❤️ @offsetyrn
A post shared by CARDIVENOM (@iamcardib) on
And when the nine-time BET Hip Hop Award winner found herself bogged down with the grind of managing her still sizzling music career, a collaboration with Fashion Nova and parenting a newborn, it was Offset who knew how to swoop in and help. "It's really hard for me to disconnect, but you know, my husband he was just like, 'You know what? You need to go, you need a vacation'," she shared with E! News at her November Fashion Nova x Cardi B launch party. "So he actually flew me out to the Dominican Republic and he took away my phone."
As for the trust issues, she seemed to feel she'd gotten a handle on them. "I know my man," she stressed to E! News. "And I know his moves. You know, ever since that cheating scandal happened in December, there has been so many rumors that he's doing this, that he's doing that and it's like, you've just got to know your man, he's got to know his woman and everything and it's just like, it's whatever because they're going to always try it. Once you do a mess up, they're going to want to try because it's a hot topic, it's a trending topic, so people are going to try it. And if you let that go to your head, then you let that go in your marriage and then that's what messes up your marriage."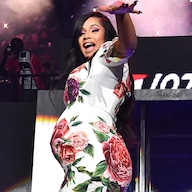 Photos
Cardi B's Pregnancy Style
In an effort to keep her mind, worry-free, she said, they maintain complete transparency. "We are so open about everything," she continued. "We have each other's codes, we know everybody's friends."
Besides she reasoned, why would he want to leave her? "Who you gonna go to? Who's better than me?" she asked. "I got money, I got good p—y…you know what I'm saying? Like, where are you going?"
I guess this is the part where we all find out.
Source: Read Full Article